USA vs. Nigeria: Nigerian Players Who Must Step Up to Upset Team USA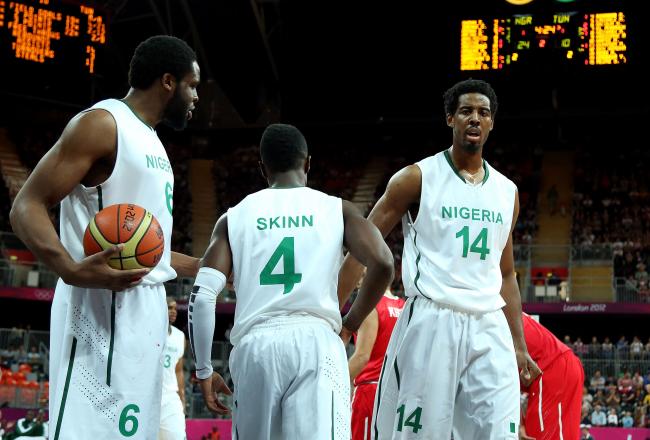 Christian Petersen/Getty Images
It's going to take a miracle effort for Nigeria to upset Team USA on Thursday afternoon, but it could happen if just about everyone on the Nigerian squad has the performance of his lifetime...and then some.
The Americans are heavily favored, but Nigeria could at least keep the game close under the right circumstances and with a little luck.
So far, Nigeria has gone 1-1, edging out a victory against Tunisia to open play and then barely keeping the margin under 20 points in a loss to Lithuania.
If these three players truly step it up, the game with the USA might be a close contest.
Al-Farouq Aminu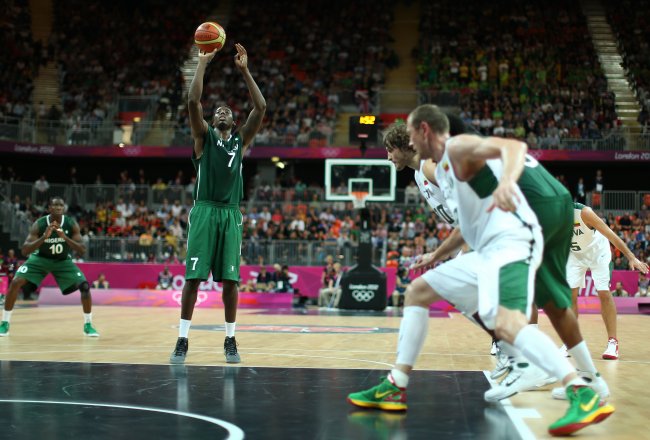 Christian Petersen/Getty Images
One of the two best players on the Nigerian roster (the other one will be featured next), Al-Farouq Aminu is the only one who actually gets consistent playing time on an NBA roster. He's spent two years in The Association, playing for the Los Angeles Clippers and New Orleans Hornets while averaging 5.8 points, 3.9 rebounds and 0.9 assists per game over the course of his career.
Aminu has played much better during the Olympics, putting up 11.0 points, 10.0 rebounds and 3.5 assists per game through the first two contests. However, he's struggled with his control over the ball and must turn his handles up a notch against the heavy American pressure.
The forward must play the game of his life, hitting shots and carefully protecting the ball while crashing the boards on both sides of the court.
His athleticism will help him tremendously, but he's going to have to find some sort of consistency with his outside shot.
Ike Diogu
Ike Diogu is tied with Alade Aminu as the high-scorer for Nigeria, averaging 12.5 points per game. But that's not going to cut it when Team USA comes calling.
The 28-year-old power forward only played two games for the San Antonio Spurs during the 2011-2012 NBA season and is attempting to use a strong Olympics performance as a way to get back into the league.
Diogu isn't much of a defender, which is going to pose problems, as he should switch off of LeBron James on that end of the court. He won't be intimated, though.
Here's what Diogu had to say to Dan Bickley of the Arizona Republic:
"I'm not intimidated or in awe of those guys," Diogu said. "I definitely know I can hold my own against anybody, and anybody who knows basketball knows that I can play at the highest level. The reason why I'm not in the NBA is not because of my skill set or skill level or not being able to play against those guys."

Diogu will have to involve his teammates while catching fire from everywhere on the court. Without a 20- or 30-point performance from the undersized 4, the Nigerians aren't going to have even a snowball's chance in hell.
Olumide Oyedeji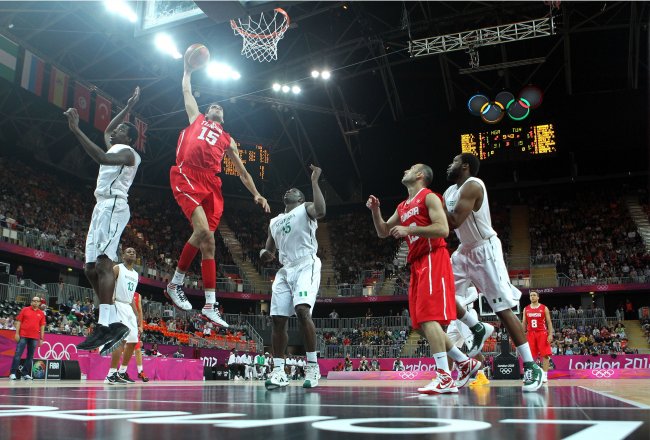 This can't happen on Oyedeji's watch.
Christian Petersen/Getty Images
The 31-year-old center for the Nigerian squad hasn't played in the NBA squad since 2003, when he lined up in the frontcourt for the Orlando Magic.
He's going to have to pretend he's still in his prime and playing at an NBA level on Thursday afternoon.
Oyedeji has had a tough Olympics thus far, averaging only 1.5 points and 1.5 rebounds per game. Obviously, that's not going to cut it.
The big man must put his 6'10" frame to good use and pound away against the smaller American squad, particularly when Tyson Chandler is on the bench. If he's playing well, it will allow Ike Diogu and Al-Farouq Aminu to shift to their more natural positions and match up at least reasonably well with Team USA.
This article is
What is the duplicate article?
Why is this article offensive?
Where is this article plagiarized from?
Why is this article poorly edited?