WWE SummerSlam 2012 Matches: Predicting Outcomes of Potential Featured Bouts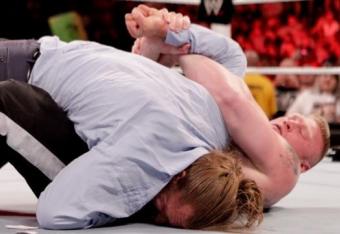 Photo courtesy of WWE.com

With SummerSlam a few weeks away, the WWE has begun building toward perhaps the company's second-biggest pay-per-view. Two huge matches in the form of Brock Lesnar vs. Triple H and a WWE Championship triple threat match have already been announced. And while nothing else has been confirmed yet, the seeds have been planted for a highly entertaining card.
There should be several matches that will draw the viewing audience in, so SummerSlam has a great chance to be one of the best events of the year. Not only will the matches be good, but the outcomes promise to have a huge impact on the WWE's storylines throughout the rest of the summer and fall.
Here are the most likely outcomes of three potential top-of-the-card matches at SummerSlam.
Brock Lesnar vs. Triple H
Which potential SummerSlam match are you most excited for?
A Brock Lesnar vs. Triple H match has been in the making for the past several months and it was finally announced at Raw 1,000. Lesnar hasn't really been featured on WWE programming since his initial return and match against John Cena, so it is hard to say for sure what the plans are for him. Lesnar lost a lot of momentum when Cena beat him, however, so I have to believe that he will come out on top at SummerSlam one way or another.
I'm fully expecting some stipulations to be added to the match and my best guess is that if Lesnar wins, he gets the contract that was originally negotiated with John Laurinaitis. If Triple H wins, however, the contract will remain null and void while both Lesnar and Paul Heyman are forced to drop their respective lawsuits against Triple H and the WWE.
Lesnar desperately needs to look strong, especially since he will almost certainly have a WrestleMania program against somebody like The Undertaker, so he will ultimately win the match and his status with the company will be explained by the contract stipulation.
CM Punk vs. John Cena vs. Big Show
Although most fans would rather see CM Punk and John Cena go one-on-one for the WWE Championship at SummerSlam, it was announced that the Big Show would also compete for the title in a triple threat match. Many fans aren't convinced that Punk is a heel, and while the WWE tried to mask a full-on heel turn this past Monday, I believe that it was only a tactic to delay the official turn until SummerSlam.
Punk did several heel-like things on Monday as he got in Jerry Lawler's face, badmouthed John Cena and failed to play to the fans as he has been doing over the course of his title reign. Punk has yet to attack Cena as Big Show has done much of his dirty work, so I'm anticipating a partnership forming between Punk and Show at SummerSlam.
They will team up against Cena late in the match at SummerSlam and Big Show will step aside and allow Punk to retain the title. All of this will be part of a master plan that ousts AJ Lee as the general manager of Raw and brings John Laurinaitis back in the picture as the leader of a dominant heel stable.
Dolph Ziggler vs. Chris Jericho
There may not be a title on the line in a possible Dolph Ziggler vs. Chris Jericho match, but there is no doubt that it could steal the show if it happens as expected. Ziggler and Jericho have been great together so far and there is little doubt that a match between them would be fantastic. Ziggler is one of the best workers in the WWE currently and Jericho is one of the best ever, so it's hard to imagine this bout missing in any conceivable way.
My hope is that Ziggler is forced to put his Money in the Bank contract on the line. Everyone already knows that Ziggler is winning anyway since Jericho is set to tour with his band, and Dolph needs the rub, so adding something extra to the bout would make it even more interesting. Defending the contract makes a wrestler look strong, so I believe that would really help Ziggler.
If the WWE brass allows these guys to go at it for a solid 20 minutes with Ziggler ultimately scoring the win, it will be a major coup for SummerSlam as a whole and for Ziggler's main-event push.
Follow @MikeChiari on Twitter and listen to him on Ring Rust Radio.
This article is
What is the duplicate article?
Why is this article offensive?
Where is this article plagiarized from?
Why is this article poorly edited?