How the Cleveland Browns Can Become AFC North Contenders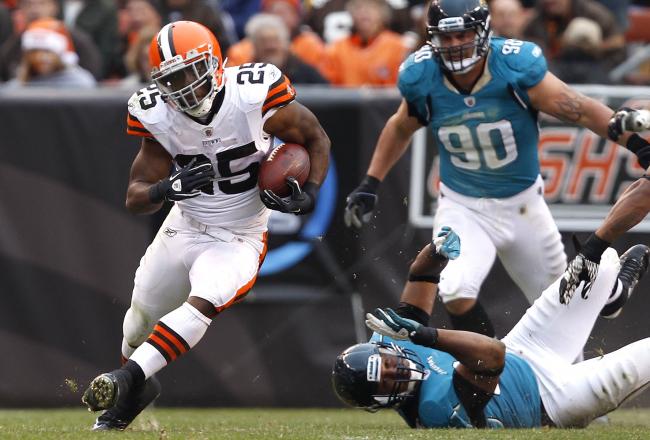 The last time the Browns won a game came in Week 11 of last season, over the Jacksonville Jaguars.
Matt Sullivan/Getty Images
It hasn't been ages since the Cleveland Browns had a winning record—that would be in 2007, when they ended the year at 10-6, the second-best record in the AFC North—but it sure feels that way.
That successful season has been the only bright spot for the franchise since it returned to the league in 1999, and whatever prompted such a good year is now long gone, replaced and re-replaced with an ever-changing cast of coaches, coordinators and quarterbacks.
But 2012 doesn't appear to be shaping up as another year of the same old, same old.
From the aggressive draft that resulted in the Browns snagging top running back Trent Richardson and quarterback Brandon Weeden in the first round, to smartly giving up a 2013 second-round pick to select wide receiver Josh Gordon in the supplemental draft and everything in between, the Browns finally seem committed to kicking the complacency of recent years to the curb and actually be proactive about winning.
And now that the Browns are no longer in Randy Lerner's control and Joe Banner is likely to step in at some point as team president, replacing Mike Holmgren, it looks like the unwillingness to spend money and the hands-off ownership involvement may have closed the gates on the "Factory of Sadness" permanently.
So how can the Browns close that chapter of their history, move forward and become legitimate contenders in the extremely difficult AFC North division? Here are three things that will certainly help:
Commit to Your Quarterback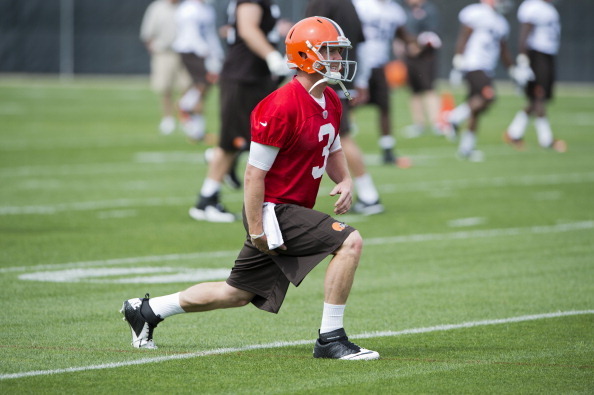 It's time for the quarterback carousel to stop in Cleveland.
Jason Miller/Getty Images
Not counting their current starter, the Browns have had 17 different quarterbacks take the field since 1999. Seventeen. With quarterback certainly the most important position to an NFL team, this amount of turnover and instability has a lot to do with why Cleveland has struggled in nearly every one of those seasons.
Yes, Brandon Weeden is 28 (and turns 29 in October), meaning that he has fewer years ahead of him in the league than a younger rookie. But Weeden could ostensibly stay in the NFL for 10 more seasons, and if he's good enough to do so, the Browns should think about making sure most of them are spent in Cleveland.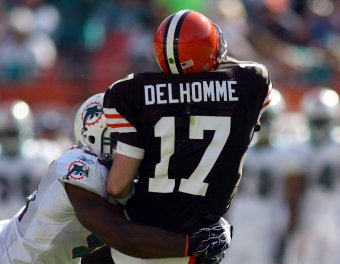 The Browns must stop employing the Jake Delhommes of the world.
Marc Serota/Getty Images
Of course, Weeden could prove to be a disaster, and if that's the case—well, then back to the drawing board. But early reports have Weeden at least more powerfully-armed and mature than the team's other two options (Colt McCoy, Seneca Wallace), and even if he should struggle this year, that doesn't mean he needs to be shelved in 2013.
Weeden, no matter his age, is still a rookie and rookies, especially quarterbacks, make mistakes. The point of developing a quarterback from his first season and through ideally at least five or more consecutive years is to reduce and learn from the mistakes, become more comfortable with an offense and eventually become its leader.
What Cleveland needs, more than anything, is to start the same quarterback for four or more seasons. Inconsistency rarely leads to playoff appearances or Super Bowl championships, and at the very least, if the Browns want to have any shot of disrupting the order in the AFC North, they need a single, talented quarterback to rally around.
If Weeden's that guy, the Browns must hang on to him, no excuses.
No More Five-Year Plans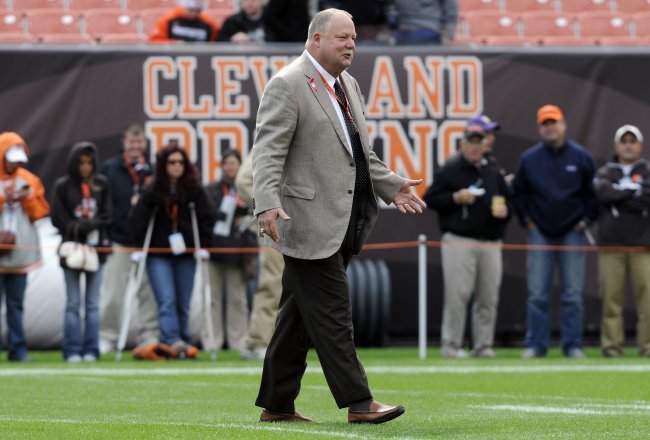 There's too much rapid change in the NFL for a five-year plan to be a smart strategy.
Jason Miller/Getty Images
We've all had little choice but to trust that Mike Holmgren and Tom Heckert knew what they were doing when they embarked on a five-year rebuilding plan three years ago, but the truth is that Browns fans have been far too patient.
Yes, this five-year plan could have worked, but the first two years weren't so spectacular and now it may be discontinued entirely should Holmgren lose his job. And while it's true that rebuilds do take time to pay dividends, five years is an awful long time in the rapidly-changing NFL.
It only took a season and a half for Rob Gronkowski to supplant Randy Moss for the Patriots? In five years, who knows what's going to be en vogue.
Jamie Squire/Getty Images
Though football teams need to be built for the long term, it's better to approach the team one year at a time. Wouldn't it be more satisfying for the Browns' brass to say, "We're working on making this year a success," rather than "We're hoping this pays off in five years"?
Right now, the Browns look like a more complete team than they have been in a long time. Though there are areas of weakness and positions which will need addressing in 2013 (like every team), there needs to be an immediate sense of confidence coming from everywhere in the organization.
There's a point when saying that there's still a few years left in a five-year plan goes from a reassurance that everything is accounted for and under control to an excuse. There can only be so many claims that "next year it'll come together" before it's simply not working.
In principle, a five-year plan seems realistic and harmless, but it also has a defeatist element to it. Hopefully the new ownership abandons the idea of the long-term rebuild and works on focusing on the year at hand as it happens. Making the right decisions now doesn't mean having to wait years to see if they actually worked out.
You Can Win Games by Running the Ball and Playing Strong Defense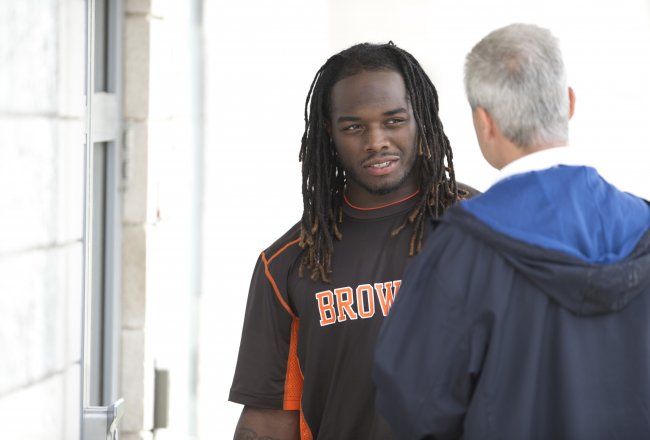 Richardson scored 24 touchdowns all by himself at Alabama last year; the Browns as a team scored just 20 in 2011.
Jason Miller/Getty Images
The NFL has become a heavily pass-dependent league with many spread-style receiver sets, quick passing and astronomical yardage, but that doesn't mean there's no room for exceptions to the rule.
In the AFC North, even though the passing has become far more prevalent, teams can still win by running the ball and playing good defense. And for the Browns to notch wins as quickly as possible, this is a strategy they should employ.
After all, they landed Richardson, the draft's best running back. And they've worked hard to improve the sieve-like defensive front seven, which should further allow their secondary to get even better.
Richardson and the defense are the perfect safety valves for the Browns as they take the field with a rookie quarterback in one of the league's most brutal divisions. Slowing down the game, keeping their opponents from scoring and trying to grind things out rather than notch a blowout win may not be the prettiest way to play the game, but it's effective.
Remember, defense is still the calling card of the AFC North.
Matt Sullivan/Getty Images
It sounds anachronistic, and it seems to be the opposite of how many want the Browns to approach the game, but if the passing just isn't there, the Browns need ways to win and this certainly is one.
There will be opportunities for the Browns to showcase how their receiving corps has improved from 2011 as well as the arm of their new quarterback, but their best bet to turn things around quickly could come from lower-scoring defensive stands, where Cleveland manages three-point victories in close contests.
The Browns have many options on how to approach each game in the upcoming season. If they can catch their divisional rivals off guard more than once, that's already a victory for the new-look Browns. Playing up their strengths, focusing on consistency and not throwing everything away after a bad season will do the Browns a world of good as they look to contend in the AFC North.
This article is
What is the duplicate article?
Why is this article offensive?
Where is this article plagiarized from?
Why is this article poorly edited?