Detroit Lions Sleepers to Watch in Training Camp
Gregory Shamus/Getty Images
It happens every year. Everybody goes into training camp with an idea of who to watch for, who could be poised for a breakout in training camp.
Some of those guys perform well, some disappoint. And always, somebody comes out of the woodwork to surprise everyone with a strong performance.
Sometimes those players make the roster, sometimes the practice squad, sometimes neither. But they always provide us with an intriguing number to watch during preseason games, and a name to keep tabs on as training camp rolls on.
Of course, a "sleeper" doesn't just have to be a unknown player. It could be a guy everyone is familiar with, who suddenly poises himself for a breakout season.
Though the Lions' roster is denser with talent than it has been in recent years, there are still roster spots to be had and impacts to be made.
And these are just a few of the guys with a chance to come from under the radar and do it.
Patrick Edwards, WR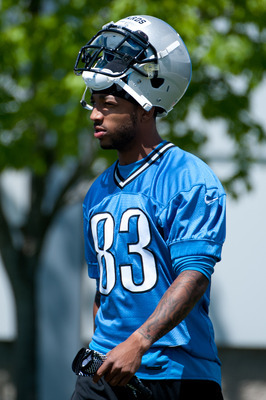 Tim Fuller-US PRESSWIRE
Patrick Edwards, for an undrafted player, has gotten so much attention to this point in training camp that he almost doesn't seem like a "sleeper" anymore.
Regardless, Edwards is an undrafted player competing at a position where at least the top four roster spots are locked in place already, and there may only be five spots available.
Edwards is a short, quick receiver who mirrors second-round pick Ryan Broyles in style, frame, and incredible college production.
So far, he is making plays in camp, but he has some issues to work out. Particularly, he needs to keep possession of his receptions.
The biggest problem for Edwards is that no matter how good he is as a receiver, he's not likely to get much time there this season if everyone stays healthy. Luckily for him, he can also return kicks, and special teams value is likely to be that missing link that makes it worth it to keep him around.
Maurice Stovall, WR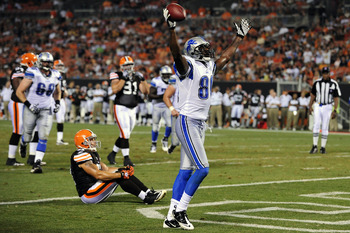 Jason Miller/Getty Images
During the 2011 preseason, Maurice Stovall looked like a pretty decent receiver and a great special—teamer.
During the regular season, he was a great special—teamer, but collected dust on the sidelines when the offense was on the field.
The 2012 preseason is looking about the same, with Stovall seemingly making another bid to be a viable part of the offense.
Do the Lions have a use for a receiver who spots a similar build to Calvin Johnson, but only a fraction of the athleticism? Perhaps, but in the meantime, he can continue to perform as one of the team's better special teams players.
The funny thing is, given how well Stovall played last year at about this time, you would think people would be looking out for him. But so much attention has gone to rookies Patrick Edwards and Ryan Broyles (as well as to Titus Young's vast improvement), that Stovall is being largely overlooked again.
Stefan Logan, RB/WR/KR/PR/ST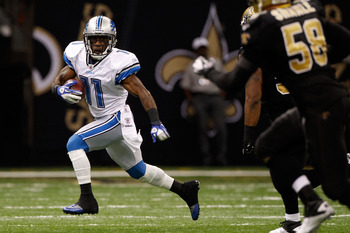 Chris Graythen/Getty Images
Chances are, most of you know the name Stefan Logan.
He was a great kick returner in 2010, and mediocre at best in 2011. I myself have projected him to be one of the most notable roster cuts this season, because the Lions don't have roster space to waste on a middle-of-the-road return specialist who brings nothing else to the offense.
And I would hold steady to that, except that the Lions, in the first week of training camp, have actually used Logan extensively in the offense. At running back, no less.
If Logan plays well enough at running back to be considered a viable option there during the season, he absolutely makes sense to keep on.
A decent special—teamer is nothing that impressive.
A guy who can effectively play running back, receiver, return kicks and cover kicks is a different story, even if he isn't a total standout in each area.
John Wendling, S
Tom Pennington/Getty Images
John Wendling occupies a safety position on the Lions roster almost as a technicality. His value is really as an ace special—teamer.
Nevertheless, he was forced into duty on special teams several times last season as a result of injury, and the results were mostly brutal.
Even still, Wendling is well worth the roster spot just because of his special teams ability. But he actually looks reasonably comfortable at safety so far, and he is reportedly even taking first team reps in training camp with Louis Delmas out.
Don't look for Wendling to earn himself a starting job out of training camp or anything, but if it turns out that he's a safety who can actually play safety, that's bad news for other safety prospects hoping the Lions take five on the 53-man roster.
James Bryant, FB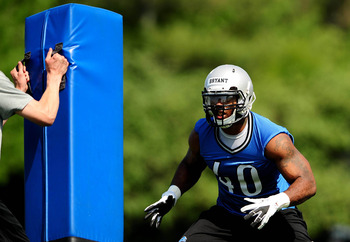 Andrew Weber-US PRESSWIRE
Okay, so the Lions don't need a fullback, right? The NFL has moved beyond the age of the fullback.
Well, yeah, that's true... but Bryant is actually performing very well in the blocking fullback role, and his emergence has the Lions running plays out of—get this—the classic "I" formation.
In many ways, the "I" is a relic of a bygone era, buried in a time when victory depends on putting as many receiving targets as possible on the field and letting the quarterback sling it all over the place.
But the fact is, the Lions struggled mightily in short-yardage and power running situations last year, and running a traditional power-running package with a real-live fullback could be just what the doctor ordered.
So far in camp, Bryant is throwing some mean-spirited lead blocks, and getting Kevin Smith sprung to the second level with regularity.
Thinking about that kind of thing happening in a real game is exciting, but the Lions have to commit to actually keeping Bryant on the roster or running the "I" formation as anything more than an experiment in training camp for it to make any difference.
Everette Brown, DE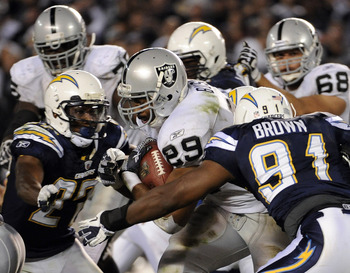 Harry How/Getty Images
Cracking the Lions' defensive line rotation is going to be tough this year (and every year for the foreseeable future), but Everette Brown is doing everything he can to try it.
In fact, the entire defensive line is playing so strong in camp so far, they appear to be trying to discredit every positive thing I've ever said about Cliff Avril's value to the team.
Brown is taking mostly second-team reps, and is performing well. His smaller, quick frame seems a good match for the Lions' wide-nine scheme.
Of course, Brown's ability to make the roster is almost definitely predicated on the Lions' willingness to take six DEs into the season, which seems like overkill even for them.
None of the top five (Avril, Kyle Vanden Bosch, Lawrence Jackson, Willie Young and rookie Ronnell Lewis) are going anywhere, so it seems like it's still an uphill battle for Brown.
More than any other player, Brown is the guy who reminds me that the Lions are going to have to cut some very good football players in September, no matter what. The talent level on the team is just that high right now.
Lance Long, WR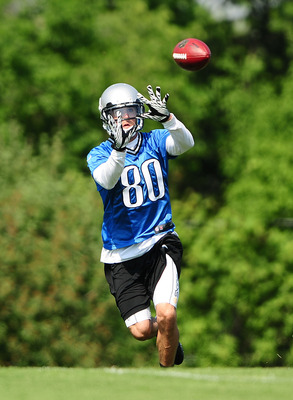 Andrew Weber-US PRESSWIRE
It's funny how this works out, but it seems that when you have good quarterbacks on the roster, there are a lot more wide receivers that look good, too.
Of course, it's not all about catching passes, though Lance Long has been very good at that. He's also doing a good job of creating separation in the secondary. In other words, the kid has some polish on him.
Unfortunately, he's not quite at the level of undrafted free agent phenom Patrick Edwards or veteran Maurice Stovall. Of everyone I've listed here, Long is the most out-of-nowhere and the least likely to make the roster. It would be optimistic to say he's seventh on the depth chart right now.
That makes him a good candidate for the practice squad, but it's still early. If he continues his impressive play, and perhaps becomes a decent special—teamer, he has an outside shot at making the roster, especially if there's an injury somewhere.
Keep Reading

Detroit Lions: Like this team?