SEC Football: One Goal for Each SEC Team During Fall Camp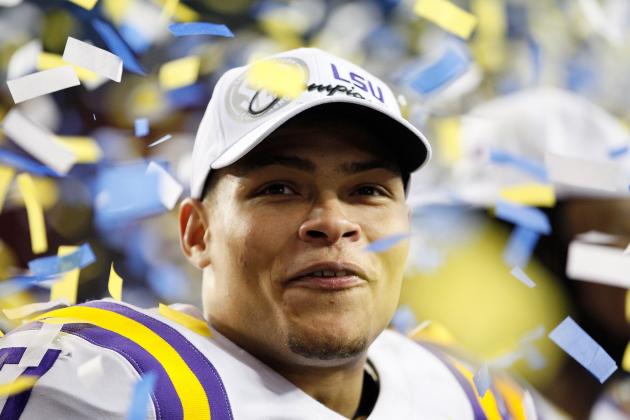 Kevin C. Cox/Getty Images
LSU CB Tyrann Mathieu
Fall practice kicks off this week in the SEC, and all 14 teams have plans to be playing in the Georgia Dome on Dec. 1 for the SEC championship.
Between now and then, we are in for a wild ride.
Working out the kinks in fall camp could be the determining factor of who's a contender and who's a pretender in 2012.
What is the biggest goal that each SEC team must accomplish before toe meets leather? SEC lead blogger Barrett Sallee examines in this slide show.
Begin Slideshow

»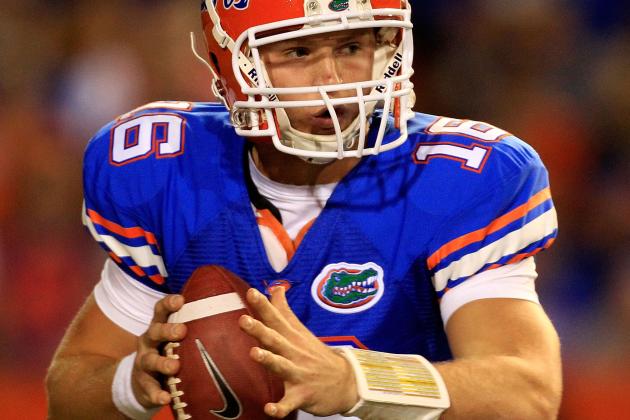 Sam Greenwood/Getty Images
Florida QB Jeff Driskel
Florida may still be searching for a quarterback, but the play of sophomores Jeff Driskel and Jacoby Brissett went a long way this spring towards calming the fears of Gator Nation. Ideally, any head coach wants to get quarterback battles out of the way early, but head coach Will Muschamp was non-committal on the quarterback battle at SEC media days.
"I would like to name a starter before the season, but I'm not going to put a timetable on that," said Muschamp. "If we need to play both of them, that's what we're going to do. We're going to do what we need to do to win football games."
That's the diplomatic answer, and it speaks volumes that Muschamp has mastered the art of coach-speak so early in his head coaching career.
But don't be fooled, he wants someone to emerge as the leader sooner rather than later.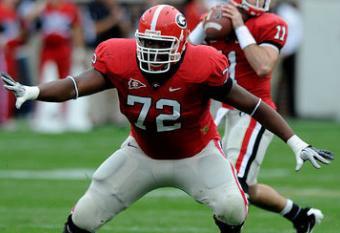 Georgia offensive lineman Kenarious Gates / UGA photo by John Kelley
Georgia lost three starters from last season's offensive line, and the presumed starter at right tackle, Kolton Houston, is still ineligible after failing a test for banned substances two-and-a-half years ago.
Watts Dantzler and John Theus will battle for that spot in place of Houston.
Kenarious Gates is the presumed starter at left tackle, and Chris Burnette is expected to work at guard. Both of them have experience. But the hole at right tackle, combined with the inexperience of guard Dallas Lee and center David Andrews, has the Bulldogs searching for answers along the offensive line.
If things don't get settled down in a hurry, the entire offense could suffer.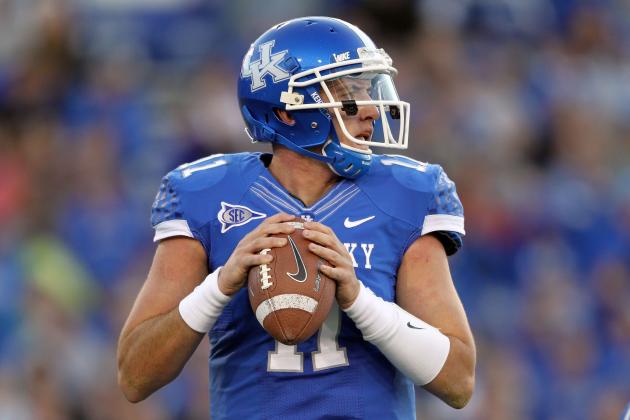 Andy Lyons/Getty Images
Kentucky QB Maxwell Smith
The prevailing question facing Kentucky heading into 2012 is a big one: Who's going to play quarterback?
Maxwell Smith closed out last season as the starter and is the favorite to win the job. He completed 55 percent (84-for-153) of his passes last season for 819 yards, four touchdowns and four interceptions.
Behind Smith is Morgan Newton, who was pressed into action as a true freshman in 2009 and sat out spring practice recovering from shoulder and foot injuries.
As is the case with Florida, Kentucky needs to settle on one of these two signal-callers so that it can get first team reps in practice.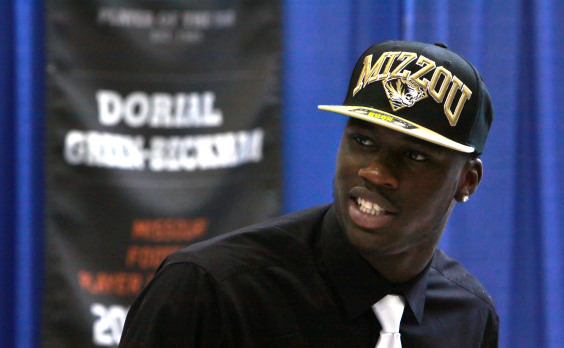 Missouri WR Dorial Green-Beckham / AP Photo/Mark Schiefelbein
Missouri has a tough task ahead of it, moving from the Big 12 to the SEC.
But don't be fooled, the Tiger offense is legit, and it's getting a boost this fall with the arrival of 6'6" super-recruit Dorial Green-Beckham.
Green-Beckham can become the kind of threat at wide receiver that SEC fans saw with former Alabama wide receiver Julio Jones, former Georgia wide receiver A.J. Green and former South Carolina wide receiver Alshon Jeffery.
With quarterback James Franklin taking the snaps and veteran wide receiver T.J. Moe lining up alongside him at wide receiver, Green-Beckham has all of the pieces in place to be a star early.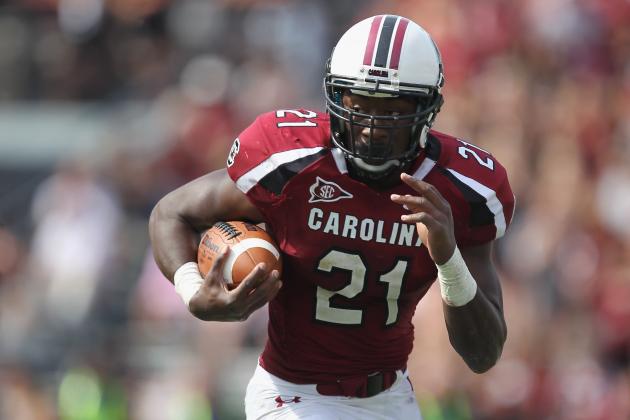 Streeter Lecka/Getty Images
South Carolina RB Marcus Lattimore
Marcus Lattimore tore his ACL in October of 2011, which derailed what was rapidly becoming a Heisman-caliber season.
Fast forward to fall camp, and Lattimore is still in the recovery process. He was limited this spring and will have to take some hits this summer in order to be properly prepared for game situations.
Quarterback Connor Shaw emerged as a big-time threat late last season, but if South Carolina is going to get over that hump and contend for a national title, Lattimore is going to have to be on his game early in 2012.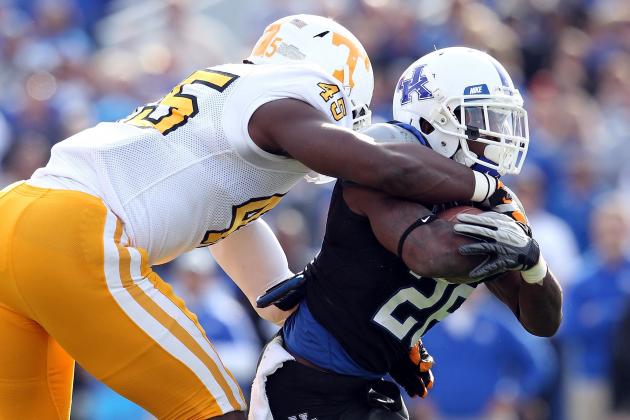 Andy Lyons/Getty Images
Tennessee LB A.J. Johnson
New defensive coordinator Sal Sunseri installed his 3-4 system this spring, which is a departure from the 4-3 system that the Volunteers had been running.
The Vols adjusted well this spring, and head coach Derek Dooley reiterated that becoming more aggressive on defense will be the mantra heading into the opener at the Georgia Dome against N.C. State.
"I think on defense, of course, I felt like we needed to be a lot more aggressive to impact the game in a positive way," Dooley said at SEC media days.
"We had some respectable statistics in some areas, but I never felt like we impacted the game from a negative play standpoint, from a turnover standpoint, from a sack standpoint. We're going to try to be a little more aggressive on defense."
Instilling that aggression while teaching the proper discipline under the new system will be a big factor for the Vols this season.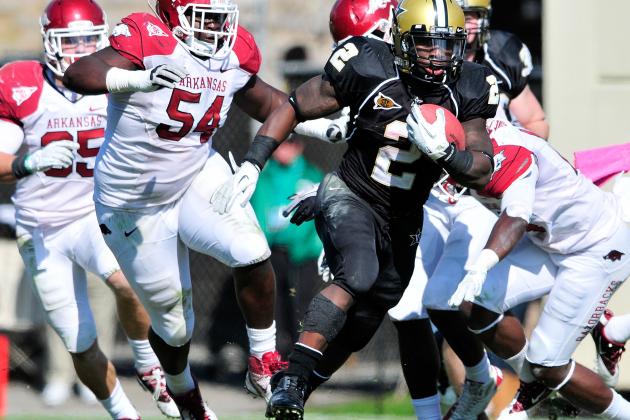 Grant Halverson/Getty Images
Vanderbilt RB Zac Stacy
Vanderbilt head coach James Franklin has led the Commodore program to its brightest time in the modern era of college football.
He led the 'Dores to their second bowl game since 1982 last season—his first in Nashville. On-the-field success has translated to success on the recruiting trail. He has one of the nation's top-25 classes in the Class of 2013, depending on what service you use, which is a major departure from the norm for Vandy.
But the next step is to embrace and build upon success, and that's arguably harder to do than succeed in the first place.
Veteran leadership from quarterback Jordan Rodgers and running back Zac Stacy will certainly help, but the 'Dores need show improvement this season to avoid falling back to being the "same old Vandy."
Kevin C. Cox/Getty Images
Alabama CB Dee Milliner
The loss of several starters to the NFL has forced head coach Nick Saban and defensive coordinator Kirby Smart to fill some holes this offseason.
That's not necessarily a huge issue for the Crimson Tide considering some of the players expected to fill those roles—nose guard Jesse Williams and cornerback Dee Milliner, in particular—have plenty of experience under their belts. But they are still holes.
With Alabama facing potent offenses in Week 1 (Michigan) and Week 3 (Arkansas), the new-look Alabama defense will have little margin for error if it wants to repeat as national champions.
Saban and Co. have stocked that roster to a point where the Crimson Tide doesn't rebuild, it reloads. But it's going to have to reload in a hurry in 2012.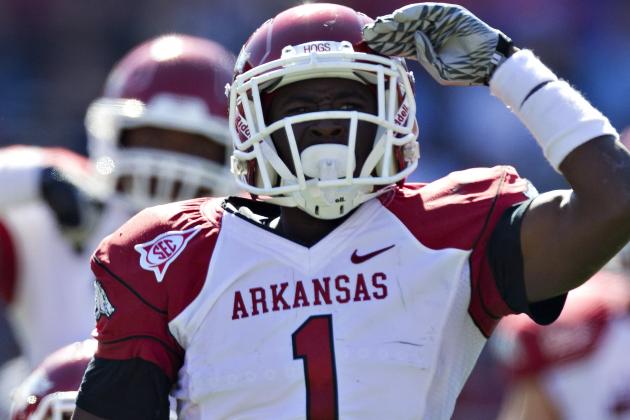 Wesley Hitt/Getty Images
Arkansas WR Marquel Wade
Arkansas head coach John L. Smith confirmed last week that wide receiver Marquel Wade will not be a part of the football program in 2012 after an offseason arrest.
While Smith didn't necessarily close the door on Wade's return beyond 2012, the Razorbacks still need to find another option at wide receiver for this season—which is really the last best shot Arkansas has at a national title before an inevitable rebuilding year next season.
Wade was impressive all spring for the Hogs, culminating with a 136-yard performance in the spring game. He was expected to be one of quarterback Tyler Wilson's primary targets this season, along with wide receiver Cobi Hamilton and tight end Chris Gragg.
Julian Horton and Javontee Herndon are expected to be contend for serious playing time this fall.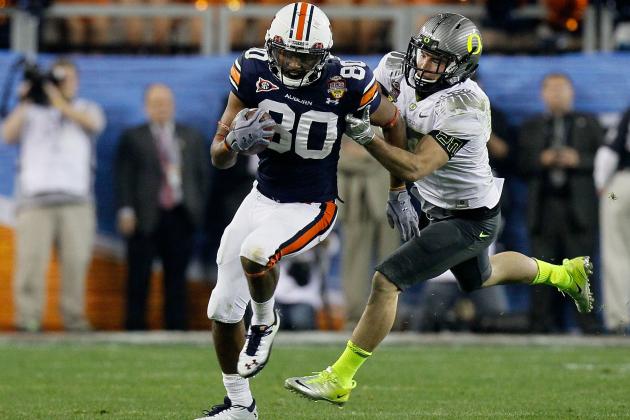 Kevin C. Cox/Getty Images
Auburn WR Emory Blake
The Tigers think they will be fine with the stable of running backs and are high on the progression of quarterback Kiehl Frazier. But for either to succeed, they need to find a passing attack.
Wide receiver Emory Blake emerged as a star during the last two seasons, but when he got hurt versus South Carolina in early October 2011, Auburn's passing offense went in the tank.
Trovon Reed came in with a ton of hype in 2010, but injuries have hampered his development. Travante Stallworth has plenty of experience, but he hasn't taken the next step to become a reliable pass-catcher yet. Ricardo Louis has impressed everyone in fall camp, but nobody on the Tiger roster has emerged as a solid No. 2 option.
The Tigers do have senior tight end Philip Lutzenkirchen, who will benefit from the presence of fullback Jay Prosch taking up most of the blocking responsibilities. Plus, with the stable of running backs to catch passes out of the backfield, the screen game should be dangerous.
Those are nice options, but if Auburn's offense is going to click, someone needs to step up as a downfield threat opposite Blake.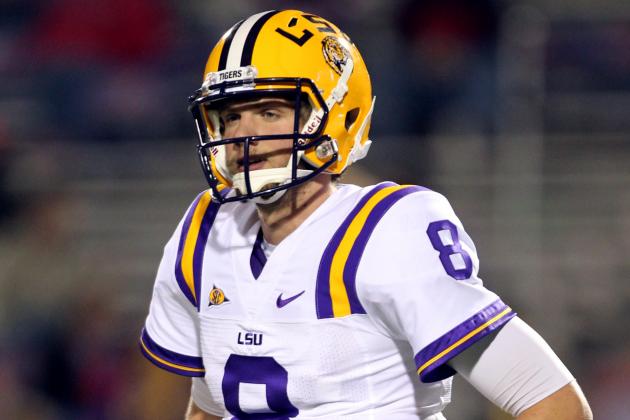 Joe Murphy/Getty Images
LSU QB Zach Mettenberger
Having Penn State transfer quarterback Rob Bolden provides LSU head coach Les Miles a nice insurance policy, but this is Zach Mettenberger's team.
The goal for Mettenberger is simple: Stretch the field when asked, but above all else, take care of the football.
That's a hard thing for a quarterback with a cannon for an arm to grasp, no matter how may times he hears it in the offseason and does it in practice.
LSU is set up for another title run, with Mettenberger being the primary piece missing from the puzzle. With minimal experience under his belt at the FBS level, he's going to have to get comfortable in a hurry.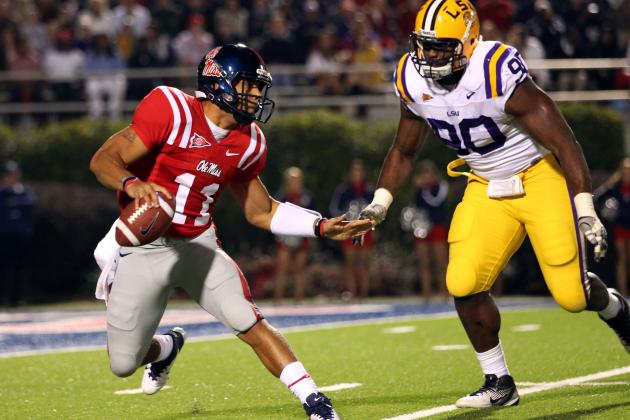 Joe Murphy/Getty Images
Ole Miss QB Barry Brunetti
Barry Brunetti has more experience than junior college transfer Bo Wallace, but Wallace was impressive this spring. The two enter fall camp as co-starters, and first-year head coach Hugh Freeze thinks that battle may last into the season.
"We will start with co-number one quarterbacks.," said Freeze at SEC media days. "Barry Brunetti and Bo Wallace will be guys that go into camp competing for that job. I said all along it wouldn't shock me for that competition to extend into the early parts of the season."
Wide receiver Donte Moncrief did give us some insight during his appearance at media days.
"I think Bo Wallace [is the favorite]," Moncrief said. "He knows the offense, and you can tell."
Someone needs to separate early and get the majority of the snaps during fall camp.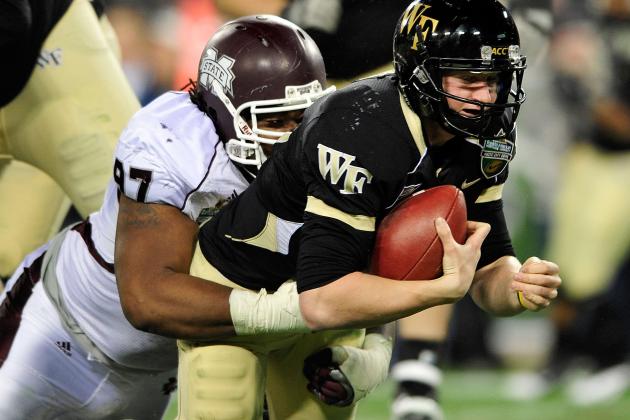 Grant Halverson/Getty Images
Mississippi State DT Josh Boyd
With Fletcher Cox gone, one of the biggest pieces of Mississippi State's defensive puzzle needs to be replaced.
Josh Boyd is certainly capable, but he has played second fiddle to Cox during his career. Boyd finished with 51 tackles and 4.5 sacks last year playing in Cox's shadow.
With junior college transfer Denico Autry in the mix at defensive end, Boyd needs to become that force inside to let Autry reak havoc in the backfield.
If Boyd can do that, everybody on the Mississippi State defense will benefit, particularly the uber-talented secondary.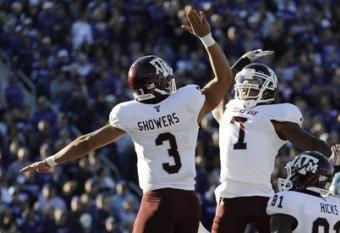 Texas A&M QB Jameill Showers / Photo Credit: Getty Images
It seems like a broken record, but most teams that have quarterback battles going on this fall need to get them solved quickly.
Never has it been more important than in Texas A&M's case.
Head coach Kevin Sumlin is bringing his spread system in, and Jameill Showers appeared to be the front-runner over Johnny Manziel.
Sumlin downplayed reports that Showers is the leader as the Aggies opened fall camp, according to Brent Zwerneman of the San Antonio Express-News and Houston Chronicle:
Sumlin: QB battle is 'wide open' headed into camp, said only media has declared a starter (Showers) -- not him.

— Brent Zwerneman (@BrentZwerneman) August 3, 2012
With the Aggies breaking in a new system under a new coordinator with a new head coach in a new conference, having stability at quarterback is something that needs to happen sooner rather than later.