Nebraska Football: 5 Videos to Pump You Up for the Huskers' 2012 Season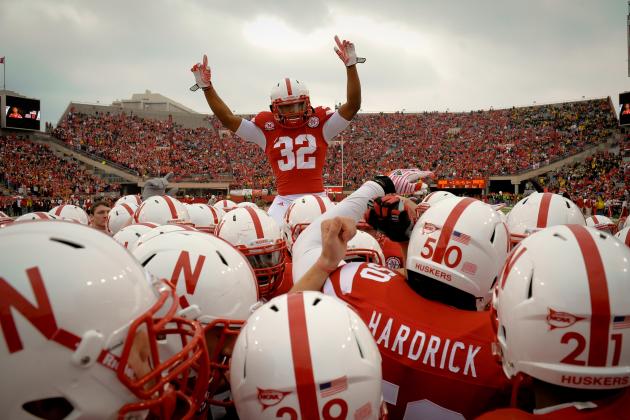 Eric Francis/Getty Images

Nebraska is rapidly approaching opening day on September 1, as the Huskers will take the field against the Southern Mississippi Golden Eagles. With a little under a month away, it is time to get pumped up for the 2012 season.
Here are five videos highlighting some of Nebraska's greatest moments, from last season and others, and traditions. Ranging from Johnny Rodgers' return, to Alex Henry's kick and "The Comeback," these videos will get you pumped up for the 2012 season, so when the Huskers come charging out of the tunnel on opening day, during the famous tunnel walk with Alan Parsons' "Sirius" blasting over the PA system, you will be ready.
Begin Slideshow

»
The first video is a highlight of big plays from the 2011 season, as well as a brief intro about what Nebraska is about.
"You come to the University of Nebraska to be the best. To compete against the best in the country. Nebraska football represents the best of what there is in college football. Passion. Loyalty. Accountability to the guy next to you. Nation Leading Academic All Americans. Major Award Winners. Championship teams. The Greatest Fans in College Football.
"This is Nebraska."
The next video is the tunnel walk for the Michigan State. It was the first home game after the epic comeback vs. Ohio State, and the video department for the Huskers decided to have a little fun. It highlights four of the biggest moments in Husker history. Johnny Rodger's Return. Tommie Frazier's Run. The Flea Kicker. Black 41 Flash Reverse Pass to Crouch. Before adding the newest legendary moment...The Comeback.
The next video is a recap of the Nebraska rally in the game that we now know as "The Comeback." Down 27-6 in the second half, Nebraska rallied and beat the Buckeyes, 35-27, in the largest comeback in school history.
The video is set to Al Pacino's "Inch by Inch" speech for Any Given Sunday, as well as a song from the movie Inception. Add those to the best game to watch from last season, and this video is awesome.
This next video goes a little old school. Highlighting some of the greatest plays in Nebraska history. The Return. The Fumblerooski. The Flea Kicker. Crouch's epic run vs. Missouri. Alex Henrey's kick. And Ndamukong Suh's demolition of Colt McCoy. Take a moment to look back on some of the greatest players to don the Scarlet and Cream as we head into the 2012 season.
This final video is a highlight reel of Nebraska's best plays and moments from the 2011 season. The song that plays with it is the song that blasts over the PA system before kickoff. It highlights plays like Abdullah's return, Burkhead being Superman and the Blackshirt's best moments. The season is coming, the question is: Can you feel it?