Detroit Lions' Critics a Lot More Worried About Supposed Deficiencies Than GM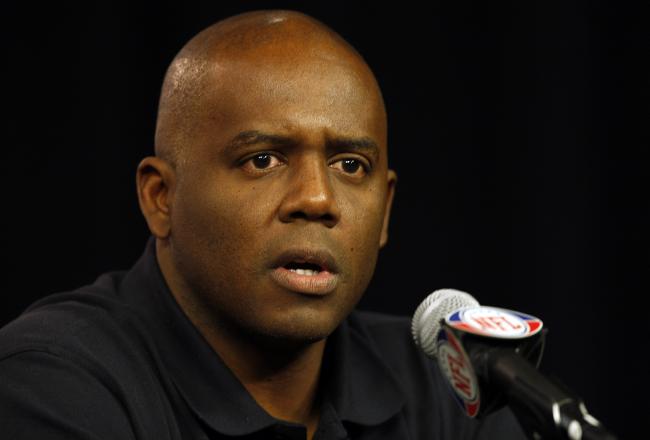 Leon Halip-US PRESSWIRE
From listening to national (or local) media talk about the Detroit Lions, it seems almost impossible that they could head back to the playoffs in 2012. The man who built the team, on the other hand, is convinced this is his best team yet.
From Michigan Live's Anwar Richardson:
"I would say to just wait and see how we play," [Martin] Mayhew said. "I'm very confident in the guys that we have. Again, we return 10 of 11 starters. I think there's going to be a good competition for the right cornerback spot. I feel good about the guys that we have there now.

"If we can upgrade that group, then we would upgrade the group, but I feel good about the guys that we have there right now."
Is this just typical offseason fluff, or does Mayhew have a point?
The two most typically cited reasons the Lions should be worried are: the defensive backfield and the running backs. Yet, if 2011 is any indication, the Lions have little reason for concern.
As Mayhew noted, the right cornerback spot is up for grabs in Lions camp, but it isn't like the other positions in the backfield are manned by All Pros.
Louis Delmas, while heralded, has been mostly a disappointment at safety. Chris Houston is better than he's given credit for, but isn't a shutdown corner. The second safety position is up for grabs, as Amari Spievey and Erik Coleman stage a game of "who will stay healthy the longest."
Yet, the Lions' defensive backfield looked much the same last year and the team did just fine, as did the Green Bay Packers and New England Patriots, who fielded defenses arguably worse than the Lions in 2011. The common thread among those teams is a high-octane offense that puts a lot of pressure on defenses to stop extra possessions.
This isn't a Lions fan (which I am) being an apologist (which I've never been), it's simply pointing out that the defensive backfield giving up points isn't something new to Motown and it's certainly not something that's gotten any worse this offseason.
Eric Wright, you want to talk about Eric Wright?
Eric Wright wasn't good in 2011 and inexplicably commanded a big contract from the Tampa Bay Buccaneers this past offseason. According to Pro Football Focus (paid link), Wright was one of the worst cornerbacks in all of football last season, giving up a passer rating of 84.1 when quarterbacks threw his way. Houston, for comparison, allowed a rating of 65.9.
So, the Lions let a big piece of the problem walk and that's supposed to make the it worse?
All of this ignores the fact that Detroit's defense isn't built around the back four, which is supposed to be more of an afterthought than people realize.
The theory behind Jim Schwartz and Gunther Cunningham's scheme is that the pass defense needs to be just good enough to take advantage of the mistakes quarterbacks make when rushed. It doesn't mean the Lions want scrubs back there, just that they're not going to overpay for mediocrity.
Meanwhile, the Lions haven't ignored the defensive backfield at all in 2012. Jacob Lacey was brought over from Indianapolis, and three cornerbacks were drafted to add young, talented depth to a unit that sorely needed it.
By design, the defensive backfield is never going to be the strength of the Lions, but there's little reason to believe it will be any worse than it was last year and will stand in the way of their playoff aspirations.
Then, the running game.
This supposed Achilles Heel of the Lions' offense has been torn for years, and hasn't stopped Detroit from building one of the most fearsome attacks in the league. Matthew Stafford dropped over 5,000 passing yards on the league last year, and there's little reason to hand the ball off when Calvin Johnson is wide open wherever the heck he wants to be.
Yes, Jahvid Best is probably more likely to join the next NFL concussion lawsuit than next year's 1000-yard rushing club. Mikel Leshoure is coming off both his own injuries and an offseason clearly spent partying a little too hard. It's easy to see why the Lions could be worried about that position.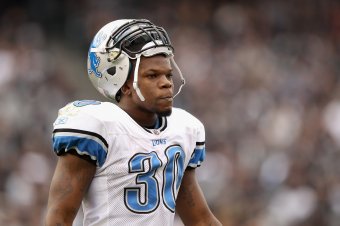 Ezra Shaw/Getty Images
Kevin Smith, however, provides a great reason to keep calm and carry on. Smith, released by the Lions and ignored by other teams following the lockout. came in off the street last season and filled in admirably. His yardage totals of 356 yards rushing and 179 yards receiving aren't impressive until you look at the averages of 4.9 and 8.1.
Smith didn't have a huge role for the Lions and only played in seven games, but when he was called upon, he had zero problems taking the ball where it needed to go.
NFL fans have started to understand that teams like the aforementioned Packers and Patriots (along with the New Orleans Saints and any team with Peyton Manning on the roster) don't need a traditional running game to win, so why doesn't Detroit get the same courtesy?
Even the Super Bowl Champion New York Giants, long thought of as a run-heavy, defensively stout team, earned a Lombardi Trophy last year with one of the worst pass defenses and an even more anemic rushing offense.
The Lions have real problems to worry about. Can a team with more arrests than superstars keep their focus as the season draws near? Can Ndamukong Suh start taking his aggression out on quarterbacks rather than fallen linemen and helpless trees? Can the offensive line keep Stafford upright enough to put together another great season?
All those real questions need real answers between now and Week 1. The idea that Detroit's lack of defensive backfield and running back talent is somehow more of a problem now than it was eight months ago is just foolish.
Michael Schottey is the NFL National Lead Writer for Bleacher Report and an award-winning member of the Pro Football Writers of America. Find more of his stuff alongside other great writers at "The Go Route."
This article is
What is the duplicate article?
Why is this article offensive?
Where is this article plagiarized from?
Why is this article poorly edited?