Notre Dame Football: Breaking Down Everett Golson's Strengths and Weaknesses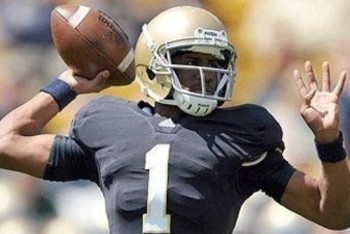 blogs.nd.edu
After Notre Dame head coach Brian Kelly announced that incumbent starting quarterback Tommy Rees has been suspended for the Irish's season opener, Everett Golson's chances at taking the reins increased exponentially.
The sophomore from Myrtle Beach, S.C., served a redshirt year in 2011, but is poised to take command of the Irish offense when Brian Kelly's squad trots onto the pitch at Aviva Stadium in Dublin, Ireland on Sept. 1.
Before any such thing occurs, I'll provide a breakdown of Golson's strengths and weaknesses.
Let's get started.
Strength: Mobility
Everett Golson's most lethal weapon is no mystery: his ability to scramble out of the pocket and make something out of nothing is what makes him so dangerous as a quarterback.
After watching last season's starting quarterback, Tommy Rees, lose yards in bunches because of a lack of mobility, Irish fans have been clamoring for a player like Golson, who is able to pick up yards on the ground should the play break down.
The video above provides a perfect example of what Golson brings to the table in terms of scrambling ability. Keep in mind that the footage is from the 2011 Blue-Gold Game, when Golson was an early-enrollee.
With his blue team trailing 17-6 late in the fourth quarter, Golson is faced with a 3rd-and-10 from the gold team's 40-yard-line.
He takes the shotgun snap, surveys the field, and immediately decides to attempt to cut up the middle.
Golson backs out of that decision because of the pressure from the defensive tackle, makes a nifty backwards spin move, and takes one last quick look at the coverage.
Seeing nothing available, Golson scampers up the right half of the field, picking up an excellent block from offensive tackle Christian Lombard in the process.
25 yards later, his team is in business to pick up a much-needed score.
The most promising aspect of this particular play is that Golson didn't immediately give up on throwing the ball; he was searching for the open receiver up until he crossed the line of scrimmage.
That sequence came with 15 spring practices under his belt.
Consider what Golson will be able to do now with 18 months of experience.
Weakness: Pre-Snap Reads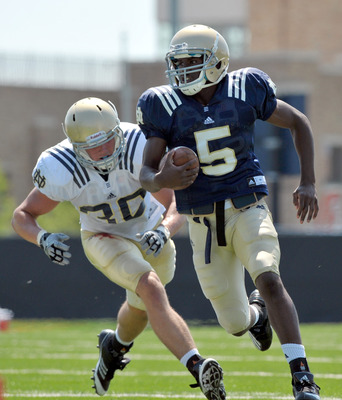 Matt Cashore-US PRESSWIRE
While Fighting Irish fans are enamored with Everett Golson's tremendous athletic ability, an aspect of his game that is often overlooked is his ability to read defenses at the line of scrimmage.
That aspect of quarterback play is what has kept Tommy Rees' job safe through 16 career starts.
That said, when a player such as Everett Golson reaches Rees' level of proficiency at progressing through the pre-snap read, the starting job may just be his to keep.
Recognizing formations and coverages at the line requires experience, something that Golson is short on.
Fortunately for Golson, the season's first two games come against lesser competition. Golson, should he be named starting quarterback, and will have eight quarters to sharpen his football mind.
Doing an excellent job in all phases of the game against teams such as Navy and Purdue is an accomplishment in itself for a young quarterback, but doing the same against the likes of Michigan State and Michigan is a completely different animal.
Unfortunately for Golson, the level and quality of play against those elite teams on the schedule will be voraciously picked apart by both fans and the media.
Just another perk of being the starting quarterback at Notre Dame.
Weakness: Size
Matt Cashore-US PRESSWIRE
According to Notre Dame's official website, Everett Golson's height is listed as 6'0". He also checks in at 185 pounds.
Some may think that a quarterback's body size may not be a significant factor due to the outstanding play of smaller quarterbacks such as the New Orlean's Saints' Drew Brees or former Boise State quarterback Kellen Moore.
However, those two quarterbacks are true drop-back, pocket passers who rarely pick up yards with their feet.
That's where Everett Golson differs.
As is common knowledge, Golson is a very talented scrambler. But against ferocious defenses on the Irish schedule, will Golson be able to withstand brutal hits and knockdowns for the course of an entire season?
As a prep phenom at Myrtle Beach High (S.C.), Golson was rarely touched, enabling him to accumulate 11,634 yards and 151 touchdowns in his high school career.
The key for Golson will be to make smart decisions running the football.
It's understandable for Golson to strive to pick up every single yard he can for the team, but he must also possess the intelligence to understand when to slide or scurry out of bounds.
Strength: Arm Strength
Despite his lack of size, Everett Golson has what some have referred to as a "cannon" of an arm.
That distinction is on display throughout the video provided, and one particular throw to give special attention to comes at the 0:32 mark.
Golson has his Myrtle Beach High team lined up at the 50-yard-line, buys himself ample time in the pocket, then delivers a 50-yard pass that hits his receiver in stride, resulting in a touchdown.
Another extraordinary touchdown pass from Golson comes at the 0:50 mark.
Golson is nearly sacked by a defender after taking the shotgun snap, but spins out of it, runs to his right, and slings a 40-yard touchdown pass on the run.
The play is yet another testament to his seemingly inhuman athleticism.
Overview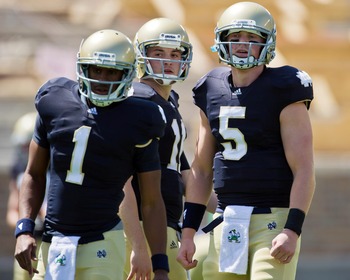 Matt Cashore-US PRESSWIRE
The last quarterback to lead Notre Dame to a national championship was Tony Rice, who accomplished the feat in 1988.
On TNNDN Network's radio show Down the Line, Rice delivered high praise regarding Everett Golson.
"His athletic ability? He has it all. I'd say he's better than me. I think he has a lot to offer this team, and I'm very excited to watch him play. If you put him the shotgun, you can't stop him. I saw a couple practices when he was out there, and I was amazed."
For a national champion quarterback to speak that highly of a quarterback who has yet to play a down of collegiate football speaks volumes about Golson's potential.
In this writer's humble opinion, Golson has all the tools to lead Notre Dame to the next level.
He should be named starting quarterback, and it would be quite a shock if Kelly does not choose Golson.
Keep Reading

Notre Dame Football: Like this team?