Washington State Recruiting: Why Cougars Should Be Excited About Tyler Bruggman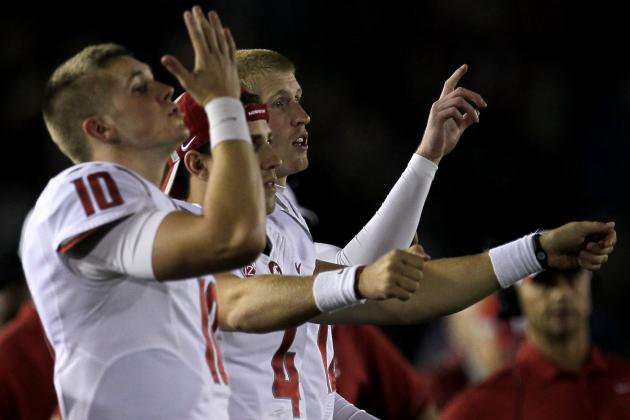 Stephen Dunn/Getty Images

Cougar fans should already be excited about Tyler Bruggman.
He may only be a verbal commitment at this point, but the 6'2" quarterback from Arizona possesses every trait necessary to thrive at the next level.
With Mike Leach at the helm, Bruggman should be salivating at the opportunity to throw touchdown passes in a wide-open offensive set, capable of throwing the ball 50 times in a game.
Leach seeks quarterbacks that are good decision makers as well as accurate.
Luckily enough, Bruggman boasts both of those characteristics, and he looks as if he and Leach may be a perfect duo.
The quarterback is able to stay away from costly blunders, and Leach will be happy with Bruggman leading the offense.
It may be a few years, but Bruggman is poised to post some huge numbers.
Begin Slideshow

»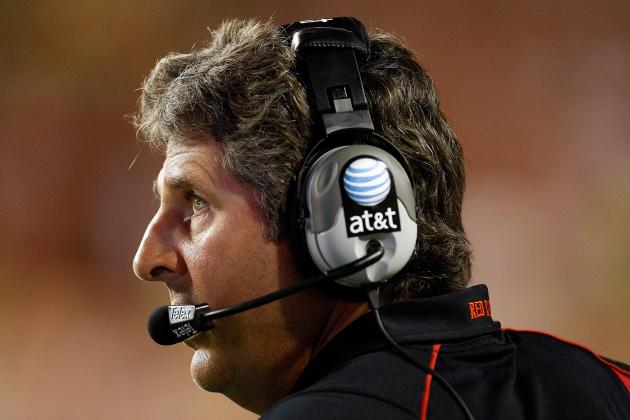 Ronald Martinez/Getty Images

Perhaps the focal point of a Leach-centered offense is a quarterback's accuracy. Luckily for Bruggman, he is a precision passer that is built to deliver the ball on point.
His high school stats back up the claim, as Bruggman threw only two interceptions during all of last season. Obviously, he can protect the ball.
He seemingly thrives with short routes, which are a mainstay in the air-raid offense.
The quarterback is trained to get the ball out before the defense has a chance to put pressure on him. In that situation, Bruggman is accurate enough to feed the ball a receiver before the pressure mounts.
Furthermore, Bruggman is capable of throwing an accurate vertical ball. At this point in his career, he has not been forced to employ the deep ball as much, but he does have a deep ball that can find receivers.
It is not consistent enough at this point, however, to be counted on. Fortunately, Bruggman will have one more year in high school to continue to perfect his craft.
Bruggman must continue to refine his deep passing if he wants to become a truly dominant Pac-12 quarterback.
Jayne Kamin-Oncea-US PRESSWIRE

The Cougars will be getting an extremely bright quarterback when Bruggman arrives in Pullman.
Perhaps the best trait about Bruggman is that he simply does not make mistakes.
Much like Kellen Moore at Boise State, Bruggman has a knack for protecting the ball.
He finished with a completion percentage of 60 percent during his junior year and tossed 37 touchdowns. He already has shown he has the ability to look off defenders and miss downfield, but his play preparation is equally impressive.
On numerous plays, Bruggman is able to see that the defense is blitzing and audibles his receivers' routes accordingly. By doing so, he is able to negate the blitz and pick up 10 yards in the process.
Bruggman has exceptional instincts while in the pocket and can sense when the blitz is coming. By doing so, Bruggman rarely takes losses and generally moves the ball downfield.
Even when being pressured, Bruggman generally gets throws off that wind up in his receivers hands. He does not crack under pressure and can be counted on even while being blitzed.
Bruggman is simply a maestro in the short field.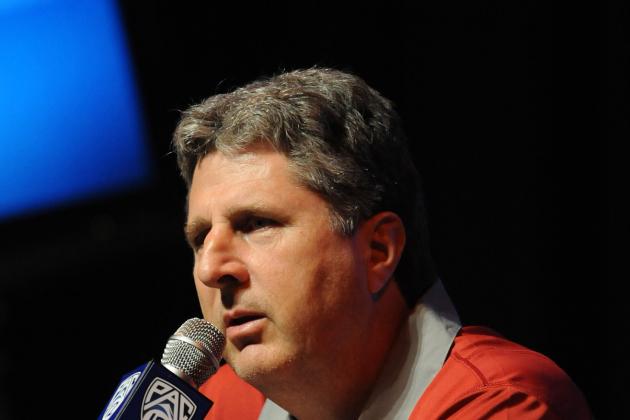 Jayne Kamin-Oncea-US PRESSWIRE

Bruggman will surprise fans with his athleticism.
He may not be a bonafide dual-threat quarterback, but he is a good enough athlete to at least be respected in the ground game.
He may not rack up 100 yards rushing in his career, but Bruggman is more athletic than he reveals. He has a sneaky quick release, but he also possesses the wheels necessary to escape pressure.
With a more athletic quarterback under center, the Cougs may be able to rely less on their offensive line. Bruggman would be able to alleviate some of the responsibility on the other offensive playmakers. With his ability to escape pressure, Bruggman has the ability to leave the defense guessing.
Bruggman may not win any rushing titles, but he at least is a threat to run the ball granted he has enough space.