Aly Raisman 2012 Olympics: Results, Analysis and More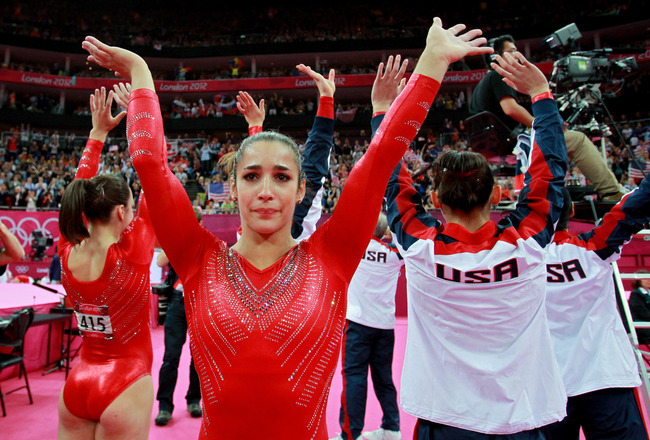 Ronald Martinez/Getty Images
After helping lead the United States to a gold medal in one of the most impressive team performances in gymnastics history, Alexandra Raisman begins her solo journey in London with the all-around competition.
The 18-year-old captain of Team USA earned her spot in the all-around with a qualifying score of 60.391, less than three tenths of a point behind Russia's Viktoria Komova for the top score.
It will be interesting to see how Raisman fares in the all-around, especially given that her two best events are the balance beam and floor exercise. She is decent on the vault, though she looked far better than that in qualifying.
The uneven bars gave her problems, as she posted a low score of 14.166 in qualifying. It didn't hurt her overall score that much, but it would make things easier if she could bring that up just a bit in the all-around finals.
Raisman will also be featured in the floor exercise and balance beam events that take place on August 7. All eyes will be focused on the all-around competition, obviously, but she will have another shot at supremacy in that event.
We will have full analysis of Raisman's performance in the all-around, as well as the floor exercise next week.
(Note: Article will be updated as results become final.)
Floor Exercise (Individual Final)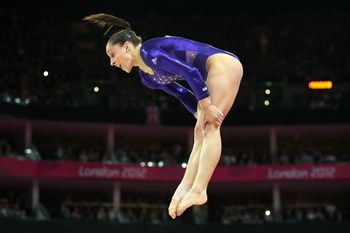 Ronald Martinez/Getty Images
Individual Event Final takes place on August 7 at 11:23 a.m. ET
Update: Tuesday, August 7 at 1:00 p.m. ET
Though there was not nearly as much drama in the floor exercise, Aly Raisman has to like this result a lot better.
The American star was expected to shine at this event even before the Olympics began, and sure enough, she lived up to her advanced billing by winning a gold medal.
Raisman finished the event with a score of 15.600, including a spectacular 9.100 for her execution. She easily bested Romania's Catalina Ponor's score of 15.200 to capture the final gymnastics gold medal of these Games.
---------END OF UPDATE-------------
You will have a hard time finding anyone in the field for the floor exercise who is as good as Raisman. That's not a knock on the other competitors, rather a testament to how strong she has been in this event.
Like we said in the preview for the floor exercise in the all-around competition, Raisman had virtually no competition. After her 15.325 in the all-around qualifying, the second place score was 15.066 by Sandra Izbasa from Romania.
No one else scored over 14.900. There are times when you hesitate to call someone a lock for fear of jinxing them, but Raisman appears to be as close to a lock for a gold in this event as anyone could get.
Balance Beam (Individual Final)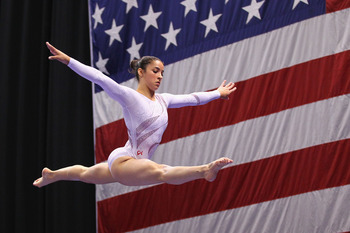 Dilip Vishwanat/Getty Images
Individual Event Final takes place on August 7 at 9:47 a.m. ET
UPDATE: Tuesday, August 7 at 10:35 a.m. ET by Adam Wells
In one of the most unusual decisions you will ever see, Raisman wound up winning a bronze medal on the balance beam. She did not have a clean performance, as she wobbled and did have a bit of a step on the dismount, putting her score at 14.966 and in fourth place.
According to Alice Park, Raisman filed an inquiry with the judges. Eventually they increased her difficulty score, which bumped her total up to 15.066 and into a tie with Catalina Ponor from Romania.
Yep, Raisman filed an inquiry; announcement gets a cheer from the crowd

— Alice Park (@AliceParkNY) August 7, 2012
Because Raisman's execution score (8.766) was higher than Ponor's (8.466), Raisman was awarded the bronze.
------------END OF UPDATE-------------
Going back to what we said about Raisman on the beam, it will be interesting to see how her approach changes—if it does at all—in the individual final.
With the all-around competition, she will know where she stands among the rest of the field and have some idea what she needs to score to either maintain a lead or move herself into the lead.
The individual final, however, could open her up to new challenges. She won't have to worry about a combined score in order to medal, so she might be more willing to free herself in order to dazzle the judges in ways we haven't seen.
Fortunately, she will have a few days to work on her routine following the all-around to make any tweaks that she wants.
Vault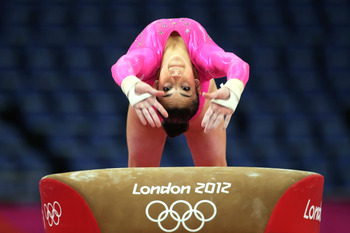 Christian Petersen/Getty Images
Rotation 1, Order 2
Update: Brian Mazique - 11:40 AM ET
Aly is following Gabby Douglas in the rotation, and after her teammate nailed her attempt with a 15.966, Raisman did not disappoint.
She produced a solid 15.900 and after one event, she is looking very solid. Slowly but surely she is becoming the unsung hero of this team.
Raisman's quest for the all-around gold will begin with the vault, as she will go right after her teammate Gabby Douglas.
This was actually her best event in qualifying, as she posted a score of 15.800. It was a surprising result since it is not considered to be one of her specialties, but it is a testament to the work she has put in to make it to this point.
A strong showing on the vault will be a great boost to her confidence and give her the momentum needed to stay at the top of the standings throughout the competition.
Uneven Bars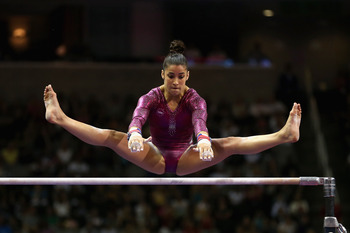 Ezra Shaw/Getty Images
Rotation 2, Order 1
Update: Brian Mazique - 12:07 PM
Aly fell a bit in the standings after her performance on the bars. She scored only a 14.333 and with Russia's Viktoria Komova producing a 15.966, she has overtaken Raisman in the overall standings.
She still has the beam and floor remaining, but this may have knocked her out of contention for the gold in all-around.
This is the event that has given Raisman problems thus far. Her qualifying score of 14.166 was by far her lowest of the four events in the all-around, and 23rd out of 79 gymnasts.
Uneven bars will never be Raisman's strength, but she will have to find a way to make it not be a weakness if she wants to make it to the podium. She is strong in the final two events, so a low score here won't completely ruin her.
It would make things much easier for Raisman if she is able to increase her qualifying score by even a half point.
Beam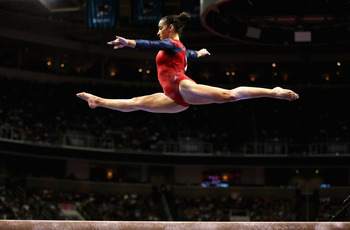 Ezra Shaw/Getty Images
Update: 12:45 PM - Brian Mazique
Aly continues to falter. She placed her hand on the beam, which is contributed to her low score of 14.2 in this event.
At this point she is realistically out of the running for a medal in the all-around.
Rotation 3, Order 6
Raisman's grace and confidence are the two biggest reasons that she excels on the balance beam and floor exercise.
Unlike the vault and uneven bars, which are as much about power and elegance, the beam and floor gives the gymnast a chance to use their body far more than the first two all-around events.
Starting with the beam, Raisman is going to use her smooth moves and sheer grace to overwhelm the judges. She shined in this event during qualifying, posting a terrific score of 15.100.
If she can duplicate that performance, Raisman will be in good shape heading into the final event of the all-around competition.
Floor Exercise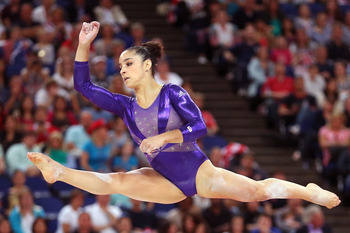 Ronald Martinez/Getty Images
Update: 12:10 pm Brian Mazique
I may have spoken too soon about Aly's chances at a medal. She delivered a very sound floor routine and scored a 15.133. Thanks to a stumble by Aliya Mustafina, she still has a shot at a bronze medal.
Great way to show perseverance. She really deserves to medal in this competition.
Rotation 4, Order 5
There is a feeling in sports that you should always save your best for last. For instance, Major League Baseball will usually crown its MVP based on the narrative of what happened "when the games counted most."
All of this is a way of saying that Raisman is in a perfect position to leave the judges with a lot to think about, as the floor exercise is her event. She posted an incredible 15.325 score in this event during qualifying, easily the top score.
If there is a slip anywhere in the first three events, the floor exercise will be Raisman's saving grace. She has built a routine that no one in the field can touch, and her execution up to this point has been as close to perfect as you can get.
All-Around Results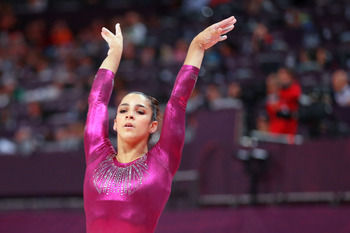 Streeter Lecka/Getty Images
Update: 1:20 pm Brian Mazique
After a stirring floor routine left her tied with Mustafina, Aly had to settle for fourth-place after a tie-breaker. It was a hurtful blow as she fought back to stay in contention.
It's terrible to fall short of a medal while coming so close. Still, she should be very proud of her performance. She represented herself, her family and her country well.
She still qualifies for the individual finals in beam and floor. There may still be medals in this young lady's future.
Keep Reading