Braves Overpay for Reed Johnson and Paul Maholm at Deadline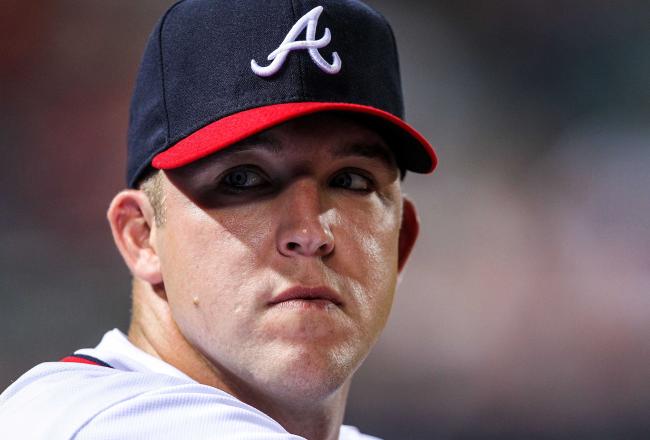 Daniel Shirey-US PRESSWIRE
With the trade deadline counting down, Frank Wren and John Schuerholz pulled the trigger on a blockbuster deal that landed the Braves Reed Johnson and Paul Maholm from the basement dwelling Chicago Cubs.
Wait a minute, Paul Maholm and Reed Johnson? Really? I thought the Braves were only interested in a top of the line starter, a premium ace. Every Zack Greinke rumor I read on mlbtraderumors.com involved the Atlanta Braves being right in the thick of it.
The Braves' failed attempt to land Ryan Demptser seemed to add validity to the rumors that the team was looking to pick up a top of the rotation starter. While Dempster is no Greinke or Hamels, he has been able to produce several solid seasons for the Cubs over the past five years.
With the Dempster trade dead and Cole Hamels deciding to stay in Philadelphia, the Braves would go all in on the elite Zack Greinke...right?
Nope. The Braves decided to acquire Paul Maholm and Reed Johnson instead.
The Braves parted with lower level prospects to land these two players—right?
Nope. The Braves gave the Cubs Arodys Vizcaino and Jay Chapman—Wow.
Baseball America had Arodys Vizcaino entering the 2012 season as the #40 overall prospect. ESPN's esteemed analyst Keith Law had Vizcaino as the #14 overall prospect in baseball entering this season—four ahead of the Braves' super prospect Julio Teheran. Understanding that Vizcaino is currently recovering from Tommy John surgery, the typical recovery time would have him healthy by spring training. Law believes that Arodys will become a true No. 1 or No. 2 starter.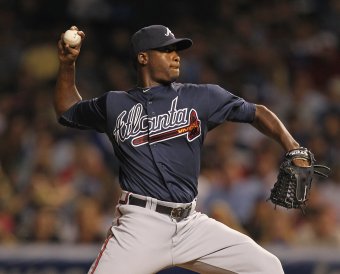 Ex-Braves prospect Arodys Vizcaino
Jonathan Daniel/Getty Images
The package deal of Paul Maholm and Reed Johnson in no way equals the value of a top tier pitching prospect like Vizcaino. Reed Johnson is a platoon outfielder who is a free agent after this season, and Paul Maholm is nothing more than a No. 4 or 5 starter with a team option next year of $6.5M.
How does this acquisition put the Atlanta Braves over the top? Shipping off a top prospect that grades out to be at worst a No. 2 pitcher or closer should net true impact players.
With Brandon Beachy injured, Jair Jurrjens self destructing and Tommy Hanson regressing, the Braves are without a true ace. The 37-year-old Tim Hudson is a solid No. 3 starter at this point in his career. However, due to the aforementioned pitching issues, Hudson has been thrust atop this rotation as the No. 1.
A team that has a rotation full of No. 3, 4, and 5 starters would need to add a true No. 1. Instead of a true No. 1, the Braves add another No. 4 or 5 pitcher—they have enough of those already.
In order to win the NL East, the Braves must catch and pass the best team in baseball. If the Braves are unable to win the division, they will be forced to play in the new win-and-in wild-card playoff game. Assuming that the second best wild-card team will probably come from the NL West, it will be either San Francisco or the LA Dodgers.
A one-game playoff against the Giants' Matt Cain or the Dodgers' Clayton Kershaw doesn't bode well for Atlanta.
With the addition of Paul Maholm and Reed Johnson, will the Braves win the NL East?
Overcoming the Nationals will be a difficult endeavor because of their amazing starting pitching. They have the best starting rotation in baseball with an ERA of 3.17. The Braves' starters rank 17th in all the major leagues with an ERA of 4.16. If you take away Brandon Beachy's 13 starts, Atlanta starters have an ERA of 4.50 for the year, third worst in the NL—slightly ahead of Houston's 4.72 ERA.
Despite Maholm's great July, 4-0 with a 1.23 ERA in 36.2 IP, he has never proven to be anything more than a back of the rotation starter. Now, in his eighth season, Maholm has a career 4.30 ERA. While good enough to pitch in the major leagues, he has never had the stuff to be considered better than average.
In his 205 starts over eight seasons, Maholm has only been able to notch five complete games. For the sake of comparison to what a top of the rotation starter is capable of accomplishing, Justin Verlander has six complete games this year alone—in just 22 starts.
Nothing about this trade makes sense. Vizcaino has the makings of a top of the rotation starter, and the only thing the Braves got in return is another version of Matt Diaz in Reed Johnson and another No. 5 starter in Paul Maholm.
I concede that Vizcaino's arm issues may be cause for concern, but you have to remember he is just 21 years old. If the team took an overly cautious approach to Arodys' rehab and the Braves planned for a full two years for him to recoup from his surgery, he would still be just 23 at the start of spring training in 2014.
Not every top pitching prospect that is projected to become a future No. 1 or 2 starter actually reaches that level of success (see Todd Van Poppel). However, parting with an elite prospect should demand a much higher return than the caliber of players seen in Paul Maholm and Reed Johnson.
Don't get me wrong, Maholm and Johnson are in no way completely terrible, they just aren't worthy of an elite prospect, like Arodys Vizcaino—hurt or not. To put it bluntly, the Braves overpaid—by a lot.
If the Braves wanted to add another middle of the rotation starter, they could have stayed in-house with Kris Medlen. In his 19 career starts, the Braves are 15-4. He has a 4.19 career ERA as a starter, and if you take away his first two career starts in 2009, where he gave up nine earned runs in eight and a third innings, his career ERA as a starter is 3.73 over 17 starts.
Frank Wren and John Schuerholz might really regret unloading such a talented pitching prospect for so little in return.
I wonder if this deal turns out to be like the John Smoltz for Doyle Alexander deal in 1987. I'm pretty sure we all know who won that trade over the long term.
This article is
What is the duplicate article?
Why is this article offensive?
Where is this article plagiarized from?
Why is this article poorly edited?

Atlanta Braves: Like this team?