Three years ago, UFC commentator Joe Rogan famously welcomed everyone to "The Machida Era."
The phrase came moments after Machida's impressive knockout victory over Rashad Evans and was capped off with an emotional display as Dana White placed the light heavyweight title around the Salvador, Brazil-native's waist. It was unclear to what heights "The Dragon" could rise, but it certainly appeared as if the MMA world was witnessing the launch.
Machida had done the unthinkable. In a sport dominated by wrestling and Brazilian Jiu-Jitsu, he had taken his family's style of point-based Karate, and not only defeated his first seven opponents inside the Octagon, but looked more impressive with each showing. Machida's style appeared to be an unsolvable riddle.
In the world of mixed martial arts, three years is a lot of time. Where Machida once sat atop the UFC's most popular division, now he is fighting to hold his ground. Having found the win column in only one of his past four outings, a fighter who once seemed destined for greatness is determined to prove the fire still rages.
He will have the opportunity to begin his climb back to the top when he faces former TUF winner Ryan Bader in the co-main event of UFC on Fox 4 this Saturday night in Los Angeles. It is a battle the former champion cannot afford to lose and he's prepared to show he still belongs in the divisional elite.
"I've had a few losses over the past couple of years," Machida told Bleacher Report. "There have been people who have solved the mystery but I still believe I'm a big mystery to my opponents in the UFC.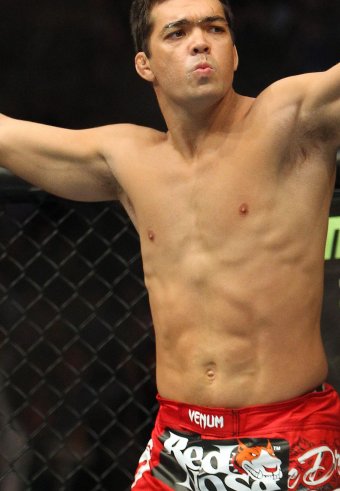 Tom Szczerbowski-US PRESSWIRE
"I've trained a lot to prepare for this but, in reality, anything can happen in a fight. I believe my speed is something that will really make things complicated for Ryan Bader. If this fight does go to the ground, I will have plenty of weapons from there as well."
This week Dana White made an interesting announcement, stating whichever of the four light heavyweights featured on the card looks the most impressive in victory will earn the next title shot at 205 pounds.
A victory over Bader would have the potential to put Machida within reach of his former belt, while a loss would be devastating. This scenario could cause distractions for some, but Machida is focused on who is standing directly in his path.
"The pressure is always there, but I really try to 'x' it out and pay no mind to the pressure at all," Machida said. "I'm always looking to bring an exciting fight and I guarantee I'm always trying to finish my opponents.
"Right now I'm focused on competing against Ryan Bader. The opportunity to potentially fight Jon Jones again for the title would be exciting, but that will all come in time."