Olympic Swimming Results 2012: Day 6 Updates, Medal Winners, Analysis & More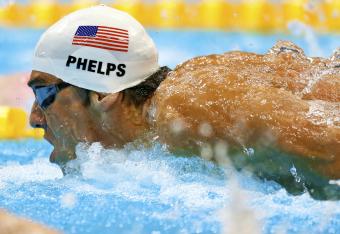 Another gold for Michael Phelps. Another world record for Rebecca Soni. A stunning gold for Tyler Clary. And Ryan Lochte will leave the pool tonight with a silver and a bronze.
The Netherlands' Ranomi Kromowidjojo won the other gold medal at stake.
Here's how it unfolded: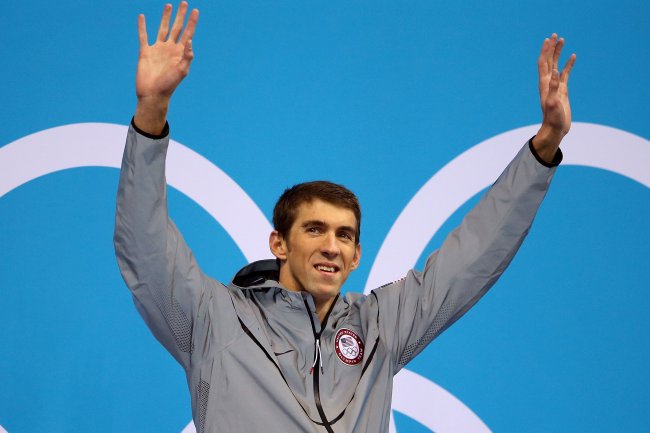 Ezra Shaw/Getty Images
That'll do it for now. Still a couple more days in this pool and in the great career of Michael Phelps, who won his 16th gold medal and 20th medal overall in the men's 200-meter individual medley.
Phelps also had to turn around and qualify for Friday's 100-meter butterfly final, which he did with ease. Then barring a surprise relay decision, he'll finish his career in the 4x100-meter medley relay Saturday, the last swimming event of these Games.
Also Thursday:
* Rebecca Soni spent the last 50 meters of the 200-meter breaststroke final chasing the world record. She got it: 2:19.59. The race was so fast that Japan's Satomi Suzuki (silver) tied the Asian record and Russia's Iuliia Efimova (bronze) set the European record but finished more than a second back.
* Tyler Clary won the 200-meter backstroke in an Olympic record 1:53.41, finishing 0.37 seconds ahead of charging Ryosuke Irie of Japan and 0.53 ahead of fading Ryan Lochte.
* You could call it a disappointing night for Lochte, but he did take two medals -- bronze in the backstroke and a strong silver in the medley behind Phelps.
* Dutch swimmer Ranomi Kromowidjojo lived up to expectations, winning the women's 100-meter freestyle. The Americans weren't a factor, extending a gold medal drought of a couple of decades.
* Americans had little trouble making it through the semifinals. Phelps and Tyler McGill are comfortably in the 100-meter fly final. Elizabeth Beisel and Missy Franklin won the 200-meter backstroke semis. And Cullen Jones tied Brazilian Cesar Cielo for the fastest 50-meter freestyle time, with Anthony Ervin close behind.
Join us for more action from the pool as the Games continues.
Not bad at all for American Tyler McGill, who sneaks into the wall in between South Africa's Chad le Clos and Serbia's Miroslav Cavic.
The top four in the men's 100-meter butterfly semis: Michael Phelps (50.86), le Clos (51.42), McGill (51.61), Cavic (51.66).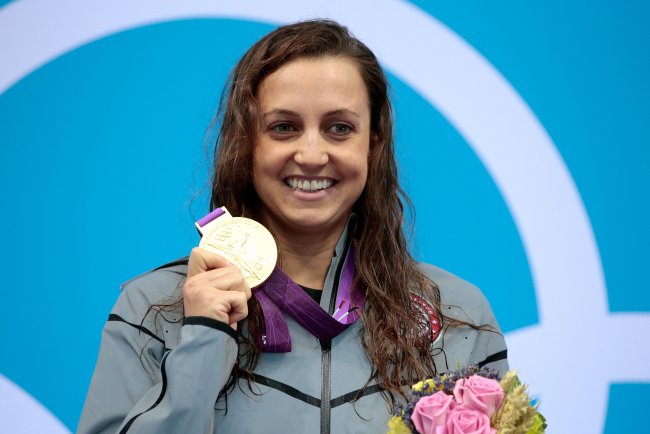 Adam Pretty/Getty Images
Before our last and perhaps least interesting race of the evening (the second men's 100-meter butterfly semi), let's give Rebecca Soni some respect.
. @rebsoni 2:19:5 are you kidding me, I knew you could do it!!!!! #thatsaguystime

— Brendan Hansen (@BrendanHansen) August 2, 2012
At long last, Michael Phelps and company make it back to the pool for the 100-meter butterfly semis.
Phelps was only third at the turn. Then first at the finish. His time of 50.86 is a little off the Olympic record of 50.58. But it's a semifinal. He'll qualify with ease.
The USA's Tyler McGill is in the second semi, along with Phelps rival Milorad Cavic and South Africa's breakout star, Chad le Clos.
No one seems to be in a hurry to get this last event underway. A bunch of people with "Lochte" on the back of their T-shirts has formed a huddle.
Phelps is in the first semifinal. Everyone waiting on him?
It's the 100-meter butterfly, incidentally. A completely anticlimactic way to end the festivities this evening.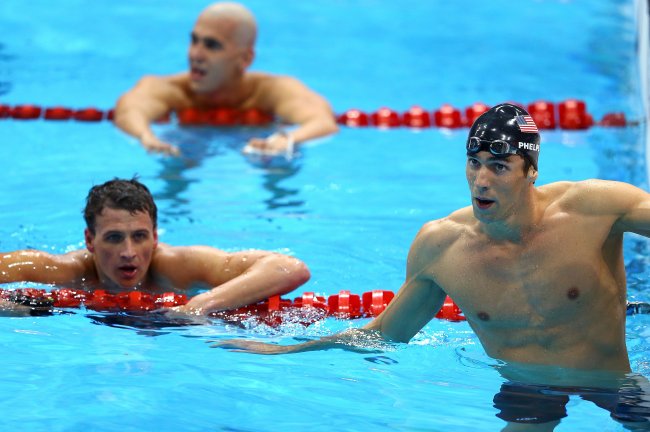 Al Bello/Getty Images
So Michael Phelps will be in the 100-meter butterfly semifinals ... after he receives his gold medal for the 200-meter individual medley. Does that mess up his warmup routine?
The Netherlands' Ranomi Kromowidjojo has won the 100-meter freestyle in an Olympic record time of 53.00 seconds.
Kromowidjojo went out very quickly, leaving Franklin behind. But it was Belarus' Aliaksandra Herasimenia leading at the turn, and she held on for second. China's Tang Yi was a close third, followed by Australia's Melanie Schlanger.
Missy Franklin finished fifth; Jessica Hardy eighth. The USA hasn't won this race since 1984.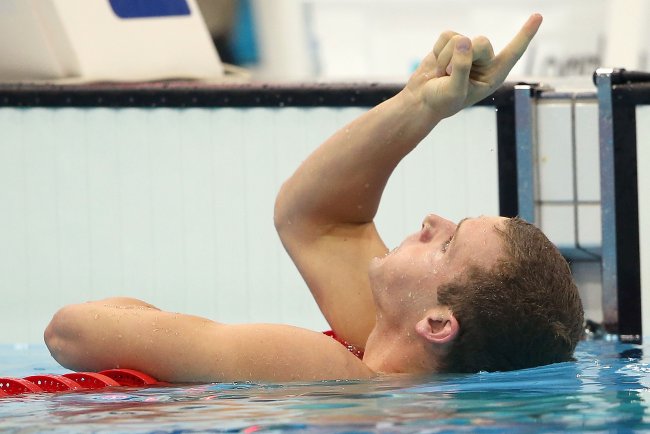 Ezra Shaw/Getty Images
Let's not forget about Tyler Clary, who just received his gold medal and shared a laugh with Ryan Lochte.
They're posing on the pool deck now. And then it'll be 100-meter freestyle time.
Next up is the women's 100-meter freestyle. The favorite is the Netherlands' Ranomi Kromowidjojo. Australia's Melanie Schlanger had the second-fastest time in the semis. Then it was Missy Franklin. Also in the final: Jessica Hardy and British favorite Fran Halsall.
Meanwhile, how did Michael Phelps celebrate his 16th career gold medal? He immediately hopped over the warmup pool for the 100-meter butterfly semis.
Also, I think Phelps just broke Twitter. Or is it just me?
MICHAEL PHELPS HAS WON GOLD ahead of Ryan Lochte in the men's 200-meter IM. That's the third straight time he has won this event at the Olympics.
Laszlo Cseh fell away through three legs and had to fight back for bronze. Brazil's Thiago Pereira was actually second after the breaststroke.
Phelps won in 1:54.27, just 0.27 off the world record and 0.04 off the Olympic record. Lochte was 0.63 back. Cseh was 1.95.
Let's count: 20 medals, 16 gold.
Halfway through the 200-meter IM, and it's Michael Phelps leading Brazil's Thiago Pereira and Ryan Lochte.
At 50, it was Phelps, Lochte (0.16 back), Cseh (0.40) -- no surprise, given Phelps' butterfly prowess.
Let's set the stage here: Michael Phelps in Lane 3, Ryan Lochte in Lane 4, Laszlo Cseh in Lane 5.
You're going to get an update at the 100-meter mark, then again at the finish. So stay tuned.
And there's this:
Ryan Lochte jumps straight in the diving pool to swim very publicly between the 200m Backstroke and 200m IM finals. Most unusual sight

— Gerard Whateley (@GerardWhateley) August 2, 2012
Twitter rumor: NBCOlympics.com will let you watch Lochte-Phelps (and Cseh) showdown even if you don't have the cable/satellite deal you need to watch everything else. We haven't verified this, but is there any harm in giving it a try? (Just be sure it's NBCOlympics.com and not something like NBCClymics.ru)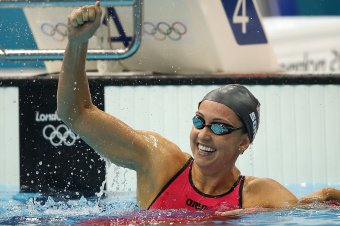 Ezra Shaw/Getty Images
Just a few minutes until the Lochte-Phelps (and Cseh) showdown in the 200-meter individual medley. In the meantime, it's medal time for world record-owner Rebecca Soni.
Twitter doesn't seem to have noticed the 200-meter backstroke. Search "Lochte" and you still get a bunch of Tweets about his mom talking about his "one-night stands." OK, then.
Meanwhile, Missy Franklin warmed up for the 100-meter freestyle final by winning her 200-meter backstroke semi. The top three qualifiers: Elizabeth Beisel 2:06.18, Franklin 2:06.84, Australia's Meagan May 2:07.42. Defending champion Kirsty Coventry is sixth.
It's a great time of 2:06.18 for Elizabeth Beisel in the first 200-meter backstroke semifinal. Maybe we should hype of the Beisel-Missy Franklin matchup tomorrow night like it's Lochte vs. Phelps?
Speaking of which -- everyone HAS to be wondering how Lochte will bounce back from that stunning bronze medal in the backstroke when he faces Phelps and Laszlo Cseh in the 200-meter medley final. That's only 15 minutes away.
First, the second semi in the women's 200-meter backstroke.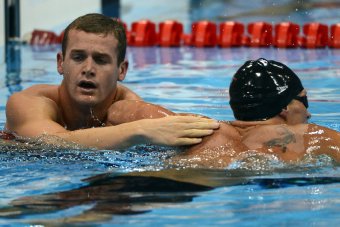 Andrew P. Scott-USA TODAY
Tyler Clary didn't look like a winner after that race. He looked stunned, as if wondering what in the world happened to Ryan Lochte in the last 50 meters.
Lochte will be back in the pool for the 200-meter individual medley.
First: Semifinals in the women's 200-meter backstroke. Missy Franklin and Elizabeth Beisel were the top two qualifiers.
TYLER CLARY has stunned Ryan Lochte to win the 200-meter backstroke. Lochte led most of the way but fell to third behind. Japan's Ryosuke Irie.
Lochte and Irie took it out quickly, with Lochte just 0.03 seconds ahead at the 50-meter mark. Clary was fourth, ahead of Zhang but behind Poland's Radoslaw Kawecki.
Clary and Irie came back, and Lochte suddenly faded.
No break at all after that Soni world record. Now it's Ryan Lochte and Tyler Clary in the men's 200-meter backstroke. Japan's Ryosuke Irie and China's Zhang Fenglin will try to play spoiler but should be battling for bronze.
THREE records in that race. Soni has the world record. Satomi Suzuki tied the Asian record. Iuliia Efimova broke the European record. So we had a lot of frightfully fast swims, and yet they were nowhere near Soni.
Soni is the first woman to ever defend her Olympic title in the women's 200m breaststroke.Impressive!

— US Olympic Team (@USOlympic) August 2, 2012
WORLD RECORD FOR REBECCA SONI, just breaking her day-old record in 2:19.59.
At the 50-meter mark, South Africa's Suzaan van Biljon had claimed the lead. But predictably, she couldn't sustain that pace, and Soni took control from there. Japan's Satomi Suzuki came on strong in the third 50 but was only within 0.72 seconds.
Next up: World record-holder and defending champion Rebecca Soni in the 200-meter freestyle. We also have an Australia named Sally Foster. Doesn't she sell wrapping paper?
So 21.62 is the time to watch -- that's Anthony Ervin. Trinidad and Tobago's George Bovell, Brazil's Bruno Fratus and France's Florent Manadou come in quickly ... with Fratus first in 21.63. So it's Brazil-USA-USA-Brazil in the top four, with Cielo and Jones tied for first ahead of Ervin and Fratus.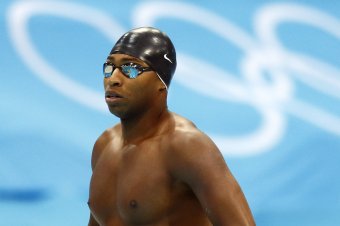 Rob Schumacher-USA TODAY
The two Americans in this 50-meter freestyle semi are amazing stories. Cullen Jones is a passionate spokesman for the sport and for water safety. Anthony Ervin shared gold in this event ... in 2000. He was off for most of the past decade before coming back to go to London.
They're facing Australian star James Magnussen, who doesn't usually race in this event, and Brazil's Cesar Cielo, who's the world record-holder.
The semi: Jones went out very fast. Cielo came on strong and ... they're tied! Both at 21.54, and then Ervin at 21.62. They should make it. Magnussen probably won't.
We're starting tonight with the men's 50-meter freestyle semis. They go fast.
This article is
What is the duplicate article?
Why is this article offensive?
Where is this article plagiarized from?
Why is this article poorly edited?