Olympic Beach Volleyball: Have Misty May-Treanor, Kerri Walsh Lost Golden Glow?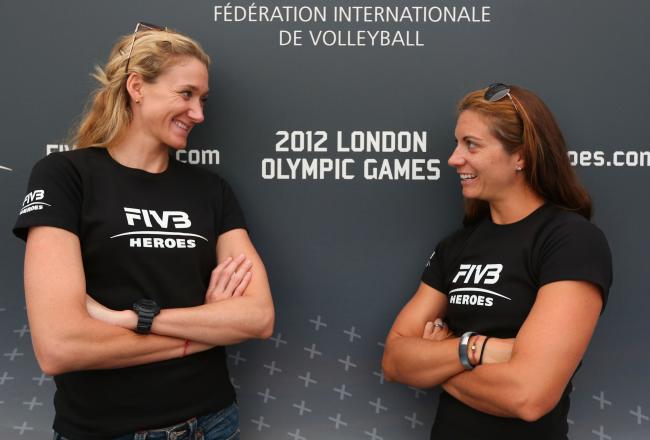 Ryan Pierse/Getty Images
Most of us were stunned when Misty May-Treanor and Kerri Walsh lost their first Olympic set, but the truth is that the once-dynamic duo isn't really dynamic anymore.
In fact, don't be surprised if May-Treanor and Walsh don't make the podium at all in 2012.
I know, I know. It seems completely wrong to dismiss two of the greatest Olympic volleyball players the world has ever known just because they lost a single set. After all, they did come back to win the match against Austria's Stefanie and Doris Schwaiger, and they did so in dominant fashion.
Trust me. I want them to win just as badly as you. I'm an American through and through.
But facts are facts, and the fact of the matter is that May-Treanor and Walsh have been looking shady most of the 2012 season.
They got people excited for their Olympic run when they won the 1to1 Energy Grand Slam in Gstaad in early July, but it came 11 months after their previous victory, according to NBCOlympics.com. The duo had lost many a match in between, oftentimes missing out on the third round and semifinals.
Heading into the 2012 Summer Games, May-Treanor and Walsh were only ranked No. 8 on the Swatch World Tour.
They have a relatively easy pool to deal with in the preliminary rounds in London. Their toughest competition was the duo from the Czech Republic, Kristyna Kolocova and Marketa Slukova, ranked No. 10 on the Swatch World Tour and No. 11 in the Olympic qualification rankings.
Lintao Zhang/Getty Images
If May-Treanor and Walsh were still dominant, none of the teams in their pool should have been able to challenge them, but they were challenged, nonetheless.
The truth is that both women are past their prime. They're getting older, at 35 and 33, and it is unreasonable to expect that they should be able to keep up with the new generation of star beach volleyball players.
Will Misty May-Treanor and Kerri Walsh win the gold medal in 2012?
The oldest top players are all as young as May-Treanor and Walsh were when they dominated the world in 2008. Many of them are younger. Their time as the world's best has passed away.
May-Treanor and Walsh are not going to escape the inevitable decline that every other top athlete in the world faces as their bodies start to lose strength and vitality in minute increments.
Heck, Michael Phelps is facing it right now, just as they are.
There's no shame in getting older. It happens to the best of us. Don't be surprised to see this dynamic duo lose their golden glow this summer in London.
This article is
What is the duplicate article?
Why is this article offensive?
Where is this article plagiarized from?
Why is this article poorly edited?