5 St. Louis Rams Impressing in Training Camp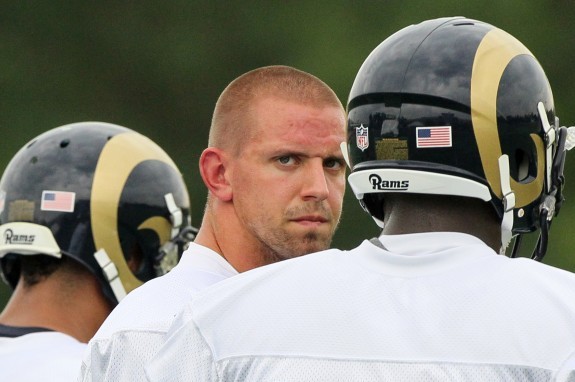 Rams linebacker James Laurinaitis during St. Louis Rams training camp on Monday, July 30, 2012, at Rams Park in Earth City, Mo. Photo by Chris Lee.
In professional football, there is no easing into the preseason.
Unlike most sports, the NFL expects its employees to report to training camp in tip-top shape, ready to get their hitting and tackling game on.
Baseball's spring training, for instance, involves mornings of long toss and playing catch, with afternoons spent hitting off a tee mixed with light stretching.
Football's camps involve brutal collisions with tackling dummies and sprint after sprint after sprint.
Baseball starts its training in the crisp spring air of Arizona and Florida. Football camps begin in the deadly thick, sticky stillness of July.
The NFL leaves no time for second, third or fourth impressions. Non-guaranteed contracts mean players must be impressive from the start, lest they be replaced by the next name on the depth chart.
For the St. Louis Rams, camp is just a week old, but some players have already made good impressions on the new coaching staff.
For a team coming off a 2-14 season in 2011 and is 15-65 since 2007, any good impression is worth highlighting.
Here are the five Rams who are making great impressions so far in Rams Camp.
Begin Slideshow

»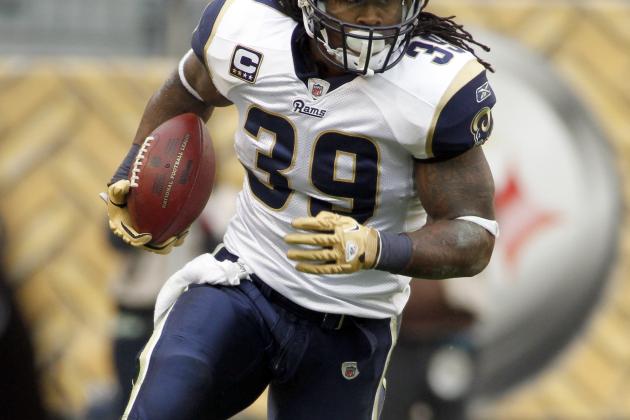 Justin K. Aller/Getty Images

After seven consecutive 1,000-yard rushing seasons, it seems difficult to imagine that Steven Jackson needs to impress anybody—let alone Rams fans, coaches and management.
Jackson, however, seems ready to take the next step in his career, now that he is one year closer to the dreaded age of 30.
Jackson reportedly arrived at training camp with five percent body fat and doesn't seem to have lost a step.
His attitude has been strong in camp, finishing off runs all the way to the end zone.
Head Coach Jeff Fisher is in charge of the franchise's direction, but Jackson is the go-to man on the field.
For the Rams to have any hope of competing in the NFC West this season, Jackson needs to take the pressure off the passing game (and the defense) by continuing to be the horse that he has been out of the backfield.
Jackson's presence is one less thing for Fisher and his staff to worry about when it comes to righting the ship toward respectability.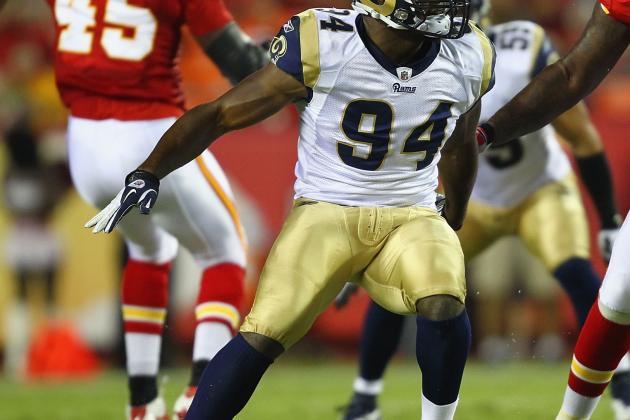 Dilip Vishwanat/Getty Images

For those who read the local-crime blotter, you may not immediately think of Robert Quinn when it comes to Rams who have impressed at training camp.
Quinn's recent arrest for DUI surely gave Rams coaches pause to think that the 22-year-old first-round pick from 2011 might not be ready to dominate on the defensive line.
Quinn's off-field problems do not appear to have hampered his performance on the field.
Jim Thomas of the St. Louis Post-Dispatch reported that Quinn looked "quick, quick, quick around the edge on the pass rush."
Speed is definitely going to need to be Quinn's game this season. With attention sure to be focused on fellow linemates Chris Long and Kendall Langford, Quinn is must take advantage of the one-on-one opportunities he is sure to face.
If Quinn's break off the line can remain strong, he will show offenses the athleticism that earned him such a high draft selection despite missing the entirety of his final collegiate season.
Speaking of quickness...
Wide Receiver Brian Quick (83) during Rams rookie practice Thursday, July 26, 2012, at Rams Park in Earth City. Photo by Laurie Skrivan.
Wide receiver Brian Quick is being given plenty of opportunities to shine in a wide receiving corps that definitely needs some sparkle.
Quick is taking advantage by reportedly making some nice catches in red zone sessions.
Sam Bradford is also spending a lot of time throwing Quick's way, hopefully building a rapport with the rookie wideout that can pay off in the regular season.
Quick needs to be able to make all the catches, because really, who else is going to?
Training camp reports (via stltoday.com) have said that Quick is getting "more sure-handed" and effective during practice. For an NFL coach, seeing day-by-day improvement from his rookies is indeed a good thing.
I would imagine that confidence and mistake-free play are important for Quick to prove that he can be a number-one threat for the Rams offense.
Quick will definitely find the road to success in the NFL is a long and difficult one. But it seems he is ready for the game.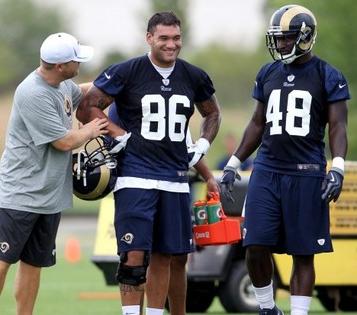 Michael Hoomanawanui (86) laughs during rookie practice Thursday, July 26, 2012, at Rams Park in Earth City. Photo by Laurie Skrivan.
Tight end Michael Hoomanawanui has sky-high potential in the NFL.
Sure-handed, athletic tight ends who can also protect the quarterback are worth their weight in gold.
For Hoomanawanui, his worth is increasing even though his weight may be less.
By reportedly changing his nutrition habits (via stltoday.com), Hoomanawanui has lost weight and cut his body fat.
This will hopefully mean Hoomanawanui, who showed flashes of greatness in his first two seasons before losing significant time to ankle injuries and an ACL tear, will finally get a real chance to shine.
In my opinion, Hoomanawanui displayed a lot of class and character by reporting to training camp along with the rookies, despite entering his third professional season.
Conditioning and building confidence in the surgically repaired knee are Hoomanawanui's top priorities this camp.
Hoomanawanui's continued improvement will, come Week 1, give Sam Bradford more weapons with which to attack a defense and the Rams one of the better TE combos in the NFL.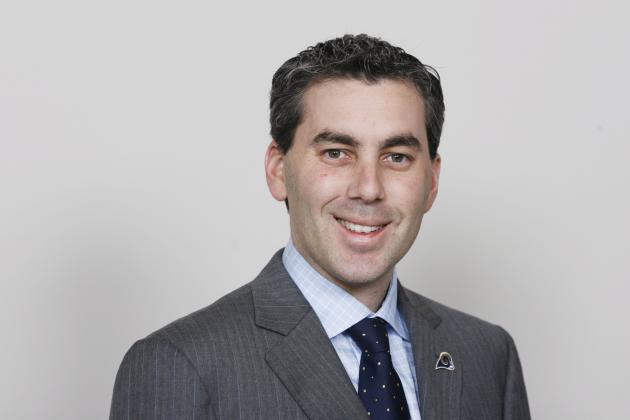 NFL Photos/Getty Images

Executive VP of football operations, Kevin Demoff, and General Manager, Les Snead, instantly became best friends to Ram fans with the recent announcement (via stltoday.com) that they signed superstar DE Chris Long to a four-year contract extension reportedly worth $50 million.
Locking up Long through 2016 keeps one of the strengths of the Rams (defensive line) in place and avoids the team having to go into a lame-duck season with an always-improving DE headed towards free agency.
Demoff and Snead will continue to make Ram fans smile if they are able to sign Long's draft classmate, and fellow budding defensive star, James Laurinaitis, to a contract extension.
Negotiations are in place with Laurinaitis, and everyone seems optimistic that the respective sides can come to an agreement soon.
For a Rams franchise that always seemed fine with letting defensive studs leave town a little too soon (e.g., Ryan Pickett and London Fletcher), it is nice to see the team reinvesting in its own roster.
The Rams are in good shape with the salary cap for the next few years, so hopefully there will be enough to go around for both the defense and Steven "I-want-to-be-a-Ram-for-life" Jackson.