It's been 23 years since Chuck Daly's "Bad Boys" Detroit Pistons won the first of their back-to-back NBA titles. It's also been 23 years since a squad lifted the Larry O'Brien Trophy without landing one of its members on an All-NBA team.
That 1988-89 season was the same one in which the league expanded the annual list of All-NBA selections to 15 players spread across three teams. Before that, the 1978-79 Seattle SuperSonics were the last to win the title without an All-NBAer, back when the league was still feeling its way along and before the institution of the three-point line.
Which is to say teams without stars don't win titles in the modern NBA and, moreover, singular talents are paramount to ultimate success.
This is even more so in the present day. The expansion to 30 teams has served to dilute the league's overall talent pool at the highest levels of basketball, despite the influx of gifted ballers from around the world and advances in the development of young talent stateside. New rules governing player movement and team finances have made it vastly more difficult for teams fortunate enough to acquire multiple All-Stars—be it through the draft, the trade market or free agency—to keep them together for long.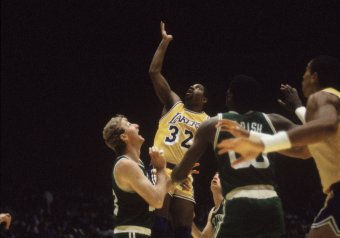 Mike Powell/Getty Images
These monumental changes to the NBA's model have essentially rendered "super teams" like the Los Angeles Lakers and Boston Celtics of the 1980s extinct and, along with the gradual turnover of the on-court rulebook, have made the employment of a singular superstar more valuable and more important than ever for each of the league's outfits.
A look back into the annals of NBA history only confirms this. Nearly every championship team over the last three decades has featured at least one player who would've been described as an elite talent; that includes those 1988-89 Pistons, who were led by Hall of Fame point guard Isiah Thomas.
The lone exception? The 2003-04 Pistons, for whom Ben Wallace was the sole All-NBA representative. "Big Ben" hardly would have been considered an elite or Hall of Fame talent at any point in his career, even when he was busy being Dennis Rodman 2.0 in the early 2000s.
Then again, those Pistons didn't get the recognition they deserved until 2006, when four of their players were chosen for the NBA All-Star Game as reserves.
And that was only after Detroit made its second straight trip to the NBA Finals the season prior.
That (to some extent) highlights the importance of depth, especially among title contenders. Those teams that embark upon deep postseason runs don't necessarily sport rotations that go nine or 10 players deep, but often boast solid-to-spectacular play from those seven or eight who garner regular playing time.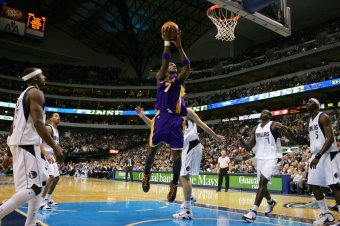 Ronald Martinez/Getty Images
Since the turn of the 21st century, we've seen the Lakers win three titles with Robert Horry and two more with Lamar Odom coming off the bench; the Spurs took three of their own with Manu Ginobili as the sixth man; and the Dallas Mavericks marched on through thanks in no small part to Jason Terry's exploits in relief.
Let's not forget, either, about the 2006 Miami Heat, who had eight players start 19 games or more. The 2012 Heat also pulled away from the Oklahoma City Thunder in the NBA Finals by way of clutch play from the likes of Shane Battier, Mike Miller and Mario Chalmers.
Clearly, then, competing for championships requires a viable combination of depth and star power, if not a perfect storm of both. That's hardly newsworthy, though, since the best teams in the NBA are typically those that have surrounded franchise-caliber talent with reliable role players.
How, then, might one determine which is more important—the chicken (stars) or the egg (depth)?
One way would scrapping championships as the only criteria and expanding the discussion to all playoff teams.
For example, in the Eastern Conference this past season, the Chicago Bulls (Derrick Rose), Heat (LeBron James, Dwyane Wade, Chris Bosh), Boston Celtics (Rajon Rondo and maybe Kevin Garnett), the Orlando Magic (Dwight Howard), New York Knicks (Carmelo Anthony and Tyson Chandler) and Atlanta Hawks (Joe Johnson, Josh Smith and Al Horford) all featured at least one player who might be considered either elite or nearly elite.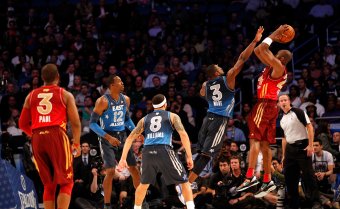 Ronald Martinez/Getty Images
In the West, that list includes the Spurs (Tony Parker and maybe Manu), Thunder (Kevin Durant and Russell Westbrook, maybe James Harden and Serge Ibaka), Lakers (Kobe Bryant, Pau Gasol and Andrew Bynum), Memphis Grizzlies (Marc Gasol, Zach Randolph when healthy and maybe Rudy Gay), Clippers (Chris Paul and Blake Griffin) and Mavs (Dirk Nowitzki).
And that's without mentioning the Philadelphia 76ers and the Indiana Pacers, two teams whose successes were considered to be the byproduct of depth over star power; each featured an All-Star, though—Andre Iguodala for Philly and Roy Hibbert for Indy.
On the whole, 22 of the 25 players selected to the All-Star Game came from postseason participants, with Kevin Love of the Minnesota Timberwolves, LaMarcus Aldridge of the Portland Trail Blazers and Deron Williams of the then-New Jersey Nets constituting the entire lottery contingent.
What's more important to team success?
Love also was the only one of 15 All-NBA selections to be taken from a team that didn't crack the playoffs. What's more, 10 of those 15 played for teams that won at least one playoff series.
All of which is to say that stars are important. The behavior of front offices around the NBA only confirms this.
It's why teams on the outside of the playoff picture always seem to "tank" in pursuit of more ping pong balls in the NBA draft lottery—so they can snag the golden ticket of a budding superstar.
It's why so many organizations devoted so much time and energy to clearing cap space and preparing presentations during the summer of 2010 when LeBron and his buddies all hit free agency at the same time.
And it's why the Houston Rockets have done everything short of selling off the Toyota Center to put themselves in position to rent Dwight Howard for a season—and why it's so perplexing that other teams with more to offer the Magic in return (here's to you, OKC!) haven't jumped in on the bidding war.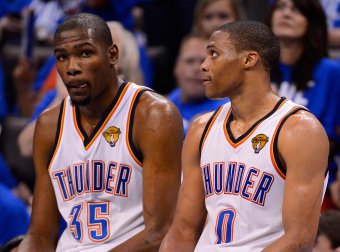 Ronald Martinez/Getty Images
It's also why the New Orleans Hornets, Pacers and Blazers spent so much this summer to hang onto their restricted free agents (Eric Gordon, Hibbert and Nicolas Batum, respectively), and why Love, Durant, Westbrook, Griffin and Rose already have been locked into massive extensions by their teams.
Because stars are rare. Rotation players, with whom depth is built, are not.
And while stars can't and don't guarantee a team's success, they certainly improve the odds of such to a significant degree.
At least, that's what the past, present and likely future of the NBA would suggest.