The fighters that will compete on Saturday's UFC on FOX 4 card went through their open workouts today at the JW Marriott hotel in Los Angeles. You would think that today's focus would have been on these fighters, especially the four light heavyweights that will be vying for a potential shot at Jon Jones' UFC title.
Instead UFC middleweight champion Anderson Silva was the subject that many wanted to discuss.
This past weekend was a busy one for talk about Silva and his future. The brouhaha began on Friday, when Cesar Gracie announced that Nick Diaz was planning on returning to the fight game, and that when he did: "He will respectfully ask for a fight with Anderson Silva, a fighter he respects and would like to challenge."
That talk got the attention of Silva's manager, Ed Soares, who tweeted:
I think the idea of @spideranderson vs @nickdiaz209 is pretty good. Let's see what the @ufc thinks?

— Ed Soares (@edblackhouse) July 28, 2012
Today, Soares again stated that the he liked the idea of the fight with Diaz: "Nick Diaz is a good opponent possibly, I mean, he's a smaller guy, but he's a guy who comes out and fights every time, he's going to put on a good fight."
While the Diaz fight appeals to Soares, and it should be noted that Gracie said the Diaz fight would not be a title fight. One fight he made clear he had no interest in seeing Silva involved in is a bout against UFC light heavyweight champion Jon Jones:
I don't think it's a good fight, I think No. 1, Jon Jones, said he doesn't want the fight, and Anderson said he doesn't want the fight. What is it going to do for Jones if he goes go down in weight to fight Anderson? If he loses it's going to ruin him. If Anderson Silva moves up in weight and fights Jon Jones, here's a lighter guy who's going to take my title? C'mon dude.
Soares makes a valid point, who really wins in a superfight between Silva and Jones?
Sure, you could argue that the fighters would be in for a huge pay day, but don't kid yourself, neither Jones nor Silva is living paycheck to paycheck these days. Unless you back a Brink's truck up to Blackhouse or Jackson's MMA, odds are that money is the least of their concerns.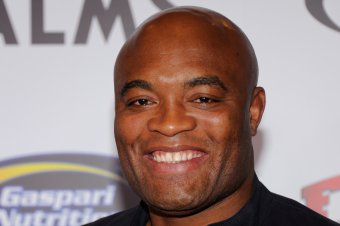 Ethan Miller/Getty Images
One other potential hold up is the legacy of the champions. Some will argue that the idea of a fighter's legacy is a silly concept, but when one of those fighters has rewritten the UFC record books and the other one is young enough and talented enough to come behind him and break those records, the idea of a legacy doesn't seem so trivial.
Additionally, Silva isn't getting any younger. He's 37-years-old, in a sport where you're often only as good as your last win. Why should he risk a loss for very little payoff?
If you think that's a silly statement, ask yourself how long it took Fedor Emelianenko to go from being referred to as the greatest fighter ever, to having some refer to him as an average fighter that ran up a huge number of wins against a bunch of "cans."
So, I ask again, who wins in a superfight between Jones and Silva? It's the fans and only the fans.
Well maybe also the UFC, but it's not the fighter that walks away from that fight with the loss on their record. While the fans should be of some concern, in a fight with this much on the line, other things do come into play, whether we as fans like it or not.
Silva's at the point in his career where he has earned the right to refuse a fight that's outside his weight division. So, c'mon dude, let the guy defend his title against whoever the UFC decides to put in front of him at 185 pounds.