Best Fits for Top Remaining NBA Free Agents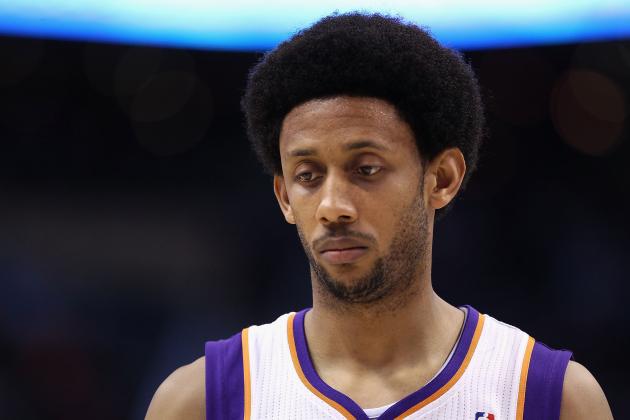 Christian Petersen/Getty Images

While the best players in this free-agency class signed weeks ago, there are still a handful of capable players looking for their next team.
GM's across the league are still looking to add depth to their rosters, because no one can predict who will get injured next season. A move that doesn't look important today could wind up being very important due to an early-season injury causing a need to develop.
The successful front offices are the ones who are prepared for every possible problem—not the ones who scramble around once a crisis strikes.
There are veteran free agents available who could mentor young players on up-and-coming teams, which in turn could change the future of a franchise.
As a whole, the fact that the remaining free agents haven't been signed shouldn't surprise anyone. That being said, every player on this list could easily fill a niche role for a multitude of teams.
Here's a list of the top remaining free agents and a few places that would be a good fit for each of them.
Begin Slideshow

»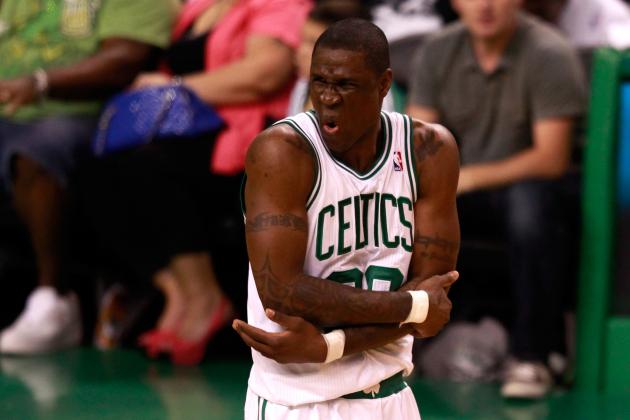 Jared Wickerham/Getty Images

Mickael Pietrus had his best season in 2007 as a member of the Golden State Warriors. During that season, he averaged career highs in scoring with 11.1, rebounding with 4.5 boards per game and shot 48.8 percent from the floor.
Since then, he hasn't averaged more than 10 points per game in a season, and his defense isn't as highly regarded as it once was.
He also isn't a very efficient scorer, as he has needed 6.4 shots-per-game to average the 8.4 points per game thus far in his career.
While he's a solid defender, he tends to make mistakes on the defensive end of the floor and picks up more fouls than the average shooting guard.
His mistakes on the defensive end would be more permissible if he did anything that wasn't a launch three inefficiently on the offensive end of the court.
According to Sports Radio WEEI, Pietrus refuses to sign for the veteran's minimum and has an offer for triple that from an overseas team.
Up to this point, there hasn't been much interest in Pietrus, at least not much interest in offering him a contract larger than the veteran's minimum.
At this point, it appears extremely unlikely that Pietrus will get an offer that would make him happy from an NBA team. I expect him to play overseas next season unless he decides to play for the veteran's minimum.
Best NBA Fits: Los Angeles Lakers, Boston Celtics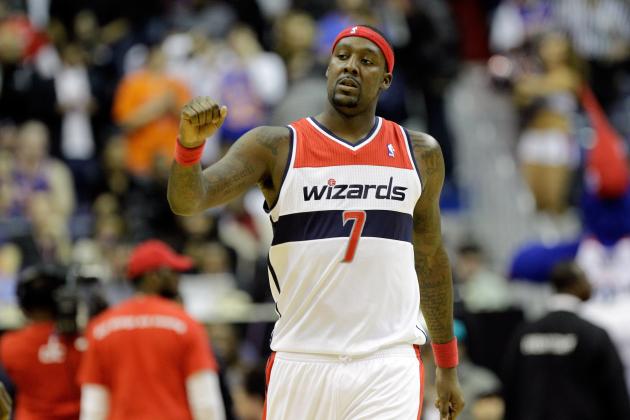 Rob Carr/Getty Images

Earlier in the offseason, the Washington Wizards used their amnesty clause on Andray Blatche, in turn, ending his term in the nation's capital.
While the decision to amnesty Blatche surprised no one, it shouldn't be forgotten that he averaged 16.8 points and 8.3 rebounds in 2011.
The fact that Blatche, who is 6'11", isn't drawing more interest speaks volumes as to how unimpressive he was last season.
Amnestying Blatche should have been a tough decision for the Wizards, but his play and decision-making made it an easy one.
Unlike Luis Scola, who was amnestied by the Phoenix Suns, Blatche cleared the amnesty waivers and is now an unrestricted free agent.
He has the talent to make the most of his second chance, but the question is who's going to give him that chance?
Hopefully, Blatche ends up signing with a team that has a strong-minded head coach who will force the talented big man to live up to his potential.
There are few things in sports worse than watching a talented player not reach his potential. Hopefully, Blatche won't be remembered as a player who could have been great but didn't work hard enough to reach his potential.
Best Fits: Dallas Mavericks, Houston Rockets, Philadelphia 76ers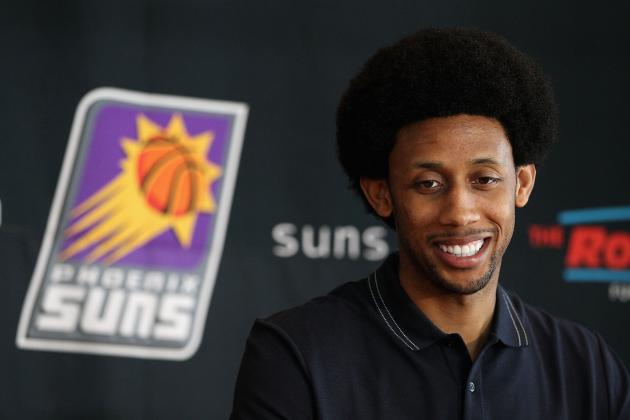 Christian Petersen/Getty Images

Since coming back from playing overseas, Josh Childress hasn't been the same player. Whether or not that was because he couldn't find his groove in Phoenix or because the NBA has passed him by remains to be seen.
During his tenure with the Atlanta Hawks from 2004-07, Childress excelled in transition and in getting the ball to the rim. For whatever reason, he wasn't able to fit into what many thought was a perfect situation for him, with the running-and-gunning Suns led by Steve Nash.
At this point, there isn't much optimism surrounding Childress because he hasn't contributed in the NBA since 2008. While he may have thought playing abroad was best for him at the time, that decision appears to have cost him his NBA career.
Childress learned that you don't stop playing against the world's best athletes for three years without facing consequences for that decision.
He has never been a good one-on-one defender, and his defense hasn't improved much since he entered the league back in 2004.
Childress will get an offer for the veteran's minimum in hopes that he will bring a spark off the bench at small forward. But until he proves that he can play in the NBA again, the offers won't be bigger than the minimum on this side of the pond.
Best Fits: Brooklyn Nets, Los Angeles Lakers, Atlanta Hawks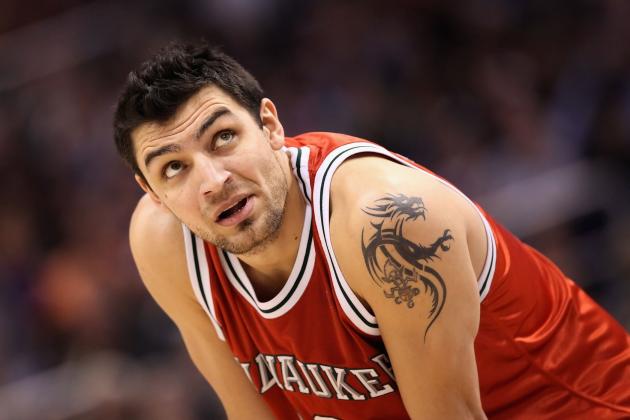 Christian Petersen/Getty Images

Carlos Delfino has been the starting small forward for the Milwaukee Bucks for the majority of the past three seasons, but he won't be a starter for any team next season.
There are some health concerns with Delfino, as he has only managed to stay healthy throughout the course of an entire season twice in his seven-year career. However, considering the fact that he will be coming off the bench and will be playing less minutes this year, teams around the league shouldn't worry too much about his health.
Over the course of his three seasons with the Bucks, Delfino averaged 10.5 points, 4.3 rebounds and 2.4 assists while shooting 40 percent from the floor. Those aren't exactly the numbers that a team is looking for in their starting small forward but would represent a solid option off the bench.
He will likely have to settle for the veteran's minimum no matter where he ends up but will have the chance to prove that he's worth more than that.
Best Fits: Cleveland Cavaliers, Houston Rockets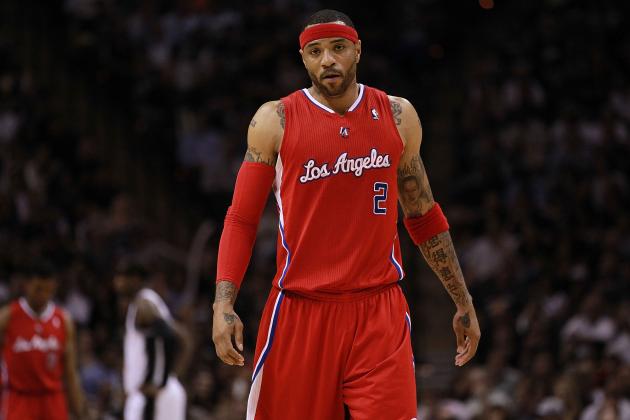 Ronald Martinez/Getty Images

Kenyon Martin decided to play in China during the NBA lockout and didn't re-enter the NBA until February.
When he did return, he chose to sign a one-year contract with the Los Angeles Clippers. He helped Chris Paul and Blake Griffin lead the Clips to the second round of the playoffs.
While Martin isn't the player he once was, he remains a tenacious rebounder off the bench and will bring a level of toughness to his new team.
Over the past five years, Martin has averaged more than 6.5 rebounds per game just once and isn't as dominating on the defensive glass as he was in the past.
Whoever signs Martin will be getting a high-motor player who will still be productive if he is played around 22-25 minutes per night.
Martin was linked to the Golden State Warriors, but when Carl Landry signed with them, it all but ensured that Martin wouldn't be playing for them next fall.
If he isn't signed sometime in the near future, questions will arise about whether or not Martin would consider playing abroad again for an opportunity to make more money.
Best Fits: Chicago Bulls, Brooklyn Nets, Dallas Mavericks
Christian Petersen/Getty Images

Darko Milicic will always be remembered as the guy chosen after LeBron James and ahead of Carmelo Anthony and Chris Bosh in the 2003 NBA draft.
Considering that Milicic is still a free agent, he clearly hasn't had the same career as the players listed above. In reality, he shouldn't even be included in the same sentence with the guys above.
Over the span of his nine-year career, Milicic has averaged six points, 4.2 rebounds and 1.3 blocks per game. For a journeyman that could be considered decent. For the former second overall pick in the draft, that spells out the epitome of a bust.
The only reason that Milicic is still in the NBA is because their are very few decent big men in the NBA. This allows the lackluster big men fill the front-court roles on teams that are weak there.
At this point in his career, very little should be expected of Milicic, but he's still a seven-footer in a league that lacks talented big men.
As long as Milicic can protect the rim, the thing he is best at, by far, he will continue to get offers to play in the NBA—even if those offers are for the veteran minimum.
Best Fits: Los Angeles Clippers, Brooklyn Nets, Miami Heat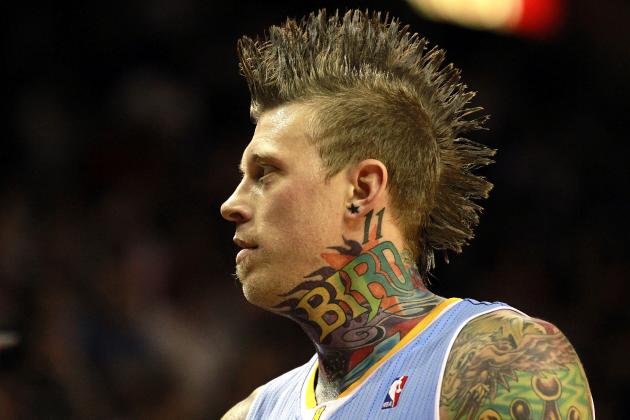 Marc Serota/Getty Images

The Denver Nuggets used their amnesty clause on Chris Anderson, also known as Birdman.
Over the span of his 10-year career, Anderson has only played for two teams—the Denver Nuggets and the Hornets franchise.
Anderson has always been known for his defensive prowess, especially his ability to block shots. In fact, Birdman has averaged 1.6 blocks per game over the course of his career.
While he has never been considered an asset on offense, his rebounding and defense have allowed him to put together a long career.
Shot-blockers are always appreciated in the NBA, but the problem is that Anderson is entering the tail-end of his career. It doesn't make sense for young, struggling teams to sign him because he won't help them win long term.
At this point in his career, Anderson could be productive playing slightly less than 20 minutes per night.
Veteran teams that could use some size and defense inside could do far worse than the Birdman.
Best Fits: Miami Heat, Los Angeles Clippers