Olympic Men's Quarterfinals: Predicting All 4 Matches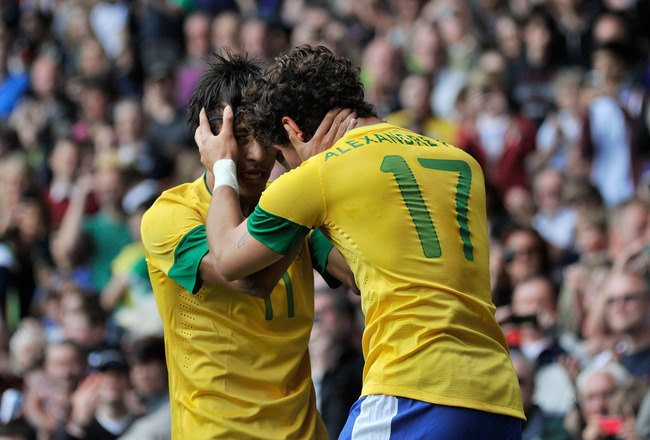 Francis Bompard/Getty Images
The group stage is history, and eight nations remain alive in the men's football tournament at the 2012 Summer Olympics.
Brazil, the consensus favorites before the Games, made it through to the quarterfinals, but Spain crashed out without scoring a single goal in group play.
Even without La Roja, though, the tournament still has plenty of big names and talented teams left. Click here for the full bracket, and read on for my predictions for the four quarterfinal matches.
Great Britain vs. South Korea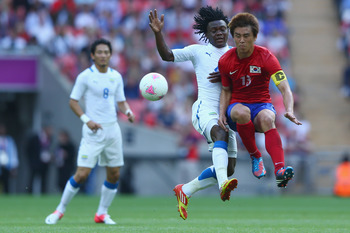 Michael Steele/Getty Images
Details: Aug. 4, 2:30 p.m. ET, Millennium Stadium, Cardiff, Wales
Great Britain won Group A by beating United Arab Emirates and Uruguay, and drawing with Senegal. Their reward is South Korea in the quarters and a potential date with Brazil in the semis.
Stuart Pearce's team has gained confidence as the tournament has progressed, especially after the draw with Senegal. Apart from a 15-minute spell against UAE in the second group match, the defense—in particular Micah Richards and Neil Taylor—has been impregnable.
There's plenty to like in the midfield, with Tom Cleverley consistently playing well in a box-to-box role and Ryan Giggs fully rested after sitting out the Uruguay match. Craig Bellamy won't win many nice-guy awards, but he's been a terror on the wing.
Up top, Daniel Sturridge is finding his form and looking like Team GB's most dangerous threat.
South Korea finished second in Group B behind Mexico. The Koreans scored only twice in the group stage, and both goals came in a seven-minute span against Switzerland in their second match.
At the same time, Korea allowed only one goal, also in that seven-minute span against Switzerland. This is a disciplined, hard-working team that will be hard to beat, but will also struggle to advance.
Premier League viewers might recognize Arsenal forward Park Chu-Young. But most probably aren't as familiar with Kim Bo-Kyung, who scored the second-half winner against Switzerland.
Recognizable or not, though, Korea's team is capable of winning at this stage.
Prediction: Great Britain 2, South Korea 1
Brazil vs. Honduras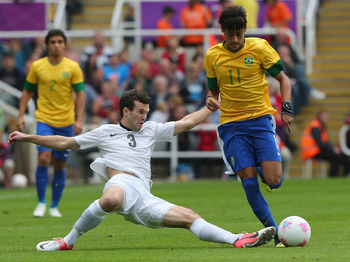 Stanley Chou/Getty Images
Details: Aug. 4, noon ET, St. James's Park, Newcastle, England
Let's not over-think this one.
Honduras must be thrilled to have made it this far. Beating Spain and advancing as Group D's second-place team must be viewed as momentous accomplishments for this Central American nation.
The run ends here, though.
Brazil have improved with every match they've played, trashing New Zealand in Wednesday's Group C finale even while resting a number of players.
Led by attackers like Neymar, Hulk, Leandro Damiao, Pato (who's started just one game so far!), Oscar and Lucas Moura, Brazil pack a fearsome punch.
Sandro serves as a dependable anchor in the defensive midfield, while the defense has improved each time out. The only weakness here is at keeper, but that shouldn't matter at this point.
Actually, it probably won't matter at any point.
Prediction: Brazil 3, Honduras 1
Mexico vs. Senegal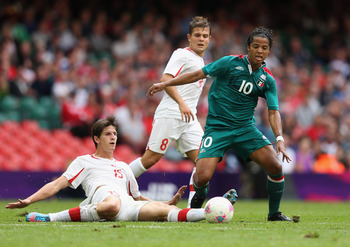 Julian Finney/Getty Images
Details: Aug. 4, 9:30 a.m. ET, Wembley Stadium, London
This should be a fascinating matchup.
Mexico won Group B with some stylish football, while Senegal roughed up every other team in Group A.
The clash of styles could produce a result that goes either way.
After a disappointing scoreless draw against South Korea in their opener, the Mexicans improved steadily over their next two group games.
Tottenham Hotspur outcast Giovani dos Santos (pictured), who tends to be more lethal at the international level, scored twice in a 2-0 victory over Gabon. Then, an Oribe Peralta goal was enough to see off Switzerland.
Creative midfielder Marco Fabian hasn't scored yet, but he remains a constant threat with his combination of speed and lethal finishing ability.
Here's an entirely realistic question: If Mexico keep improving, are they the favorites to emerge from the bottom half of the bracket?
Senegal will provide a stiff challenge, not least in physical terms. The other major test will be stopping Moussa Konate, who has scored all of Senegal's goals—a tournament-best four strikes.
Prediction: Mexico 2, Senegal 1, in extra time
Japan vs. Egypt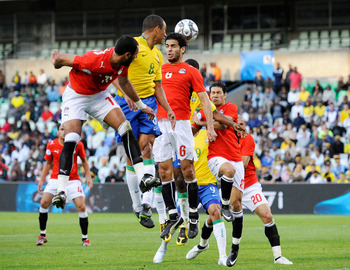 Kevork Djansezian/Getty Images
Details: Aug. 4, 7 a.m. ET, Old Trafford, Manchester, England
Japan upset Spain 1-0 in both teams' opener. The next two games weren't quite as impressive.
A late strike from the lively Kensuke Nagai saw off Morocco, and the Japanese played it safe in a scoreless draw with Honduras.
Even so, this team has plenty of talent to go along with a hard-working, up-tempo style.
Along with Nagai, Keigo Higashi and Yuki Otsu provide an offensive threat. On the other end, the defense still hasn't conceded a goal.
That record will be tested by Egypt, a team that nearly overcame a 3-0 halftime deficit against Brazil before putting three goals past Belarus in the decisive Group C finale.
Midfielder Mohamed Aboutrika is the leading scorer so far with two strikes, but there's attacking talent all over the place. Plus, this team is playing for a country with wounded pride.
Japan will be the favorites as Group D winners, but I smell an upset.
Prediction: Egypt 2, Japan 1
Keep Reading