What the Cincinnati Bengals Must Do to Emerge as the AFC North's Next Powerhouse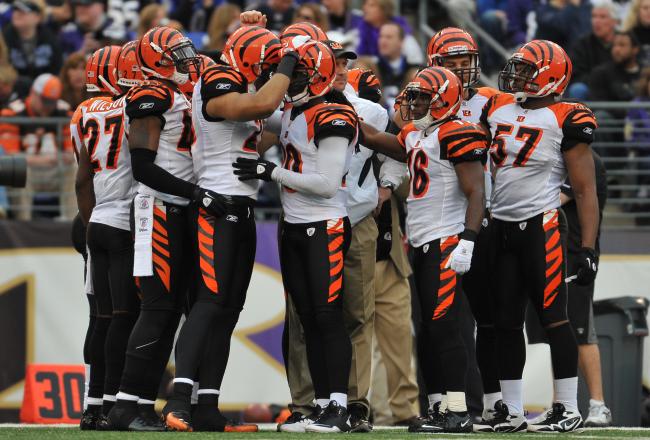 The Bengals have a lot of buzz surrounding them as we approach the season's start, and for good reason.
Larry French/Getty Images
The Cincinnati Bengals are 2012's de rigueur must-watch team-on-the-rise, and for good reason. Last year, they went from the team no one thought could win more than a game or three to a 9-7 Wild Card playoff entrant.
With a rookie quarterback throwing to a rookie wide receiver and other changes on both sides of the ball, the Bengals managed to do things few other teams in their situation could have accomplished.
Now, the hope is that the Bengals can build upon the momentum of last season's success and have back-to-back winning seasons and yet another trip to the playoffs.
Even though the AFC North is one of the most difficult divisions, with the Pittsburgh Steelers and Baltimore Ravens dominating it over the past decade-plus, the Bengals have more than just a fleeting chance to beat them both and establish themselves as the new tone-setter of the division.
It's a tall but not impossible order. Let's take a look at three things the Bengals must do to get there this year.
Keep Opponents Guessing on Defense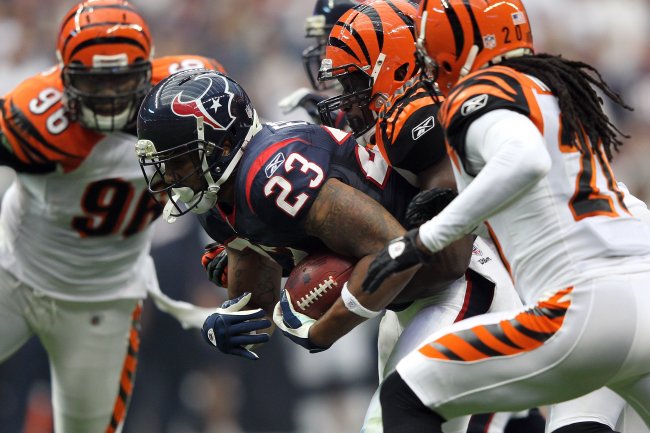 Jamie Squire/Getty Images
The Bengals use a constantly rotating cast of defensive linemen more often and to greater effectiveness than pretty much any team in the league. That will continue this year, but the more specialized they can get their formations the better.
With offenses getting more creative, defenses need to match them. Rotating linemen isn't enough, especially in hurry-up situations where the defense cannot switch out personnel. The Bengals need to have specialists on the field as well as versatile, smart players who can stop the run and the pass in order to be not caught off-guard.
It's not just the Rob Gronkowskis of the world the Bengals defense has to worry about stopping—it's also the Ray Rices, players who can carve up defenses via either the run or the pass. There needs to be a way to take on either possibility.
So not only do the Bengals need to continue with their defensive line rotation, they need to be able to disguise their intentions on a down-by-down basis. It's a lot of information to process and it's a difficult system, but it's an intelligent approach.
The other top defenses in the league, like the Ravens and the Steelers, take a more straightforward approach to stopping offenses (as in, there aren't as many personnel substitutions). The Bengals are in certain ways more creative, which hopefully will yield them the results they are looking for.
Use Youth to Their Advantage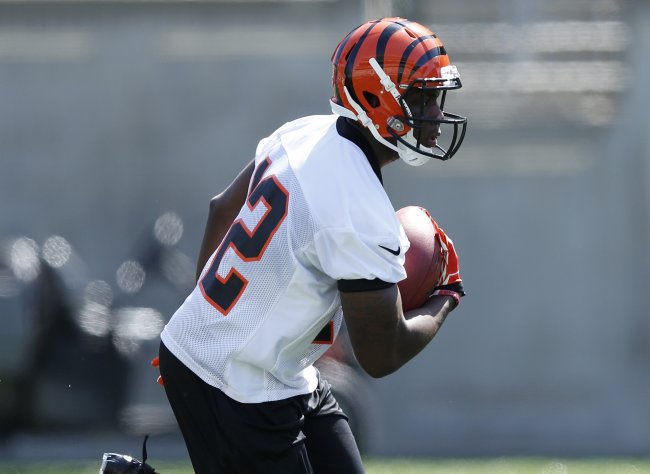 Joe Robbins/Getty Images
The Bengals' receiving corps is extremely young. The most veteran player vying for a starting job right now is Brandon Tate, who is entering his fourth season but only spent one of his previous three as an actual receiver.
Otherwise, the Bengals' heavy hitters are all first- or second-year players, such as A.J. Green, Armon Binns, Jordan Shipley, Mohamed Sanu and Marvin Jones.
While last year the Bengals proved that having a rookie as the top receiving target (that would be Green) wasn't a liability, even with a rookie quarterback throwing to him, this year it's a very different story, with young receivers everywhere you look.
For many teams, this could be a liability, and there's no guarantee this commitment to youth will be without its struggles, but the Bengals can certainly use their young receiving corps to their advantage.
First, it propels second-year quarterback Andy Dalton into a leadership role. With a year in offensive coordinator Jay Gruden's system (and a successful one at that) to his name, he'll be charged with preparing the glut of rookies and second-year players (most of whom lack much on-field experience) for the regular season.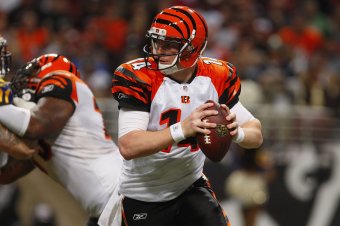 Whitney Curtis/Getty Images
Treating Dalton like the offensive leader he's supposed to be, even this early in his career, can only do wonders for his confidence. And a confident quarterback is far better mentally prepared to win games than one who is still fighting to gain his coaches' trust.
Second, young receivers are more receptive to learning new offensive concepts than ones who have been entrenched in a different system for three or five years. Remember, this is only Gruden's second season with the Bengals, so this is a group who are now coming up together in many ways.
Third, though there is more to being a great receiver than simply getting open and having good hands. Those are the basics of the position, and it doesn't matter how much experience one has in order to have those skills—they're just there or they're not.
Talent trumps all, and though the Bengals receivers are young, if the talent is present, it will more than make up for some of the rougher edges. It was a gutsy move to basically start over when it comes to the passing game, but as long as Cincinnati remains committed to it, there shouldn't be a problem solely because of professional inexperience. Speed and instinct can go a long way in the NFL.
Do Not Be Intimidated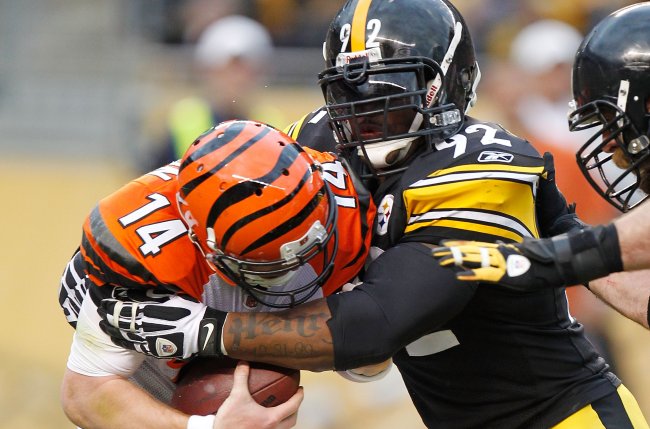 Gregory Shamus/Getty Images
The greatest challenges facing the Bengals in the AFC North aren't new—they're the defenses of the Ravens and Steelers, which Cincinnati must stare down at least twice each this season.
Dalton was a bit overwhelmed by these two defenses his rookie year—and rightfully so, considering they are both scary, even to the most experienced veteran quarterback. Now the key is to shake off that residual fear, face those defenses and act like he's been here before, which he has.
The Bengals haven't had back-to-back winning seasons since 1981 and 1982 (the latter year being shortened by strike) and though they could still be above .500 this year while again dropping all four games against the Ravens and Steelers, that's obviously not something that interests them.
While football is a game of inches, of strategy, of collisions and of speed, it's also mental. Too much subconscious worry about being sacked, and a quarterback becomes skittish, hurried and prone to mistakes.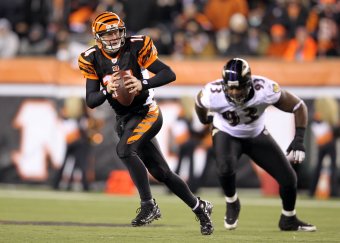 Andy Lyons/Getty Images
Dalton has to accept that he's likely going to be hit repeatedly when the Bengals face the Ravens and Steelers four times this year, but that it's part of the game and that there's no better way to deal with such things than to get up, keep throwing and simply not think about what may be coming his way.
The divisional rivals aren't the only potentially intimidating opponents Dalton and the Bengals will see this season. They also play host to the defending Super Bowl champion New York Giants in Week 10.
But if the Bengals themselves want to be hoisting the Lombardi trophy sooner rather than later, they'll have to treat the Giants as though they're just any other team, rather than the squad that came out on top last season.
The way you prove you belong with the big boys is by acting like you do. If the Bengals and Dalton can get their mental attitudes right, stop feeling like the also-rans of the division and embrace the fact that they truly are a highly talented team on the rise, it will do wonders in the win column.
It seems hokey or simplistic, but going into these five extra-difficult contests this year without fear and without being intimidated is invaluable. If the Bengals want to become the best team in the brutal AFC North, they're going to need to have a strong mental game as well.
This article is
What is the duplicate article?
Why is this article offensive?
Where is this article plagiarized from?
Why is this article poorly edited?

Cincinnati Bengals: Like this team?