As we move forward in the beach volleyball games at the Summer Olympics, don't be surprised to see the US women's team dominate their competition.
One big advantage that team USA has is that half of their team is composed of Olympic gold medal winners. Kerri Walsh and Misty May-Treanor are going for their third consecutive gold medal in this Summer Olympics.
They are only half of the team though. Jen Kessy and April Ross make up the other US pair for the women's beach volleyball team. While they may not be as well-known as Walsh and May-Treanor, Kessy and Ross have what it takes to land the US another gold medal.
Kerri Walsh and Misty May-Treanor
Walsh and May-Treanor are a dominate duo. So dominate that they redefined beach volleyball. Since 2001, Walsh and May-Treanor have been winning with ease. Not only have they won back-to-back Olympic golds in the sport and are now going for their third, but their dominance extends outside of the Olympics as well.
This team has finished first 63 out of 75 events on the AVP tour. They have been dominating the sport for over 10 years now. Walsh and May-Treanor are the complete team and look to prove it this year at the Olympics.
So far the duo was able to defeat the Austrialian team of Tasmin Hinchley and Natalie Cook. It wasn't as easy, especially for a dominate team like Walsh and May-Treanor. They ended up winning the first set 21-18, but they had to fight back from a four point deficit to win the second set.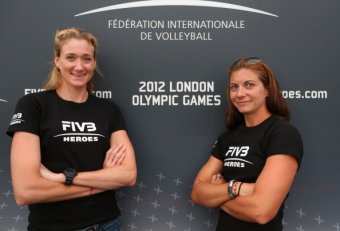 Ryan Pierse/Getty Images
On Wednesday they would suffer their first set loss in three Olympic Games. They would go on to win against Austria and are still unbeaten overall. Going through almost three Olympics without even losing a set until now, though, proves just how good Walsh and May-Treanor really are.
Walsh and May-Treanor have been through a lot since the start of the London Olympic Games. Since their run in Beijing back in 2008, Walsh has had two kids in less than a year, and May-Treanor ruptured her Achilles tendon.
Natalie Cook was quoted over at ESPN.com after their Saturday match as saying:
"They definitely have weaknesses they didn't have before. We exploited them for short periods but we couldn't for the whole time."
Should there be some worry then, about just how dominate this duo can be? While they have gotten older, Walsh and May-Treanor haven't missed a step. Still, there is a reason after all why these two are so dominate when it comes to beach volleyball.
Going for their third Olympic medal might be tough, but if anyone can pull off a feat of three consecutive golds, Walsh and May-Treanor are the ones who can do it.
Jen Kessy and April Ross
Kessy and Ross have a lot to prove at the Summer Olympics. They have no experience in an Olympic tournament, and they didn't know what to expect going into London. Still, these two are a team to watch out for.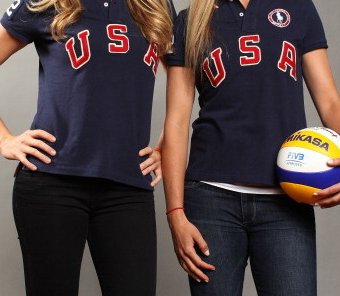 Nick Laham/Getty Images
Kessy and Ross have been doing their research. They have been getting help from the likes of Walsh and May-Treanor, Todd Rogers and Phil Dalhausser and even Karch Kiraly, the only Olympic gold medalist in both indoor and beach volleyball.
They would go even further when it came to their first matchup, which was against Ana Gallay and Maria Virginia Zonta of Argentina. Kessy and Ross went to YouTube to find videos and study their opponents. They would also study tape brought home by their coach, Jeff Conover.
Their work would payoff in the end, as they would beat Argentina in straight set victories.
Kessy was quoted after the match by Jon Ackerman over at nbcolympics.com as saying:
"We never think someone's not as good as us or we're better than someone, so we treated them with the utmost respect, as any other team."
Kessy and Ross would also beat the team of Sanne Keizer and Marleen Van Iersel of the Netherlands on Tuesday.
For two players who missed out on qualifying for the Olympics back in 2008, this duo is off to a hot start.
While they may not have been as dominate as Walsh and May-Treanor outside of the Olympics, Kessy and Ross won the 2009 World Championships, an event similar to how the Olympic tournament is set up.
The End Result
Both of these US teams have a lot to prove. Could these two duos end up being opponents as we progress in the summer games? That's a big possibility. Both teams are strong and are proving it every chance they get. It could be Ross and Kessy's year to shine, or Walsh and May-Treanor could continue their dominance with a third gold medal.
In the end, though, the winner will be the USA. With two dominate groups that make up the women's beach volleyball team, there is no doubt that the US will be adding another gold medal to its count by the time the Olympic beach volleyball tournament is over.