There's Just Something About Tebow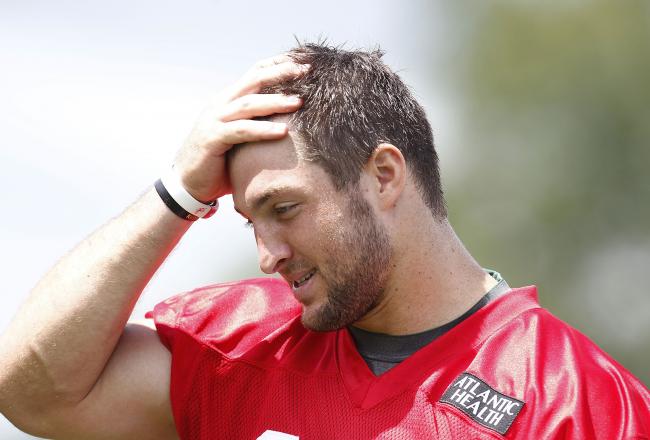 Jeff Zelevansky/Getty Images
Most NFL fans and analysts realize that Tim Tebow has as many qualifications to be the New York Jets' starting QB as they do. For some reason, he continues to dominate much of the national conversation around the NFL—both on ESPN and NFL Network.
I normally love everything the NFL Network does, but devoting a daily segment to what Tim Tebow did the day before is flat out stupid.

— Matt Miller (@nfldraftscout) August 1, 2012
So, what is it about Tim Tebow that draws such crazy national attention?
College Greatness Doesn't Equal Professional Success

Tebow is arguably the greatest college quarterback to ever play the game. With all due respect to Herschel Walker, some even believe he's the greatest player overall in NCAA history.
Generally speaking, football fans expect the greatest college players to ascend to greatness at the next level. Yet every year, fantastic college athletes go on to mediocrity and then eventually fade away to become footnotes in draft history and entries in a record book somewhere—no more than a piece of trivia.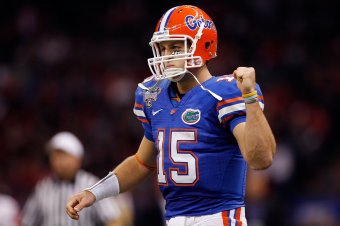 Chris Graythen/Getty Images
Tebow, like Kellen Moore,
Colt McCoy
, Eric Crouch and many others, can't be discounted as a fantastic part of NCAA history. However, at the pro level, his chances seem to be running out.
Some, whether they are Florida fans and alumni, option football aficionados or fans otherwise emotionally invested in Tebow's success, aren't readily able to give up hope for Tebow's future. Some Jets fans, as well as Denver Broncos fans before them, are still hopeful that something will click to turn Tebow into a pro passer.
It's difficult for anyone to rationalize the fact that someone can be so transcendent at one level and so deficient at the next.
It isn't just fans that have a hard time giving up on Tebow. Coaches, too, are enamored with the process of turning nothing into something when it comes to Tebow's pro potential. Josh McDaniels thought Tebow was a first-round pick, John Fox got to the playoffs with him as a starter and now Tony Sparano is drooling over the chance to use Tebow in the wildcat.
Tebow's former glory may never be realized in the NFL, but it doesn't seem like the experiment is going to be over anytime soon.
Religious and Political Zealousness and a Divided America
The fervor around Tebow is more than just some misguided fans—it borders on fanaticism. More than just a football player, Tebow has become an icon in the eyes of many, centering on his religious and political beliefs.
Full disclosure: I share (some of) Tebow's religious background and (fewer of) his sociopolitical beliefs, so the back-and-forth can be both interesting and frustrating. While it is un-American to say Tebow shouldn't be allowed to voice his personal views, it is easy to realize why many simply wish he were a little quieter about it.
On the other hand, Tebow has no real desire to quell the discussion around his faith. He wears it on his sleeve (and occasionally on his cheekbones). The son of missionaries and having done missionary work himself, Tebow is a Christian first, a New York Jet second and a pro-caliber passer in his wildest imagination.
For those who share his religious and political beliefs, Tebow has become a symbol, a role model and a rallying point. For those who (for whatever reason) disagree with Tebow—whether his Christian background or his right-wing politics—he's become a symbol for derision.
As always, the polarization around that facet of Tebow's story creates more buzz around him. Just as many people love to hate Tebow as those who love to love him. In a social media-driven landscape, any topic that drives discussion is bound to be beaten to death.
Anytime people are talking about Tebow, every person is bound to have an opinion on him as both a person and a football player—even if the opinion is just that everyone should stop talking about him.
Sports Media Is Not Stupid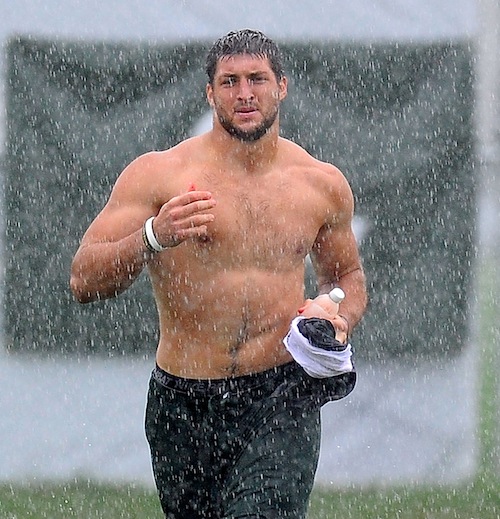 nypost.com
People who make decisions for sports media companies (note: I used to be one of them) aren't stupid, and they aren't (for the most part) allowed to keep jobs that they aren't good at.
Skip Bayless has become an object of scorn for his constant drumbeat for Tebow—and rightfully so—but ESPN First Take isn't exactly suffering in the ratings department, and their Tebow-centric debates are constantly subject to both good and bad press.
Now, NFL Network is rolling out a morning show with its own recurring Tebow segment.
Is it catering to the lowest common denominator? Probably. Are there plenty of hardcore fans who would love watching a show without any Tebow coverage? Of course. Are people going to yell at NFL AM just like they've yelled at First Take? Sure.
The tail does not wag the dog.
The media talks about Tebow for a reason—it understands the first two points of this article, and it stays focused on the things that draw readers, viewers and listeners to its product. When countless people are Googling, Yahooing and YouTubing "Tim Tebow" for whatever reason their addled minds are driven to, the media has to respond.
Could the coverage be more than just Bayless and Stephen A. Smith shouting at each other? Yes.
Is the coverage going to stop while people are still voraciously searching for Tebow content? Not on your life.
No matter your personal reasons for liking, not liking, caring, not caring or whatever your feelings are or aren't toward Tim Tebow, everyone has to realize that the discussion surrounding him—while tiring at times—isn't going anywhere anytime soon.
Michael Schottey is the NFL National Lead Writer for Bleacher Report and an award-winning member of the Pro Football Writers of America. Find more of his stuff alongside other great writers at "The Go Route."
This article is
What is the duplicate article?
Why is this article offensive?
Where is this article plagiarized from?
Why is this article poorly edited?