WWE SummerSlam 2012: Why Brock Lesnar vs. Triple H Will Be a Big Disappointment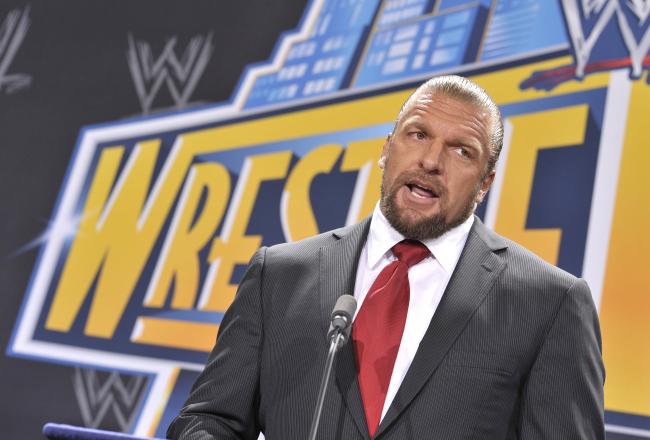 Michael N. Todaro/Getty Images
The HHH/Lesnar feud, Brock's second major program since his return to WWE earlier this year, has been heavily pushed and promoted on WWE television, most notably on Monday's Raw, which saw about 38 recaps of their confrontations played throughout the show.
It is set to be the centerpiece match on the SummerSlam pay-per-view, with chief operating officer Triple H attempting to defend his family's company against the former UFC champion, who has been vocal about his disrespect for WWE in the past few months.
However, despite WWE's hopes for it and the efforts of both men, the bout will almost certainly be a bitter disappointment.
Why? Well, where to start?
First of all, the entire thing may have gotten off to a bad start. Back in May, Lesnar shockingly broke HHH's arm with a Kimura hold on Raw after the two got into a disagreement about minor contract details (Lesnar really wants the use of Vince McMahon's private jet).
Sounds brutal, right? Like it had the potential to the next big-money angle?
Well, it was. Until HHH showed up at a boxing event a few day later looking, erm, perfectly fine and not selling his ostensibly injured arm at all. Of course, transparent excuses were later conjured up, special casts, complicated fractures and whatnot, but few bought it.
Sadly, after the arm debacle, things didn't really get better for the angle.
Lesnar then missed a few months of Raw, claiming he was done with the company and wished to pursue legal options. Former WWE worker Paul Heyman was brought in to help carry the angle, under the guise of being Lesnar's legal adviser in his absence.
Heyman was terrific in his role as a slimy heel and his explosive confrontations with Triple H were very good, but the storyline was developing even more flaws at this point.
Like why was an unstoppable killing machine (which former UFC champion Brock has been presented as) so eager to settle his problems in court? Why didn't he want to get in the ring just as much as HHH did? Why did Lesnar seemingly have to be forced into fighting?
It doesn't make much sense, does it? In recent times, the angle has also veered away from the initial HHH/Lesnar feud and focused more on the supporting players—Heyman and Triple H's wife Stephanie. This was never clearer than on Raw's 1,000th episode in which Stephanie came to the ring and spent several minutes verbally tearing Heyman to pieces over various past issues (that likely went over most people's heads).
So, Stephanie didn't trash Lesnar, the guy who her husband will be facing on PPV. Nope. She cut a promo on Heyman. The legal adviser. He's apparently the one the McMahons are against. Lesnar is apparently an afterthought.
An irate and humiliated Heyman finally agreed to the SummerSlam match, which led to the UFC star coming out and engaging in a violent brawl with HHH (Hunter sent his foe packing, unsurprisingly).
Yup. This once-promising program has now devolved into Lesnar defending his manager's honor.
In fairness to HHH and Lesnar, who really are doing the best with the mediocre material they're given, the damage may have been done even before they started to battle on-screen.
Many point to Lesnar losing clean to John Cena at Extreme Rules as the point where he lost his lustre and became just another name on the roster. It's no surprise HHH/Lesnar isn't exactly living up to expectations when Lesnar's image has already been damaged so badly.
Of course, this doesn't mean Lesnar and Hunter, both gifted in-ring performers, won't put on a decent match at the pay-per-view. The bout itself will probably be fine.
But will Lesnar/HHH be the major, game-changing feud many expected it to be? Probably not.
This article is
What is the duplicate article?
Why is this article offensive?
Where is this article plagiarized from?
Why is this article poorly edited?