Misty May-Treanor & Kerri Walsh 2012 Olympics: Wednesday Results & Highlights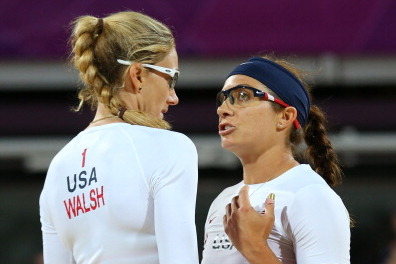 Ryan Pierse/Getty Images
After losing their first ever Olympic set (this is their third Olympics), Misty May-Treanor and Kerri Walsh have defeated Austrian sisters Doris and Stefanie Schwaiger 17-21, 21-8, 15-10.
It was the most adversity the Americans have faced, but their response in the second set was remarkable. They absolutely dominated. That shows a lot of resilience and character, which they will certainly need later in the tournament.
They end pool play undefeated at 3-0, and their next match will be on Friday at a time TBD.
Match over. 15-10 USA in the third.
Misty and Kerri in control up 13-10. Fat lady warming up her vocal cords. This might be over.
USA up 12-8. Three points away. Speaking of blowing up at a ref. I can't get enough of Karch Kiraly throwing a fit in this vid...
Kerri hates a call on four touches. The ref said it hit her shoulder. Definitely not the case in the replay. Another bad call and she may blow up.
Kerri just told Misty "Let's win on this side." She's implying that they should win in the next seven points. Confidence!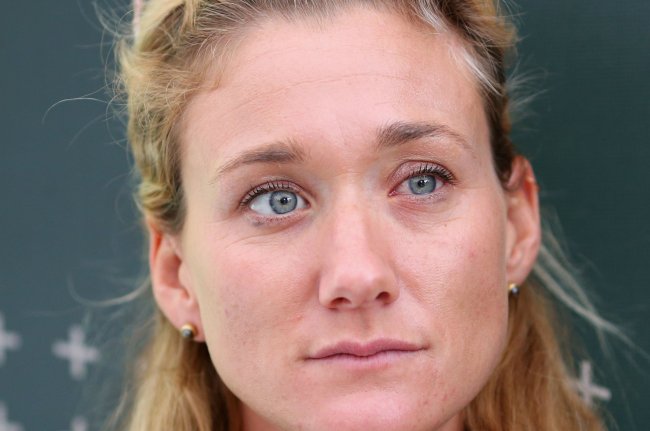 Ryan Pierse/Getty Images
Kerri just blasted a ball to go up 8-6. The pinkeye is not bothering her, obviously...
Misty missed a serve long: The Americans have NEVER played in an Olympic third set. New territory.
The Schwaigers are for real. Stefanie is holding her own up there. They haven't backed down after the set two schellacking. Tied at 5-5.
The Americans are in such a great rhythm right now. They bounced back from the first set with a roar. It's 2-2 in the third.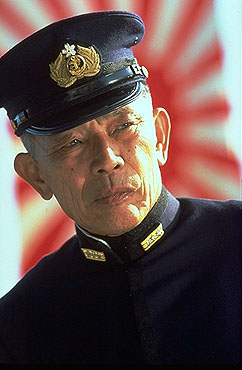 This reminds me of what Japanese Admiral Yamamoto said after the Pearl Harbor attack:
"I fear all that we have done is awaken a sleeping giant."
The sisters have woken up Misty and Kerri. They take the second set 21-8.
This is just getting ridiculous in the second. Obviously, losing their first Olympic set has only motivated Misty and Kerri... They are up 19-7.
I don't see any effects from losing the first set. Misty and Kerri are up 16-7 quickly in the second.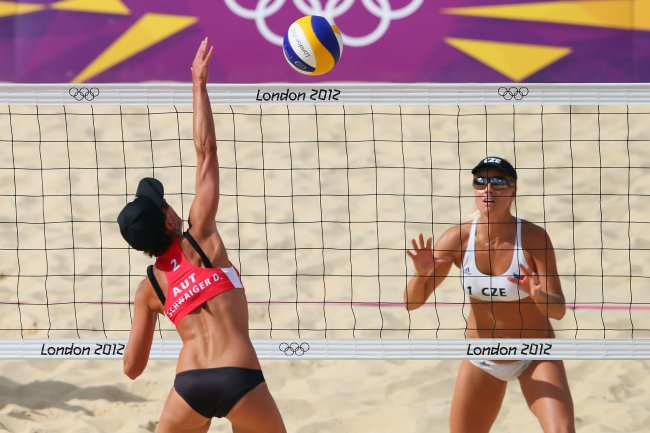 Ryan Pierse/Getty Images
On the other end, how aware are the sisters that they just handed the Americans their first Olympic set loss?
If you're just joining us, Misty and Kerri have just lost their first ever Olympic set. They went 2-0 in every match in both Athens and Beijing.
Note: Misty and Kerri have already qualified for the elimination bracket, but they surely don't want to head into it with their first ever match loss.
USA up 7-5, unhappy with a no-call on an iffy set by the sisters a couple of points ago. How does losing your FIRST EVER Olympic set affect your composure? This is a good test.
Americans up 5-3 in the second set. The match has featured a lot of good defense and rallies.
Misty's dad, Butch May, won three California Parks and Rec tourneys in the 1960's.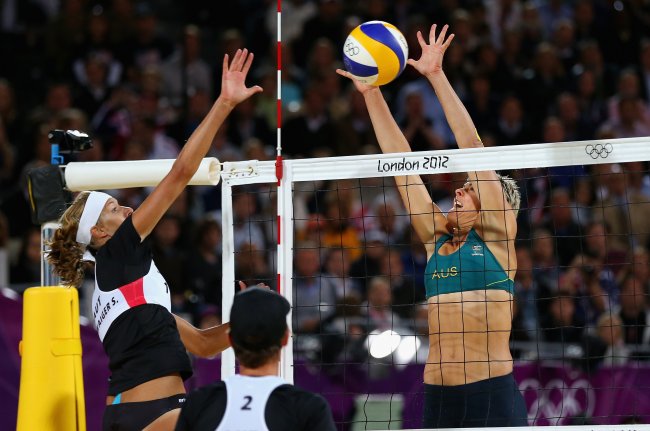 Ryan Pierse/Getty Images
Kerri hits wide. Sisters win first set 21-17. Is there an upset brewing???
Game point for the sisters, 20-17.
Kerri with a block. Sisters up 19-16. One point at a time.
Sisters now up 19-14. They are showing great ball control and placing their shots effectively.
Austrians up 16-13. Let's see if they can hold it. Misty and Kerri never panic.
Anyone out there have a question for men's gold medalist Todd Rogers? I'll ask him and get back to you. He's great at staying in contact with the media.
I'm getting really sick of the Spanish bullfighting sound effect they play constantly at the stadium. They did the same kind of thing when they overplayed sound FX in Beijing.
This article is
What is the duplicate article?
Why is this article offensive?
Where is this article plagiarized from?
Why is this article poorly edited?