The 20 Coolest Rap Videos in College Football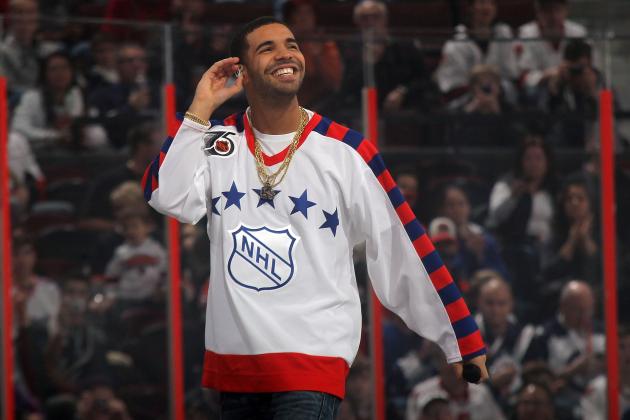 Bruce Bennett/Getty Images

Building a lyrical masterpiece is an art many have tried but few have perfected.
Nas, Biggie, Tupac, Common. They've all meshed numbingly brilliant vocals with poetic scripts to create pure euphoria. Better yet, the sound of art.
But while musical geniuses are perfecting their craft, there are far more students, athletes and unafraid elders yearning for a chance to spit their stories and preach what they believe in lyrical fashion.
With passion and enthusiasm always sky-high on the college football scene, the NCAA gridiron is where you'll find the most widespread collection of music videos. From hilarious to disturbing and awkward to just plain pathetic, college offers it all.
But we're set to look at only the coolest rap videos in college football. School spirit at its finest.
And yes, Asher Roth, we'll always love college.
Begin Slideshow

»
Beat: Like a fungus, this unique sun-spilled compilation of sounds grows on us with every "We the Seminoles" chant.

Lyrics: Mike Bane can spit, but his voice eventually begins to aggravate the crowd.

Props: Sun perfectly angled, background students chopping their arms, plenty of Seminoles.

Grade: C. Poor man's Mike Posner.

Beat: Trumpet-esque drumming and a rhythmic synthesizing makes this almost enjoyable.

Lyrics: Is this Andy Samberg's Lonely Island?

Props: Plenty of women, a lot of orange, Mike Gundy dropping it low.

Grade: C. Gundy barely saves the day.

Beat: Taking the Cam'ron route—classy.
Lyrics: "Two Heismans back to back, Archie Griffin."
Props: We'd rather watch Terrelle Pryor's practice sessions.
Grade: C+. Great idea, iffy execution.
Beat: Typical hip-hop drop, yet little diversity. On that Lil' Flip flow.

Lyrics: "We don't need Lamar, we've got Malcolm Arrington" is about all he's got.
Props: A lot of football—good thinking. "And coach Fitz."

Grade: C+. Small time. Please don't attempt the Jadakiss "Ah-Hah" ever again.
Beat: Anthem-like bumping with a lot of head-nodding and hand press-downs.
Lyrics: Giving us his take on who the Mountaineers are counting on, plus a lot of love for the colors blue and gold. (Make sure to avoid the final 20 seconds, though.)

Props: Children, coaches, fans, smiles.

Grade: B-. School loyalty.

Beat: Synthesizing souls with a soft tapping, dynamic repetition.
Lyrics: Completely in response to alleged media bias by The Detroit Free Press against the Michigan Wolverines athletics program, including sportswriters Drew Sharp and Michael Rosenberg.
Sharp's attempt at morality regarding Michigan's signing of safety Demar Dorsey (who was acquitted of charges when he was 16) is sickening—give the kid a chance. The lyrics are great.
Props: Football, more football and an awesome picture of Sharp with horns.
Grade: B. Drew Sharp has proven he's a jerk before.

Beat: "Ice Cream Paint Job" by Dorrough, the catchy choice.
Lyrics: Awful, but the beat clouds any (all) deficiencies. However, please do offer a moment of silence for the late Sean Taylor.

Props: Football, vibrant colors, several bits of visual lyrics.

Grade: B. Elementary spit, popular rhythm.

Beat: Epic.
Lyrics: Non-existent.
Props: Seizure warning, please.
Grade: B. Somehow catchy.
Beat: Typical horn-driven beat from New Orleans, taking it back to Drumline.

Lyrics: Rhythmic and sufficient enough to satisfy the growling tone of the song.

Props: The Hangover start is creative, and we appreciate the purple-yellow atmosphere. As well as more tigers.

Grade: B+. LSU, L-L-LSU.

Beat: Typical Waka-Flocka start, with ridiculous head-bobbing antics. In essence, feeding into mainstream abomination.

Lyrics: Dawgy-style creativity.

Props: A lot of shifting, hand-tossing and Georgia Bull-dawg walking.

Grade: B+. Georgia should be proud.

Beat: Can't go wrong with Drake and Wayne's "Forever."

Lyrics: Effort and diversity, and for that, we commend this passionate crew.

Props: Sold at massive, red-painted elephants.

Grade: B+. Somehow jump-and-clap worthy.

Beat: Busta Rhymes' "We Will," getting those goosebumps up and flourishing.

Lyrics: Typical haters posted up-type dialect. Sounds like a Trae tha Truth hopeful (the second featured rapper on the "I'm On" video for those unaware of Mr. Truth).

Props: Scanning the locker room, trophy case and overpopulated field makes this historical.

Grade: A-. Chills.

Beat: Tearing a page out of Fort Minor's book, the GTGs somehow make this compilation of options and goal-post chill sessions work.

Lyrics: Uttering "the perfect option" takes up at least half the song, so not much to evaluate.

Props: Quality array of successful options and random teammates thrusting their hands up with subtle excitement.

Grade: A-. The Georgia Tech Yellow Jackets do in fact possess a stellar option system.

Beat: Soothing, inspirational, partially electronic. Approved.
Lyrics: Considering he's a professional, Nelly had to blow us away with his script. Motivational, but not quite poetic.

Props: Mostly Nelly nodding his head and the camera focusing in and out. The usual.

Grade: A. A memorable bowl week.

Beat: This Cali sun-rocking flow offers a scintillating hum for the ears.
Lyrics: In featuring former Cal receiver Alex Lagemann, known in the West as "Loggy," this calming seduction of the audience offers a diverse array of vocal spices.
Props: Football, Cali lifestyle, football.

Grade: A. Needs more football (and cowbell).

Beat: Houston-born Slim Thug's slangy southern rhythm forces us to stomp, slam and swirl with joy.

Lyrics: Clear-cut and limited in creativity, yet quite efficient in getting the fiery Cougar's point across.

Props: A tour of Houston, pleasant.

Grade: A. Beans and cornbread.

Beat: Taking a trip down Mark Morrison street with the return of the quack. We're struck with '90s rhythm and quickly thrust into the clap-happy world of rap ridiculousness.
Lyrics: Bright colors and footballs eclipse the poor-scripted lyrics. Too much duck love.
Props: So that's what former Lion Joey Harrington has been doing, hanging out at his all-green-everything Alma Mater. Everybody's going green.
Grade: A. Still bobbin' that noggin.
Beat: Booming, yet subtle. Just a slight DJ spin is all that's needed.
Lyrics: Poetic brilliance, his a cappellas must be epic.

Props: Several cut-scenes and a room full of inspired teammates.

Grade: A+. The former Kentucky and current Bills receiver kills it.

Beat: Piano and shakers together offer a mescaline mix of soothing and heart-warming pride.
Lyrics: The Ludacris resemblance clouds any lack of rhythm, but all things considered, Jordan "J-ill" Watson and Adriana Allgood spit their prowess to perfection.
Props: An aesthetically pleasing tour of Virginia State, courts, fields, bookstores. In reality, we're sold at dancing Trojans. Love the Wale sighting.
Grade: A+. Luda', chicken-'n-beer style.
Beat: A light strum on one guitar and precise plucking on another form quite the ear-pleasing masterpiece.

Lyrics: Like a combination of Linkin Park's Mike Shinoda spitting and solo spectacle John Legend singing, these two produce pure brilliance.
Props: Sunsets, high-fiving, trains and a Denard Robinson-on-a-skateboard sighting. Yes.

Grade: A+. Flawless.
Special thanks to redshirt senior quarterback and rapper Jack Kennedy, as well as junior receiver and vocalist Joe Reynolds.