Is Andrew Bynum or Dwight Howard a Better Fit for LA Lakers' Princeton Offense?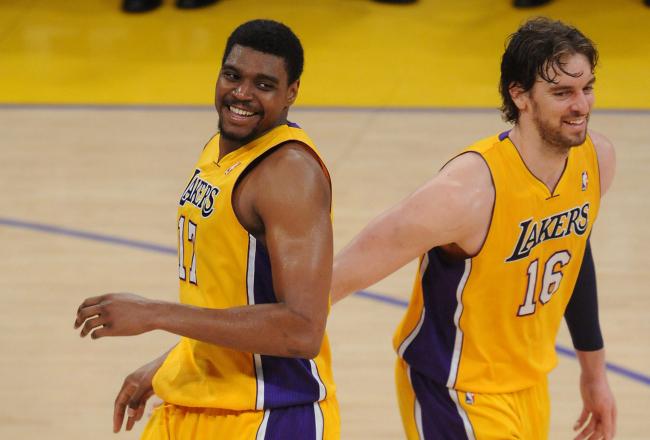 Jayne Kamin-Oncea-US PRESSWIRE
The Los Angeles Lakers are searching for each and every possible advantage they can gain during the 2012-2013 season.
First it was Steve Nash. Then Antawn Jamison. Now it's the Princeton offense.
In this time of constant trade rumors, that begs the question: Is Andrew Bynum or trade target Dwight Howard a better fit for the new style of play?
Before I can begin to answer that question, I have to explain the basics of the Princeton offense.
Here's what Kobe Bryant had to say about it in an interview with Yahoo! Sports that was relayed by Adrian Wojnarowski:
"It's a great offense," Bryant told Yahoo! Sports. "It's exactly what we need. It takes us back to being able to play by making reads and reacting to defenses. It takes a great deal of communication, but that's where we're at our best: Reading and reacting as opposed to just coming down and calling sets. Calling sets make you vulnerable.

"There's so many threats, so many options, it's very tough to defend. Against the type of defenses that teams play nowadays, they load up on one side and are constantly coming with help from the weak side. The Princeton offense makes it very, very tough to lock in on one particular player.

"From my experience, those types of principles – ball movement, changing sides on the floor, everybody being involved – those are championship principles. That's championship DNA."
Kobe is correct in that it's an offense predicated on the principles that he listed at the end of his quotation. The Princeton offense is all about making the intelligent play, particularly when it involves a nice backdoor cut.
Making the extra pass is essential as the team running the offense throws the ball in to the center on either the block or the high post and makes everyone cut to an open spot.
A solid passing big man is required, as well as smart offensive players who are willing to be unselfish.
I have my questions about how much sense this makes for the Lakers for two reasons. Kobe and "extra pass" don't usually appear in the same sentence, and the Princeton offense doesn't allow Steve Nash to control the ball and play to his strengths.
That said, it appears as though the Lakers are set in their new ways.
You can find a great, more detailed breakdown of the system here, courtesy of ESPN's Fran Fraschilla.
As a point of reemphasis though, a great, versatile big man is needed. This is what Eddie Jordan—a coach who brought the system to the Washington Wizards and Philadelphia 76ers, and who might be joining the Lakers—had to say on the subject:
"The offense revolves around the center," Jordan explained. "Now, whether he touches it a lot or doesn't touch it at all, you still form your organization around the center. You find your center, and your center finds the ball, and everyone else sets up in the proper spots. The center can be in the low or high-post, or off the elbow. You can certainly run your offense through him or around him. We like to say: 'If he is the main player, he is going to get more touches and he is going to be a passer as well as a scorer."
In the Lakers' case, Pau Gasol is going to serve as that center and will show off his versatility. He's a great passing big man and a unique dual-threat player on the block when he has the ball in his hands.
Unfortunately, this devolves Bynum (or Howard) and lowers his level of involvement.
Both players would be relied upon to pass the ball more than is customary, which plays into Howard's hands slightly better than Bynum's.
Howard is the more unselfish passer of the two, thanks to years of playing kick-out basketball with great shooters. He's also more skilled.
Which big man fits the system better?
According to 82games.com, Howard had a passing rating of 2.0 during the 2011-2012 season and Bynum's was 1.2. As a reference point, Gasol's was 5.0, Kobe's was 5.9 and Nash's was 17.3.
The incumbent big man isn't the same cutter that Howard is either, and he can't finish as well. Because both players would be moving a lot without the ball, this is the most valuable skill for the center to have.
For that reason, Dwight is a much better fit for the offense, even though the offense isn't necessarily a good fit for the Lakers.
This article is
What is the duplicate article?
Why is this article offensive?
Where is this article plagiarized from?
Why is this article poorly edited?

Los Angeles Lakers: Like this team?