Dallas Cowboys: Jerry Jones' Trash Talking Blows Up Jason Garrett's Message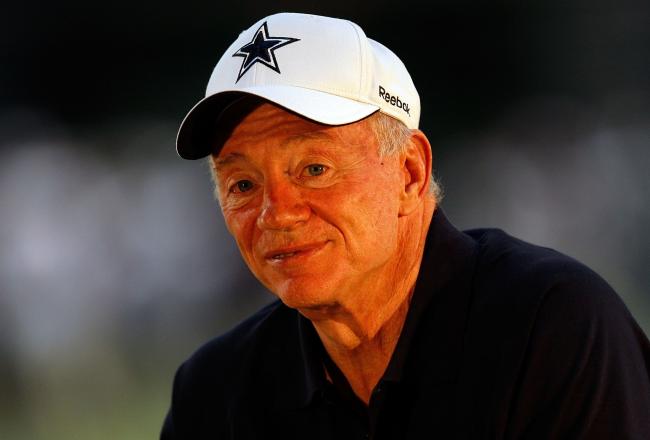 Ronald Martinez/Getty Images
When Jerry Jones invited training camp onlookers to visit Cowboys Stadium and watch Dallas "beat the Giants' ass," he undermined several months of Jason Garrett's efforts to establish a new culture in Dallas.
Garrett had done an admirable job of establishing the "shut up and get to work" motto this off-season. It was paying off.
Less than an hour before Jerry was stricken with the impulse to trash talk, Rob Ryan had gone on record saying he was going to keep his mouth shut because the media attention in Dallas was much greater than he had realized in his first year.
One could view that comment from Ryan as the high-water mark for Garrett's efforts. If Ryan, one of the most boastful coaches in the NFL, had gotten the message, then the entire team must be on the same page.
This was a major positive going into camp. The Cowboys have long been viewed as a team that received more than their share of media attention and inflated expectations, given their dismal playoff record over the last 16 years.
Garrett's slogan was meaningful in that it signaled a new era in which Dallas would do their talking on the field, rather than trying to hype their way into the national spotlight. It meant that the latest infusion of talent would be joining a team that was focused on doing the right things day in and day out, rather than just talking big and failing to back it up.
Enter Jerry Jones stage left. Boom. Message destroyed.
In the past, Jones was rumored to have undermined coaches by allowing players a direct line of communication to him. Deion Sanders famously had Jones on his speed dial. Those days appeared to be waning, but this latest development speaks to a new form of undermining.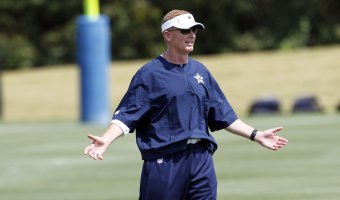 Layne Murdoch/Getty Images
Perhaps it wasn't intentional, but Jones' comments have to leave the players wondering just how important their head coach's philosophy really is, if the owner of the team ignores it.
While it is certainly true that if you can back it up on the field, you can trash talk all you want, the Cowboys haven't proven that yet. They needed to stick with the "shut up and get to work" mantra.
Here are some facts about the Cowboys rivalry with the Giants:
Dallas was swept by New York last year.
New York has won three of the last four meetings.
The Cowboys' one victory in the last two years came against an over-confident Giants team.
They were over-confident at the time because Dallas was 2-7 and Romo was out for the year. New York came out a little flat and lost 33-20. It was Garrett's first game as head coach.
The upcoming game has some interesting facts as well:
The Giants are coming off a Super Bowl championship.
New York is very confident about their ability to beat Dallas, having swept them last year.
The Giants picked up Martellus Bennett after he left the Cowboys. Bennett has since stated a hatred for Dallas and initiated the trash talking by saying he can't wait "to kick those guys' asses."
For several weeks, Dallas showed the discipline of their new mantra by not returning fire after Bennett's comments.
All of this pointed toward an opportunity for Dallas to catch New York a little off guard. The Giants opened the season last year with a surprising loss to the Redskins. It was obvious that they weren't expecting the fight that Washington gave them. They lost 28-14 to a team that would only win four more games all year.
Had Jones managed to stick with the team philosophy, Dallas might have had a slight emotional edge going into the season opener.
I went to some pretty rough schools growing up and I saw a lot of street fights. In my experience, the guys who were most serious about fighting did the least amount of talking. The guy who ran his mouth a lot was usually bluffing and he typically got beat pretty badly when the fight started.
By staying off of Twitter and holding back on the trash talking, Dallas had an opportunity to channel their frustration with New York into practices leading up to the game. They had a chance to send the message that they would settle it on the field.
Jones' trash talking takes things the opposite direction. The Giants are now on full alert. Any Super Bowl hangover they were experiencing has cleared.They are united toward a common goal: make Jerry Jones eat his words.
Skeptics will say that they are all paid professionals and nothing anyone says makes a difference, but that is simply not true. Any coach will tell you that a team will prepare the hardest for their most bitter rivals. After a team has established dominance, it is harder for the dominant team to get up for the games and the emotional edge goes to the underdog.
Just ask anyone from Texas A&M. The Aggies have upset the Texas Longhorns numerous times. For the Aggies, beating Texas was like winning a bowl game. It wasn't the same for the Longhorns.
Texas had so much more success as a program, that they struggled to get fired up for their matchups with the inferior A&M. And it cost them on several occasions.
Emotions matter a great deal in a game as emotional as football. Letting a sleeping Giant lie was a far better strategy than poking it with a stick. Hopefully for Dallas fans, the Cowboys are all aware that the stakes just got a little higher.
Roger Light writes for Cowboysblast.com as well a Sportsbrainpower.com.
This article is
What is the duplicate article?
Why is this article offensive?
Where is this article plagiarized from?
Why is this article poorly edited?

Dallas Cowboys: Like this team?