Olympic Basketball Schedule 2012: Previewing and Predicting Thursday's Games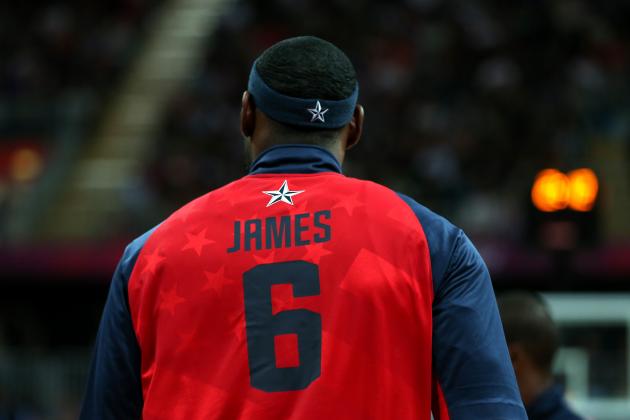 Ezra Shaw/Getty Images
James and Team USA have yet to be tested. Will Thursday be tougher?
Much of the men's basketball action has played out as was expected.
Team USA and Spain have rolled over their competition to a 2-0 record, and the two countries appear to be on a collision course to a heavyweight fight for the gold medal down the road. With two games already in the books, there is now a clear separation between the top-level teams and the less-than-stellar teams.
With six more games scheduled to be played on Thursday, let's preview all 12 teams in action.
Begin Slideshow

»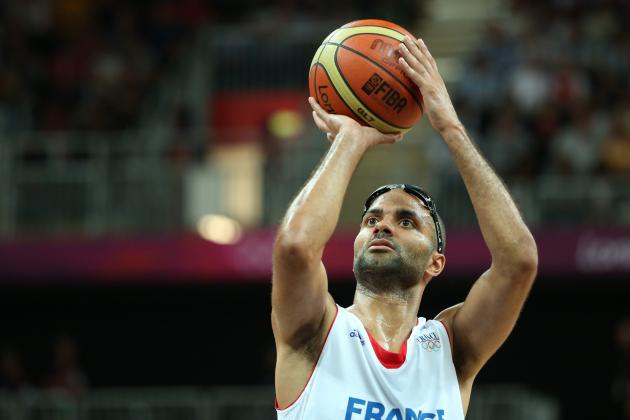 Christian Petersen/Getty Images
Will Tony Parker be enough to get past Lithuania?
Thursday, August 2nd
9:00 am EST (Pool A)
Preview: France (1-1) enters its game against Lithuania (1-1) fresh off a key win over one of the better teams in the Olympic field—Argentina. Les Blues was embarrassed against Team USA in a 27-point thrashing on Sunday, but Tony Parker and Nicholas Batum helped put the French in a better position after defeating Argentina. Lithuania, led by Linas Kleiza and Jonas Valanciunas, enters the game following a 19-point domination of Nigeria.
Prediction: Lithuania's size will present problems for France, but they have no answer for Tony Parker. France wins by 10.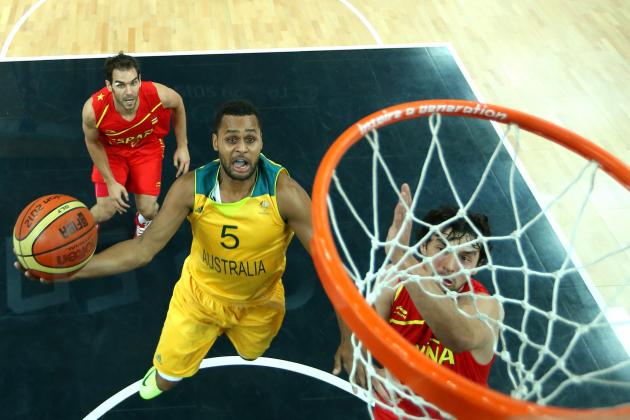 Christian Petersen/Getty Images
Patrick Mills could be enough to ensure a victory for Australia.
Thursday, August 2nd
11:15 am EST (Pool B)
Preview: Australia (0-2) put up a valiant effort against Spain, but the Australians ultimately lost by 12 points. China (0-2) played Spain on Sunday and lost by 16 points, so by virtue of a common opponent, the Australia-China matchup figures to be a close one. However, Australia has put up a more consistent offensive output, racking up 71 points in a four-point loss to Brazil and 70 points against Spain. China, on the other hand, scored just 54 points against Russia after scoring 81 on Sunday against Spain.
Prediction: Andrew Bogut, Australia is overmatched in the post, but Patrick Mills is better than any Chinese guard. Australia wins by 3.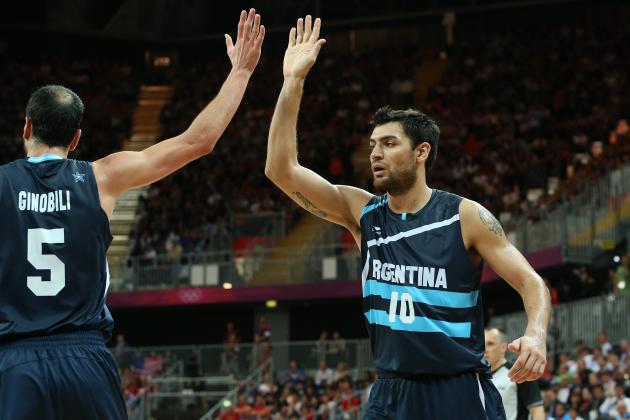 Christian Petersen/Getty Images
Ginobili and Delfino should breeze past Tunisia.
Thursday, August 2nd
2:30 pm EST (Pool A)
Preview: Following a 47-point loss to Team USA on Tuesday, but one member of Tunisia (0-2) left the gym happy. Why? Because Kobe Bryant signed an autograph for him. Argentina (1-1) is led by four NBA players in Manu Ginobili, Carlos Delfino, Andres Nocioni and Luis Scola—and that's not something hardcore Tunisian basketball fans want to hear. This game should be over by halftime, and Argentina's star players likely won't need to play very far into the second half.
Prediction: It won't be as lob-sided as Team USA's domination on Tuesday, but Argentina should win with ease. Argentina wins by 25.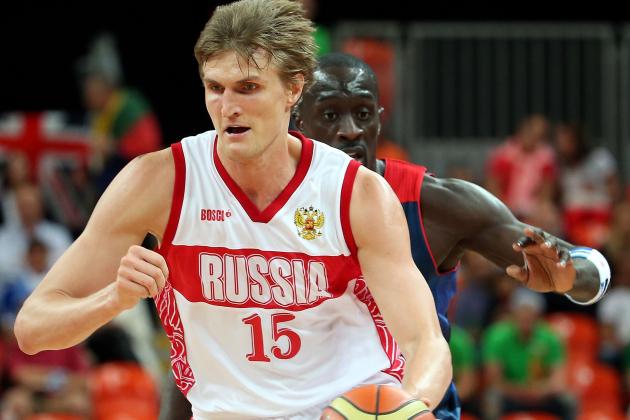 Christian Petersen/Getty Images
Does Brazil have a match for Andrei Kirilenko?
Thursday, August 2nd
4:45 pm EST (Pool B)
Preview: Thursday's matchup of Brazil (2-0) and Russia (2-0) features two of the three unbeaten teams against one another. Brazil has been involved in two very close games in preliminary play—a four-point victory over Australia, followed by a five-point victory over Great Britain. Russia, on the other hand, has a dominant 20-point win over Great Britain and a 19-point victory over China on its resume. The Russians have been far more impressive in their two victories, but Brazil's size on the inside could keep it close.
Prediction: Brazil will feed Nene, Varejao and Splitter, and do its best to slow the game down, but Russia has too much offense. Russia wins by 6.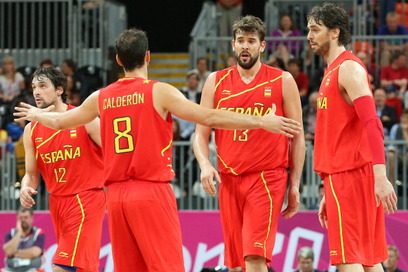 Christian Petersen/Getty Images
Spain has been impressive so far, but will Great Britain be a test?
Thursday, August 2nd
8:00 pm EST (Pool B)
Preview: Other than Team USA, Spain (2-0) features the most complete starting five in the Olympic field and it's been reflected in their first two games. After putting up 92 points against China, the Spanish posted 82 in a 12-point victory over Australia. Led by the Gasol brothers and Serge Ibaka on the inside, Spain protects the rim perhaps better than anyone in the world—which spells trouble for Great Britain (0-2) who has averaged just 68.5 points in two preliminary games.
Prediction: Spain's defense is simply too good for Great Britain to make this a competitive game. Spain wins by 18.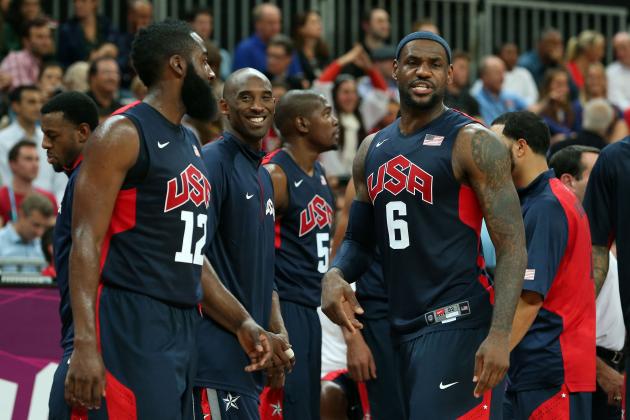 Christian Petersen/Getty Images
Team USA's average margin of victory in two games is 37.0 points.
Thursday, August 2nd
5:15 pm EST (Pool A)
Preview: Team USA (2-0) is the clear-cut favorite to win gold in men's basketball, and nothing has changed following a 27-point trashing of France and a 47-point domination of Tunisia. The Nigerians (0-2) also beat Tunisia in their first preliminary game, but it was only a four-point margin—far closer than the Americans' 47-point route. Nigeria is averaging 56.5 points per game, while Team USA's average margin of victory is 37. It's hard to imagine any scenario that doesn't end with Team USA dominating Nigeria.
Prediction: Team USA starts Chris Paul, Kobe Bryant, Kevin Durant, LeBron James and Tyson Chandler. So, yeah. Good luck, Ike Diogu and Al-Farouq Aminu. USA wins by 35.