Great Britain vs. Uruguay: Scoring the Key Battles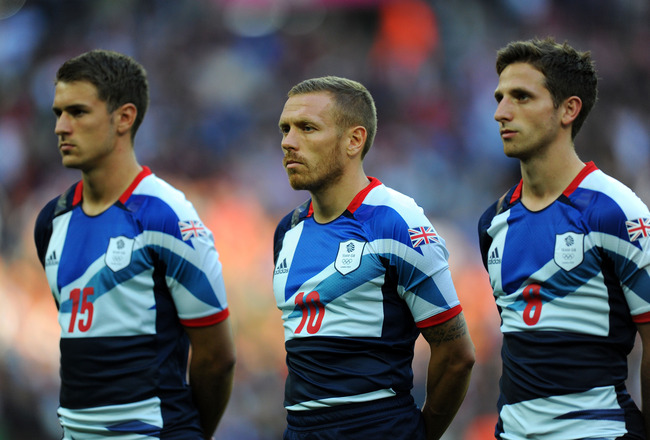 Stu Forster/Getty Images
With both sides still hoping to come out on the top of Group A, Team Great Britain and Uruguay will face off in Cardiff's Millennium Stadium, and these two sides have a very genuine chance of coming out of London 2012 with Olympic gold.
Each with two gold football medals to their name, both Uruguay and Team GB are looking to live up to past expectations in the Summer Games. But, only one can come out on top in this fixture, with Senegal waiting to pounce on the group's second spot should either lose.
Stuart Pearce's Britons need only snatch a draw to see them through to the tournament's quarter-finals, but Uruguay's need for the three points could make for a thrilling encounter this evening.
Uruguay can also go through with just one point, but they would need UAE to do them a serious favour against Senegal, something which is far from assured of happening.
While football has and always will revolve around team efforts, the sport can often whittle down to individual struggles between opposing players that affect their side's dynamic enough to decide a tie.
With that in mind, here are the top five battles you can expect to see on Wednesday that could see who ultimately wins Olympic gold this year.
Micah Richards vs. Edinson Cavani
Julian Finney/Getty Images
As one of the three experienced players in the Team GB squad, Micah Richards could be switched into a more central role on Wednesday as Stuart Pearce tries to contain Uruguay's explosive offence.
Edinson Cavani has been scoring for fun in Italy's top flight for the past two seasons, and, while Great Britain certainly has some young and capable defenders in its ranks, Richards will be the smartest option to take on the Napoli hitman.
Richards has been utilized as a right-back so far this summer, but the 24-year-old is more than capable of featuring as a central defender also.
If the attackers of the United Arab Emirates can highlight the weaknesses of Steven Caulker and James Tomkins, then the hosts will need to up their level considerably if they are to cope with Cavani.
The Uruguayan has scored a startling 49 goals in 64 league starts for Napoli, and is capable of exposing a side's defence out of the slightest chance. Despite his non-scoring form against Senegal, he is still his nation's main attacking outlet.
With Richards in the middle, it would be Ryan Bertrand to take up duties as right-back, meaning either Tomkins or Caulker will miss out on a starting spot.
Joe Allen vs. Gaston Ramirez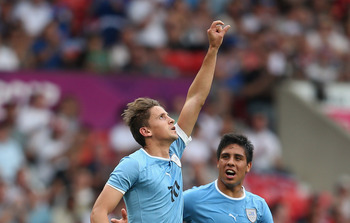 Julian Finney/Getty Images
Joe Allen and Gaston Ramirez have two major qualities in common.
The first is that both the Welshman (via BBC) and the Uruguayan (via Mercato, h/t Daily Mail) have been fervently linked with a move to Liverpool this summer.
The second is that the pair are very capable midfielders, and are set for a tug-of-war of epic encounters on Wednesday.
Allen represents the slick passing and more defensive outlet for Team GB, while Ramirez is the explosive flair that Uruguay are known for.
With just two out and out strikers in his squad, Pearce has made it clear that he intends to use a variation of five midfielders at London 2012.
As the likes of Ryan Giggs, Tom Cleverley and Aaron Ramsey push forward around him, Allen has been playing out of an "anchorman" role, providing that vital link between midfield and attack.
Ramirez, currently playing with Bologna, prides himself on his creative play. With Edinson Cavani and Luis Suarez ahead of him, Ramirez must be contained by his opposite number, Allen, who is playing in front of a Welsh crowd in his nation's capital.
Tom Cleverley vs. Egidio Arevalo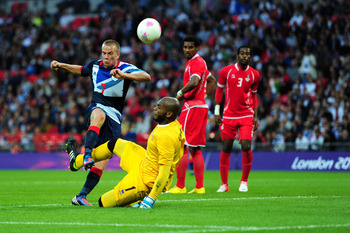 Stu Forster/Getty Images
In a tournament filled with youngsters, Tom Cleverley has shown what good it's done him to play alongside mentors such as Ryan Giggs and Paul Scholes on a club level.
The Manchester United playmaker has already displayed a seriously calm demeanor at London 2012 that many players his age don't have, and has made those around him look better because of it.
However, the likes of Craig Bellamy and Daniel Sturridge could find their supply limited tonight unless Cleverley wins out in his battle against Egidio Arevalo.
The Palermo anchor is one of Uruguay's over-23 selections, and has shown his penchant for a tough tackle or two in the course of his career.
With the new season just around the corner, Arevalo is one of the last people Cleverley will have wanted to come across given his injury-plagued 2011-12 campaign.
That being said, Arevalo is 30 years old and while experience is an invaluable attribute, so too is stamina, and, if Cleverley uses the options around him to their maximum potential, he can hope to tire the defensive midfielder.
With limited attacking options, Team GB must rely on their midfield strength to score again tonight, but Cleverley's first obstacle is Egidio Arevalo.
Steven Caulker vs. Luis Suarez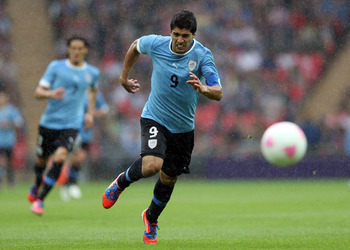 Julian Finney/Getty Images
Having played every minute of Team GB's London 2012 campaign so far, Steven Caulker has emerged as a very capable defender, and one that is likely to retain his starting spot against Uruguay.
However, the Spurs centre-back faces possibly one of the toughest nights of his Olympic career when he lines up against Luis Suarez and Edinson Cavani on Wednesday.
It actually isn't that long since Caulker and Suarez last clashed, as the pair faced off when Liverpool played Swansea City on the final day of the Premier League season.
The Swans won that fixture 1-0, and Caulker will be hoping to give Suarez another unpleasant trip to Wales on Wednesday when the pair do battle once more.
Having just penned a new contract at White Hart Lane, Caulker can only hope that he'll be lining up against Suarez a lot more in his club future, but the 20-year-old Englishman is making all the right moves and being tipped for a bright international future.
Suarez's slight stature would seem inferior when faced with Caulker's daunting frame, but the South American will be looking to use that difference in height to his advantage.
The Uruguayan has made a reputation for possessing a dizzying turn of pace, and Caulker could be left in his wake if he isn't on his toes in Cardiff.
Craig Bellamy vs. Sebastián Coates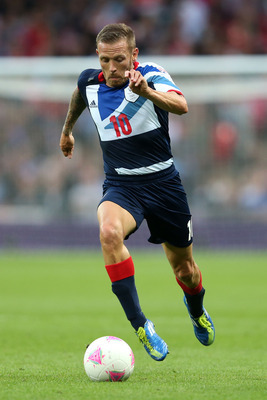 Julian Finney/Getty Images
Premier League veteran and controversial figure to all, Craig Bellamy has been Team GB's go-to guy when it comes to scoring goals this summer.
Regardless of England's huge majority when it comes to representation in Stuart Pearce's squad, the small Welsh contingent of Bellamy, Giggs and Allen have made it their business to do what matters most at this tournament: scoring goals.
Bellamy's prolific antics mean that he may be pushed into a higher, more central position against Uruguay as opposed to the wide role he has played in against UAE and Senegal.
If that is the case, one man he's sure to come up against is Uruguayan starlet and Liverpool teammate: Sebastián Coates.
Given the pair's club background, Bellamy will know a good bit about Coates' style, just as Coates will his, making for a potentially enticing game of the minds.
Even if Bellamy maintains his place on the wing, he is likely to drift into a central attacking position as he has shown in past appearances, and challenge Coates.
The 2011 Copa America Young Player of the Tournament may hold Bellamy as a mentor back in Merseyside, but Coates will be doing everything in his power to make sure that Craig Bellamy doesn't uphold his 100 percent scoring record at the Millenium Stadium on Wednesday.
Keep Reading