Mexico vs. Switzerland: Olympic Men's Soccer Live Score, Analysis, Recap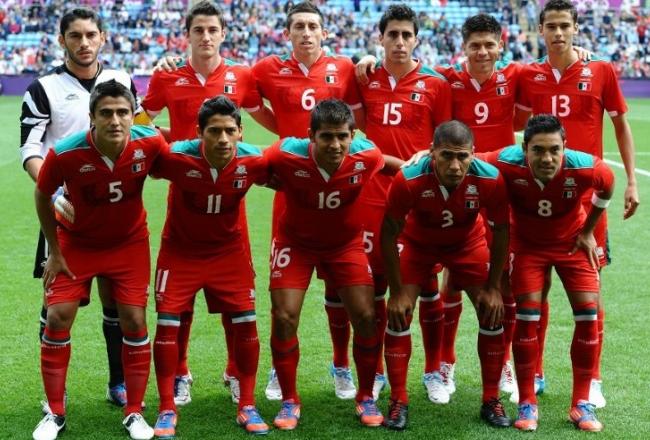 Photo: AP

2012 Summer Olympics—men's football tournament, Group B
Mexico 1-0 Switzerland (full time)
Goals: Oribe Peralta 68'
LINEUPS
Mexico: José de Jesús Corona (c), Néstor Vidrio (Israel Jiménez 46'), Hiram Mier, Diego Reyes, Darvin Chávez, Jorge Enríquez, Carlos Salcido, Javier Aquino, Giovani dos Santos (Raúl Jiménez 84'), Marco Fabián (Miguel Ponce 79'), Oribe Peralta.
Switzerland: Diego Benaglio (c), Ricardo Rodríguez, Fabio Daprela, Timm Klose, François Affolter, Amir Abrashi, Fabian Frei, Pajtim Kasami (Xavier Hochstrasser 85'), Admir Mehmedi, Innocent Emeghara, Steven Zuber (Josip Drmić 61').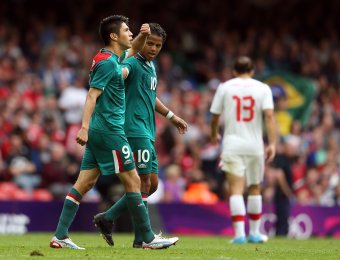 Julian Finney/Getty Images
FULL TIME: Mexico 1, Switzerland 0.
After a very unpleasant first half and a clear dominance from the Swiss squad, Mexico comes back in-style to win the match and lead Group B with seven points.
El Tri will play against Great Britain, Uruguay or Senegal in the quarterfinals.
89'—Mexico 1, Switzerland 0.
Switzerland is putting pressure on Mexico and will have three more minutes to try to win the game.
87'—Yellow card and substitution combo for Switzerland.
Xavier Hochstrasser comes in for Pajtim Kasami. He receives a yellow card in his first play after tackling Raúl Jiménez.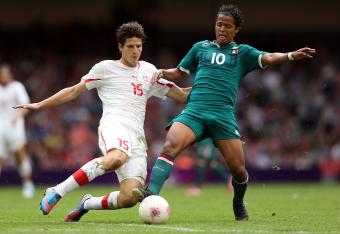 84'—Mexico substitution.
Giovani dos Santos out; Raúl Jiménez in. This was the first match of the tournament in which dos Santos couldn't score.
83'—Mexico 1, Switzerland 0.
Jiménez with a long distance shot that Benaglio barely rejects. Corner kick for Mexico.
79'—Mexico substitution.
An unhappy Marco Fabián leaves; Miguel Ponce comes in. Both footballers play for Mexican club Chivas.
77'—Mexico 1, Switzerland 0.
Javier Aquino has been the best player so far. He just made a run through the left sideline, the cut to the center and shot. He sent the ball inches from the pole.
75'—Switzerland substitution.
Amir Abrashi leaves the pitch; Alain Wiss comes in (both midfielders).
73'—Mexico 1, Switzerland 0.
Mexico in clear control of the match. Switzerland counterattacking constantly and now has a corner kick.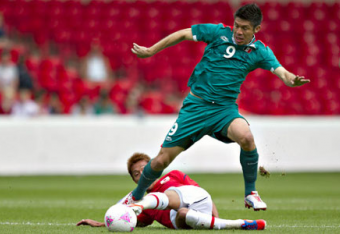 68'—GOOOOAL!
Mexico with the first goal of the match. Giovani dos Santos dribbles and leaves two defenders hanging, Oribe Peralta receives a short pass, forcing Benaglio to come out from his area.
Peralta with a right-foot shot sends the ball to the back of the net.
67'—Mexico 0, Switzerland 0.
Carlos Salcido with a cross from the left sideline, Oribe Peralta can't control, but passes the ball to Jorge Enríquez who shoots off target.
65'—Mexico 0, Switzerland 0.
Dos Santos steals the ball in the area, but Benaglio with a superb appearances amends Daprela's mistake.
63'—Mexico 0, Switzerland 0.
Mexico in control now, Switzerland has lost the rhythm and the physical effort from the first half is now being costly.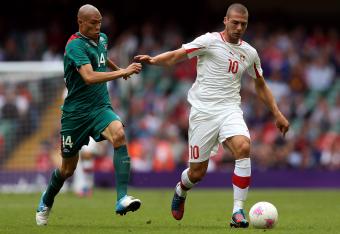 59'—Mexico 0, Switzerland 0.
Jorge Enríquez has had a lot of mistakes in the midfield. Luis Fernando Tena is missing Héctor Herrera, a player with more creativity and control.
56'—Mexico 0, Switzerland 0.
El Tri is finally comfortable in the pitch. The squad is controlling the midfield and has a lot more ball possession.
53'—Mexico 0, Switzerland 0.
Mexico had the best opportunity to score so far. Giovani from the center, sends a cross to Peralta that dribbles twice, but sends his shot centimeters away.
If Peralta had sent a cross, Enríquez could have scored.
52'—Mexico 0, Switzerland 0.
Oribe Peralta dribbles from the left band and makes his first shot of the match, but Benaglio controls without a problem.
49'—Mexico 0, Switzerland 0.
The game pace is completely different from the first half. Both teams seem to be tired.
Second half
Mexico restarts the game. First substitution: Néstor Vidrio out, Israel Jiménez in.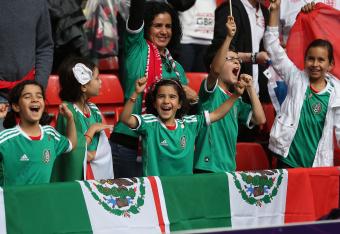 HALFTIME: MEXICO 0, SWITZERLAND 0
The European squad has controlled the game in every line. Mexico is having a hard time stopping the Swiss players. Emeghara and Mehmedi's attack has been constant and dangerous.
The Mexican defense has had a lot of work. Mier and Vidrio are making an exceptional effort so far.
In the midfield, Fabian Frei has had a superb performance. His accuracy and ball control have given his squad five clear goal opportunities, at the least.
Marco Fabián and Oribe Peralta seem to be ghosts on the pitch, while Giovani dos Santos and Javier Aquino have been the best offensive Mexican players so far.
With this result, Mexico advances to the knockout stage as group leader.
45'—Mexico 0, Switzerland 0.
Javier Aquino with a tremendous run, but François Affolter stopped him, which also meant Switzerland's second yellow card.
Gioivani dos Santos with the free-kick; sends the ball to the right and the first half ends.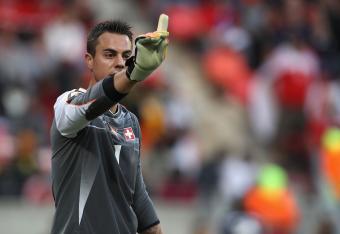 43'—Mexico 0, Switzerland 0.
Giovani dos Santos with a powerful long distance shot that Diego Benaglio rejects in-style.
41'—Mexico 0, Switzerland 0.
Emeghara with a run over the right sideline, he wasted a great chance with a terrible cross.

38'—Yellow card!
Defender Fabio Daprela is warned by the referee for a tackle over Jorge Enríquez.
34'—Mexico 0, Switzerland 0.
Mexico trying to unbalance the rival and setting the pace in the midfield, but neither Fabián nor Peralta can make a charge.
This article is
What is the duplicate article?
Why is this article offensive?
Where is this article plagiarized from?
Why is this article poorly edited?