Predicting WWE SummerSlam Card and Who Will Win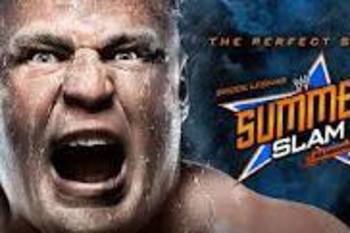 credit: forums.wrestlezone.com
Outside of WrestleMania, there is arguably no WWE pay-per-view more important to the company than SummerSlam.
All of the summer's biggest storylines and matches are usually reserved for the Los Angeles PPV, and this year's event has the potential to be one of the best in recent memory.
We already have the three main event matches set up for the evening, as well as some intriguing potential matches that will likely soon be announced.
Let's now take a look at what SummerSlam could end up looking like come August 19th and who I believe will come out on top.
Note: Ten matches is a bit of a stretch and it will likely be more like seven or eight, but I will include these ten as the potential matches for now.
The Miz vs. Christian for the Intercontinental Championship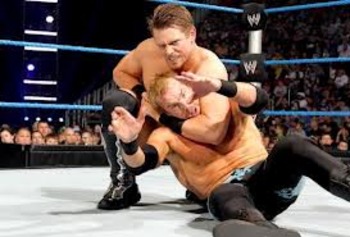 creidt: tumblr.com
It's becoming clear that the WWE cares about the Intercontinental Championship and wants to make it a solid number three belt in the company.
After Ezekiel Jackson inexplicably held the belt, three out of the last four champions have all been former WWE or World Champions (Big Show, Christian and Miz) while the other (Cody Rhodes) is a future one.
This feud keeps these two guys relevant through SS and ups the credibility of the mid-card, plus they have shown the ability to put on entertaining matches.
I was surprised WWE wasted Christian's rematch on SmackDown last week but, after their interaction on Raw, it is clear there is still something left in the tank for this feud.
Miz is still early in his reign though, so expect him to finish off Captain Charisma for good at SummerSlam with one final SCF.
Predicted Winner and Still Intercontinental Champion: The Miz
Dolph Ziggler vs. Chris Jericho for the WHC Money in the Bank Briefcase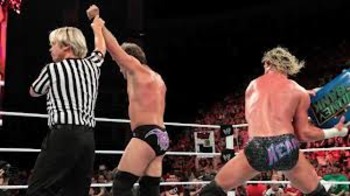 credit: tumblr.com
This is one of the more intriguing matchups heading into SummerSlam.
Jericho and Ziggler are two of the best wrestlers in the company right now and if given enough time they could put on one hell of a match.
I'm not sure whether Jericho has totally turned face or not but he certainly will be playing the role of one in this feud and, since I see him putting Ziggler over so he can take some time off, there is no reason why the Money in the Bank briefcase shouldn't be on the line.
Having Ziggler pin Jericho and hold on to his briefcase would further establish him as a legit world champion when he finally cashes in.
Predicted Winner and Still the Holder of the Money in the Bank Briefcase: Dolph Ziggler
Truth & Kingston vs. Primo & Epico vs. PTPers for the WWE Tag Team Championship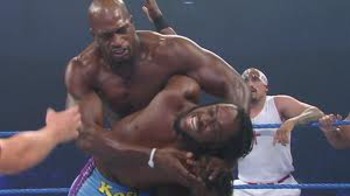 credit: tv.msn.com
The tag team division has been making some refreshing strides in recent months (other than getting destroyed by Big Show).
There now seems to be five or six legit teams who have title aspirations, and these three have been involved in an angle for several months now.
Kingston and Truth have served there role well as tag champions but it is time for a change.
If AW doesn't get suspended for his Kobe Bryant joke, then it seems as though Darren Young and Titus O'neil are the next in line. But don't count out Primo and Epico, who have shown they are more than capable of being great champions.
Regardless of who wins, this triple threat tag match could be a show-stealer if they are given enough time to work with it.
Predicted Winners and New WWE Tag Team Champions: The Prime Time Players
Daniel Bryan vs. Kane (w/ Charlie Sheen)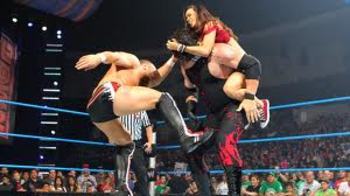 credit: WWE.com
Daniel Bryan is a big enough star now in WWE that they can't afford to leave him off the card at a PPV, much less one as big as SummerSlam.
Bryan has several rivals to choose from in his SS match, but after Kane showed up on Raw this week and attacked Bryan backstage claiming to be his "anger management counselor" (a reference to Sheen's new show), it seems as though the two of them will get a singles match.
Kane and Bryan still have some leftover bad blood with the AJ storyline, and perhaps now that she is seemingly done with Bryan and CM Punk romantically, the new GM will soon introduce Kane as her new beau.
Sheen's involvement is based on his comment's to Bryan on Raw's 1000th episode and his open discussion about challenging Bryan the next time he is in Los Angeles (aka SummerSlam).
Thankfully, the WWE seems like they will be straying away from having Sheen and Bryan go one on one, but having Sheen back up Kane would keep him involved in the feud.
We may not all be looking forward to his match—and Bryan doesn't need to get another PPV loss—but there is no way Sheen's involvement allows Bryan to walk out with a win.
Predicted Winner: Kane
Sheamus vs. Alberto Del Rio for the World Heavyweight Championship (No DQ Match)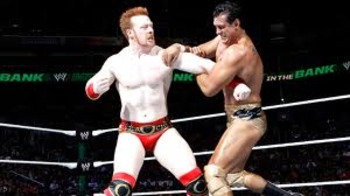 Credit: WWE.com
For whatever reason, WWE has decided to give Alberto Del Rio another PPV title match against Sheamus for the World Heavyweight Championship, even though he lost clean last month at Money in the Bank.
I don't hate Del Rio, but this seems repetitive and Sheamus is in need of a new feud.
Regardless, considering the pair's history in recent weeks with Del Rio attacking Sheamus with a car and Sheamus's impressive performance against Daniel Bryan in a Street Fight on Raw this week, it makes sense for this to be No Disqualification match, which would spice it up a little more.
Del Rio is not going to beat Sheamus for the title right now considering where the two men are in the company, so I expect Sheamus to go over once again and seemingly taking ADR out of the title picture.
Predicted Winner and Still World Heavyweight Champion: Sheamus
HOWEVER:
Post match, I see Del Rio and Ricardo attacking Sheamus from behind during his post-match celebration beating him with whatever they can find under the ring and around it, knocking out the Irishman.
Just then "I'M HERE TO SHOW THE WORLD, I'M HERE TO SHOW THE WORLD. COME ONNN, BRING IT ON" hits, and Dolph Ziggler runs to the ring to cash in his Money in the Bank briefcase.
At first Del Rio attempts to stop him again, but after a moment of arguing, Ricardo steps in and talks to Del Rio and changes his mind, citing Del Rio's failure to beat Sheamus now in two straight PPV's.
Del Rio tells Ziggler that he gets a shot at his world title first before anyone else, Ziggler agrees and Del Rio and Rodriguez leave the ring to allow Ziggler to cash in.
Ziggler hands his briefcase to the ref (both of them are conveniently not facing Sheamus) and the bell is rung signifying the official start of the match.
Just then, Sheamus, who has now had time to recover from his beat down, gets up in the corner and charges at Ziggler when he turns around with an attempted Brogue Kick and for a moment it seems as though Ziggler will be unsuccessful in his cash in after all.
However, Ziggler ducks out of the way at the last moment and hits the Zig Zag to pin Sheamus and become the new World Heavyweight Champion.
Predicted Winner and New World Heavyweight Champion: Dolph Ziggler
Randy Orton and Rey Mysterio vs. Cody Rhodes and Damien Sandow
Gallo Images/Getty Images
I know this one is a bit out of left field, but hear me out.
Originally I was going to put Orton in the World title match to make it a Triple Threat. However, not only would that eliminate a Ziggler cash in opportunity, but it would also feel a bit rushed for Orton since he just got back from suspension and the PPV is only three weeks away. Plus, two World title match Triple Threats at the same PPV would be a bit awkward.
Instead, I see Cody Rhodes complaining backstage to the new SmackDown GM (don't spoil it) about not having a match at SummerSlam when he is interrupted by Orton, who says that he doesn't have one either and the two of them can go change that right now.
Before things get out of hand, Damien Sandow begs their indulgences and cuts a promo complaining about Orton and his silly Viper gimmick being what is wrong with the WWE and keeping them in the dark days of ignorance (or something smart like that).
The SmackDown GM says that they have heard enough talking and books a tag match with Randy being able to choose his partner.
The obvious choice is Mysterio who is left off the card at this point.
The match would be essentially filler, but it allows four of the top guys to get on the card and could be fun if given time to play out.
Rhodes and Sandow are two guys with bright futures, but Orton picks up the win here with the help from Mysterio to keep his momentum going before he re-enters the World Title picture.
Predicted Winners: Randy Orton and Rey Mysterio
Antonio Cesaro vs. Santino Marella for the United States Championship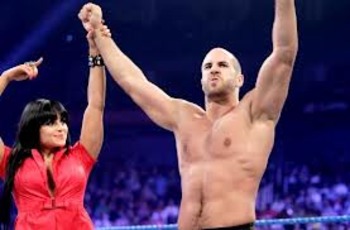 credit: kayfabechronicle.wordpress.com
This is a match that absolutely needs to happen.
Not only does Cesaro own a non-title victory over Marella from last week's SmackDown, but Santino has been United States Champion for far too long and the popularity that he gained in the Elimination Chamber is all but gone.
The push seems a bit quick for Cesaro, but he still has loads of potential and a short run with the US title will help him gain heat for moving his career forward.
Predicted Winner and New United States Champion: Antonio Cesaro
Brock Lesnar vs. HHH (No Holds Barred Match)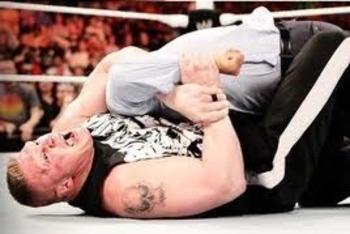 credit: bleacherreport
The co-main event of the evening will be Triple H vs. Brock Lesnar, which has been building up for months now after Lesnar kayfabe broke The Game's arm in April.
You can read my full take on this match here, but the short version is that I believe Lesnar absolutely needs to win to maintain his credibility for the remainder of his contract. For now, I have convinced myself WWE feels the same way.
If Lesnar is going to face someone big (Punk, Cena, Rock, Undertaker) at WrestleMania, he can't be winless going into the feud, and beating Triple H clean is the best they can do at this point.
Considering how little these two interact, I think the match will probably fail to live up to expectations, but I never count out Trips when it comes to pulling off a great match, so we shall see.
Because of the personal nature of this angle, a No Holds Barred match seems fitting, plus it leaves the door open for an interference if WWE feels it is necessary.
Predicted Winner: Brock Lesnar
Ryback vs. Heath Slater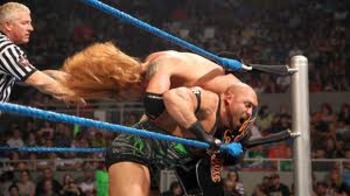 credit: hariomwwe.blogspot.com
Yes, no one cares about this match.
Yes, we have seen it before.
Yes, it is filler.
But the WWE loves filler! Especially in between the main events, and it's either this or a Divas match, and the Divas can't even get on a 3-hour Raw.
Instead, expect Slater to come to the ring and make his open challenge to the locker room again, only to see Ryback come out and destroy him.
Predicted Winner: Ryback
CM Punk vs. John Cena vs. The Big Show for the WWE Championship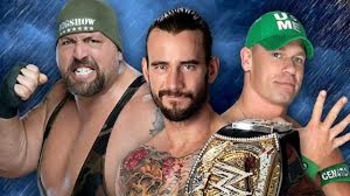 credit: WWE.com
That brings us to our main event of the evening: a Triple Threat match for the WWE Championship between CM Punk, John Cena, and The Big Show.
For the record, let me state that I hate the fact that Show has been thrown into this match.
I understand the need to keep him relevant, but maybe they should have done that at No Way Out and Money in the Bank instead of needlessly throwing him in to be the literal third wheel in this match.
Adding show is not only bad from a storyline perspective, it makes the match much more choppy and less likely to become great.
Anyways, rant over.
I am totally torn on who I think will win this match between Cena and Punk.
On one hand, Punk just turned. Heel or tweener or whatever he is, Punk is new and exciting and has brought a breath of fresh air back to the WWE Championship.
Having him lose the title so soon after his turn would make it feel pointless.
I truly believe Punk will end up facing The Rock for the WWE Championship at Royal Rumble and lose.
However, that doesn't necessarily mean it will be in his current reign. Would the WWE really be willing to let Punk hold onto the title for over a year? I doubt it.
Because of that, I expect Cena to go over, but pin Show to win the strap, setting up a series of two more matches between he and Punk (at PPV's), in which Punk will finally win the belt back at Hell in a Cell and then hold it until January.
Say what you want to about Cena, but he hasn't been champion for a year and it makes sense for him to come back into the main event and win the belt for now.
Cena vs. Punk has the potential to be even better than it was in 2011, if the WWE allows the two of them to make it a lengthy feud with a chronology of matches that eventually lead to Punk coming out on top.
For now, however, Cena wins his 11th WWE Championship to close out the show.
Predicted Winner and New WWE Champion: John Cena
Keep Reading