NHL Power Rankings: Grading the Best Fighter on Each Team's Roster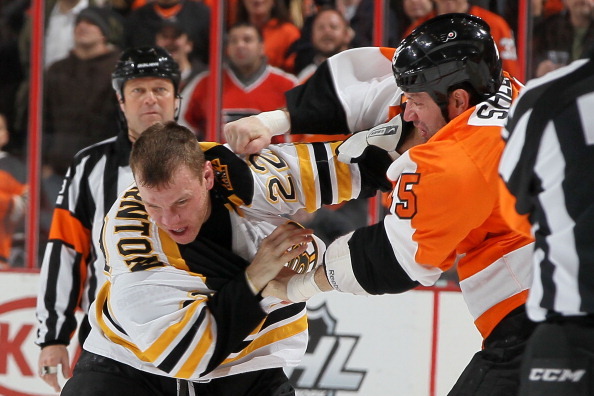 Jim McIsaac/Getty Images

All controversy aside, fighting has been a part of hockey, or at least the NHL version of it, for as long as the league has existed.
Enforcers are often one of the most popular players on their respective teams both with fans and with their teammates.
With all that in mind, here's a look at the best fighter on each NHL team.
All fight matchups and records listed in this article are taken from hockeyfights.com, which is considered the Internet authority on hockey fights.
Begin Slideshow

»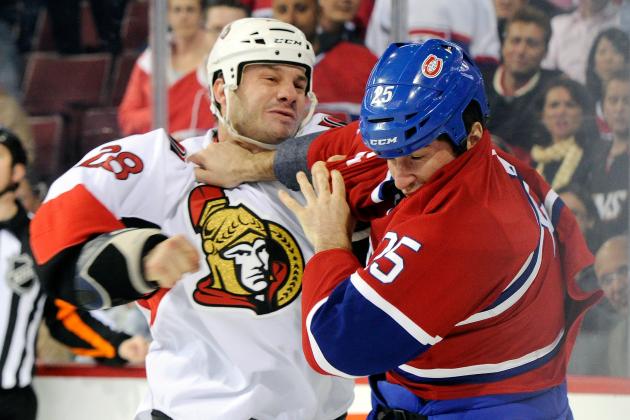 Richard Wolowicz/Getty Images

With George Parros gone, newly acquired Brad Staubitz will likely take over as the Ducks' enforcer.
Last year, after splitting time between Minnesota and Montreal, Staubitz went 9-4-2 in 15 fights, including wins over Daniel Carcillo, Tim Jackman and Zenon Konopka.
Grade: B+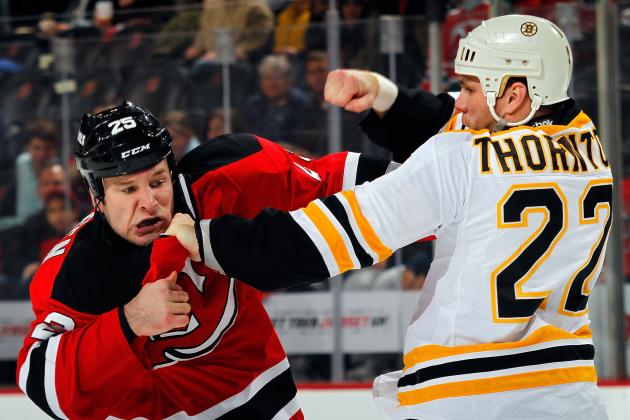 Paul Bereswill/Getty Images

Veteran winger Shawn Thornton is still going strong at the age of 35. He tied for the most fights in the league last year with 20 and did very well when he dropped the gloves, going 13-4-3.
Thornton scored decisions over Cody McCormick, Chris Neal and Zenon Konopka.
Grade: A-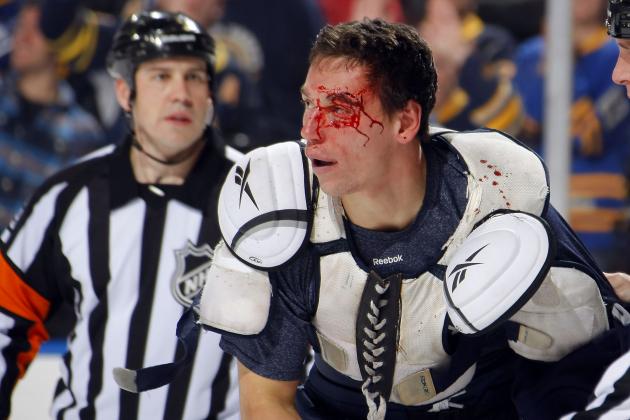 Dave Sandford/Getty Images

The Sabres were criticized last year for their lack of physicality and their failure to come to the rescue of goalie Ryan Miller last November when he was run over in his own crease.
Cody McCormick was the best fighter on the Sabres' roster and he was in only eight fights all year, finishing with a 4-3-1 mark.
McCormick only played in 50 games last year and Buffalo may need more of a contribution from him or some other player willing to drop the gloves this coming season.
Grade: C+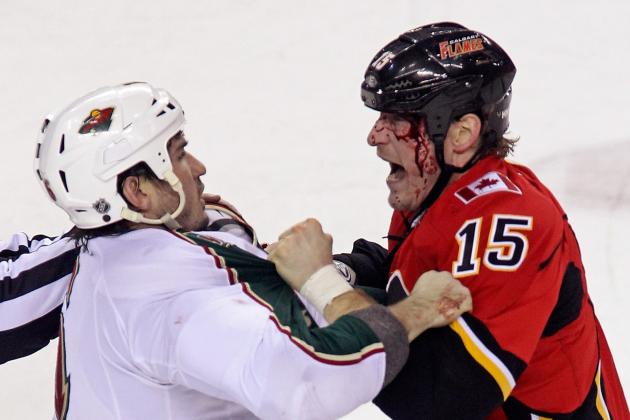 Mike Ridewood/Getty Images

Flames winger Tim Jackman has always been a willing fighter throughout his NHL career.
Last year, Jackman dropped the gloves 14 times, going 5-5-4 and scoring wins over Dale Weise, Cody McLeod and Kyle Clifford.
At 30, Jackman should still have some productive seasons left.
Grade: B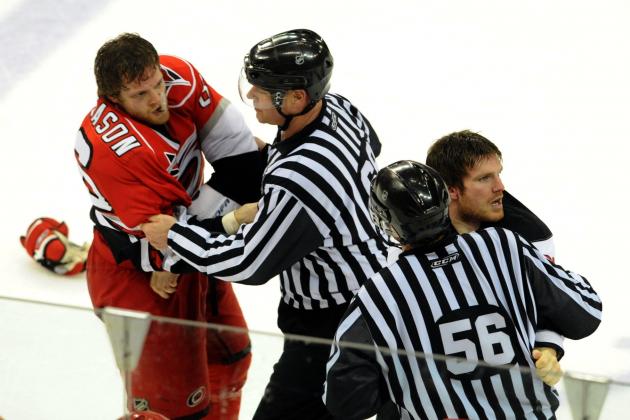 Steve Dykes/Getty Images

The Hurricanes ranked near the bottom of the league with just 19 fighting majors in 82 games.
While pugilism is not near the top of Carolina's priorities, when they do need someone to drop the gloves, veteran defenseman Tim Gleason is often called upon to take care of business.
Gleason went 1-2-2 last year, beating Kyle Clifford of the Kings to earn his only outright win.
Grade: C-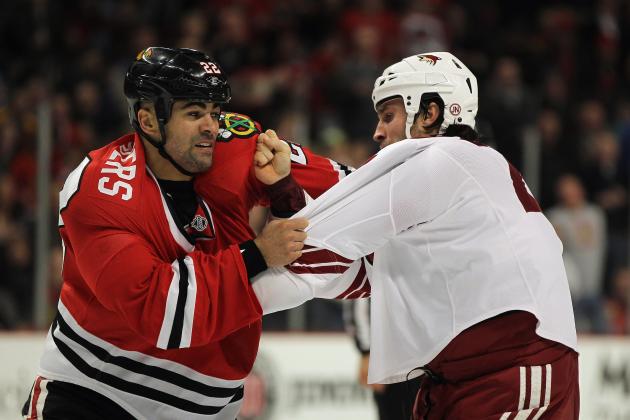 Jonathan Daniel/Getty Images

The Blackhawks have plenty of quality fighters on their roster, including Daniel Carcillo, but it was veteran Jamal Mayers who dropped the gloves most often and most effectively for Chicago last season.
The 37-year-old Toronto native went 6-1-4 in 11 tussles last year, beating Sheldon Brookbank, Matt Greene and Jared Boll in the process.
Grade A-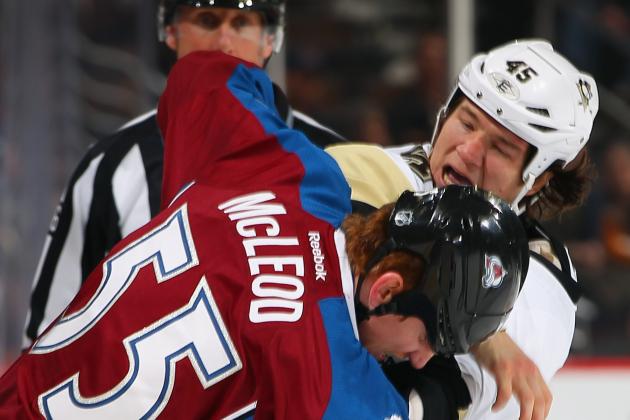 Doug Pensinger/Getty Images

Cody McLeod is by far the most willing fighter the Avs have. In five NHL campaigns, he has never accumulated fewer than 120 penalty minutes in a season.
Last year, McLeod went 5-8-4 with wins over Krys Barch, Matt Hendricks and Jordin Tootoo.
Grade: B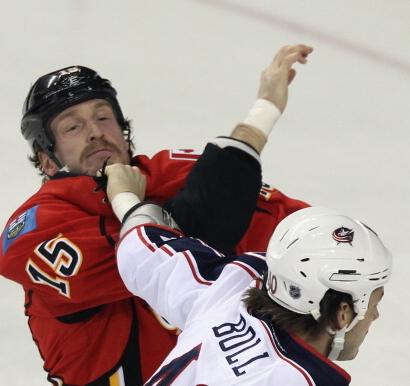 Bruce Bennett/Getty Images

The Blue Jackets had the worst record in the NHL last season, but they were third in the league in fighting majors with 57.
Derek Dorsett has the most fights, but close behind was Jared Boll, and Boll was more effective. He finished with a 7-8-3 mark, which included victories over Shawn Thornton, Tim Jackman and Scott Nichol.
Boll finished the season with 126 penalty minutes in just 54 games.
Grade: B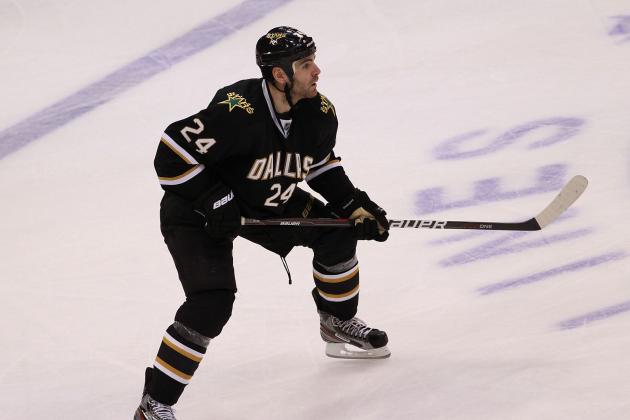 Ronald Martinez/Getty Images

It's not clear who the Stars' best fighter is going to be next season and Nystrom, who had only two fights last year, is on this list more or less by default.
Most of last year's top fighters in Dallas are gone. The top two were Jake Dowell and Steve Ott. I'm sure the Stars will bring in somebody to fill this position, but no clear-cut candidate has emerged as of yet.
Grade: D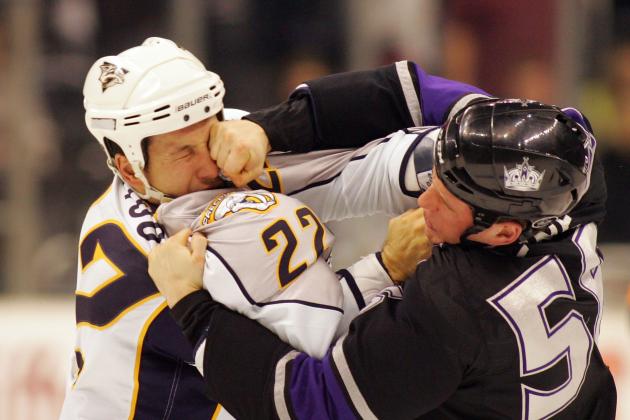 Victor Decolongon/Getty Images

Fighting has not been an area of emphasis for the Wings in recent years.
Justin Abdelkader led the Red Wings in fighting majors last year, but he was edged out by newly acquired Jordin Tootoo as the top fighter on the Wings.
Tootoo only dropped the gloves five times last season, but he's been a proven commodity over the course of his career and will likely be the Red Wings player most likely to drop the gloves in 2012-13.
Grade: C+
Hannah Foslien/Getty Images

Hordichuk played in only 43 games last season but still led all Oilers players with eight fights, winning three of them.
The 6'1", 212-pound winger is now playing for his seventh NHL team and has scored just 20 career goals and 41 points in 538 NHL games while accumulating 1,138 penalty minutes.
Grade: B-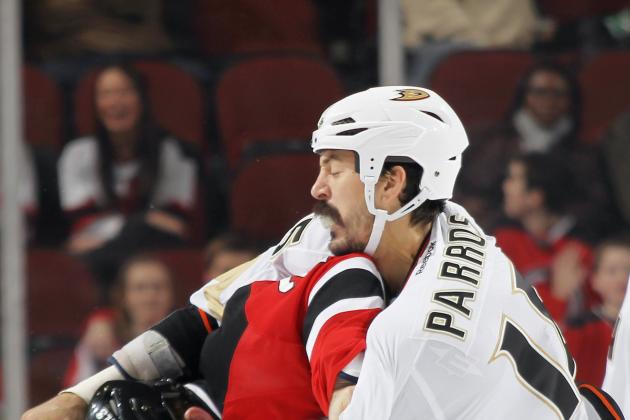 Bruce Bennett/Getty Images

The 'stache is coming to South Beach. George Parros, owner of the NHL's most famous modern-day mustache, has joined the Florida Panthers.
Parros played in only 46 games last year for the Ducks and finished below 100 penalty minutes in a season for the first time in his NHL career.
The Princeton-educated enforcer hopes to bounce back this year. Even in limited action, Parros went 7-2-2 in 11 bouts and at 6'5" and 232 pounds, he is a true NHL heavyweight.
The question about his health is the only thing keeping Parros from a perfect grade.
Grade: A-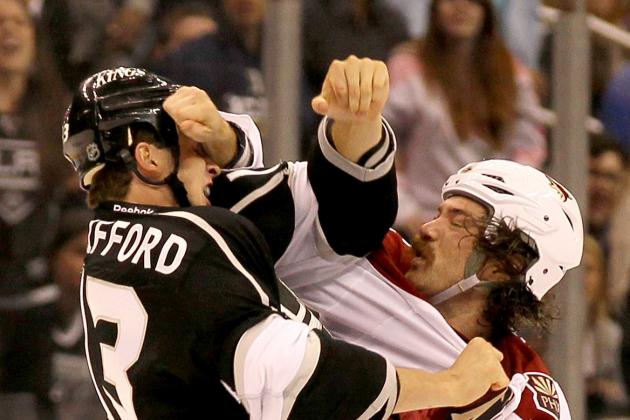 Stephen Dunn/Getty Images

Kyle Clifford led the Kings with 10 fights last season, but he went a disappointing 1-7-2. He is a willing fighter but not a very strong one.
His only win of the year came against Dale Weise.
Clifford was not a big part of the Kings' run to the Stanley Cup, playing in only three postseason games.
Grade: C-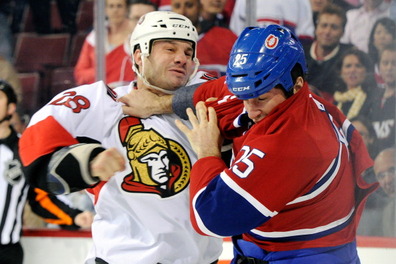 Richard Wolowicz/Getty Images

The Wild picked up veteran center Zenon Konopka this summer. He remains one of the most gritty centers and willing fighters in the NHL, having dropped the gloves 18 times last season in just 55 games.
Last year, he scored wins over Sean Avery, Zac Rinaldo and Mike Brown.
Konopka is also an excellent faceoff man and steady penalty killer.
Grade: B+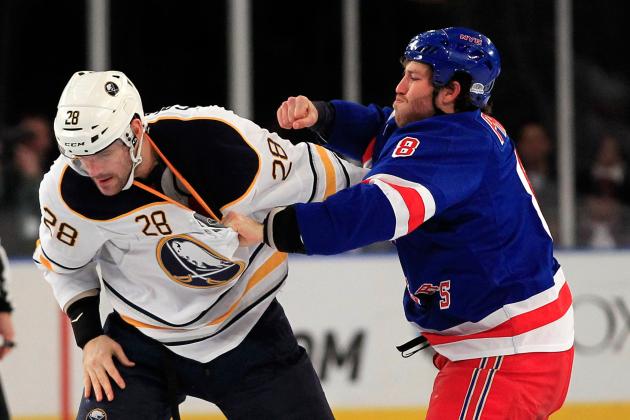 Chris Trotman/Getty Images

When the Habs acquired winger Brandon Prust and Colby Armstrong this summer, it was a clear attempt by new GM Marc Bergevin to make the Canadiens more difficult to play against, but it's Prust who is the better fighter of the two.
Prust had 20 fights to lead the Rangers last season and had an 11-7-2 record, beating such notables as Wayne Simmonds, Zac Rinaldo and Zenon Konopka.
He should provide the Canadiens with an element of toughness they have lacked in recent seasons.
Grade: B+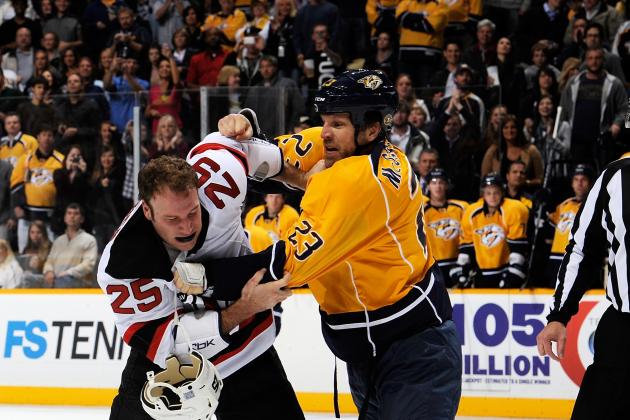 Frederick Breedon/Getty Images

The Predators were near the bottom of the league in total fights last year but with the departure of Jordin Tootoo, there is no doubt that big Brian McGrattan takes over as the best fighter in the Music City.
McGrattan had six fights last year in just 30 games.
At 6'4" and 235 pounds, McGrattan has great size. He went 5-0-1 in his six fights, beating Jared Boll, George Parros and Cam Janssen.
Grade: B+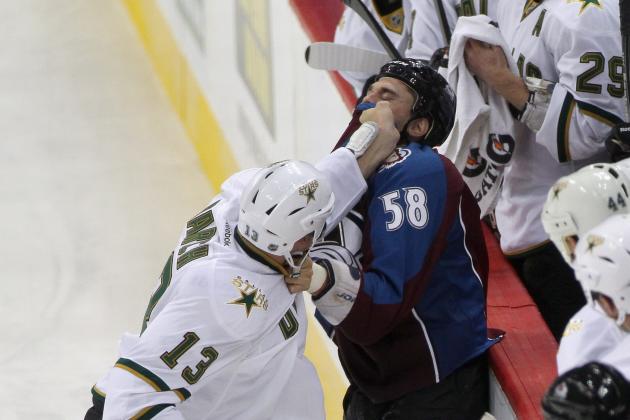 Doug Pensinger/Getty Images

It was close, but newly acquired Krys Barch edged out Cam Janssen to be the Devils' best fighter.
Barch went 6-5-1 last season, which included wins over Janssen, Brandon Prust and George Parros. Meanwhile, Janssen was just 3-5-1 in nine fights.
At 6'2" and 200 pounds, Barch also has a size advantage over Janssen, which was demonstrated when the two went head-to-head last year.
Grade: B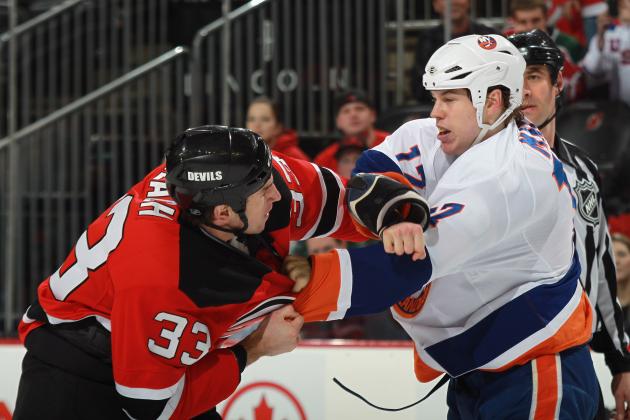 Bruce Bennett/Getty Images

Matt Martin was by far the most willing fighter on the Islanders' roster last season, and he's never afraid to deliver hits to opponents during games, either.
Martin finished the year with a 4-5-6 record and had wins over Wayne Simmonds, Ryan White and Patrick Kaleta last year.
Grade: B-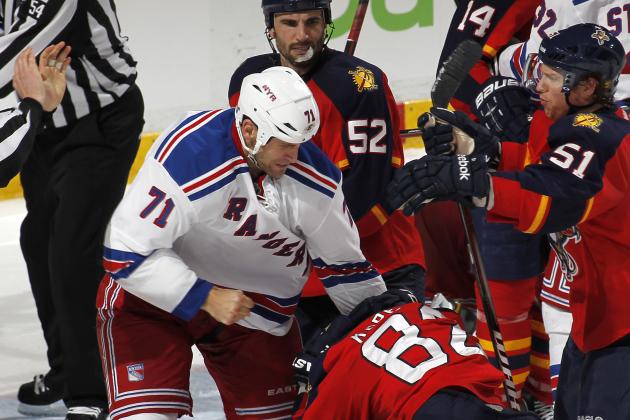 Joel Auerbach/Getty Images

The Rangers led the league in fights last season, but Brandon Prust, the man who led the club in fighting majors, is no longer with the team.
Newcomer Arron Asham is a close second, but the best fighter on the Rangers right now is Mike Rupp.
At 6'5" and 230 pounds, Rupp is big enough to take on all comers. Last year, he finished with a 7-5-1 record, which included victories over Cam Janssen, Shawn Thornton and Eric Boulton.
Grade: B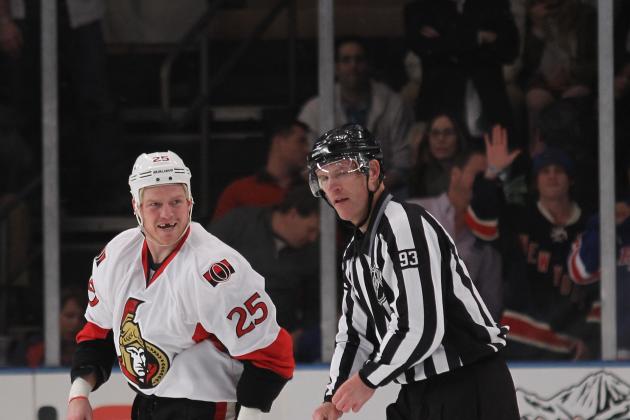 Bruce Bennett/Getty Images

With the departure of Zenon Konopka, veteran forward Chris Neal becomes the Senators' top fighter.
Neal went 6-3-1 last season, including wins over Luke Schenn, Brad Staubitz and Ryan White.
Neal also dropped the gloves twice in the playoffs and was very effective at getting under the Rangers' skin. His fights had a purpose and helped the Sens force a seventh and deciding game against the heavily favored Rangers.
Grade: B+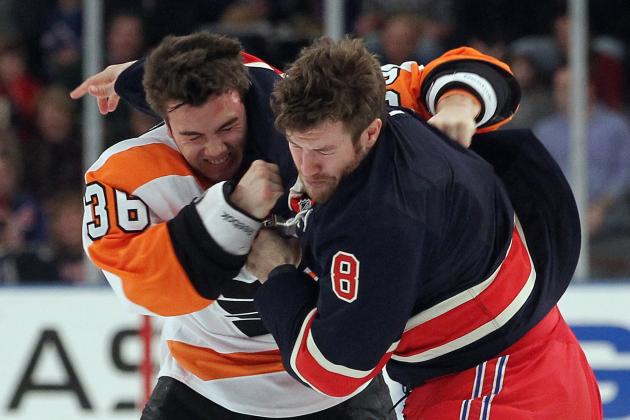 Bruce Bennett/Getty Images

Zac Rinaldo stands just 5'10" and barely weighs 170 pounds, but that hasn't stopped the 22-year-old Hamilton, Ontario native from taking on some of the league's heavyweights.
Rinaldo hung tough but finished 2011-12 with a 3-9-3 record. He did mange to win decisions over Andrew Shaw and Gregory Campbell.
Grade: B-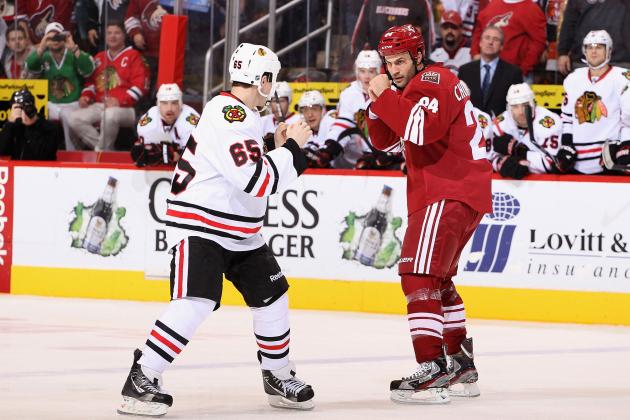 Christian Petersen/Getty Images

The Coyotes were near the bottom of the NHL in fighting majors last year and while Paul Bissonnette had one more tussle, it was Kyle Chipchura who was the best fighter on the Desert Dogs.
Chipchura finished last season with a 3-1-2 record and scored wins over Cody McLeod, Zach Smith and Zac Rinaldo.
Grade: B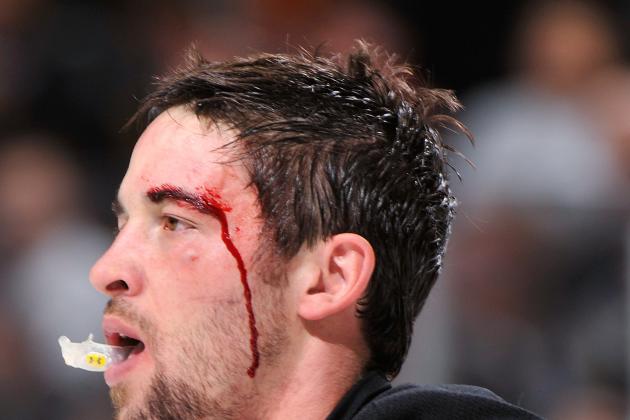 Jamie Sabau/Getty Images

Arron Asham is gone, but defenseman Deryk Engelland is still there and is the best fighter on the Penguins' roster.
Engelland went 5-2-1 in eight fights last season and scored wins over Wayne Simmonds, Chris Thorburn and Mike Angelidis.
At 6'2", 198 pounds, Engelland is more than capable of dropping the gloves with anybody. Expect him to get into more tussles this year after Asham's departure.
Grade: B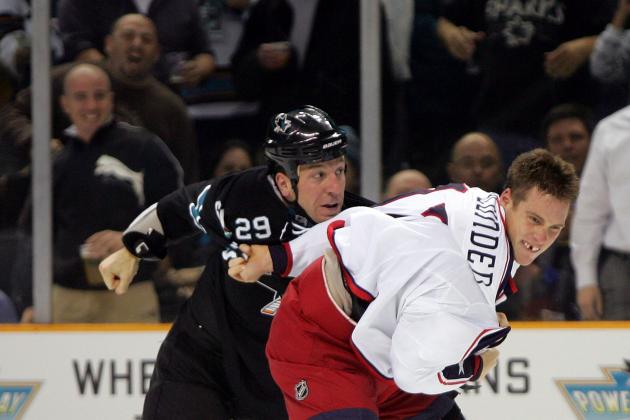 Ezra Shaw/Getty Images

It's a little surprising that a forward who plays on the top two lines led the Sharks in fights last season, but then again, Ryan Clowe is no stranger to dropping the gloves, having done so more than 20 times over the past two campaigns.
Last year, Clowe went 5-2-2 and scored decisions over Matt Greene, Brandon Prust and Justin Adbelkader.
At 6'2", 215 pounds, Clowe has the size to trade punches with the big boys, even if he also has the skill to score 20 or more goals in a season.
Grade: B
Dilip Vishwanat/Getty Images

The Blues are a hardworking team and their enforcer, Ryan Reaves, is no exception.
The Winnipeg native went 7-5-1 in 13 altercations last year and scored decisions over Daniel Carcillo, Tim Jackman and Deryk Engelland.
Grade: B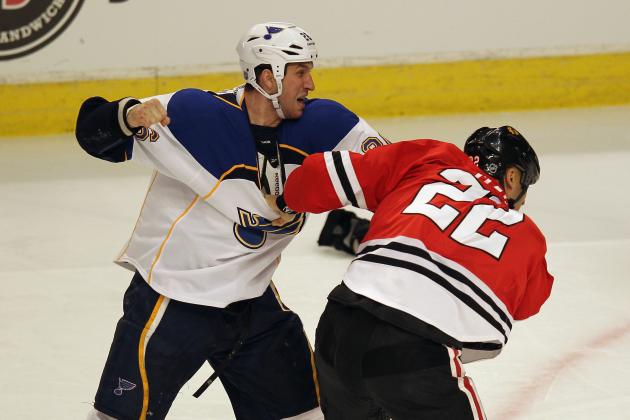 Jonathan Daniel/Getty Images

The Lightning acquired ex-Blues winger B.J. Crombeen to fill in as their new tough guy, and the 6'2" Denver native should be more than equal to the task.
Crombeen finished 6-3 last year in nine bouts, defeating Mike Commodore, Zenon Konopka and Ben Eager along the way.
He played in only 40 games last season, but if he stays healthy, he will be sure to accumulate more than 100 penalty minutes again.
Grade: B+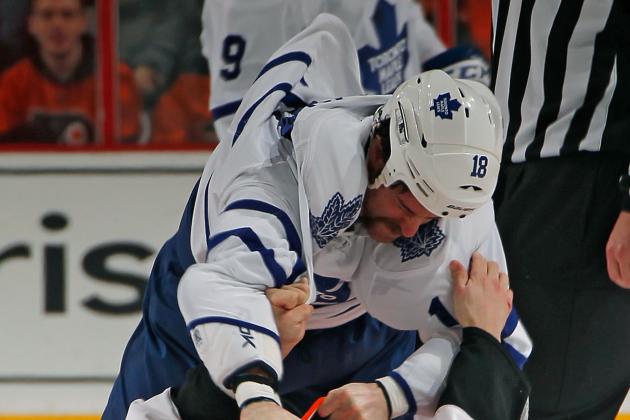 Paul Bereswill/Getty Images

Mike Brown led the Maple Leafs in fights last year with 10 fights, going 6-4 in the process.
Brown earned decisions over Zenon Konopka, Jim Vandermeer and Zac Rinaldo.
The former University of Michigan star added 74 penalty minutes in just 50 games last season.
Grade: B
Elsa/Getty Images

Dale Weise led the Canucks with eight fights last season, but he had a tough time winning his bouts. Weise went 0-7-1 in 68 games and will have to compete for a role on the fourth line for Vancouver this year.
Weise will be 24 when this season gets underway and should be just starting to enter his prime.
Grade: C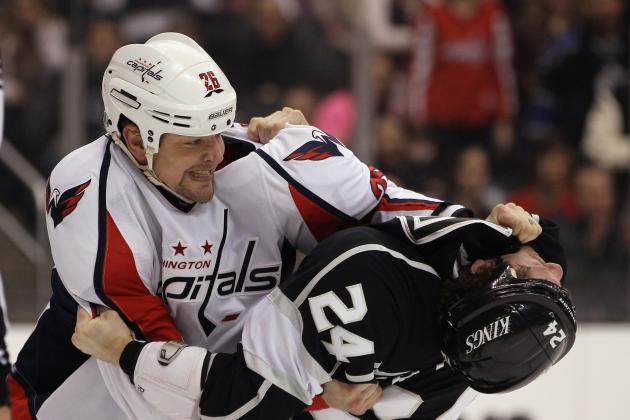 Bruce Bennett/Getty Images

Winger Matt Hendricks was the Capitals' best enforcer last season, finishing 2011-12 with a record of 5-3-3 in 11 bouts.
He scored decisions over Kyle Chipchura, Derek Joslin and Colin Fraser.
Hendricks totaled 95 penalty minutes in 78 games last year while scoring four goals.
Grade: B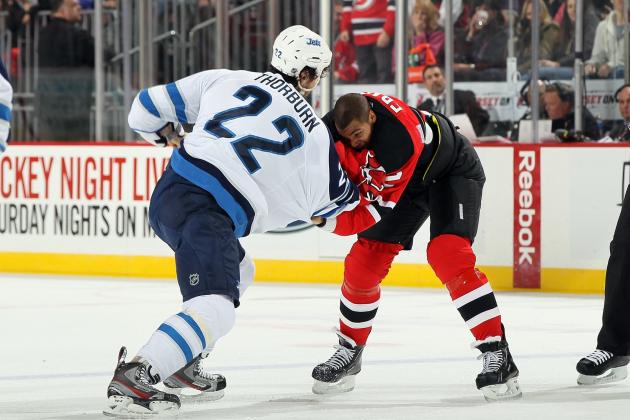 Jim McIsaac/Getty Images

At 6'3", 225 pounds, winger Chris Thorburn is the best fighter on the Winnipeg Jets. The former Sabres draft choice dropped the gloves 11 times last season, by far the most on the Jets.
Thorburn finished the year with a 5-5-1 record, but his performance in fights improved as the season progressed. He won decisions over Cody McLeod, Krys Barch and Michael Rupp.
Grade: B