5 Reasons Tim Beck's Offense Will Drive Nebraska to a Surprise Season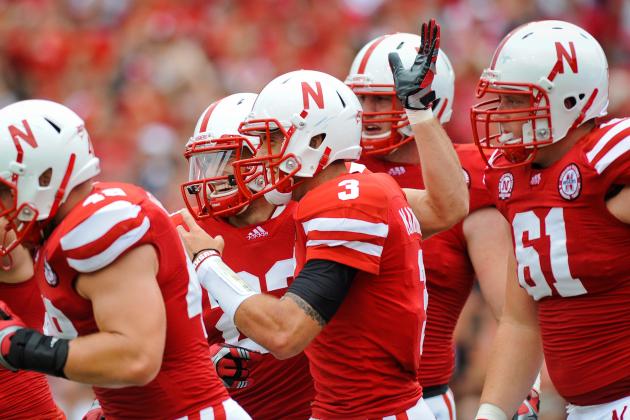 Eric Francis/Getty Images

The Nebraska Cornhuskers have prided themselves on defense ever since Bo Pelini took office as head coach in Lincoln back in 2008, but this season it could be the offense that takes this team to the next level.
Despite having down seasons in both '08 and 2011, the Cornhuskers remain known for defense, and with it the black jerseys that became famous during the Bob Devaney years. Many who know Pelini's track record regarding defense expect the Blackshirts to bounce back this year, and despite the losses of three stars, that seems like a reasonable assumption.
But for as good as the Blackshirts were in 2009 and 2010, the offense was equally bad. In 2011 it took a moderate step forward, but with a brand new system and coordinator along with an inexperienced core, it wasn't enough to get Nebraska over the nine- or ten-win hump.
This year could be different, though. While Nebraska's defense should be better overall, the offense will likely be the biggest driving force behind the season's ultimate outcome. Here are five reasons why that outcome could be surprisingly good.
Begin Slideshow

»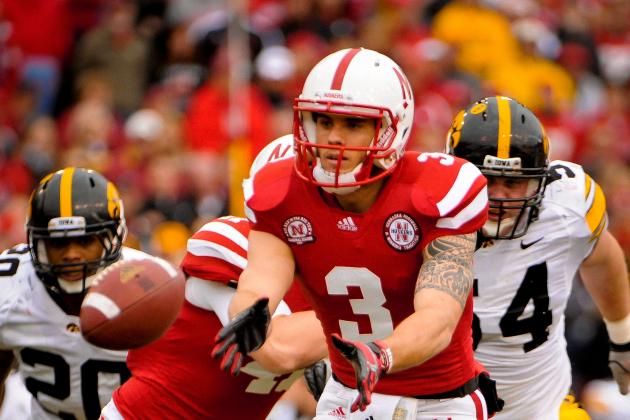 Eric Francis/Getty Images

First, let's address the elephant in the room—Taylor Martinez.
Love him or hate him, there's a pretty good likelihood that you have strong feelings about this Nebraska signal-caller.
Martinez has had mixed results in his first two seasons as a starter, but the good news (or bad news, depending on your view) is that Martinez has two more years to master his game in Lincoln, and as Coach Pelini put it, "His best football's ahead of him."
While we can't always simply take a coach's word for it (though I am of the opinion that Pelini's is pretty reliable), Martinez's reported hard work this offseason is cause to believe that he can make another jump in improvement, at least as big an improvement as he made between his freshman to sophomore years, if not bigger.
Martinez detractors will remain indefinitely, but the junior quarterback will have every opportunity to rise to the occasion and direct the Husker offense to new heights.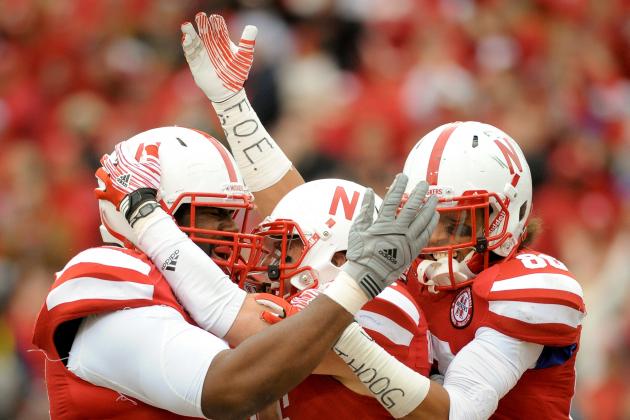 Eric Francis/Getty Images

What Nebraska collectively has at the receiver and tight end positions is a potential hidden gem.
The Huskers have a relatively small amount of production from this group of players, but the level of talent that exists is such that I get confused when anyone suggests that the Huskers are lacking in that area.
Players like Kenny Bell, Jamal Turner, Quincy Enunwa, Taariq Allen and Jordan Westerkamp (am I forgetting someone?) have enough ability to become one of the top receiving corps in the nation in the near future, while veterans such as receiver Tim Marlowe and tight ends Kyler Reed and Ben Cotton (arguably the top duo in the nation) provide experience and leadership.
In reality, the only major thing limiting this group (aside from the passing game's general inconsistency up to this point) is drops, and if they can get that taken care of, Martinez may have several great outlets in which to help foster his own improvement.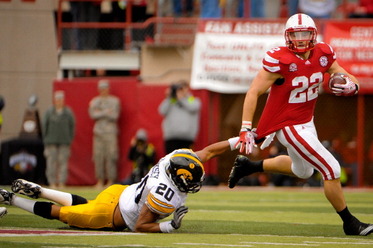 Eric Francis/Getty Images

Need I say more than simply, "Rex Burkhead?"
Nebraska's stud I-back was a consistently powerful force for the otherwise up-and-down offense last year. Despite having an ineffective passing game to help divert the attention, Burkhead dipped, darted, chugged and ripped his way to 1,357 yards and 15 touchdowns on the ground while averaging a healthy 4.8 yards per carry.
Much like linebacker Lavonte David, Burkhead was probably worth one or two wins by himself last season thanks to his steady, reliable play.
It's hard to imagine Burkhead getting any better than he already has been, but he did have visible physical gains from sophomore to junior year and could make similar (albeit smaller) gains this offseason. A little bit of extra muscle mass might make him even more of a handful for defenses, and Pelini thinks his athleticism and explosiveness is underrated as it is.
Burkhead also plans to develop a quicker reaction time in the open field, which seems to be pretty good already anyway.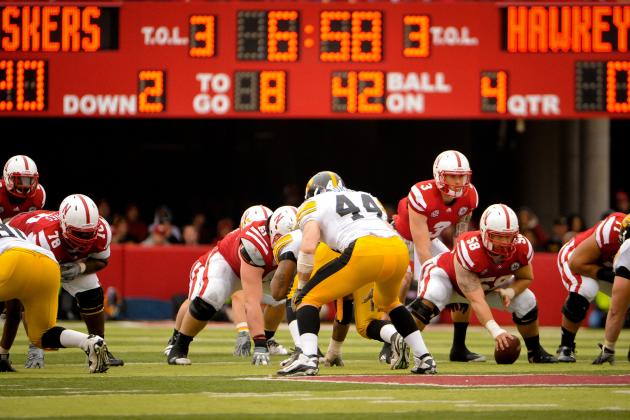 Eric Francis/Getty Images

With Rex Burkhead returning, all the potential improvements in the passing game, and with an offensive line that could be the deepest at every position except center since Pelini's first year, Nebraska's offense should show much better balance this season.
The Huskers are historically a run-dominant team, and while they have gotten back to that recently, there is more of a need for a passing game in modern college football that is at least adequate and consistent.
The best thing about a more balanced attack is that the offense would add up to more than the sum of its parts.
With the two offensive halves complementing each other, the Huskers should be able to provide opposing defenses with a much more formidable match-up.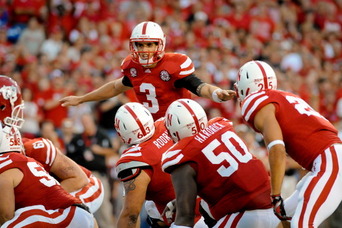 Eric Francis/Getty Images

In addition to having more balance, Nebraska's offense should be able to be significantly more consistent this season. The Huskers have been plagued by inconsistent play since '09, and I'm sure fellow Husker fans can agree that consistency is a must.
The good news is, most signs point to increased consistency from this group. Another year in the system should do wonders for all of the players—particularly Martinez, who hasn't played in the same offensive system two years in a row since before high school.
With a year under his belt, Tim Beck should also be able to be more consistent with play-calling.
The biggest thing the Huskers must prove is that they have moved past being prone to turnovers and costly penalties. If they can do that, we should be much more satisfied with the overall on-field product.