Olympic Soccer Standings 2012: Countries on Track to Earn a Medal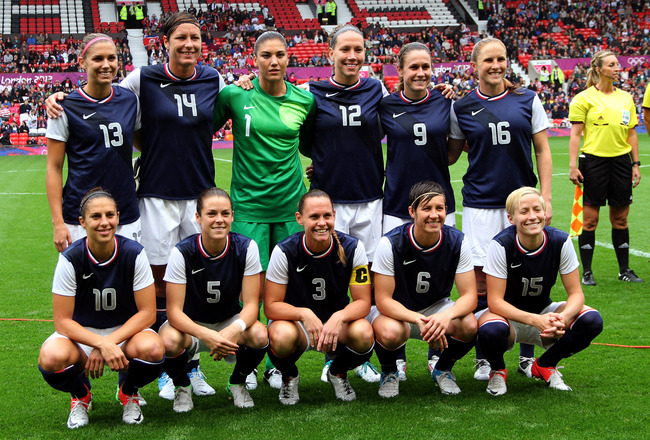 Stanley Chou/Getty Images
Soccer has been one of the most exciting events during the 2012 Olympics thus far.
So far there have been numerous surprises, like the Spanish men's team being one of only two teams in the men's tournament to fail to receive a single point so far.
Another was when Brazil got out to a 3-0 first half lead on Egypt before letting up two goals and almost blowing the game in the second half.
There were also many teams who lived up to the lofty expectations they entered the tournament with, such as the United States women who cruised past their competition to advance to the quarterfinals.
The men's tournament still has one final day of group play and the women's tournament is already set for the elimination round to begin.
Here are the current Olympic soccer standings and predictions for which teams are on track to earn a medal.
Men's Tournament Standings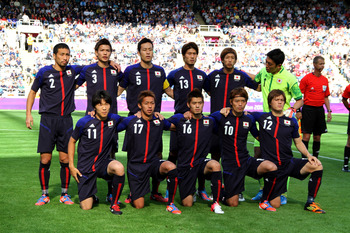 Stanley Chou/Getty Images
Group A
Great Britain: 4 Points (1-0-1)
Senegal: 4 Points (1-0-1)
Uruguay: 3 Points (1-1-0)
UA Emirates: 0 Points (0-2-0)
Group B
Mexico: 4 Points (1-0-1)
South Korea: 4 Points (1-0-1)
Switzerland: 1 Point (0-1-1)
Gabon: 1 Point (0-1-1)
Group C
Brazil: 6 Points (2-0-0)
Belarus: 3 Points (1-1-0)
Morocco: 1 Point (0-1-1)
Spain: 1 Point (0-2-0)
Group D
Japan: 6 Points (2-0-0)
Honduras: 4 Points (1-0-1)
Egypt: 1 Point (0-1-1)
New Zealand: 1 Point (0-1-1)
Schedule 8/1
Brazil vs. New Zealand: 9:30 a.m.
Egypt vs. Belarus: 9:30 a.m.
Mexico vs. Switzerland: 12:00 p.m.
South Korea vs. Gabon: 12:00 p.m.
Japan vs. Honduras: 12:00 p.m.
Spain vs. Morocco: 12:00 p.m.
Senegal vs. UA Emirates: 2:45 p.m.
Great Britain vs. Uruguay: 2:45 p.m.
All Times are Eastern Standard
Men's Tournament Medal Predictions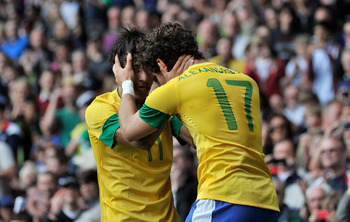 Francis Bompard/Getty Images
Bronze: Japan
Japan has only scored two goals in two games. That's all it took though for them to leave both games victorious and lead Group D so far with six points.
Japan's goalkeeper Shuichi Gonda enters the final game of group play with a 180 minute goalless streak. It's hard for your team to get beat when you don't let up any goals.
Japan will advance to the elimination round no matter what happens in their last game, but you know they will want to at least draw with Honduras to ensure themselves first place out of Group D. Japan will run into tougher competition in the semifinals, though, and need to win in the Bronze medal game to earn a medal.
Silver: Great Britain
The hometown team has the second most goals in the Olympics so far with four.
In their first game, Great Britain led for the majority of the game. Craig Bellamy scored an early goal to put the team up 1-0. They then held on for the remainder of the game until Senegal tied it up after a beautiful through ball in the 82nd minute.
Great Britain then went on to completely dominate their second game and cruised to a 3-1 victory. Three different players scored in this game, two of them substitutes off the bench.
Great Britain should delight their home crowd and advance through the elimination round to reach the gold medal game where they will run into a very formidable opponent.
Gold: Brazil
Brazil have been by far the most impressive team in the tournament so far, led by the 20-year-old Neymar. The scores may not reflect how dominant they've actually been, but at no point throughout this tournament has Brazil been in fear of losing a game.
In their first game against Egypt, Brazil got off to a quick 3-0 start in the first half. In the second half they took their foot off the gas and let up two goals, but stayed in control of the game and pulled out the victory.
In the second game, Belarus struck first, but it was all Brazil after that. Brazil won 3-1 with Neymar scoring his second goal of the tournament. Brazil out-shot Belarus 19-5 during this game.
There is no team that can match the skill level of Brazil and they will cruise to their first ever Olympic gold medal.
Women's Tournament Standings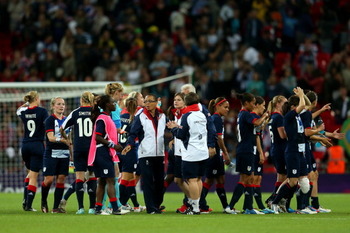 Julian Finney/Getty Images
Group E
Great Britain: 9 Points (3-0-0)
Brazil: 6 Points (2-1-0)
New Zealand: 3 Points (1-2-0)
Cameroon: 0 Points (0-3-0)
Group F
Sweden: 5 Points (1-0-2)
Japan: 5 Points (1-0-2)
Canada: 4 Points (1-1-1)
South Africa: 1 Point (0-2-1)
Group G
United States: 9 Points (3-0-0)
France: 6 Points (2-1-0)
DPR Korea: 3 Points (1-2-0)
Colombia: 0 Points (0-0-3)
Quarterfinals 8/3
Sweden vs. France: 7:00 a.m.
United States vs. New Zealand: 9:30 a.m.
Brazil vs. Japan: 12:00 p.m.
Great Britain vs. Canada: 2:30 p.m.
Women's Tournament Medal Predictions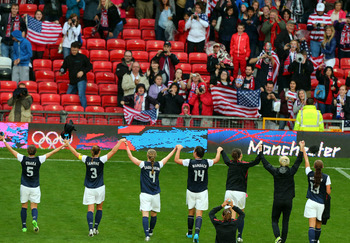 Stanley Chou/Getty Images
Bronze: Great Britain
Much to the delight of their home crowd, Great Britain was the only team in the women's tournament that didn't let up a single goal in group play.
Great Britain was in control of most of the first game, winning 1-0, and completely dominated in their second game, winning 3-0. Defender Stephanie Houghton scored a goal in both games.
Their third game against Brazil was the only tough game Great Britain has played so far. After Houghton scored her third goal of the tournament in just the second minute of the game, the rest of the game went goalless.
Great Britain should advance past Canada in the quarterfinals but will have a tough time if they need to play the only other undefeated team, the United States, in the semifinals.
Silver: Brazil
Even though they finished second in Group E, Brazil led the group in goals.
In their first game against Cameroon, Brazil had the most lopsided victory of the tournament. They went on to win 5-0 with four different players scoring goals. Cristiane even scored the 11th goal in her career in the Olympics to make her the all-time leader in goals scored in Olympics history.
In the following game, Brazil completely controlled the game against New Zealand but was only able to put in one goal. Brazil dominated the possession 56 percent to 44 percent and out-shot New Zealand 15-5.
In their final game in group play, Brazil lost to Great Britain 1-0, even though it was a very even game.
Now that their in the quarterfinals, Brazil has to prove their one loss was a fluke and get to the gold medal game. They have an extremely tough matchup with Japan, but if they defeat them they will have much a much easier game in the semifinals.
Gold: United States
The United States have steamrolled their way into the quarterfinals, led by scorers Abby Wambach and Alex Morgan.
In the first game, the United States were down early, letting up two goals in the first 14 minutes of the game. They took control of the game from then on, though, and tied the game before the half and then put in two goals for the win in the second.
The second game was more of the same. The United States controlled the game from the opening minute and defeated Colombia 3-0. Colombia only had one shot on goal that entire game.
Even though the final game was only 1-0, the United States still had complete control of this game. They owned the possession battle 63 percent to 37 percent and again only allowed one shot on goal.
The United States drew a very easy matchup in the quarterfinals. They should defeat New Zealand with ease and then move on to the semifinals where they will most likely face Great Britain. Defeating the only other undefeated team should be tough, especially since the crowd will clearly be on Great Britain's side, but the United States has what it takes to persevere and move on to the gold medal match.
No matter who they face in the finals, the United States should be the favorite and will take home their third straight Olympic gold medal.
Keep Reading