Olympic Men's Gymnastics 2012 All-Around Results: Live Scores, Highlights & More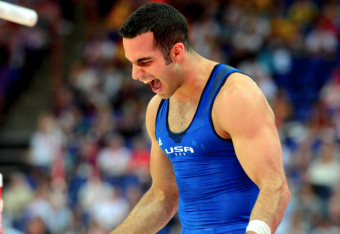 The first individual competition was for the men's all-around crown, where Japan's Kohei Uchimura won the gold medal, making himself arguably the greatest male gymnast of all time.
Germany's Marcel Ngyuen took silver and American Danell Leyva came from behind to win the bronze.
Take a look back at the updates from the competition.
The all-around competition finishes with Kohei Uchimura with gold. That confirms he is the greatest all-around gymnast out there. Is he the greatest all-arounder ever?
Germany's Marcel Ngyuen takes silver and Danell Leyva wins the bronze. This is huge for American's men's gymnastics. Congratulations to Leyva.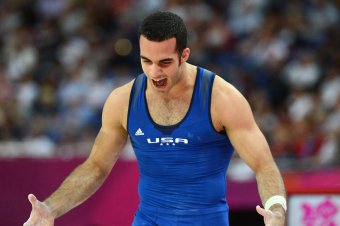 Harry How/Getty Images
Leyva gets a 15.7 on high bar which pushes him into the bronze medal position... what a comeback, what a moment. That is just amazing.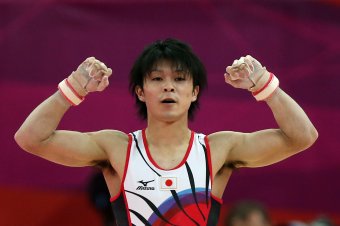 Ezra Shaw/Getty Images
Uchimura with a 15.1 on high bar, that's good for the gold. So is he the best gymnast ever? Beijing silver medal... three-time world champion. I'd say so.
Orozco rallied on the high bar and won't medal after the crazy start but at least he finished well. And Leyva needs the routine of his life. Can he do it?
Leyva under his towel - he likely has no idea there is a spot waiting for him on the podium...

— Alexa Ainsworth (@AAinsworthNBC) August 1, 2012
If Kohei pulls this off, which he will he could stake a claim as being the greatest male gymnast ever. And if Leyva makes it to the podium then he can save the face of American men's gymnastics. There's a lot on the line.
It is a tight race for the bronze medal. Leyva could come out of nowhere and push his way onto the podium. He does have a strong high bar routine. We know his stepdad will be going crazy. The gold is Uchimura's gold to have.
So @danelljleyva is < 1 pt out of bronze medal w/last rotation about to start... on high bar. We're live chatting at espn.go.com/olympics/summe…

— Bonnie D. Ford (@Bonnie_D_Ford) August 1, 2012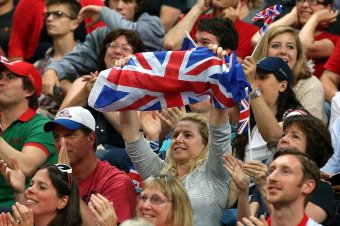 Christian Petersen/Getty Images
Daniel Purvis and Kristian Thomas are going at the same time. It's so loud I feel like I am in the arena right now. I guess I could turn my volume on mute if I really wanted too.
Lelyva gets a 15.833 on parallel bars. That is his best score of the night. You never know, he can come out of nowhere. He has the potential for brilliance on his high bar routine.
Tanaka slips on floor and gets a 14.1. There can be a sudden turn of events here, you never know.
Uchimura will finish his day on high bar where he's defending world bronze medalist & Floor where he's reigning world champion. Yeah, I think gold is in his future.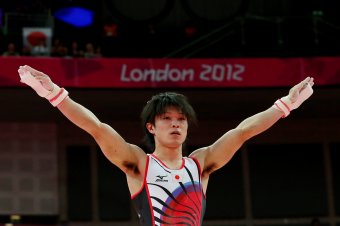 Ronald Martinez/Getty Images
After four rotations: 1 Uchimura 61.990, 2 Tanaka 61.808, 3 Nguyen 60.531, 4 Verniaiev 60.432, 5 Belyavskiy, 6 Kuksenkov, 7 Sasaki, 8 Thomas
Leyva 11th and Orozco 13th.
There's no more vaulting, so they have chance to move up with pbars, high bar to finish if they hit. Leyva has the best chance at a comeback.
It's going to come between Uchimura and Tanaka but I think Uchimura has it.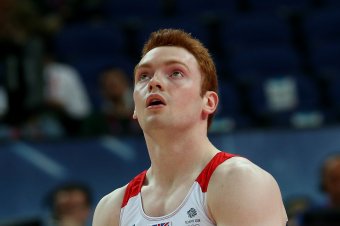 Ronald Martinez/Getty Images
Daniel Purvis fell off the parallel bars and scored a 13.6. Sad moment for the Brits, I think that takes him out of the all-around race.
Now Uchimura is up on parallel bars with a magnificent routine. He looks happy today.
Tanaka had a thrilling and exciting high bar set with just one mistake. Japan might go 1-2 on the podium. Guess that deserved that silver medal.
Orozco had a slight step on his landing but he still had a good vault and scored a 15.9 Hopefully that will improve his mood a bit. Talk about bad timing to get in a slump.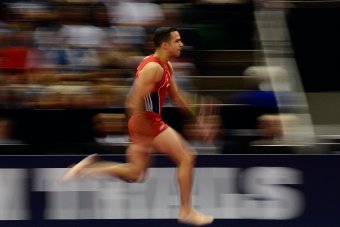 Ronald Martinez/Getty Images
Leyva with a 15.566 on vault. He seems to be having a good time out there at least. Orozco not so much.

— Will Graves (@WillGravesAP) August 1, 2012
Leyva sticks his vault. He seemed to dumb down his vault a bit. His stepdad Yin Alvarez didn't seem as enthused as usual. He's probably saving it for high bar.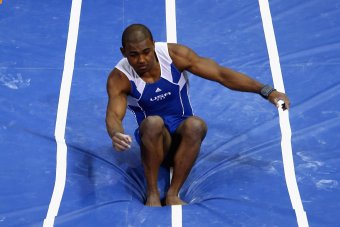 Ezra Shaw/Getty Images
Leyva and Orozco are up on vault now. Orozco landed on his butt in this event during team finals and Leyva sat that one out.
Correction. That's Uchimura in 1st, teammate Tanaka Kazuhito in second and Ukraine's Verniaiev in third.
Tanaka had a very strong parallel bars set.
Kohei finally takes the lead after the third rotation. He is back on top, where he belongs. Ukraine's Olag Vernaiev is in second and Korea's Kim Soo Myun is in third.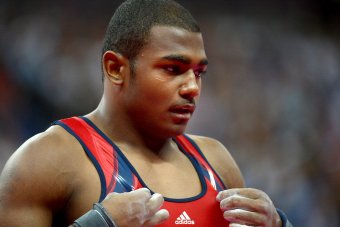 Harry How/Getty Images
John Orozco has a strong rings set with a 15.2. I hope he finishes well, don't want him reeling from a poor Olympics showing for the rest of his life.
16.000 for Britain's Dan Purvis on vault is very good. Kristian Thomas nails his rings routine for 14.633. GB is doing great in front of the home crowd. The American men still need to pick it up.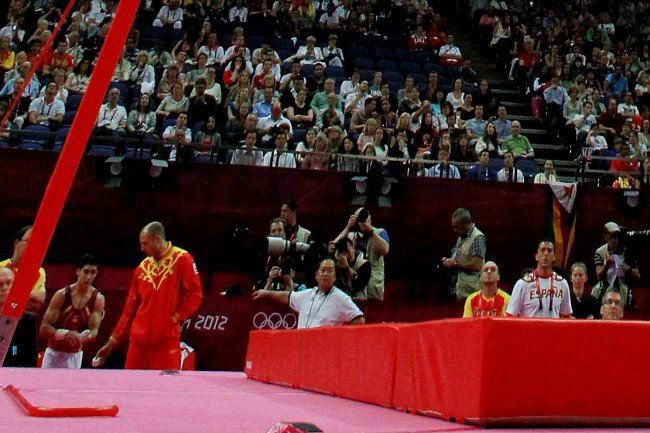 Ronald Martinez/Getty Images
So I am hearing a lot from the announcers about how the pink and red arena is very distracting especially no the vault. I think people are just making excuses. Don't they usually zone out when competing anyway? Let me know what you think.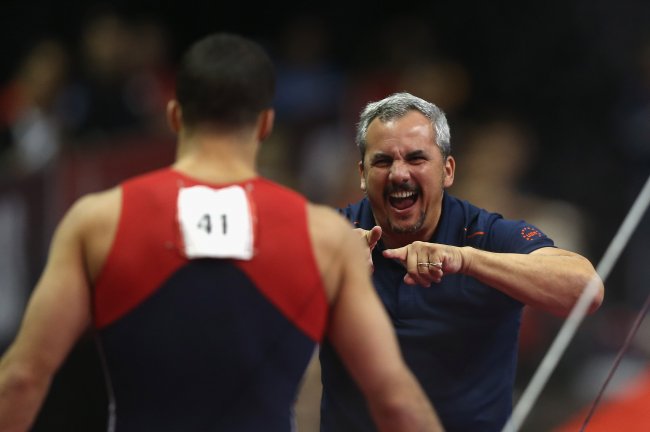 Ezra Shaw/Getty Images
Leyva has a solid rings routine. He gets a kiss from his stepdad Yin on the head. I think Yin gives him added confidence, he is Leyva's number one fan.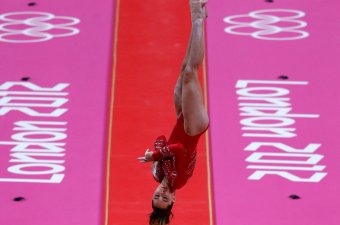 Jamie Squire/Getty Images
A monster vault from Uchimura. 16.266.
The big question of this Olympics is going to be, whose vault was better? Uchimura or Maroney?
Uchimura fourth through 2 rotations and still has to vault. Leyva 17th, Orozco 22nd out of 24. The American men have no where to go but up, but the podium is far, far away.
Leyva gets hammered for his dismount mistake 13.500. They are really being picky on dismounts after the "Uchimura".

— The All Around (@theallaround) August 1, 2012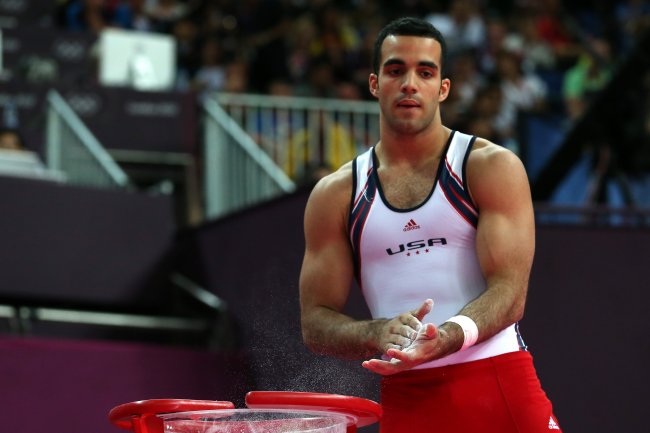 Ronald Martinez/Getty Images
Leyva looked great on pommels but then he made a big mistake on his dismount where he couldn't totally get into his handstand. These handstand dismounts have been driving people crazy. And these Americans really need to get over the pommel horse problems.
Fun personal fact— pommel horse is what won Illinois the NCAA title this spring.
This article is
What is the duplicate article?
Why is this article offensive?
Where is this article plagiarized from?
Why is this article poorly edited?