USA vs Tunisia: Biggest Takeaways from USA's Win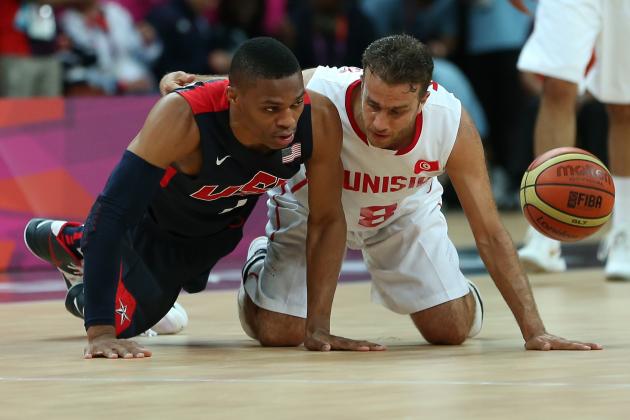 Ezra Shaw/Getty Images

As expected, Team USA blew out the only squad in the tournament without an NBA player, Tunisia, Tuesday night in London.
However, while the Americans fulfilled their prediction as a 54 point favorite, it wasn't always a smooth ride to finish for team USA. What's to make of their performance Tuesday? Let's break it down.
Begin Slideshow

»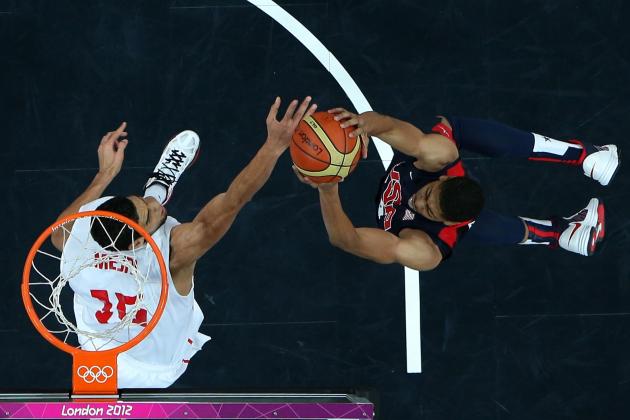 Ian Walton/Getty Images

Salah Mejri of Tunisia didn't have his best game against Team USA, but he showcased enough, at least on the defensive end, that should warrant him another NBA deal sometime in the near future.
His skills are raw and his decision making needs to drastically improve, but he has the size and athleticism to become a solid low post defender. He had a highlight reel swat down low against a signature Chris Paul runner and appeared to be moving his feet well in the low block. He's had one summer league invite with the Utah Jazz, and it wouldn't be surprising seeing him sign on with another club sometime this season or next.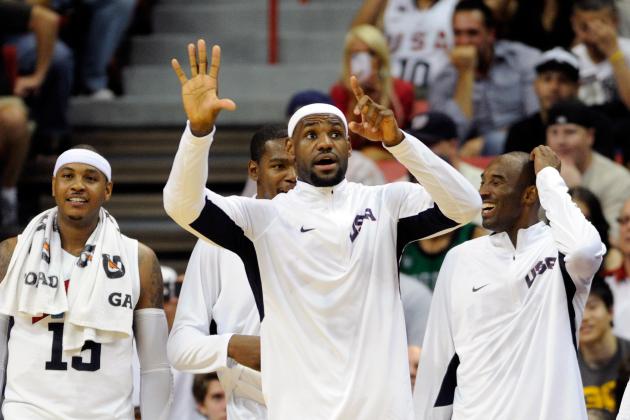 David Becker/Getty Images
I guess you can call playing three guys over 6'8'' going 'small' for team USA.
And though it's nice to have size in this tournament, it's an absolute joy to watch team USA play small with Kevin Durant, Carmelo Anthony and Lebron James all in fruition on the Olympic hardwood.
Most of the teams in this tournament are pretty thin when it comes to big men, including team USA, so given the talent level of the American forwards, we should see them on the court more often together when Chandler/Love/Davis need rest.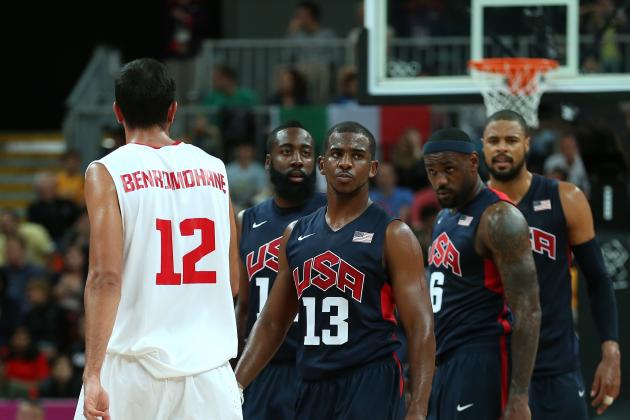 Ezra Shaw/Getty Images

When you're a 54 point favorite, a 46-33 lead at halftime doesn't look as big as it should.
That's because Tunisia actually was able to keep pace with the Americans early in the first quarter thanks to lackadaisical efforts by Team USA out of the gates, particularly on the defensive end. Tunisia actually managed to keep it within three points (15-12) with just 1:36 left in the first quarter.
Perhaps the highlight of the game for the Tunisians, guard Makram Ben Romdhane was able to take advantage of Team USA snoozing and transition with a coast to coast dunk early in the first.
That's a completely unacceptable effort for a US team making claims on the 1992 Dream Team.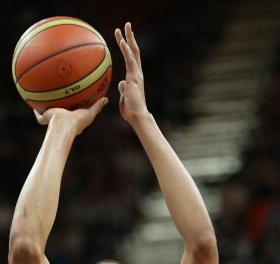 Christian Petersen/Getty Images

Blake Griffin was stealing the show early for Team USA before his knee injury with his YouTube practice dunk highlight reels, but Anthony Davis has been more than a suitable injury substitute for the Clippers star, and overall might have been a better pick for Coach K to take along with him to London.
Along with Davis's highlight reel dunks of his own, he provides Team USA with another low post defensive presence alongside the 30-year-old Tyson Chandler. Davis is actually the more adroit defender of the two, though Chandler's experience and footwork puts him in a league of his own. Having both on the roster will come in handy when Team USA squares off against teams with seasoned big men like Spain and Argentina.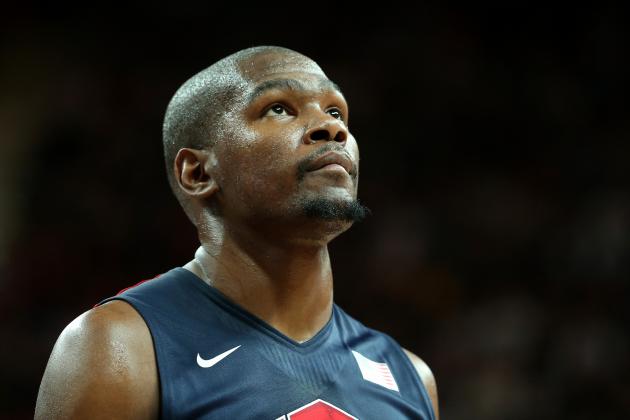 Christian Petersen/Getty Images
Kevin Durant loves the international long ball, but team USA is settling for too many threes.
Team USA shot just 32 percent (8-25) from beyond the arc in the preliminary opener against France and didn't fare drastically better against Tunisia, shooting 40 percent (10-25) from range.
While international ball tends to favor teams that shoot from the outside more, it became apparent early in the contest with Tunisia that the US was settling for lower percentage shots from range rather than running through their offense. While the Americans might have had some leeway against a team like Tunisia, they'll need to start playing offense with a better sense of urgency if they want to continue to dominate opponents.