Fantasy Baseball 2012: 8 Biggest Disappointments This Season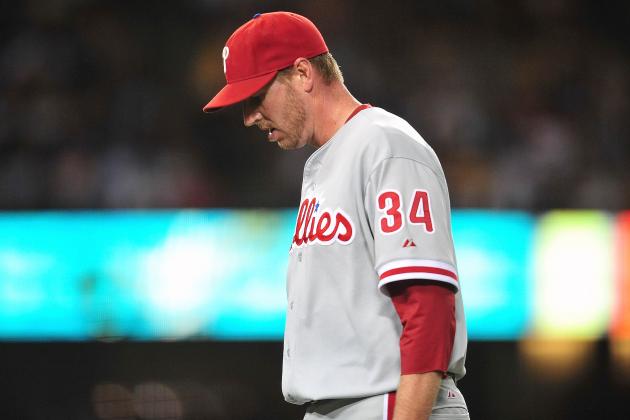 Gary A. Vasquez-US PRESSWIRE

We're not mad at these MLB players for their poor 2012 campaigns. We're just disappointed.
Okay, maybe you are mad at some of these guys for ruining your fantasy baseball squads.
When you chose Adrian Gonzalez and Roy Halladay in the first two rounds, it sure seemed like you set the tone for a successful draft. Those guys are sure bets for outstanding production, right?
Yeah, about that. Those two are among some of the league's most dependable stars who have fallen flat on their faces this year, and many fantasy squads have suffered dearly for their shortcomings.
If these slumping studs have not already inflicted too much damage, owners now face the daunting dilemma of how to handle their fallen stars.
Should they ride the bench? Is it time to trade them for pennies on the dollar? Or is there nothing left to do but hold out hope that they return to form during the final two months?
Begin Slideshow

»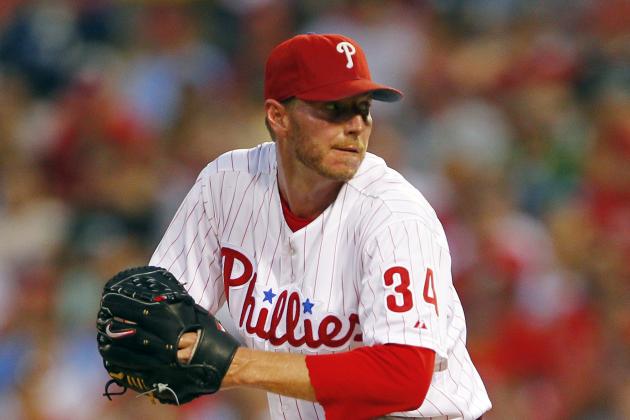 Rich Schultz/Getty Images

Top starting pitchers have historically derailed more frequently than star hitters, but Halladay signified the closest any drafter could get to a "money in the bank" ace.
Turns out there are no certainties in baseball.
After logging at least 220 innings during each of the past six seasons, owners thought they could surely count on a full season from Doc. Halladay missed seven weeks with a right latissimus dorsi strain, so it turns out they couldn't.
The best laid plans of mice and men often go awry. You can devise the perfect squad on draft day, and it can still implode while the team with Edwin Encarnacion and Jim Johnson seizes first place.
While healthy, Halladay has posted a 4.33 ERA highly uncharacteristic of the ace's supremacy. Don't worry too much about that, though—Halladay's 3.25 FIP suggests that he is still the same guy who won the NL Cy Young Award in 2010.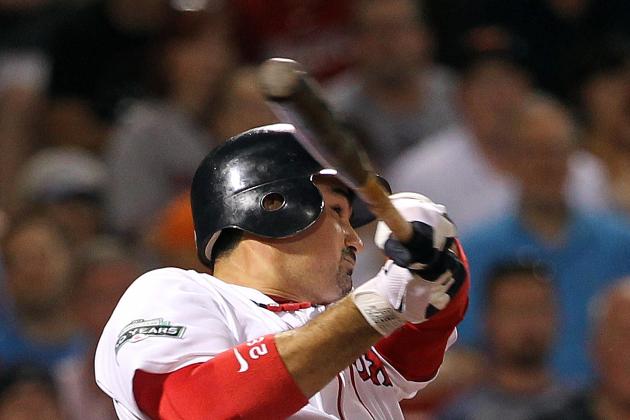 Jim Rogash/Getty Images

The first baseman's power is Gonzo this season.
Gonzalez, who blasted 40 home runs in 2009 despite calling Petco Park home, has only hit 10 round-trippers this season.
A recent hot streak propelled his average to .297, but he is setting staggering career-low marks with a .338 on-base percentage, .441 slugging percentage and .779 OPS.
Escaping San Diego to the much friendlier Fenway Park was supposed to lift Gonzalez to elite territory, but the Green Monster has instead morphed the slugger into a doubles hitter.
Even during a sensational 2010 campaign, Gonzalez only knocked out 27 long balls, his lowest total since debuting in 2006.
Maybe age is catching up to the 30-year-old. After all, he hurt his back a couple weeks ago while bending down to greet a child, as reported by The Boston Globe. Back issues have stymied Gonzalez a bit during his tenure with the Red Sox, but he finally looks ready to break out of his slump.
Owners who stuck with Gonzalez through his tough ordeal need to stay put now that Boston's big bat has caught fire.
Despite drawing only a single walk during July, Gonzalez hit .372 with four homers—he hit two in each prior month—and 19 RBI. His .543 slugging percentage resembled the power hitter his owners expected.
Even with a fierce finish, Gonzalez's final numbers will underwhelm drafters who invested a first-round pick on the star.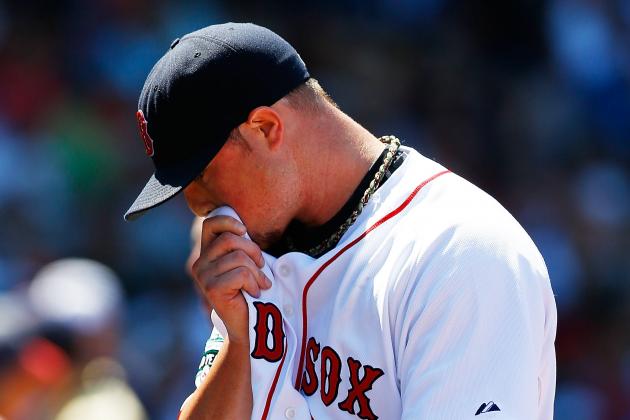 Jared Wickerham/Getty Images

The writing was on the wall for Lester's descent from stardom, but nobody could have envisioned such a disastrous downfall.
As the leader of a Boston Red Sox rotation that has spiraled out of control, Lester sports a 5.49 ERA and 1.44 WHIP.
He hit rock bottom during July, surrendering 26 earned runs in 25 innings pitched.
Lester posted a career-low 8.55 K/9 ratio in 2011 that continued a decreasing trend in punchouts.
Although Lester lowered his walk rate to 2.85, his regression in strikeouts took a steeper hit this season, dropping to 7.55. His 23.5 line-drive percentage is also the worst mark of the 28-year-old's career.
Is it possible that Lester received too much credit due to the prestige garnered from playing on the Red Sox? Despite his pedigree as an elite ace, Lester's best season produced a 3.25 ERA and 1.20 WHIP—great, but not spectacular numbers.
Some misfortune can explain the wide depth of his massive fall. Lester has a .325 BABIP, 64.1 percent strand rate and 3.79 xFIP, so expect some improvement going forward.
Oddly enough, Lester pitches abysmally at home while cruising away from Boston. Lester has a 7.39 ERA and 1.75 WHIP in 12 home starts and a 3.34 ERA and 1.10 WHIP during nine road starts.
You didn't spend a premium pick on Lester to use him sparingly, but benching him against tough offenses at Fenway Park makes sense.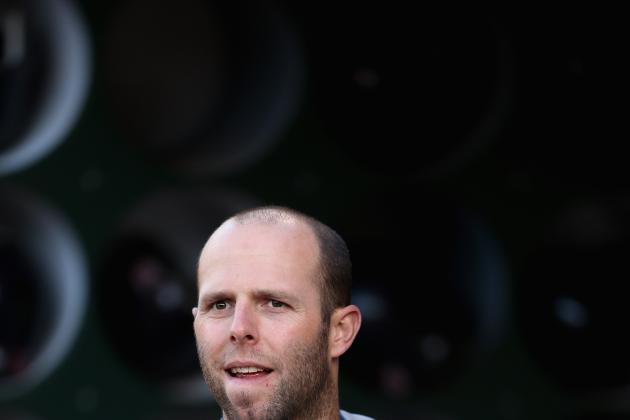 Ezra Shaw/Getty Images

Everything that could go wrong for the Red Sox has gone horribly wrong this season.
Dustin Pedroia adds to the list of Boston stars who have wildly underperformed for their fantasy owners and the Red Sox.
To make matters worse, Jacoby Ellsbury, Carl Crawford and Josh Beckett also could have easily made the cut.
Pedroia is yet another reputable veteran whose stats lag way behind his usual results. The star second baseman, usually a given for 15 homers, 20 steals and a batting average near or above .300, will need a monster closing to reach that level of production.
Pedroia is tallying a .265/.319/.407 line with nine long balls and six swipes.
Anyone who drafted Pedroia in the second or third round probably won't enjoy realizing that Omar Infante has essentially recorded the same numbers. The fiery second baseman sure seemed frustrated on Sunday night, when ESPN's microphones caught him cursing after just missing a three-run homer.
With a .275 BABIP below his career .309 mark, Pedroia should boost his average closer to his typical rate. One or two hot stretches could lead him to 15 homers, but the lack of steals is concerning. He has only attempted to swipe a bag 10 times, and he might not try much more after already getting caught on four occasions.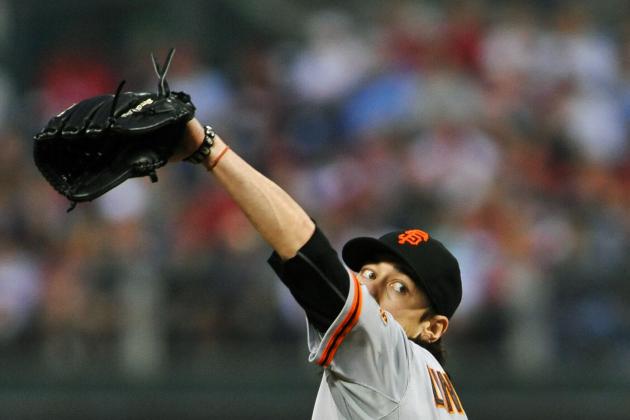 Drew Hallowell/Getty Images

Any MLB-related list with negative undertones is basically guaranteed to include Tim Lincecum.
Owners across the world drafted The Franchise as their fantasy team's ace, and he has instead imploded their ERA and WHIP.
In 123.1 innings, the former Cy Young winner has posted a horrific 5.62 ERA and 1.48 WHIP.
It's growing increasingly tougher to deliver the whole "He's going to turn it around eventually" shtick. Lately, Lincecum has teased his fantasy owners by delivering an impressive start, only to self-destruct in his next outing.
Sure, chalk up one bad month as a fluke. Two? Well, he's been an ace for four years, so he still receives a pass. Four? We can't just turn our backs to his failures and pretend that everything is normal.
His spiking walk rate—which has increased in each of the past three years—especially causes concern. Lincecum, once a pitcher who exhibited exceptional control considering his wild motion and high strikeout totals, now has an ugly 4.16 BB/9 ratio.
But come on, you can't drop a guy poised to record more than 200 strikeouts for the fifth straight season. Chances are your leaguemates won't offer a fair deal for Lincecum, either.
There's not much to do other than hope he pitches closer to his 3.79 FIP and reimburses owners with a strong end to the year.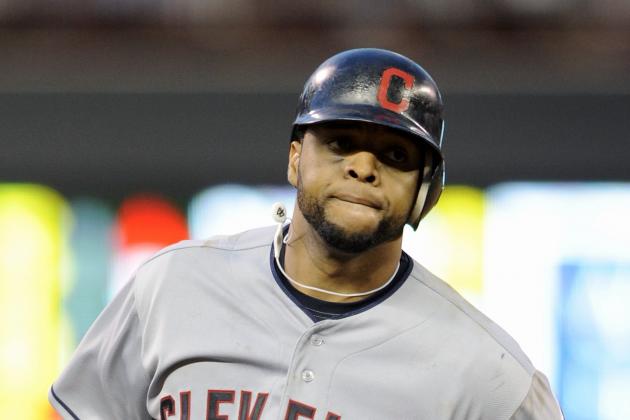 Hannah Foslien/Getty Images

If you were one of the first in your draft to select a catcher, you're likely regretting that decision right now.
After hitting .320 last year, Mike Napoli's average stands at .226 this season. Brian McCann—although beginning to heat up with eight homers during July—is not faring much better at .243.
Then there's Carlos Santana, a 26-year-old expected to seize the throne as fantasy baseball's premier catcher.
Anyone who jumped ahead of the pack to fill their catcher slot with Santana can only helplessly watch as Carlos Ruiz, Jarrod Saltalamacchia and A.J. Pierzynski shine after going undrafted in most leagues.
Despite a quality .362 on-base percentage, Santana is only hitting .234 with nine home runs and 41 RBI. The .388 slugging percentage is not quite what anxious drafters anticipated from a guy projected to clear the fences 30 times.
A solid July consisting of a .433 on-base percentage and four home runs could lead to a promising finish that causes owners to stay by his side next spring.
However, due to a low average fueled by a 19.1-percent strikeout rate, Santana needs to make major strides before ranking as baseball's top backstop.
If someone is offering an exchange worthy of a No. 1 catcher, cash out on Santana. If the trade market only nets the value of a catcher hitting .234 with nine home runs, just stick with Santana and hope for a strong August and September.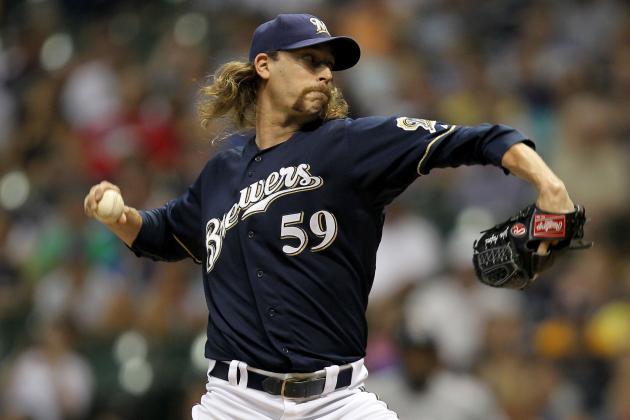 Mike McGinnis/Getty Images

Is anybody else considering picking their fantasy team's closers out of a hat next year?
In a year where Mariano Rivera—seemingly baseball's only trustworthy reliever—went down with a season-ending injury, plenty of other big-name pitchers have let their fantasy owners down.
Heath Bell has been a disaster. Carlos Marmol can't find the strike zone. Andrew Bailey, Drew Storen and Sergio Santos were all exiled to the disabled list.
John Axford, heavily regarded as a top-five closer before the season began, is doing everything in his power to squander his ninth-inning role.
Following a season where Axford recorded 46 saves on the strength of a 1.95 ERA and 10.51 K/9 ratio, Axford now holds a 5.04 ERA and 1.43 WHIP. Francisco Rodriguez's equal ineptitude is the only factor allowing Axford to still receive save opportunities.
Although Axford has heightened his already impressive strikeout rate to 11.69, he has distributed 4.63 walks per nine innings. Despite lowering his fly-ball rate to 28.7 percent, Axford has surrendered seven home runs—already the most of his career—in only 44.2 innings.
His unusual home-run spike in relation to fly balls along with a 3.25 xFIP indicate that Axford should pitch more effectively in the final two months, but a loose hold on Milwaukee's closer role makes him a risky gamble.
Consider taking a chance on Axford, but only if you can acquire him for close to nothing.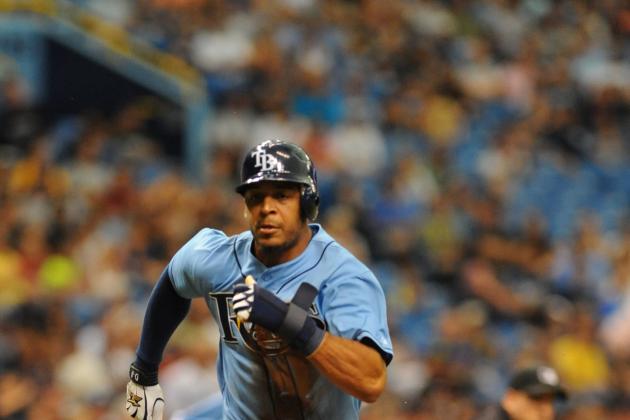 Al Messerschmidt/Getty Images

Four months ago, you loved Desmond Jennings.
You were willing to reach as high as necessary to land a fantasy stud in the making. Don't hide it now.
Before Mike Trout burst onto the scene, Jennings was the young phenom expected to become the next Carl Crawford—proving his merit in all five categories with extraordinary speed—at a time when that comparison was actually meant as a compliment.
I was one of many drafters who loved Tampa Bay's outfielder, but the 25-year-old has failed to match the sky-high hype. Despite a solid seven home runs and 19 steals, Jennings sports an ugly .235/.301/.358 line.
Looking back, his 15.6 home-run/fly-ball ratio from 2010 now looks unsustainable. His 10 dingers in 63 games last year will not prorate to 25 during a full season, but he remains a legit threat on the basepaths.
We all got carried away, which is why Jennings could achieve a 15/30 season and still be viewed as a failure. Jennings will one day emerge as a fantasy stud, but for now his skills more closely resemble B.J. Upton and Drew Stubbs—which is not bad if you can handle the average setback.
In keeper and dynasty leagues, try snatching away Jennings from an owner who might prefer an immediate-impact player.