UFC on FX 5 was originally scheduled to take place on September 7 at the Bankers Life Fieldhouse in Indianapolis, Ind. The card has since been moved to the Target Center in Minneapolis, Minn. and will now take place on October 5. The UFC has wasted no time in adding additional fights to an event that will be headlined by a heavyweight scrap between Travis Browne and Antonio Silva.
Late on Tuesday night, the promotion announced the addition of six fights to the FX card.
A second heavyweight bout will join Browne versus Silva, as Matt Mitrione (5-1) will match up against Rob Broughton (15-7-1). Both fighters are coming off losses in their last bouts. Mitrione dropped a unanimous decision to Cheick Kongo at UFC 137, while Broughton was swept on the judges' scorecards by Phil De Fries at UFC 138.
In a welterweight bout, Justin Edwards (7-2) will meet Josh Neer (33-11-1). Like Mitrione and Browne, Edwards and Neer are both coming off losses. Edwards dropped a unanimous decision to John Maguire at UFC 138, while Mike Pyle knocked out Neer with four seconds left in Round 1 at UFC on FX 3.
Dropping down to the lightweight division, Carlo Prater (30-11-1) and Marcus LeVesseur (21-6) will face off in Minneapolis. Prater's first bout in the lightweight division did not go his way, as the Brazilian dropped from welterweight only to lose a unanimous decision to TJ Grant. LeVesseur made his UFC debut in his last fight, spending a brief 3:05 in the Octagon on that evening in May before succumbing to a Cody McKenzie guillotine choke.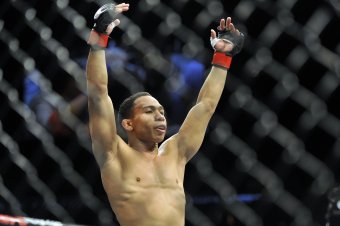 Joe Camporeale-US PRESSWIRE
The UFC is looking to give fans a solid cross-section of their roster for UFC on FX 5, as the promotion added a featherweight bout between Bart Palaszewski (36-15) and Diego Nunes (17-3). In his last contest, Palaszewski dropped a unanimous decision to Hatsu Hioki at UFC 144, while Nunes is coming off a unanimous decision loss to Dennis Siver on April's UFC on Fuel TV 2 card.
The promotion has also added two flyweight bouts. The first will see John Dodson (13-5) facing Jussier da Silva (14-1). Dodson is in the midst of a four-fight winning streak, while Da Silva will make his UFC debut in Minneapolis.
The second flyweight bout will see Louis Gaudinot (6-2) meet Darren Uyenoyama (7-3). Both fighters were victorious in their last bouts; Gaudinot delivered a "Fight of the Night" performance in a victory over John Lineker at UFC on FOX 3, while Uyenoyama earned a unanimous decision victory over Kid Yamamoto on the UFC's first FOX card.
The UFC has not announced when tickets will go on sale for the UFC on FX 5 fight card.