Ranking Steve Nash-Kobe Bryant Backcourt with Best in L.A. Lakers' History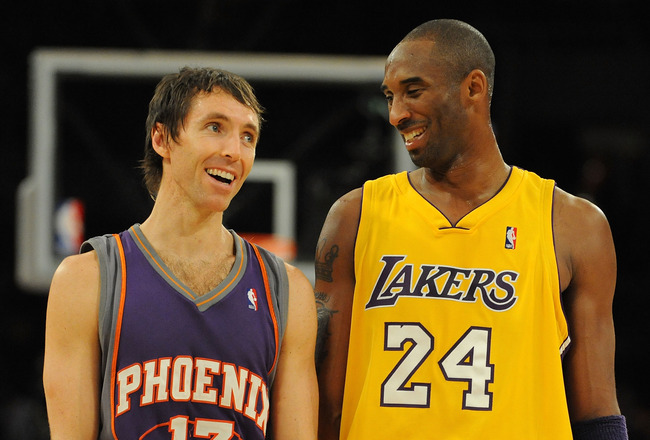 Harry How/Getty Images
There is no question that the Los Angeles Lakers backcourt for the 2012-2013 season is one of the best tandems in franchise history, perhaps even league history. But exactly where does the Kobe Bryant/Steve Nash duo rank among the Lakers' all-time best backcourts?
Both Bryant and Nash are living NBA legends who are surefire Hall of Famers. However, the only time these two players have played together is during All-Star Games, which isn't exactly the best sample of a competitive atmosphere.
It's difficult to rank the Bryant/Nash tandem considering they have yet to play a game beside each other as Laker teammates. Even so, simply based on pedigree and reputation alone, these two guys are climbing up the pedestal.
The criteria for the list is based upon the pedigree of both players in the backcourt in terms of All-Star appearances, individual stats and individual awards, as well as winning, and more specifically, winning NBA titles.
In addition, both guards had to start the majority of games throughout the regular season to be considered.
Here are the top seven Los Angeles Lakers backcourt tandems in franchise history.
(Note: A special thank you is in store for Basketball-Reference, a web site that goes above and beyond the definition of a basketball encyclopedia).
7. Nick Van Exel and Eddie Jones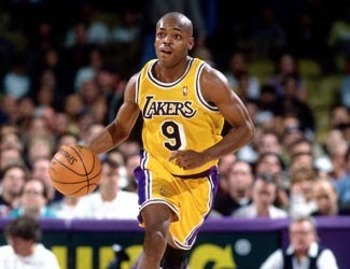 Nick Van Exel played for six teams during his NBA career, but spent the most time with the Los Angeles Lakers and Denver Nuggets.
Career Stats:
Nick Van Exel: 14.4 points, 6.6 assists and 2.9 rebounds per game.
Eddie Jones: 14.8 points, four rebounds and 2.9 assists per game.
Although the Lakers backcourt of Nick Van Exel and Eddie Jones never won any NBA championships and made just a few short-lived playoff runs during their stint in Los Angeles, they're still one of the more nostalgic backcourt duos in Lakers history.
These two played back during the NBA on NBC days (that theme song brings back more nostalgia for me than I can even put into words). Although they were far from being lifelong Lakers, both started their careers with Los Angeles at around the same time in the mid-1990s.
Between the two, they have four All-Star appearances (three for Jones and one for Van Exel).
Van Exel is now an assistant coach for the Atlanta Hawks, as well as a Twitter newbie. If you're a fan, you can follow "Nick the Quick" here.
6. Frank Selvy and Jerry West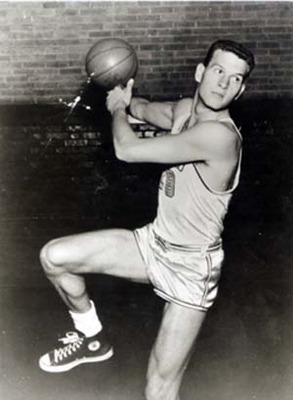 A photo of Frank Selvy rocking the Converse All-Stars.
Career Stats:
Frank Selvy: 10.8 points, 3.7 rebounds and 2.8 assists per game.
Jerry West: 27 points, 6.7 assists and 5.8 rebounds per game.
Here we have "The Logo," Jerry West, with the lesser of his two backcourt running mates, Frank Selvy.
Selvy was drafted first overall in the 1954 NBA draft by the Baltimore Bullets. Although Selvy had a solid rookie year when he averaged 19 points per game, he never truly lived up to the billing of being the first player taken in the draft.
With the Selvy/West backcourt tandem, the Los Angeles Lakers made the NBA finals in back-to-back seasons in 1962 and 1963. However, the Lakers lost in seven games and six games, respectively, to two extremely talented Boston Celtics squads.
Between the two guards, they notched an astonishing 16 All-Star game appearances (14 of those courtesy of West, but still).
It wasn't the best backcourt tandem in Laker history that involved the great Jerry West, but these two did make two NBA finals appearances, which puts this duo in the top six.
5. Derek Fisher and Kobe Bryant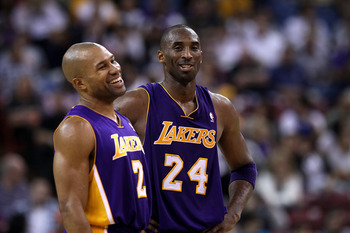 Ezra Shaw/Getty Images
Career Stats:
Derek Fisher: 8.6 points, 3.1 assists and 2.1 rebounds per game.
Kobe Bryant: 25.4 points, 5.3 rebounds and 4.7 assists per game.
The Kobe Bryant/Derek Fisher Laker backcourt has become the stuff of legend in the eyes of Lakers fans.
Both Bryant and Fisher entered the NBA at the same time and have developed a strong bond over the years.
The pair of guards won championships together in 2000, 2001 and 2002 (although Ron Harper and Lindsey Hunter spent a chunk of the time starting in the Lakers' backcourt beside Bryant at that time), as well as in 2009 and 2010.
Although D-Fish didn't play a huge role on any of the five championship teams, he did hit some gargantuan shots to endear himself to his teammates and fans.
No matter how you slice it, five shared championships is very impressive.
4. Magic Johnson and Norm Nixon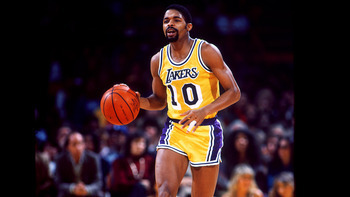 Norm Nixon was a Los Angeles Laker from 1977-1983.
Career Stats:
Magic Johnson: 19.5 points, 11.2 assists and 7.2 rebounds per game.
Norm Nixon: 15.7 points, 8.3 assists and 2.3 rebounds per game.
With Magic Johnson and Norm Nixon patrolling the Lakers backcourt, the team essentially had two point guards running the show with their great passing abilities.
The Magic/Norm duo won NBA championships in 1980 and 1982. Over the course of those two seasons, Nixon averaged 17.6 points and 7.9 assists per game.
This tandem also made the NBA finals in 1983, but got swept by the Philadelphia 76ers.
It's unlikely that we'll ever see a backcourt quite like Johnson/Nixon in the NBA's future. During the 1982 regular season, both Nixon and Johnson averaged eight assists or more while sharing duties as the starting guards.
It's safe to say the Lakers earned their nickname "Showtime" for a reason.
3. Steve Nash and Kobe Bryant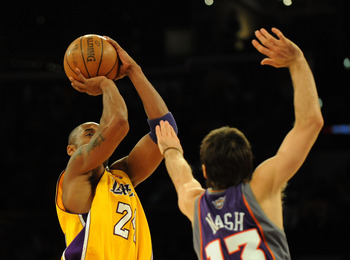 Harry How/Getty Images
Career Stats:
Steve Nash: 14.5 points, 8.6 assists and three rebounds per game.
Kobe Bryant: 25.4 points, 5.3 rebounds and 4.7 assists per game.
The Steve Nash/Kobe Bryant backcourt has yet to play together, let alone win a championship together. However, their pedigree speaks volumes about how special this backcourt is and could be in the future.
With three MVP trophies, 22 All-Star game appearances and five NBA championships (all Bryant's) between them, this is truly a backcourt for the ages.
Nash and Bryant still have a lot to prove as far as playing together out on the hardwood, but they're two Hall of Fame bound players and arguably still in the top five (certainly top 10) at their respective positions in the NBA right now.
What holds the Nash/Bryant tandem back is the fact that they haven't yet played together, have not and may never win a championship as a pair and they're both over 30-years-old (38 for Nash, 33 for Bryant who will turn 34 later this month).
This duo, which is sure to excite during the 2012-2013 NBA season, could certainly vault themselves higher on this list if Nash could attain his first ever championship ring. However, as of this moment, third all-time seems to be a fair assessment of their historical rank.
Bryant is arguably the greatest Laker ever, and Nash is one of the best point guards to ever play the game. Even so, their shared success as Lakers has yet to be determined.
2. Magic Johnson and Byron Scott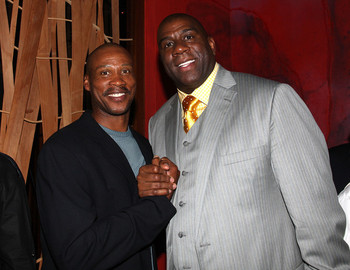 Photo Courtesy: Frederick M. Brown/Getty Images
Career Stats:
Magic Johnson: 19.5 points, 11.5 assists and 7.2 rebounds per game.
Byron Scott: 14.1 points, 2.8 rebounds and 2.5 assists per game.
The rock solid Lakers backcourt of Magic Johnson and Byron Scott won NBA titles in 1985, 1987 and 1988. In addition, Lakers teams with the Johnson/Scott backcourt made the NBA finals in 1984, 1989 and 1991, but failed to win championships in those three seasons.
It's hard to deny the pedigree of Johnson and Scott as far as being one of the best Laker backcourts in franchise history given their three NBA titles.
Nevertheless, Johnson made the NBA All-Star game 12 times, while Scott never made an All-Star game in his entire career. Johnson was the unquestioned superstar of those championship Laker teams and he certainly overshadowed what Scott brought to the table, especially with three MVP awards under Johnson's belt.
Behind Magic Johnson as the Lakers' alpha dog, Kareem Abdul-Jabbar, James Worthy and even sixth man Michael Cooper could be seen as better players when compared with Scott.
Although Scott was the starting shooting guard on three Laker championship teams, he was more of a role player instead of a true star on a slew of extremely talented basketball teams.
If Scott had played beside Johnson without such a great supporting cast, we likely would not remember this tandem as fondly.
This spot at No. 2 is far from safe with the Nash/Bryant tandem chasing a championship this year.
If Bryant and Nash achieve their goal, I'm not opposed to putting them over Johnson/Scott despite their three NBA titles.
1. Gail Goodrich and Jerry West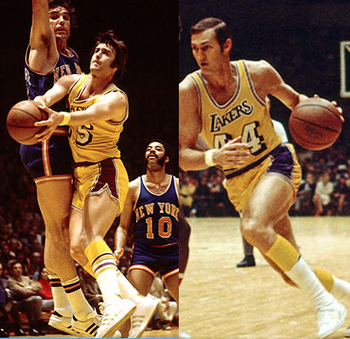 Gail Goodrich (left) and Jerry West in their Laker uniforms.
Career Stats:
Gail Goodrich: 18.6 points, 4.7 assists and 3.2 rebounds per game.
Jerry West: 27 points, 6.7 assists and 5.8 rebounds per game.
It's difficult to argue against the Lakers' backcourt tandem of Gail Goodrich and Jerry West locking up the top spot in Lakers' franchise history.
Goodrich was a five-time NBA All-Star during his career and West made the All-Star game in all 14 of his professional seasons (all with the Lakers). In addition, both Goodrich and West have been inducted into the Naismith Memorial Basketball Hall of Fame. They're the only pairing on this list that can say they have that designation (at least until Bryant and Nash inevitably get inducted).
In "The Book of Basketball," author Bill Simmons of Grantland.com ranks West as the eighth best basketball player ever, while Goodrich comes in at No. 88 (at least in the hardcover version, I understand Bryant got bumped higher because of his latest championship wins).
You can take those rankings with a grain of salt though, considering that Simmons is a Boston Celtics fan and hates the Lakers. Nonetheless, it's more than fair to say that West is at least a top-12 NBA player all time, while Goodrich ranks at least in the top 100.
The only other pairing on this list that both land in the "top-100 Players Ever" category are Nash and Bryant. However, Nash and Bryant haven't won an NBA title together. Goodrich and West did so in 1972 when both players averaged more than 25 points per game during the regular season, leading the Lakers.
The Goodrich/West duo made the NBA finals in 1966, 1968 and 1973, but could only get over the hump when they won it all in 1972.
Nash and Bryant could gain notoriety by winning a championship, but they'll never have the continuity of Goodrich and West, who spent the majority of their NBA careers together in Los Angeles.
Keep Reading

Los Angeles Lakers: Like this team?