2012 Kansas Season Preview: Backfield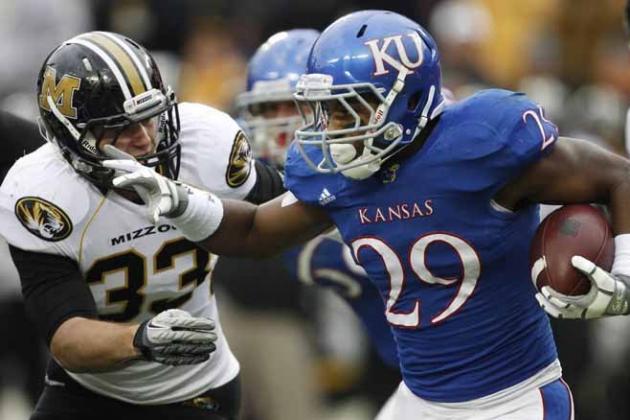 From Newstribune.com
As the start of the 2012 Kansas Jayhawk's football season creeps ever closer, we take a look at one of the few brighter spots from the 2011 season in the backfield. The Jayhawks backfield consists of three fullbacks, four halfbacks and one running back, all looking to make a huge impact under new head coach Charlie Weis.
There are some familiar names and some new names. Without further ado, here is your 2012 Jayhawk backfield.
Begin Slideshow

»

From Kuathletics.com
Starting off with the fullbacks, Nick Sizemore looks to be the first man on the depth chart at the fullback position. Sizemore is a junior who played in 10 games last year, with his specialty being on special teams.
He played his freshman year at Buffalo in 2009 and then transferred to Kansas when Turner Gil was hired. He redshirted in 2010 and played as a sophomore in 2010. He had a season injury last year in the game against Baylor, but he looks to be ready to go in the 2012 season.
Prediction: 300 Rushing yards, 200 Receiving, 2 TDS.

From KUathletics.com
Ed Fink is the other fullback on the Jayhawk's roster. He will be a sophomore this season and will likely back up Sizemore.
Fink redshirted his true freshman season in 2010 and had some limited playing time last year in which he played in three games. He did return a squib kick against Oklahoma for 10 yards, but other than that, he didn't really produce much. He is two inches taller and 15 pounds heavier than Sizemore, but Sizemore has the experience over him.
Prediction: 50 yards Rushing, 20 Yards Recieving, 0 TDs.

From KUathletics.com
As we make our transition from the fullbacks to the halfbacks, we take a look at Marquis Jackson who is listed as both. Jackson will be a sophomore.
Jackson did not redshirt his freshman season in 2011, where he actually played as a wide receiver. He was also the return man for Kansas after kickoffs, where he made a bit of a splash highlighted by two 40 yard returns against Kansas State.
He will most likely be one of the return men again and will alternate with the other halfbacks, getting limited fullback time.
Prediction: 250 yards rushing, 100 yards receiving, 1 TD.

From KUathletics.com
James Sims is one of those familiar names who has had some success for the Jayhawks in the past. He will be entering the 2012 season as a junior.
He will be absent for the first three games of the season after he violated team rules back in April. He was the Jayhawk's leading rusher in 2010 and 2011, and his offensive production will be missed in the first three games of the season, including their Big XII opener against TCU.
The Jayhawks go undefeated when he rushes for more than 100 yards, which happened twice last season.
After his suspension is over, he should come back with a vengeance and will once again run all over the Big XII.
Prediction: 800 Rushing Yards, 200 Receiving Yards, 12 Touchdowns

From KUathletics.com
Tony Pierson is one of the faster backs at Kansas who, like Sims, made an impact last season. However, unlike Sims he should be available for all 12 regular season games.
He was the backup to Sims in his true freshman season last year and will most likely back Sims up again after Sims's three game suspension is over. Those first three games, however, Pierson should be the feature back.
He is a back that was good for some yards each game in 2011, as well as the premier kickoff return man. His speed will be a big asset this season in the speedy Big XII.
Prediction: 500 Rushing yards, 150 Receiving Yards, 7 Touchdowns.

From KUathletics.com
One of the new names on the list is junior college transfer Taylor Cox, who will be looking to leave defenders in his tracks like his 2011 season.
Cox transferred from the College of Siskiyous in California where he was named a junior college All-American. He rushed for 1507 yards and 14 touchdowns in only 10 games. It will be interesting to see his place on the depth chart next to the established KU guys.
The junior is a great pickup for Kansa and may end up unseating Sims and Pierson as the feature back for Kansas.
Prediction: 300 Rushing Yards, 100 Receiving Yards, 3 Touchdowns.

From KUathletics.com
Ryan Burton is a senior halfback who will most likely only get playing time in garbage time and on special teams.
Burton redshirted his freshman year in 2009 and then saw some limited playing time in 2010 on special teams. He did not play at all in 2011; KUathletics.com has no record of him in 2011.
Don't expect too much out of Burton. I'll be surprised if he gets any playing time in the conference games. He just fills out the depth chart.
Prediction: 50 Rushing yards, 10 Receiving Yards, 0 TDs.

From KUathletics.com
Brandon Bourbon is the only true running back on the Kansas roster. He will play in 2012 as a sophomore.
Bourbon redshirted his first year at Kansas in 2010 and then had a very nice year in 2011 in his redshirt freshman season. He rushed for more than 100 yards against Texas Tech, including a 51 yard scamper for a touchdown. He has the ability to help Kansas offensively by both rushing and receiving as he showed in 2011.
Look for Bourbon to be a big asset to the Kansas offense in 2012 when he joins Sims and Pierson as the more prolific backs coming out of the backfield.
Prediction: 400 rushing yards, 300 Receiving yards, 4 Touchdowns.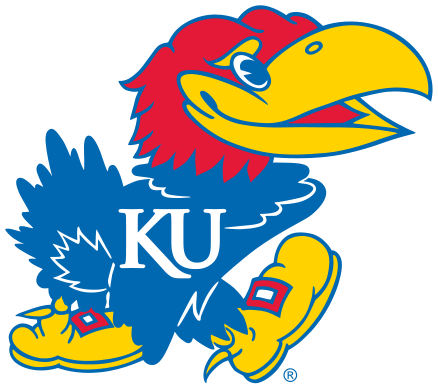 From SBnation.com
That wraps it up for the Kansas backfield preview. Unlike the quarterback position, the Jayhawks backfield shows a lot of familiar faces from previous years.
It will be interesting to see how these Kansas veterans react to a new head coach. It will help that they have the same running back coach they have had the past two years in Reggie Mitchell.
The backfield is sure to delight as they look to continue their success from last season.
Next up: August 3rd: Wide Receivers
In case you missed it...
Part 1: 2012 Kansas Football Season Preview: Coaching Staff