The 15 Greatest Champions in UFC History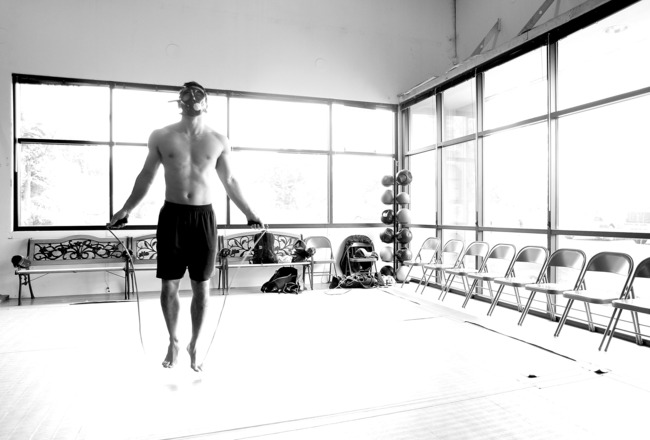 Jonathan Ferrey/Getty Images
In less than 20 years, the UFC has grown into one of the most watched sporting organisations in the world, commanding a global audience of hundreds of millions.
In that time the promotion has gone through several incarnations, throwing up era-defining champions which now litter its Hall of Fame.
As the sport of mixed martial arts has evolved, so, too, have its fighters, and each one of this list of 15 brought something new to the table to bring his skill up among the greatest champions the UFC has ever known.
Royce Gracie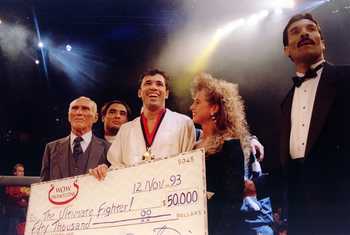 Markus Boesch/Getty Images
No name is more synonymous with the sport of mixed martial arts than the diminutive Royce Gracie, who single-handedly took on an army of men 50-60 lbs heavier than him, to win three of the UFC's first four tournaments.
Back when the sport was a mixture of idiot savants and rejects from a variety of combat disciplines, Royce established his family's jiu-jitsu as the preeminent martial art and demonstrated how the technical mastery of the little guy could overcome brute force and size.
Technically, as a tournament winner, Royce was never a true UFC champion, nor did he ever win a Superfight to stake his claim at the apex of the sport. But, he still dominated the first UFC tournaments and if anyone would have been crowned the champion back then, it would have been Royce.
Chosen from among his brothers as the smallest and probably the least experienced, Royce showcased a new dimension in effective combat sport, back when MMA was less a sport and more a brutal spectacle.
However, these qualifications alone do not make him a great champion. Royce was a one dimensional fighter who was quickly superseded during the rapid evolution of the sport. He did best when he could catch his unsuspecting opponents by surprise—luring them into a false sense of security on his back and engaging submissions against those who'd never fought a submission fight.
As fighters became familiar with his style of ground fighting, the bigger guys quickly, already by the second tournament, beat and pummelled the Brazilian in fight after fight. By the third tournament, Royce was forced to retire after the first round – exhausted by the beating he took at the hands of Kimo Leopoldo.
And, in the coming years, Royce's star would quickly fade as a new generation of mixed martial artists took the sport in new directions. A lacklustre stint in Japan, a decisive first round loss to Matt Hughes late in his career and a positive test for anabolic steroids would mar his once illustrious legacy.
In the expansive history of MMA, it's unlikely that Royce will be remembered as one of the best fighters out there. But his place in history, with the heart he showed in winning back-to-back tournaments in the early days, assures him a place as one of the UFC's greatest champions.
Ken Shamrock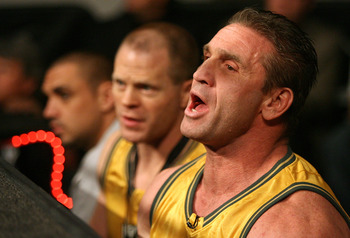 Ross Dettman/Getty Images
Ken Shamrock had already made a name for himself in Japan as one of the founding fighters of the Pancrase pro-wrestling/mixed martial arts hybrid organisation. When he came to the US to fight in the Gracie's inaugural UFC tournament, he looked to do the same on the other side of the Pacific.
And, he had early success. Despite being defeated by Royce in the first tournament, he was one of a handful of standout fighters in the early days, going 17-3 by the time he fought the UFC's first Superfight against Royce Gracie.
However, a UFC belt eluded him until he won the UFC Superfight Championship against Dan Severn at UFC Six.
It took Ken little over two minutes to submit "the Beast" and establish himself as "the most dangerous man in the world".
Ken defended his Superfight title two more times before succumbing to Severn in a rematch in 1996 in what went down as one of the most scandalously boring matches in UFC history.
But, as Ken would himself admit, he was just a leg-lock man who liked to brawl, and in the ever-evolving, highly technical world of MMA, such two dimensional fighters would quickly be consigned to a bygone era.
In later years, the losses stacked up and the victories were few and far between. He was destroyed three times by Tito Ortiz, unable to get out of the first round in two of those matches.
But, even if he couldn't cut it with the new breed of mixed martial artists, Ken had already earned his place in the UFC Hall of Fame as one of the early pioneers of the sport. He was also the UFC's first true champion and one of the biggest pay-per-view draws of his era.
Mark Coleman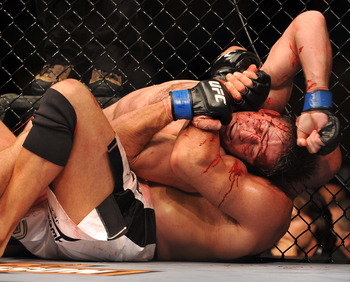 Jon Kopaloff/Getty Images
In the 90s, Mark "the Hammer" Coleman was the most decorated wrestler to enter the Ultimate Fighting Championship tournament. A former Olympian and silver medalist in the world freestyle wrestling championships, Coleman quickly established the dominance of that sport in the world of MMA and laid the blueprint for other wrestlers to follow.
In less than a year of entering the sport, Coleman established himself at the top of the UFC, winning his first tournament, then his second and then becoming the inaugural UFC Heavyweight Champion.
However, like many of the preeminent fighters of his era, his star quickly faded. A relatively short, but muscled out heavyweight, his conditioning was left hopelessly lacking, and he lost his belt to Maurice Smith in the very next year.
Two more first round losses in the UFC followed, leading to his exile from the organisation and then to a relatively successful stint in Japan where he won the 2000 Pride FC Open-Weight Grand Prix.
He attempted to revive his career in the UFC by dropping to light heavyweight in the late 2000s, but Coleman could never again recapture the glory of his early days.
Nevertheless, what he had achieved in his first three UFC years—defeating some of the best fighters in the world including Don Frye and Dan Severn—led to his induction into the UFC Hall of Fame in 2008.
Frank Shamrock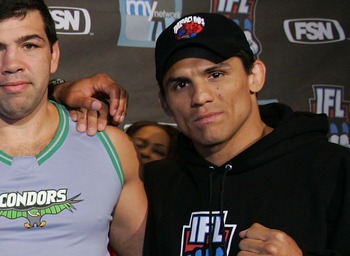 Brian Bahr/Getty Images
There was always a touch of Hollywood glamour about Frank Shamrock. Whether it was his permanent So-Cal tan, his perfect teeth, slicked back hair or chiseled physique, when he entered the Octagon, he walked with the swagger of a movie star and came to dominate the UFC's light heavyweight division at the turn of the century.
Walking in the shadow of his adopted brother Ken, Frank outshone his elder sibling and proved himself one of the most well rounded fighters of his time.
As a wrestler, kick-boxer and submission artist, Frank was down with all aspects of the game and had the strength and cardio to put him up there with the greats.
In 1997, he became the first UFC light heavyweight champion which he defended an unprecedented four times.
His last defence of the title, after which he announced his short-lived retirement, Frank demolished rising star Tito Ortiz and avenged the feud the Huntington Beach Bad-Boy had started with his brother and his Lion's Den teammates.
Frank's success didn't end at the UFC, however. He also held the WEC and Strikeforce titles over a 15-year career during which he was considered, for a time, the number one pound-for-pound fighter in the world.
When he bowed out of the UFC, he did so at the height of his career having been named "Fighter of the Decade" for the 1990s by the Wrestling Observer, "Best Full Contact Fighter" by Black Belt magazine in 1998 and three time "Fighter of the Year" by Full Contact Fighter magazine.
With such illustrious accolades, it's almost criminal that Frank has yet to be inducted into the UFC Hall of Fame.
Tito Ortiz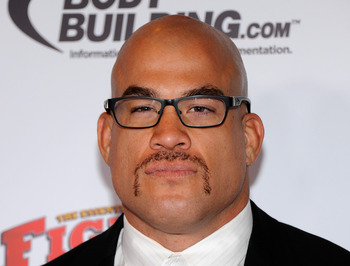 Ethan Miller/Getty Images
There has never been a more divisive figure in the UFC than Tito Ortiz. Loathed and admired in equal measure, this UFC Hall of Famer can still lay claim to the longest light heavyweight title reign in the promotion's history.
When he won the belt in 2000 against Wanderlei Silva, he ushered in a new era of professionalism in the sport and became the face of MMA as it emerged from the backwaters of late-night cable and bottom-shelf DVD releases to primetime television and pay-per-view records.
He was the UFC's biggest draw for half a decade and as champion defended the belt five times.
However, Ortiz has his fair share of critics. He was never the most exhilarating fighter, adopting the ground-and-pound technique for most of his fights made famous by fighters such as Mark Coleman before him.
He also ducked some of the toughest competition in the UFC for years, something the promotion allowed due to his star power as champion.
When he finally met the likes of Randy Couture and Chuck Liddell, he was soundly beaten.
The limits of his talent would be exposed later in his career going 1-7-1 in his last nine fights with losses to Lyoto Machida, Forrest Griffin, Matt Hamill and Antonio Rogerio Nogueira.
Still, he was responsible for some of the most memorable rivalries in the UFC, including the trilogy of fights he won against Ken Shamrock, establishing him as one of the promotion's greatest champion.
Pat Miletich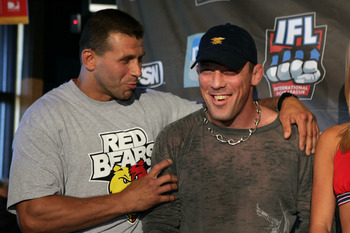 Brian Bahr/Getty Images
As the unified rules of mixed martial arts were put into place, new athletes in the game took over from the brawlers and established a new professionalism in the sport.
Preeminent among these was Pat Miletich who won the UFC's inaugural lightweight tournament and went on to win the welterweight championship—a belt he defended four times.
Miletich was a new breed of mixed martial artist—proficient in every aspect of the game with the strength and conditioning of an elite athlete.
Before Miletich came along, fighters still clung onto a base skill set, whether it was BJJ, wrestling or Muay Thai. But, Miletich combined all these seamlessly, adding transitions and innovations of his very own.
He also pioneered new training regimes for the MMA athlete, incorporating strength and conditioning programmes that are still the blueprint for many fighters today.
From his small gym in Iowa, he was also responsible for training champions, including Matt Hughes, Tim Silvia, Jens Pulver, Robbie Lawler and Jeremy Horn.
His was one of the most successful gyms of all time and established the MMA fraternity of other gyms, such as Jackson's in New Mexico or American Top Team in California that were later to follow.
He brought together the best to train with him and developed a ruthless style which established him as one of the UFC's greatest champions in a relatively short career.
Matt Hughes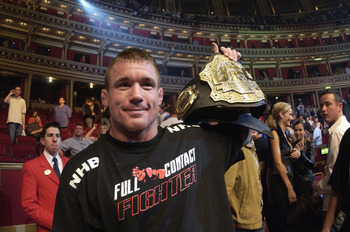 John Gichigi/Getty Images
One of the most standout fighters to come out of Pat Miletich's gyms in Iowa, Matt Hughes dominated the new UFC welterweight division between 2001 and 2006.
He is widely regarded as one of the best welterweights of all time, putting together two separate six-fight winning streaks in the UFC, defeating all the available opposition in the welterweight division, winning the welterweight title on two occasions, defending the belt a record seven times, and holding the record for most wins in the promotion
Among his victims in the Octagon were such fighters as Dave Menne, Carlos Newton, Hayato Sakurai, Sean Sherk, Frank Trigg, Joe Riggs, Royce Gracie, BJ Penn, Chris Lytle, Matt Serra, Renzo Gracie, Ricardo Almeida and he remains one of only two men to ever defeat Georges St-Pierre.
Hughes was an exceptional wrestler, but what set him apart was the way he incorporated submissions and boxing into his game, making him one of the most dangerous men wherever the fight took him.
Age caught up with him quickly, however, as he was later beaten for a second time by BJ Penn, Georges St. Pierre and Josh Koscheck, but these are all some of the biggest names in the sport, and losses to them is hardly a blemish on his career.
For years, he was the archetype of the mixed martial artist and defined an era in the sport as champion.
Randy Couture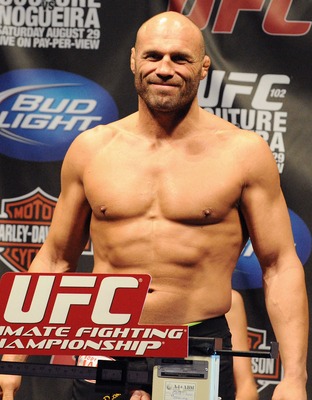 Jon Kopaloff/Getty Images
Randy Couture can lay claim to being one of the most popular mixed martial artists of all time and one of the most successful fighters in the UFC.
The man they called "Captain America" came to the sport late in his career but, nevertheless, established a legacy which spanned several eras in the sport.
As a UFC Heavyweight Tournament winner in 1997, he went on to become a three-time heavyweight champion, two-time light heavyweight champion, as well as the interim heavyweight champion.
Fighting well into his 40s, his chequered record of 19 wins and 11 losses belies the strength of competition he faced and defeated.
Written off several times in his career, he soundly defeated the likes of Tito Ortiz, Chuck Liddell, Vitor Belfort, Tim Silvia, Mark Coleman, Pedro Rizzo and Kevin Randleman.
With a Greco-Roman base, he was an expert in the clinch, beating his opponents with dirty boxing before finishing the job on the mat.
Couture may not have been the most skilled or most multi-dimensional fighters in the UFC, but he was consistent throughout a long career and always came out on top as an underdog to establish himself as the most recognisable face in MMA for a generation.
Chuck Liddell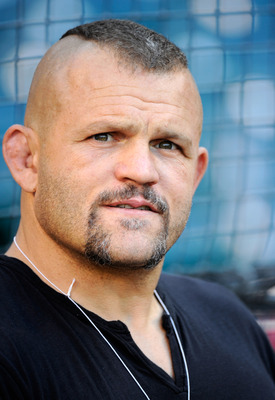 Kevork Djansezian/Getty Images
When the UFC wanted to showcase its talent against the best that the Japanese mega-promotion Pride had to offer in 2003, it sent over Chuck Liddell as its ambassador, and with good reason.
At 12-2 he was the standout light heavyweight having only faltered against the legend Randy Couture at UFC 43, but with a string of enthralling knockout wins leading up to the match, nonetheless.
While his performance at the Pride 2003 tournament was disappointing, losing to Quinton Jackson in the semifinal, he would go on from that event to a seven fight winning streak, knocking out every single opponent in his wake.
Avenging his loss to Couture and capturing the light heavyweight title in the process in 2005, Liddell would defend the belt four times, making him one of the most dominant champions to ever compete in the UFC.
The "Ice Man's" defensive wrestling ability was the key to his success, especially his sprawl, stifling grapplers and keeping the fight where he was deadliest, on his feet. In his 23 fights for the UFC, Liddell tied with Anderson Silva for most knockouts in the promotion's history.
No man has been more devastating with his fists inside the Octagon than Liddell and no man, save Randy Couture, has achieved the sort of crossover success that he can lay claim to.
In 2009 he was rightly inducted into the UFC Hall of Fame, having fought a decade in the promotion and becoming one of its greatest champions.
BJ Penn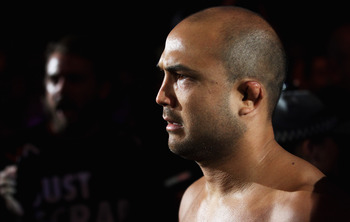 Mark Kolbe/Getty Images
With a nickname like "the Prodigy", BJ Penn entered the UFC in 2001 with a mountain of expectation on his shoulders.
He had already proven himself a standout grappler, having achieved a BJJ black belt after an unprecedented three years of competing and becoming the first non-Brazilian to win a gold medal in the black belt division of the Mundial World Championships.
Inside the UFC he found himself fighting for the lightweight title after only three bouts, losing a close decision to Jens Pulver at UFC 35.
He ultimately avenged that loss as he became one of only two fighters to ever capture a belt in two weight divisions—winning the welterweight title in 2004 and then the lightweight title in 2008.
At only 5'9", he is towered over by most of his opponents, but he has, nevertheless, shown a willingness to fight any fighter in any weight division, making him unique among the MMA fraternity. Few fighters are willing to give up a 35lb weight advantage, and Penn did exactly that when he lost a close three-round decision to light heavyweight Lyoto Machida in 2005.
There are times, however, where the fearless Penn bites off more than he can chew. He lost twice to Georges St. Pierre in extremely one-sided matches, and was most recently mauled by Frankie Edgar and Nick Diaz.
He is not a natural 170 lbs, but he consistently fights the bigger men, and even now he's preparing to take on young prospect Rory MacDonald—a fighter who has intentions of becoming a middleweight champion one day.
And, even in fights where he was horribly mismatched, Penn holds the distinction of having never been submitted or knocked down in his entire career—a feat that truly makes him one of the greats.
Anderson Silva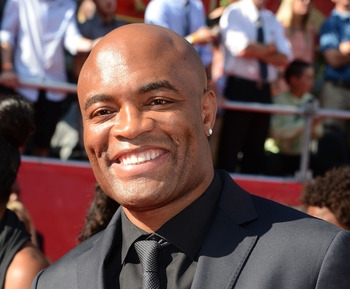 Frazer Harrison/Getty Images
Few fighters in this list of greatest UFC champions can lay claim to being the greatest of all time, but the unique talents and achievements of Brazilian Anderson Silva puts him heads and shoulders above the rest.
Not only is he the UFC's longest reigning champion with the longest winning and title defence streak in the promotion's history, Silva is also ranked as the No. 1 middleweight in the world by multiple publications and is the consensus No. 1 pound-for-pound fighter in the world.
His 15 consecutive wins and 10 title defences are unprecedented in MMA, cementing him as the greatest of the greats.
Silva had been fighting in Pride for several years before making his UFC debut in 2006. After just one fight he was given a title shot against incumbent champion Rich Franklin who he demolished with lethal knees within one round.
He has gone on to score more knockouts in the UFC than anyone else, save Chuck Liddell, and has taken on grapplers, strikers and fighters of every hue.
What sets him apart is the depth of his skill as both the most proficient and precise striker in MMA and one of the best submission artists the game has to offer.
At 37, it's astonishing to see the man at the peak of his powers and Silva has said that he feels he can fight for another decade. Such a feat is not beyond him as he continues to stretch his unbeaten run into the sunset.
Brock Lesnar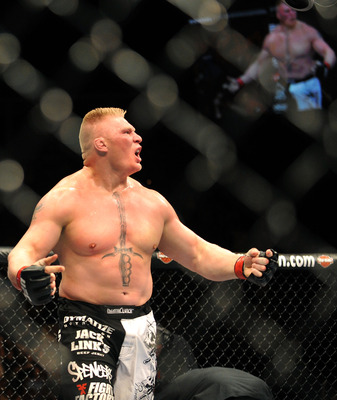 Jon Kopaloff/Getty Images
Arguments about Brock Lesnar's right to be considered one of the UFC's greatest champions can rage forever among purists, but one thing that can't be argued is that in his short career he made a bigger impact on the world of MMA than almost any other fighter.
A megastar in the world of professional wrestling, Lesnar brought over an army of fans to MMA and, in the process, captured the heavyweight title of the most preeminent promotion in the world.
Combining raw athleticism and an elite wrestling base, Lesnar captured the heavyweight title from Randy Couture and defended it twice before fading out in his career.
There are obvious criticisms to be levelled against him, however. He was a one-dimensional fighter, never having to perfect a submission game and never learning how to take a punch. He relied on his size, strength and gas tank to outwork and subdue his opponents, but when faced with opponents who had all these, he was found lacking.
However, Lesnar suffered a debilitating illness at the height of his powers, succumbing to a bout of diverticulitis in 2009, which many credit for shortening his career.
Still, in his three years at the UFC, he broke all pay-per-view records for the promotion and brought the sport to new heights of popularity for which he's rarely given enough credit.
Georges St. Pierre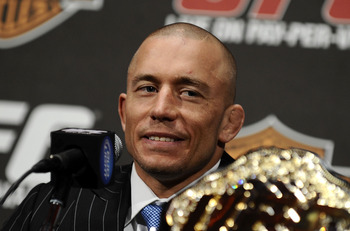 Jeff Zelevansky/Getty Images
A consummate professional and one of the most popular mixed martial artists of all time, Georges St. Pierre represents everything a top-level sportsman should be.
A man who has clearly dedicated his life in pursuit of his art, GSP is the most well rounded fighter in modern MMA and has the skills to take the fight anywhere he wants. This has been the secret to his success over his 10 years as a professional. A man who can out-wrestle the best wrestlers and out-strike the best strikers, he is a master strategist who has learnt to dictate every contest he enters.
What's more remarkable is how late in his career he developed most of his skills and how, at 31, he is constantly learning, constantly innovating and constantly adding to his arsenal.
The Montreal native never wrestled in high-school, but, in his 20s, was considered a potential Olympian in the sport. He earned his BJJ black belt in 2008, having already fought for six years, and more recently added the likes of Freddie Roach as trainer to take his boxing to another level.
GSP seeks out the best trainers and training partners wherever he can find them, and with the zeal of a scientist, incorporates strategies and techniques better than anyone else in the game.
He only has two blips in his career—a submission loss to Matt Hughes back when he was still too green to challenge for the belt and an outlandish loss to Matt Serra in 2007. But, each loss has only served to fire the Canadian up even more and each time he enters the Octagon he enters as a reinvented fighter.
He is not without his critics, however. There are those who say that since his loss to Serra, he refuses to take risks in his fights, leaving his record with few finishes—either KO or submission. But such criticisms overlook how completely he has dominated all his opponents in his recent victories, even if he couldn't muster up the ability to finish them.
Frankie Edgar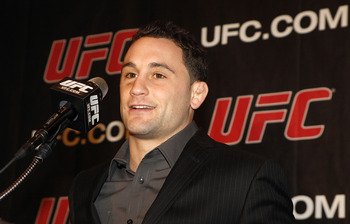 Michael Cohen/Getty Images
At number 14, we have already exhausted fighters who have proven the most dominant champions in the UFC and those who made the biggest impact. We're now left with champions still making a name for themselves and those we predict to leave the most enviable legacy in the years to come.
Many would consider 145lb Jose Aldo, often mentioned among the best pound-for-pound fighters out there, as having earned his spot as one of the greatest champions in the UFC's history. But, what sets Frankie Edgar apart is the size of competition he's had to overcome to be considered the best in the most stacked division in the UFC.
Edgar, at only 5'6", is smaller than Aldo, but fights men a whole weight class above. Since entering the UFC he dropped one match against Gray Maynard before beating division champion, the legend BJ Penn, twice.
He's already defended the belt three times, which included a decisive revenge victory against Maynard, before he lost a controversial decision to Ben Henderson.
Edgar says he fights at 155 because when he entered the world of MMA there were no lighter weight classes. With the lightweights becoming an increasingly crowded division, there are calls for him to move down and face the aforementioned Aldo. However, Edgar is far from finished at his current weight and in little over a week he will face Henderson once more to win back his title. Should he win that match, he truly will have established himself as among the greats.
Jon Jones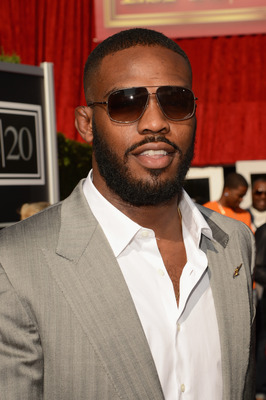 Jason Merritt/Getty Images
In little over four years, Jon "Bones" Jones has established himself as one of the greatest light heavyweights of all time—tearing through the division like no other fighter ever has and defeating the best the UFC has to offer in the process.
Many say that it's still too early to speak of him as among the greats, but what he has achieved at his young age already sets him apart from any other champion.
At 23, he was the youngest UFC champion in history, a feat that is hardly likely to be equalled any time soon. He's finished some of the best light heavyweights out there, including Lyoto Machida, Quinton Jackson, Mauricio Rua, Ryan Bader and Brandon Vera. And, save for an unfortunate disqualification against Matt Hamill, he would have an unblemished 17-0 record which no one in the UFC could match.
In his short reign he has already cleaned out the division with only veteran Dan Henderson standing in his way as the greatest light heavyweight ever.
What's more remarkable about Jones, aside from his youth, is that he's still learning and still growing as a fighter. With an enviable wresting base, he is now a highly effective and deadly striker with a versatile submission game to match. Combine that with his raw athleticism and he has the potential to be the greatest ever.
Keep Reading