MLB Trade Deadline 2012: New York Yankees Should Pass on Chase Headley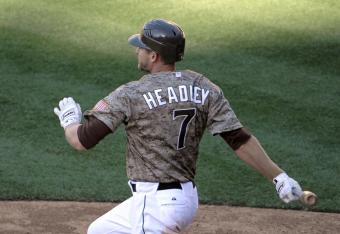 Denis Poroy/Getty Images
What's the matter with Headley?
He's a bum!
Sitting in the left field bleachers on a cold, rainy night in San Francisco, some excitement was needed to improve this dreary game featuring the Giants and Padres in the summer of 2008.
A gentleman a few rows behind me decided he would provide the entertainment for those of us sticking it out in left field.
Heading into the bottom of the sixth inning, the chanting started.
What's the matter with Headley?
"He's a bum!" shouted his four-year-old son.
For the rest of the game, every time Chase Headley stepped into the outfield, the chant would resume.
As a Yankees fan, it made for good fun at my first Giants game.
Now, four years later, hearing about the Yankees' interest in Chase Headley to replace Alex Rodriguez while he's out injured (via Jon Heyman of CBS Sports), I can't help but think to myself: the Yankees want that bum?
Headley, who has been a full-time third baseman for the last three years, is in the midst of the best season of his career—batting .265 with 12 home runs and 51 RBIs.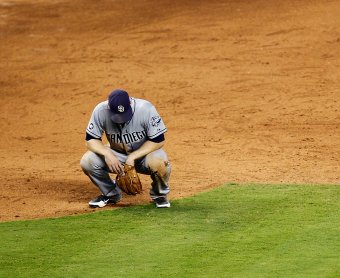 Sarah Glenn/Getty Images
While those numbers may not look extremely impressive, when you factor in the fact that Headley plays in a pitcher's ballpark, he becomes much more attractive to a team that plays in a hitter's park, like the Yankees.
Headley's statistics away from the spacious Petco Park (BA/OBP/SLG - .272/.372/.484) are as good as what A-Rod (.276/.358/.449) has been providing the Bombers this year. In effect, he could have been a solid replacement for the star third-baseman.
Headley may have been thought to be a replacement for Nick Swisher (.257/.341/.469) in right field next season; however, keeping Swisher would cost less prospect-wise and he is pretty much a wash statistically.
With the addition of Ichiro Suzuki, the Yankees aren't looking for outfield help this year.
If the Yankees decide that Nick Swisher is too expensive to re-sign this offseason, they could look into signing players like Melky Cabrera (.353/.393/.518), Rick Ankiel (.228/.282/.411), or Torii Hunter (.284/.343/.432) to fill the hole in right field, while only spending money instead of prospects.
If the Yankees had acquired Headley for the stretch run, they would've had to find a spot for him once A-Rod returned from his injury. The only scenario that might have made sense would be to have either Headley or A-Rod at DH, with the other handling third.
This would've been an unnecessary addition to the squad, which was likely the thinking on not pulling the trigger on the Padres third-baseman. The Yankees can get by the rest of this season with Raul Ibanez, Eric Chavez, and Andruw Jones handling the DH duties.
Brian Cashman and the Yankees are better off without shelling out the prospects it would take to acquire the Padres' third baseman and therefore should pass up on Headley.
Besides, Headley would look much better in a Dodgers uniform.
This article is
What is the duplicate article?
Why is this article offensive?
Where is this article plagiarized from?
Why is this article poorly edited?

New York Yankees: Like this team?