Boston Celtics: Why 2013 Team Is Best Celtics Team Since 2008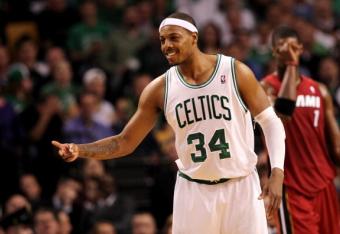 Jim Rogash/Getty Images
Well, outside of a couple of minor decisions here and there (such as deciding whether or not Dionte Christmas makes the team), the 2012 offseason for the Boston Celtics has come to a close, and what an offseason it was.
This Celtics team will look entirely different than the one that took the Miami Heat to seven games in the Eastern Conference Finals this past season, as it will be getting the likes of Jeff Green, Avery Bradley and Chris Wilcox back and it has made moves to acquire Courtney Lee and Jason Terry, not to mention the fact that it drafted Jared Sullinger, Fab Melo and Kris Joseph.
The most important thing is that Boston will be much-improved, and that is saying a mouthful considering this team was just seven minutes away from reaching the NBA Finals in June.
The question is, just how good will the C's be in 2012-13?
My personal opinion? This will be the best Celtics team we have seen since the title year in 2008.
It starts and ends with depth. Boston may very well be the deepest team in the entire league heading into this season. Just look at its backcourt. When healthy, it will consist of Rajon Rondo, Bradley, Terry and Lee. So, it has a top-three point guard in Rondo, one of the best perimeter defenders in the game in Bradley, one of the league's most clutch players in Terry and someone in Lee who is simply a good all-around ballplayer. Every other team in the NBA would kill for that kind of depth at the guard spots.
Then, you take a look at the frontcourt. It consists of arguably the game's best defender in Kevin Garnett, Brandon Bass, Wilcox, Sullinger and Melo. If you want to include the small forward position as part of the frontline, then you have Paul Pierce and Green there, and probably Joseph, as well.
That is just an incredible amount of depth, and that depth should work wonders for the C's throughout the season, as it will allow Doc Rivers to limit Garnett and Pierce's minutes, and even Rondo's should he feel the need to rest his young point guard's legs. That will play dividends come playoff time, as the older bodies of K.G. and Pierce will be fresh and ready to go.
Now, the 2010-11 Celtics team certainly had a solid bench with the likes of Glen Davis, Nate Robinson, Tony Allen and Rasheed Wallace, but it does not even begin to sniff how deep Boston is this time around. Also, there is a reason why the C's ended up jettisoning Davis and Robinson: because their acts soon began to wear thin in the Celtics locker room. I should also mention that 'Sheed was on his last legs that year, hence the reason why he retired.
Rivers must be salivating at the prospect of imagining all of the different kinds of lineups he can throw out on the floor this coming season. He has so many options to use at every position that it will drive opposing coaches nuts.
This Boston team has so much versatility and has the ability to beat you in any way possible. It now has another low post player to complement Garnett up front in Sullinger. It has another player it can throw on LeBron James in Green. It has three players it can use to slow Dwyane Wade in Bradley, Lee and Rondo. It is getting back extra running mates for Rondo in Green and Wilcox. It has someone who shines like no other in crunch time in Terry.
Not to mention, the C's still have K.G., Pierce and Rondo, period.
Make no mistake: the Heat are scared of this Celtics team. They know that Boston can beat them in a best-of-seven series, especially considering that the C's nearly beat them this past season with more than (literally) half of their team unable to play for various reasons.
The Celtics have the ingredients to beat any team in the NBA, and I truly believe that they are in that select group of legitimate title contenders, a group that some people tend to make much more inclusive than it really is.
Of course, this is all for naught until we actually see Boston on the court, but I have an inkling that the C's are about to embark on one heck of a season.
This article is
What is the duplicate article?
Why is this article offensive?
Where is this article plagiarized from?
Why is this article poorly edited?

Boston Celtics: Like this team?