Will Chip Kelly Catch Lane Kiffin on 2013 Recruiting Trail?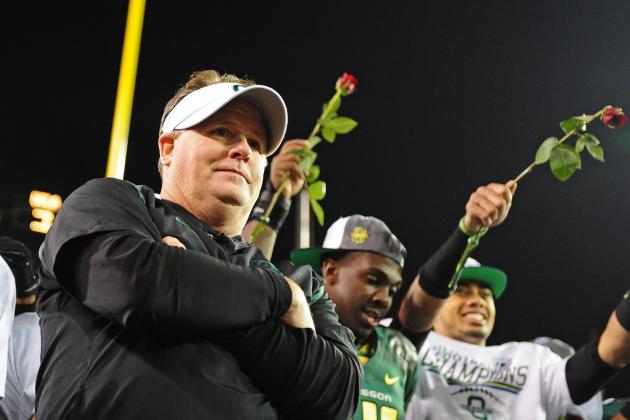 Mark J. Rebilas-US PRESSWIRE

The score as of today is 18-8.
That's eighteen 2013 recruiting verbal commitments to USC, and eight for Oregon. Life as it should be if you are a Trojan fan; yikes, if you are a Duck fan.
It is, however, a long and winding road until signing day in February, 2013. As recent past history will tell us, there is much that can happen when you are dealing with the psyche of 17 and 18-year-old boys.
Will Chip Kelly be able to catch up with Lane Kiffin by signing day? Does Kiffin have too great of a head start? What impact will USC's scholarship restrictions have on the overall quantity/quality of the 2013 class? Who's still out there?
Lots of questions—here come some answers.
Begin Slideshow

»
Kirby Lee-US PRESSWIRE

Frankly, Lane Kiffin's success on the recruiting trail has surprised me. He has milked USC's storied tradition and—let's be honest here, Troy fans—a good, but not great 2011 season into the top recruiting class in the nation, if the scouting services are to be believed.
Currently, the Ducks do not rank in Rivals.com Top 25 in the country's best recruiting classes. Oregon is, in fact, ranked No. 5 in the Pac-12. That leaves a great deal of ground to make up.
Kiffin came out of the blocks fast, signing 5-star DE Kenny Bigelow at the end of November, 2011. I remember thinking, "That's a shot across the bow to the rest of you."
USC signed two additional 5-star recruits, one in early April, highly sought-after QB Max Browne, and a third in June, DB Su'a Cravens out of their backyard, Murrieta, CA.
And the pace for Kiffin stayed hot and heavy throughout the spring and early summer, with July being particularly painful for the other Pac-12 schools. Commitments from OL Nico Falah, DB Max Redfield and DE Eddie Vanderdoes, in particular, broke the hearts of the many schools chasing them.
As I write this, USC has just maxed out its 2013 scholarship allocation with 4-star DE Torrodney Prevot. On a side note, Prevot, from Houston, TX, had previously scheduled an official visit to Oregon on Oct. 6, but his family says it is not sure if he will follow through on visiting other schools.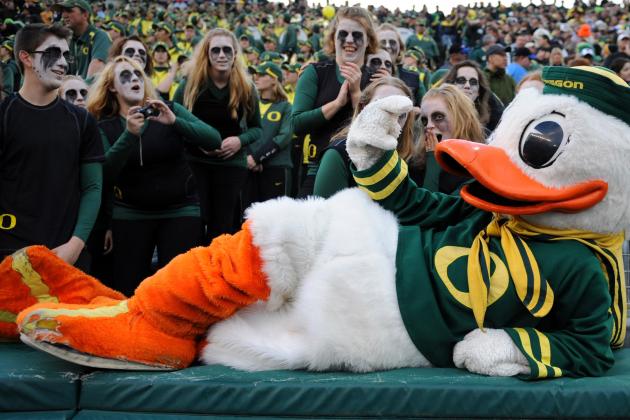 Kirby Lee-US PRESSWIRE

It's not how you start a race that counts, it's how you finish.
Good thing for Chip Kelly and the Ducks, because they are most definitely off to a sluggish start. It looked promising early on with the commitment from 5-star running back Thomas Tyner, who is one of the most sought-after athletes in the 2013 class nationwide. Tyner also had an offer from USC, and it seemed momentous when he committed to Oregon before Thanksgiving.
But then...nothing. It all went dark and quiet for the Ducks. I expected a flood of verbal commitments from recruits this spring following Oregon's impressive Rose Bowl win. It took 4-star OL Evan Voeller's verbal on April 30 to get the ball rolling.
But again, another entire month went by before the exciting news that 4-star RB Dontre Wilson would leave the state of Texas for the true wild west. Since Wilson's commitment, 3-star recruits WR Darren Carrington, TE John Mundt, athlete Chris Seisay and OL Alex Redmond—all from California—have picked the Ducks.
Also on board is 2-star kicker Matt Wogan, who, according to ESPN.go.com, had to nail a 60-yard field goal challenge by Kelly at the end of the Ducks' camp to get the offer. He made it, bless his soul. I love kickers who can perform under pressure, don't you?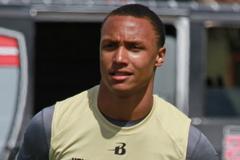 Su'a Cravens 247Sports.com
In addition to USC leading Oregon 18-8 in verbal commitments, there is also no denying the quality of the Trojans' gets.
If you read my work on these pages, you know that I don't much care for the star rating system for high school players (how would you like to have your tender teenager ranked by complete strangers?). However, there has to be some way for us media types to keep score, because that's what we do as a country—we keep score.
On any scorecard present today, USC has landed some wonderful athletes. Players like QB Max Browne, DB Su'a Cravens, DE Kenny Bigelow, OL Nico Falah and LB Michael Hutchings have dozens of offers from top notch programs. The Trojans have filled their 2013 roster with only 4 and 5-star prospects, snuffing their noses at 3-star kids.
Now, even the coaches will tell you that a 5-star rating on a 17-year-old is no guarantee of success when they get to college. But I am increasingly of the opinion that the scouting is getting better and more precise; don't get me started on scouting 8th graders.
Oregon's 4 and 5-star recruits may turn out to be better than USC's, but based on sheer numbers and not on other factors like quality of coaching, I like the Trojans' odds.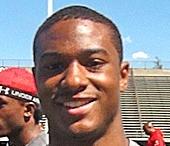 Terrell Newby FoxSports.com
The finish line may be in sight, but there are still many undecided recruits in the 2013 class, and lots of kids who will still take official visits this fall.
According to Rivals.com, there are 24 athletes in the Top 100 who have not yet verbally committed. Of those, eight have Oregon on their list of college choices. There are, obviously, lots more if you take it out to the Top 300 list.
Not only are there dozens of uncommitted players, there are some primo kids still on the market. If Oregon could land 5-star RB Derrick Green, 4-star WR Ricky Seals-Jones (I have a good feeling about him), 4-star DB Leon McQuay III (has anyone told him about Walter Thurmond III?) and/or 4-star WR Robert Foster, it would really level the playing field with USC.
Other guys like DE Wyatt Teller, and wide receivers Stacy Coley and Laquon Treadwell also have Oregon on their lists, and all three are 4-star rated.
So, there is still time and there are still some major league athletes who may swing Oregon's way, but again, USC has a strong head start.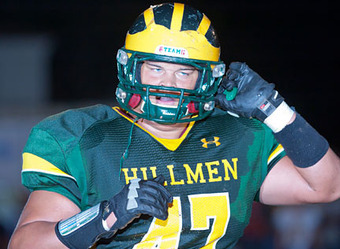 Eddie Vanderdoes
As my grandfather used to say: "It's a long time till morning."
Impressionable teenagers, many of whom might have just wanted to make a verbal commitment to get everyone off their back so they could enjoy their senior year of high school, have been known to change their minds.
Plus, there will be extenuating circumstances for some of the recruits who have made a verbal commitment—Penn St. or UCF, anyone?
While it's one thing to commit to a sunny California school riding a wave of media adoration, Heisman hype and a smooth-talking coach, what will happen if the Ducks beat the men of Troy on a chilly November night and take over the No. 1 ranking in the nation? Will any or all of those 4 and 5-star recruits second-guess their decision?
It's not like it hasn't happened before.
Yes, indeed, gramps, a long time till morning.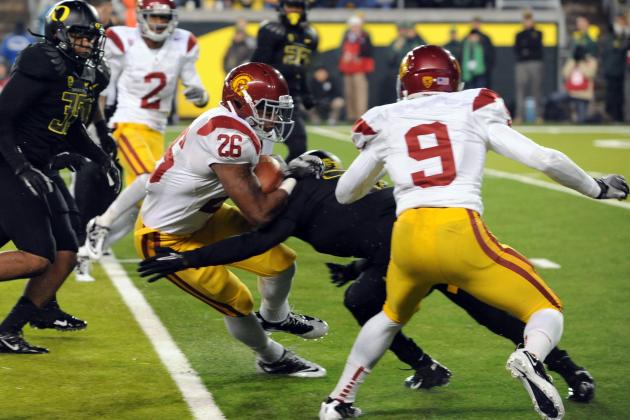 Steve Dykes/Getty Images

USC has filled all of their available scholarships; the limit of 18 as mandated by their troubles with the NCAA.
Oregon still has 17 of the annual allotment of 25 scholarships available, having committed to eight.
So, it's still possible that Oregon will land top prospects and end up with a higher overall rating than USC based on sheer numbers.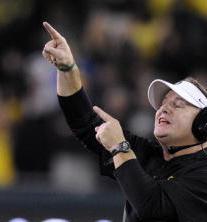 Steve Dykes/Getty Images

There's a reason why Lane Kiffin felt confident in plunking down $5.5 million for a house in Manhattan Beach recently.
He's landed an excellent 2013 class and the future looks rosy. While I don't believe that Chip Kelly and the Oregon Ducks are anywhere near finished recruiting, I also don't believe they will cross the finish line with a better class than USC.
Can Chip Kelly catch Lane Kiffin on the recruiting trail? In a word, no, not this year.
But if the Ducks win on November 3, Kiffin may spend a lot of time in one of the seven bathrooms in his new house.
Please follow me on Twitter at https://twitter.com/KayJenningsPDX.