10 Young NHL Players Who Will Make an Impact in 2012-13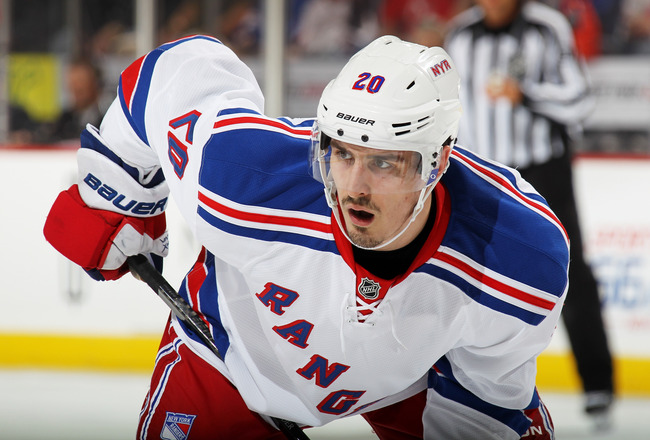 Bruce Bennett/Getty Images
One of the most exciting parts of each NHL season is watching the development of the great young players we have in our game.
Many of these players will be expected to just keep improving at both ends of the ice, while a few of them will be relied on to play major roles for their teams next year.
Let's look at 10 young players who will make a profound impact on the 2012-13 season.
Jake Gardiner, Toronto Maple Leafs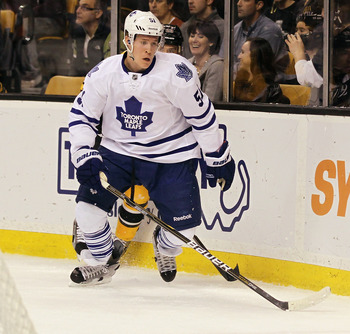 Bruce Bennett/Getty Images
Jake Gardiner's offensive talent is spectacular, and his skating ability is very impressive for a young blueliner.
He has good speed and a powerful shot from the point. Last year, he scored seven goals and added 23 assists in 75 games.
Last season was his first in the NHL, and he handled himself very well for a young player with a lot of promise who was asked to play an important role in a demanding hockey market like Toronto.
With a year of NHL experience and the fans behind him, there's no reason Jake Gardiner can't have a breakout season next year and take another step toward being a No. 1 defenseman at the NHL level.
Vladimir Tarasenko, St. Louis Blues
Tom Szczerbowski/Getty Images
Vladimir Tarasenko could quickly end up in the St. Louis Blues' top-six forward group if he makes a positive impact offensively in the first half of next season.
The Blues and head coach Ken Hitchcock will not rush him since he's too talented of a prospect to throw into the fire without being ready, but if he's not a huge liability in the defensive zone, then he will likely receive enough playing time to make a difference.
It wouldn't be surprising if Tarasenko contributed 15-25 goals and anywhere between 30-45 points next season as the Blues attempt to be one of the top contenders in the Western Conference for a second consecutive season.
In 54 games in the KHL last year, Vladimir Tarasenko scored 23 goals and had 24 assists.
Brayden Schenn, Philadelphia Flyers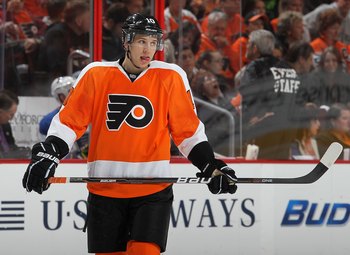 Jim McIsaac/Getty Images
Over the last three seasons, Brayden Schenn has played in just 63 NHL games, and injuries have a lot to do with that.
Schenn is only 20 years old and should not be forced into a prominent role on a contending team such as the Flyers if he's not ready.
Flyers fans must be patient with Schenn because it would be foolish to put too much pressure on a player who hasn't had enough time to reach his full potential yet.
If Schenn plays as well as he did in the playoffs last year (nine points in 11 games) for most of the 2012-13 season, the team and the fans will be quite pleased.
Chris Kreider, New York Rangers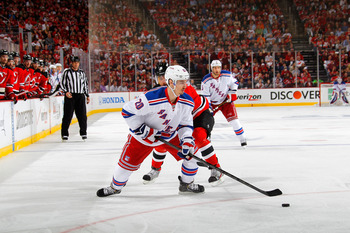 Bruce Bennett/Getty Images
At 6'3" and 230 pounds, Chris Kreider will make an impact in many different ways for the New York Rangers next season.
Kreider will also be helped by the addition of Rick Nash to the Rangers lineup. Kreider will be able to learn a lot from the newly-acquired veteran because both of them are talented power forwards who can make a strong impact from an offensive standpoint.
If Kreider can score anywhere between 30-50 points next year, the Rangers will be very happy.
Zack Kassian, Vancouver Canucks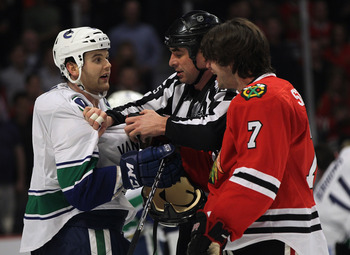 Jonathan Daniel/Getty Images
With 44 games of NHL experience, Zack Kassian is ready to have a breakout season for the Vancouver Canucks next year.
He scored three points in 17 games for the Canucks last season, but now that Kassian will have a full offseason and training camp with Vancouver, he should be well-prepared for a strong start to the 2012-13 season.
Kassian's impressive size (6'3", 214 lbs) will give the Canucks a powerful forward that can thrive against physical teams in the Western Conference such as the Chicago Blackhawks, Los Angeles Kings and St. Louis Blues.
Giving him a more important role next season would be a great move for Kassian's development. Expect him to make a positive impact at both ends of the ice for the Canucks.
Jonathan Huberdeau, Florida Panthers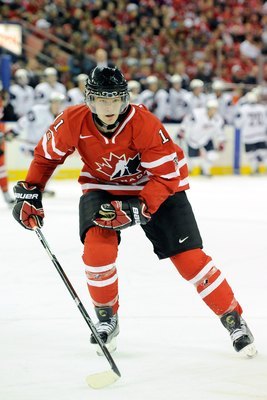 Richard Wolowicz/Getty Images
Jonathan Huberdeau and Nick Bjugstad are the two best offensive prospects for the Florida Panthers, and it's likely that Huberdeau will get his chance to shine at the NHL level this fall.
Huberdeau's success at the international level for Canada and in the QMJHL over the last few seasons will help him make a quick adjustment to the NHL.
He scored an amazing 30 goals in 37 games last season for the Saint John Seadogs, and while he won't score at that pace for the Panthers next year, 15-25 goals is certainly a realistic target for Huberdeau.
Sven Bartschi, Calgary Flames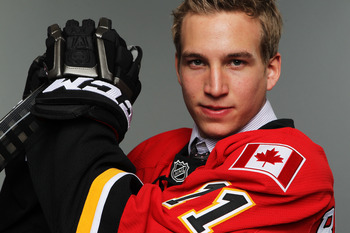 Nick Laham/Getty Images
Even though the Calgary Flames made some notable offensive signings this summer with the additions of forward Jiri Hudler and defenseman Dennis Wideman, the player who will have the strongest impact on their offense next season will be 19-year-old prospect Sven Bartschi.
After dominating in the WHL with the Portland Winterhawks last season, finishing with a career-high 94 points (33 goals, 61 assists) in just 47 games, it's time for Bartschi to have a permanent spot on the Flames roster and build on the success he had in the NHL last year.
Dougie Hamilton, Boston Bruins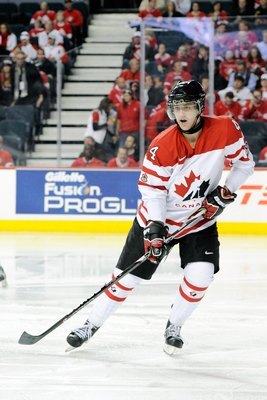 Richard Wolowicz/Getty Images
If Boston Bruins defenseman Dougie Hamilton shows he's not ready for NHL competition in the early part of the season, then the team won't be afraid to send him back to juniors.
To their credit, the Bruins have done a nice job in recent seasons of not rushing players to the NHL before they are ready. Bruins general manager Peter Chiarelli talked about this last week.
One of the things that we've accomplished that Claude has accomplished is we've brought youth into our lineup and allowed them to develop and succeed rather than throw them into the fire right away and all – Dougie Hamilton, we would hope that he would get into our lineup and fall into that category.
Last season, the Bruins only had one defenseman score more than 25 points, and that was Zdeno Chara, who had 52.
In his first full NHL season, Hamilton will be able to exceed 25 points and contend with Chara for the team's scoring lead among defensemen. He's talented enough to have this kind of impact as a rookie.
Quote obtained from the Bruins media website.
Tyler Ennis, Buffalo Sabres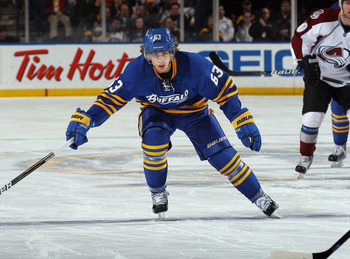 Bruce Bennett/Getty Images
Buffalo Sabres winger Tyler Ennis is going to have a breakout season next year and will give the team a reliable scorer as it attempts to return to the playoffs.
If he can stay healthy, Ennis will score 25 goals and have a great chance to reach 60 points for the first time in his career. He scored 34 points last season in 48 games.
His speed, quickness and goalscoring ability will be a key part of the Sabres offense next season. Buffalo finished 17th in the league in goals scored per game last season, and Ennis' improvement will help the team finish much higher next year.
Mikael Granlund, Minnesota Wild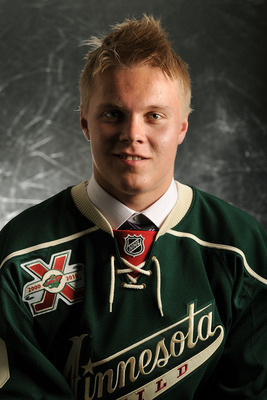 Harry How/Getty Images
Mikael Granlund's arrival to the NHL will be one of the most anticipated prospect debuts of the entire season. Offensively, the sky is the limit for the 20-year-old Finnish winger.
Now that he's coming to a team with a chance to win the Western Conference, there will be even more pressure for Granlund to dominate as a rookie.
However, if he keeps improving his sensational offensive skills, he will have no problems adjusting to, and having, success in the NHL. Expect Granlund to score anywhere from 25-40 points next season.
Keep Reading