US Women's Gymnastics Team: Twitter Celebrates as Americans Bring Home Team Gold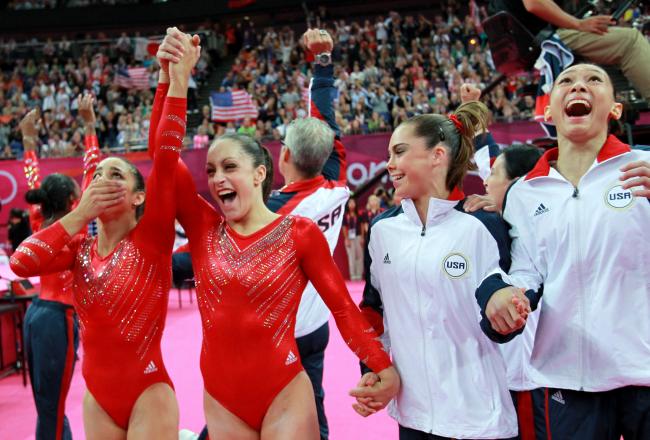 Ronald Martinez/Getty Images
For the first time since 1996, the United States women's gymnastics team is the Champion of the World.
This time around, it wasn't nearly as dramatic as Kerri Strug's memorable performance, but that's just because the Americans simply dominated the competition.
With only the floor exercise to go, the USA simply needed to avoid any huge mistakes. They did more than that.
Gabby Douglas notched a 15.066 (third best of the day), Jordyn Wieber a 15.000 (fourth best) and Aly Raisman finished it off with a 15.300 (best of the day).
By a huge margin, the Americans are once again gold medalists. Coincidentally enough, the Russians brought home silver and Romania took bronze, the exact same results as '96.
Let's take a look at how Twitter erupted to arguably one of the most popular events at the Olympics.
First, ABC's Bill Weir let's us know that the results are official:
MEDAL ALERT USA women win team gymnastics gold, Russia silver, Romania bronze. #Olympics

— Bill Weir (@BillWeirABC) July 31, 2012
The fans weren't the only ones excited for the women's gymnasts. Fellow athletes, such as Allyson Felix, felt the same way:
Wow, #TeamUSA women gymnastics just killed it! Gave me chills watching them! Huge Congrats!!!

— Allyson Felix (@allysonfelix) July 31, 2012
The American sprinter knows just what it's like to take home gold, as she did just that in Beijing as part of America's 4x400 relay team.
Also, she couldn't be more right about the chills. It was impossible to watch the United States securing the gold with pure domination on the floor without getting at least a few goosebumps.
Now, it's time to find this team a nickname. Basketball has The Dream Team, so what name does the women's gymnastics team get? The AP's Will Graves has a few ideas:
What are we doing here? Fab Five? Fierce Five? Maybe just "best gymnastics team in the world"?

— Will Graves (@WillGravesAP) July 31, 2012
I think Fab Five is already taken, so I'm inclined to go with "best gymnastics team in the world." The Americans did, afterall, notch a total score of 183.596, a ridiculous five marks ahead of second-place Russia.
Even if the name isn't all that catchy, it's appropriate after Tuesday's jaw-dropping performance.
Speaking of that five-point margin, ESPN's Paul Carr puts it into perspective:
USA gymnastics team won gold by 5.066 pts. Scoring has changed, but it's largest margin of victory since 1960.

— Paul Carr (@PCarrESPN) July 31, 2012
So, yeah, I suppose you could Tuesday's performance by Team USA somewhat impressive.
Marcus Powell, a mere 16-year-old fan, gives an example of how a team like this can absolutely enthrall everyone in an entire nation, no matter who you are:
You know its bad when youre a 16 year old male setting an alarm for the women's rhythmic gymnastics.

— ~ Bam Margera ~ (@MarcusPowell) July 31, 2012
Gymnastics is just one of those sports. You don't know how it happens, but every four years it becomes one of the most important must-see events of the year. The grace and beauty of the sport somehow transcend it above everything else.
Finally, we have this tweet from Dominique Moceanu, who was part of that '96 gold-medal team:
Passing the torch to 2012 Team USA Women! @jordyn_wieber @gabrielledoug @aly_raisman @mckaylamaroney @kyla_ross96 #Olympics #Gymnastics

— Dominique Moceanu (@Dmoceanu) July 31, 2012
There's nothing better than seeing a former athlete being able to recognize the success and greatness of his or her successors.
This article is
What is the duplicate article?
Why is this article offensive?
Where is this article plagiarized from?
Why is this article poorly edited?