New York Mets Bullpen Statistics Ranked Last in MLB
Mike Stobe/Getty Images
Bobby Parnell has not been a stopper for the Mets
Heading in to the seventh inning of Monday night's Mets game in San Francisco, the Mets were down 4-2. As it was approaching 1 a.m., I decided to record the rest of the game and find out how it played out in the morning. Watching it back today on fast forward made me glad I hadn't stayed up to witness it live.
What transpired over the next three innings pretty much sums up the Mets' entire 2012 season—coming from behind and blowing saves.
Spurred on by part time players Jordany Valdespin, Scott Hairston, Justin Turner and Mike Baxter, the Mets staged a comeback in the eighth inning and headed to the bottom of the ninth with a 6-4 lead.
In came Bobby Parnell to close out the game. Of course that's not what happened. Parnell gave up two doubles and two singles allowing the Giants to tie the game and send it to extra innings.
In the tenth, Hairston led off with another clutch home run. A walk to Jason Bay, a single by Baxter and a sacrifice from Rob Johnson once again gave the Mets a two run lead.
I optimistically thought the Mets bullpen would hold the lead this time, but deep down I knew there was a good chance they wouldn't.
Manny Acosta and his 10.30 ERA entered the game for the bottom of the 10th and immediately walked the leadoff batter Ryan Theriot. One out later, Acosta walked Eli Whiteside. Then with two outs, Nate Schierholtz singled to make it 8-7. In what can only be classified as a miracle, Acosta got Brandon Belt to fly out to give the Mets a win and Acosta a very undeserved save.
The Mets bullpen was supposed to be the team's strong point this season. Instead, it's been the opposite. The bullpen is ranked 30th out of the 30 Major League teams.
Here's a look at the numbers so far:
Begin Slideshow

»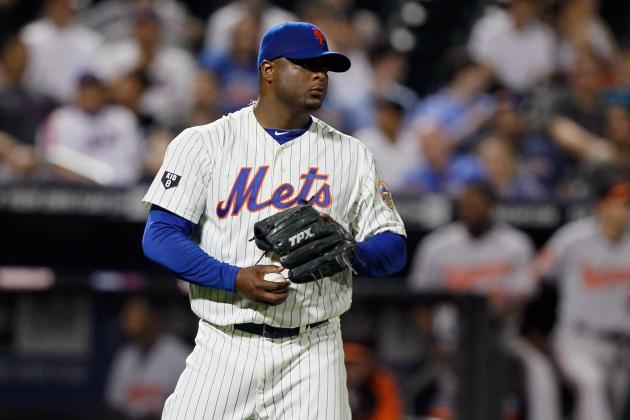 Mike Stobe/Getty Images
Frank Francisco is currently on the disabled list
Frank Francisco was picked up in the off season from the Toronto Blue Jays and came to the Mets as a highly-touted component of the "revamped" bullpen. He has been on the disabled list since June 23, but prior to his injury, his numbers were not too pretty.
Despite recording 18 saves, Francisco has a rather robust 4.97 ERA. He has blown three saves and has also been the losing pitcher three times.
Perhaps his most memorable meltdown occurred in a mid-May series in Miami. The Mets fought back from a 3-0 deficit in the series' opener and headed to the bottom of the ninth with a 5-4 lead. Three hits later and the Marlins had a 6-5 walk-off victory.
Game three in Miami was even more heartbreaking. Jon Niese pitched six innings of shut out baseball and left the game with a 2-0 lead.
First Ramon Ramirez blew the save and gave up two runs allowing the Marlins to tie the score.
Then after the Mets put up two runs and took a 4-2 lead into the bottom of the ninth, Francisco was called upon to get the save. Instead, he gave up a triple, walked a batter and allowed a single. He left the game leading 4-3 but without recording an out and with runners on first and third.
Manny Acosta came in to finish what Francisco had started and the Mets ended up losing 8-4.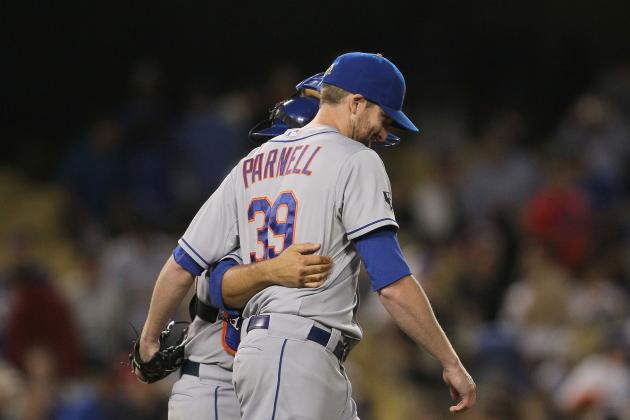 Victor Decolongon/Getty Images
Parnell gets a pep talk
Bobby Parnell is a perplexing character. He can throw the ball in the high 90's on a regular basis, but still struggles to get batters out. Whether it's a lack of movement on his pitches or a lack of confidence, Parnell has not lived up to expectations.
With Francisco on the disabled list, Parnell has been given the opportunity to close. While there have been some good performances, there are others where he just appears to be unsure of himself.
Parnell has a respectable 3.35 ERA but has blown five saves, which ties him for third in the National League. He has also been the losing pitcher on two occasions.
Parnell was at the center of one of the worst Mets losses of the season. The Mets were in Washington on July 17th and were down 2-0 in the top of the ninth inning. Jordany Valdespin hit a clutch three run pinch hit home run to stun the Nationals.
Instead of wrapping up a feel good victory, Parnell allowed the tying run to score and sent the game into extra innings. Of course the Mets eventually lost the game.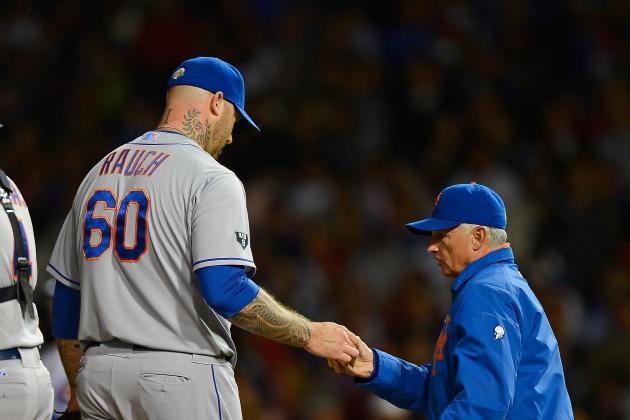 Jonathan Daniel/Getty Images
Rauch is taken out of the game
At 6' 11" and 290 pounds, Jon Rauch is a very large presence. Unfortunately when he takes the mound, he seems to become a lot less intimidating.
Rauch has three blown saves and an overall record of 3-7. One of his worst outings of the season took place in mid-May versus the Reds at Citi Field. Johan Santana left the game after 6.2 innings with the Mets leading 3-2. Rauch came in in the 8th inning and first blew the save opportunity and then gave up the go ahead runs to complete a 6-3 loss.
To be fair, Rauch has been much improved since the All-Star break. He has lowered his once lofty ERA from over 4.00 to 3.58 and has allowed just one earned run in his last 10 outings.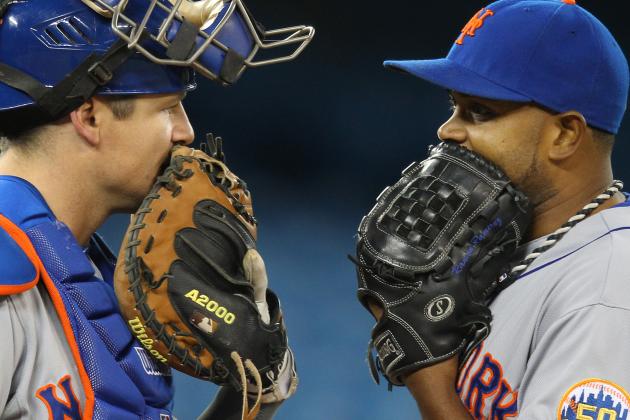 Tom Szczerbowski/Getty Images
Ramon Ramirez talking strategy
Ramon Ramirez came to the Mets as part of the trade that sent Angel Pagan to the Giants. In his first season in New York, Ramirez has been rather mediocre. He has a 2-2 record along with one save and two blown saves.
On July 22, Ramirez joined the list of Mets relievers that have turned winnable games into heartbreaking losses. Trailing the Dodgers 3-2 in the bottom of the ninth, the Mets scratched out a run to tie the game and send it in to extra innings.
With the score still tied in the top of the 12th, Ramirez surrendered five runs on five hits and absorbed the loss.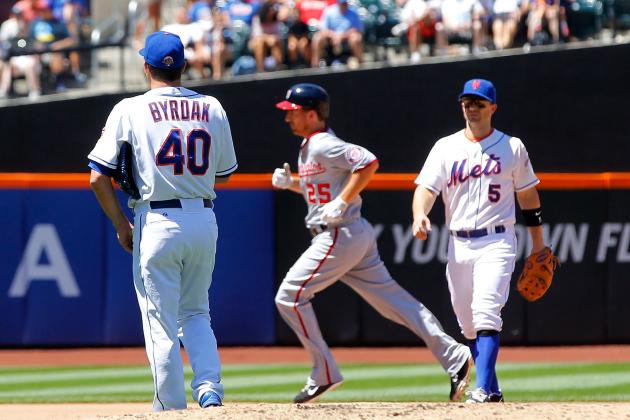 Jim McIsaac/Getty Images
Byrdak watches as the runner circles the bases
Lefty Tim Byrdak was a bright spot in the Mets' bullpen through the first three months of the season. He was 2-0 with eight holds in May, and pitched to a 2.45 ERA. His June ERA was 2.84 with two holds.
Byrdak is probably glad to see the calendar turn. In July he was 0-2 with one blown save and a whopping 8.31 ERA. Byrdak was part of that previously mentioned heartbreaking loss to the Nationals on July 17.
After Parnell gave up the tying run in the bottom of the ninth, the Mets scored the go ahead run in the top of the tenth. Byrdak was called on to preserve the win. Instead, he gave up two hits, two walks and two runs to send the Mets to defeat.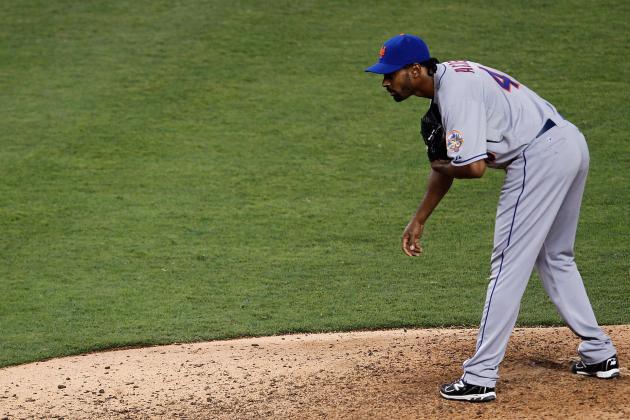 Sarah Glenn/Getty Images
Acosta looks in for the signs
To put it simply, Manny Acosta has been awful. In just 26.1 innings pitched, he has given up 30 earned runs, six homers, 38 hits and he has walked 18 batters. His record is 1-2 with one save and one blown save. His ERA is 10.25.
Acosta's worst performance out of all his bad outings took place on April 27 at Coors Field in Colorado. Acosta entered the game in the fifth inning and in just one third of an inning, surrendered seven runs on five hits and two walks. The Mets eventually lost that game by a final score of 18-9.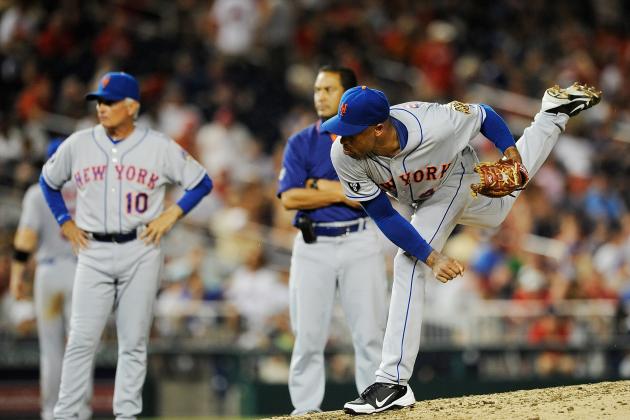 Patrick McDermott/Getty Images
When Batista comes in for relief it's not usually a good sign
41-year-old Miguel Batista was called on this season as both an emergency starter and as a spot reliever. His overall record in all appearances is 1-3 with a 4.82 ERA.
Batista's last appearance in a Mets uniform came on July 21st. He was the losing pitcher in an 8-5 loss to the Dodgers.
Batista was designated for assignment after that game and last week signed a minor league deal with the Atlanta Braves.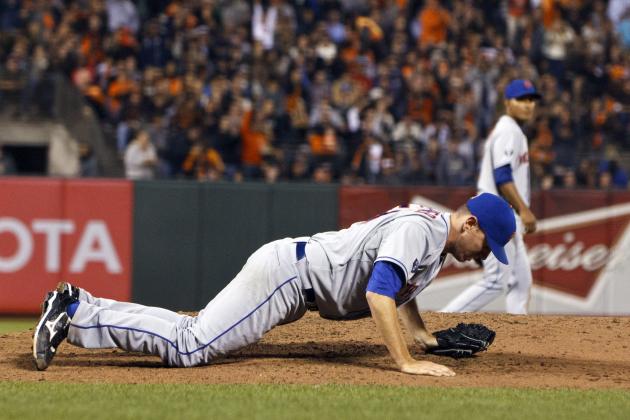 Jason O. Watson/Getty Images
The rookie has been called in to action ready or not
Rookie Jeremy Hefner has been called on by the Mets to fill the vacant starter's role while Johan Santana is on the disabled list. He has also been asked to chip in with some relief work.
In nine games as a reliever, Hefner has given up nine earned runs and 16 hits in 16.2 innings. His ERA in relief appearances is a rather unimpressive 4.86.
Tom Szczerbowski/Getty Images
Backup catcher Rob Johnson has a 0.00 ERA out of the Mets bullpen
With so many injuries and an unreliable bullpen, the Mets have given a large number of players the chance to shine and make their mark with the team. Among those that have put in relief appearances this season are:
The rookies:
Josh Edgin has impressed in his first 10 innings at the Major League level. He has allowed three earned runs while striking out 18. His ERA is at 2.70
Elvin Ramirez hasn't fared as well as Edgin. In 11 innings, he's given up 15 hits and 10 earned runs for an ERA of 8.18.
Robert Carson's stats consist of just three innings with two runs allowed and a 6.00 ERA.
Chris Schwinden was used once in relief and allowed two runs in just two thirds of an inning.
Journeymen and AAA Call Ups:
Pedro Beato has been up and down several times this season between Buffalo and New York. In just seven appearances, he's given up five earned runs in 4.1 innings of work. His ERA stands at 10.38.
D.J. Carrasco was so bad in his first four appearances this season that he was released by the Mets in late May.
Like Carrasco, Justin Hampson was also designated for assignment. He pitched in just 1.1 innings for the Mets.
Jack Egbert has appeared in just one game for the Mets and gave up no runs in two thirds of an inning.
Unusual Contributors:
R.A. Dickey offered his relief services in one game due to the stretched bullpen. Despite his excellent season as a starter, Dickey faltered in his one inning of relief, surrendering two runs on two hits.
The Mets' number three catcher Rob Johnson was called on to take one for the team during an inter-league game in Toronto. Johnson was lights out, retiring all three batters he faced including a strikeout.
There's still time for improvement, but so far, this year's Mets bullpen makes one actually long for the days of Armando Benitez, Guillermo Mota and Braden Looper.