Marvin Lewis Extension Proves Bengals' Desire for Change Doesn't Extend to Coach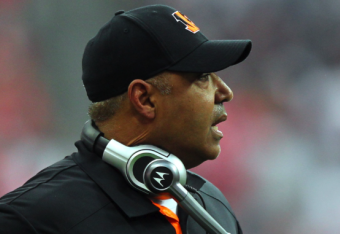 Not long ago, it seemed as though the Cincinnati Bengals may have been ready to move on from head coach Marvin Lewis at the end of the 2012 season. Neither the front office nor Lewis himself had much to say about potentially getting an extension, and all signs pointed to him at least heading into a lame-duck year.
Apparently, though, the two sides came to an agreement, and the club announced on Tuesday that Lewis would be with the Bengals at least through the 2014 season. This comes on the heels of a similar deal worked out with defensive coordinator Mike Zimmer, which was announced last week.
Lewis now enters his 10th season with the Bengals as the coach of one of the youngest overall rosters in the league. Though under his tenure the Bengals have gone 69-77-1 (including the playoffs), he helped that young team to a 9-7 2011 season, complete with a playoff appearance, and now he's at the helm of one of the most promising teams in the league.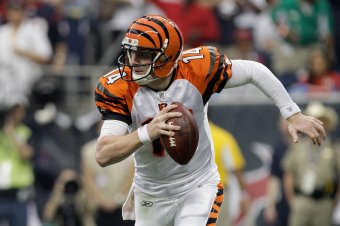 Thomas B. Shea/Getty Images
In the past two years alone, the Bengals have committed themselves to nearly wholesale change. From moving on (or being forced to move on) from quarterback Carson Palmer to an entire rebuild of its receiving corps, from toughening its defense to reworking its run-game philosophy, Cincinnati hasn't shied away from making bold moves in the hopes that they'll pay off in the win column.
But through it all, Lewis has been in (relative) control of the team. Sure, he has to deal with more ownership headaches than most coaches, thanks to the penny-pinching and often counterproductive practices of owner Mike Brown. But clearly, Lewis has ways to effectively work around Brown's issues without offending him—a feat that would test many head coaches (and their job security) in the NFL.
For a team so young and that has undergone so many changes in a short period of time, it is necessary that the Bengals at least have year-to-year consistency in some area. Coaching makes the most sense.
Lewis proved last year that starting a rookie quarterback-receiver tandem wasn't a foolish risk to take, but now the onus is on him to continue that momentum. In a lame-duck year, those young players wouldn't have the sense of stability necessary to feel confident that what they've so tentatively built wouldn't be knocked down at the end of the year.
How do you feel about the Marvin Lewis extension?
At the very least, the Bengals can add as many new faces as they want on the roster, but the men calling the plays stay the same.
Lewis' extension does raise some eyebrows, considering his win-loss record, but him getting a contract extension even when times are rough isn't unprecedented. The Bengals could have renewed his contract after the 2009 season, when the team was the AFC North champion; instead, they waited, and they went 4-12 the following year. However, Lewis still got a two-year contract.
At the very least, the move signifies that Brown has a great deal of confidence in Lewis. He trusts that despite all of the changes the team has made, replacing the coaching staff isn't the next necessary step. Any team that replaces so many of its players cannot afford simultaneous turnover in coaching and hope to win, so the Lewis extension had to be done.
This may be Lewis' last chance, however, so it is still imperative that the Bengals continue their upward climb. Though Lewis has received extension after extension while posting a sub-.500 overall record, no losing coach can keep his job in perpetuity. But for now, it's clear that while Cincinnati is comfortable with a certain degree of change, there's no way Lewis can leave just yet.
This article is
What is the duplicate article?
Why is this article offensive?
Where is this article plagiarized from?
Why is this article poorly edited?

Cincinnati Bengals: Like this team?