Setting Odds for the 2012 NFL MVP Award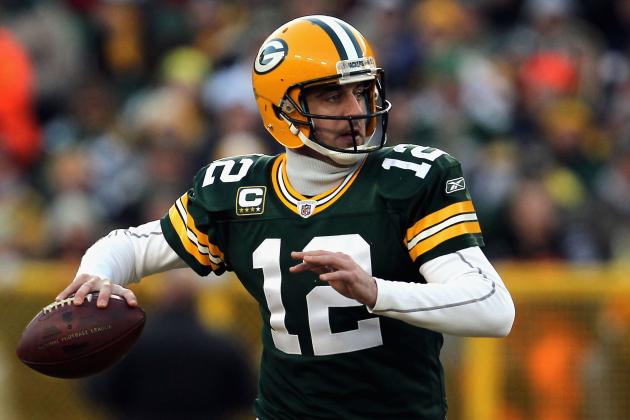 Jonathan Daniel/Getty Images
Can Green Bay Packers QB Aaron Rodgers win another NFL MVP?
NFL training camps are underway, and each team will spout the mantra, "It's all about the team!" While it's true that no one individual can win a championship, there are certain players who are flat-out better than others.
Those players are the men who battle year in and year out for the NFL's Most Valuable Player award.
Every player wants a Super Bowl ring, and careers are defined by whether you're a champion or not. But do not think for one minute that these same elite players are not also eager to be voted the best in the league. All the greats have an ego, and to have the tag "2012 NFL MVP" follow your name is an honor every player would die to have.
The NFL is a quarterback-driven league, and the MVP award clearly demonstrates this point. Nine of the past 11 winners have been quarterbacks, and in the history of the award, dating back to 1957, the quarterback position has won the MVP 37 times.
That dwarfs the second most, held by the running back position, which has won the prize 17 times.
Only three other positions have won the award, and each only won once. Defensive tackle Alan Page from the Minnesota Vikings won the statue in 1971. Washington Redskins kicker Mark Moseley was actually awarded the MVP for the 1982 season and New York Giants linebacker Lawrence Taylor took home the goods for the 1986 season.
With past history as an indicator, the odds strongly favor either a quarterback or running back to win again in 2012, but with more wide-open passing attacks and more opportunities for sacks, could this be the year a wide receiver or defensive end gets their name etched on the trophy and in the history books?
Could a defensive back eclipse Los Angeles Rams Dick "Night Train" Lane's single-season record of 14 interceptions in a season and run away with the win? For any player to even be in this discussion, they have to be one of the best in the NFL.
Let's look at each potential winner and break down their chances of being named the best player in football.
Begin Slideshow

»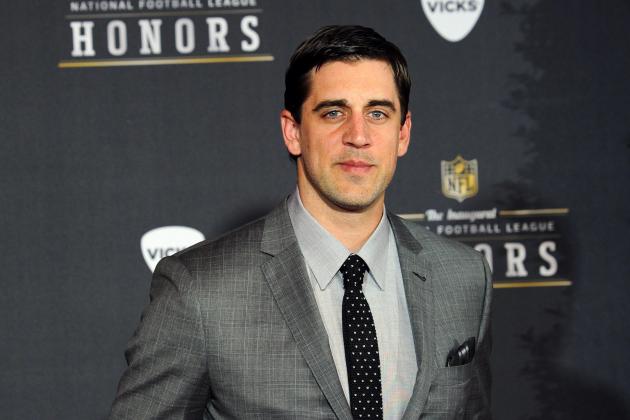 Dale Zanine-US PRESSWIRE
Aaron Rodgers of the Green Bay Packers was the 2011 NFL MVP.
The reigning winner is looking to remain the cream of the crop in 2012. He's also looking to be only the fifth player to win back-to-back Most Valuable Player trophies.
Cleveland Browns running back Jim Brown won the award the first two years of its existence. Rodgers' childhood idol, Joe Montana of the San Francisco 49ers, won in 1989 and 1990. The man Rodgers replaced in Green Bay, Brett Favre, won three in a row (1995-1997). As an Indianapolis Colt, Peyton Manning won the award in 2003 and 2004, then again in 2008 and 2009.
Rodgers led the NFL in passer rating in 2011 with a mark of 122.5. His average per pass was 9.2 yards, which was almost a full yard ahead of Drew Brees (8.3). The former Cal Bear was fifth in the NFL with 4,643 yards passing. Rodgers also threw for 45 touchdowns to just six interceptions.
The Packers have been in the top 10 in passing the last three years Rodgers has commanded Mike McCarthy's offense. This trend does not seem to be coming to an end anytime soon. Rodgers returns all his weapons from last season and will be playing with a chip on his shoulder after getting knocked out of winning another Super Bowl by the New York Giants.
Rodgers' odds of winning 2012 NFL MVP: Even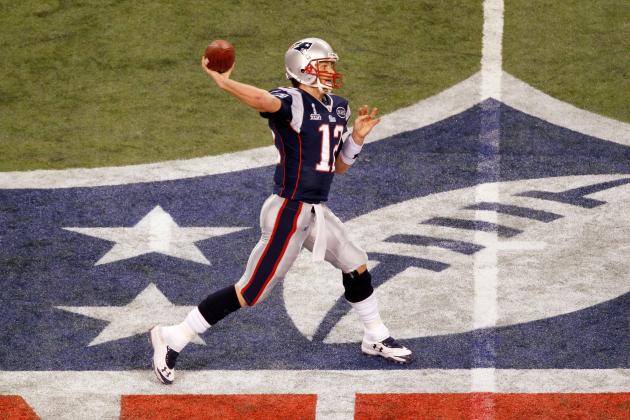 Gregory Shamus/Getty Images

Brady can walk into his trophy room, pick up a NFL MVP in both hands and bask in the feeling of being recognized as the best player in the league. Brady, the winner in 2007 and again in 2010, always has to be considered in the mix for the award as long as he and Bill Belichick are together.
The Patriots added another weapon for Brady this offseason in wide receiver Brandon Lloyd. The former Pro Bowler is coming off a down year with the St. Louis Rams and will be looking to Brady to get his career back on track.
Wide receiver Wes Welker and tight ends Rob Gronkowski (a MVP candidate in his own right) and Aaron Hernandez give the Patriots one of the most explosive offensive units in the NFL.
The Patriots have become a pass-heavy team, operating almost exclusively out of the shotgun formation. This limits the run options and puts Brady at risk to take more hits.
Defenses that are willing to take chances with the correct blitzes can get to Brady and cause him to rush his throws and force interceptions. That being said, Brady will be in the heat of the MVP race come February.
Brady's odds of winning 2012 NFL MVP: 2:1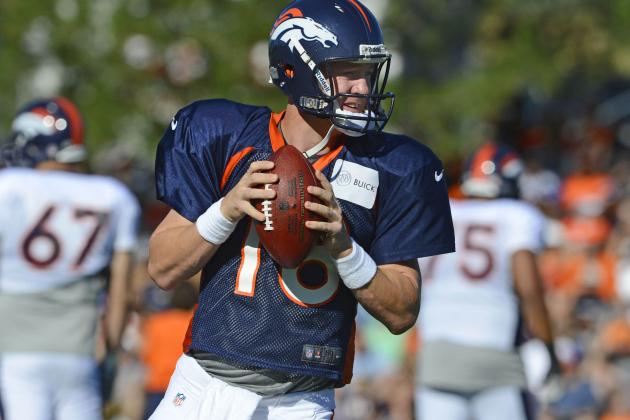 Ron Chenoy-US PRESSWIRE

Manning surprised a lot of football people with his ability to heal from multiple neck surgeries. He left the comfort of the only NFL home he knew (Indianapolis) to chase the Super Bowl dream again for the Denver Broncos.
Being the only four-time winner of the MVP award, Manning understands the hard work and sacrifice needed to be the best. Manning won the prize back-to-back twice (2003, 2004, 2008, 2009). If he's healthy, he has to be included in the race as the best player in football.
Manning joins a Broncos team that is loaded with young talent at all the core offensive positions, especially wide receivers Eric Decker and Demaryius Thomas.
The Broncos have a solid running game and probably the most important factor for Manning's MVP chances—a very good offensive line. Left tackle Ryan Clady is on par and has a better upside than the blindside protector for most of Manning's career, Tarik Glenn.
Manning will need to get on the same page with head coach John Fox quickly to get acclimated to a new offense and new surroundings. But if Manning can get back to the form he showed in 2010 when he threw for 4,700 yards and 33 touchdowns, he will win the NFL Comeback Player of the Year and the NFL MVP for a record-adding fifth time.
Manning's odds of winning 2012 NFL MVP: 3:1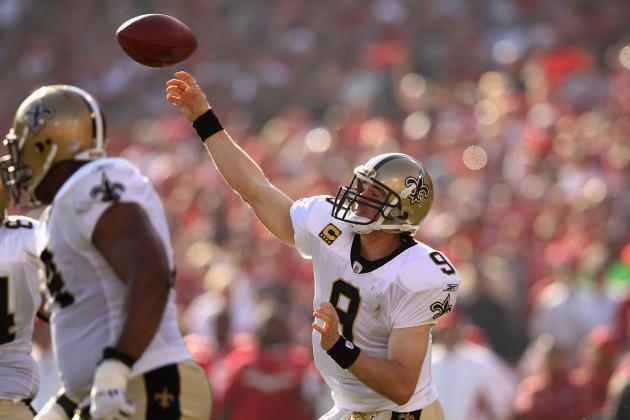 Ezra Shaw/Getty Images

Brees could have been selected the NFL MVP in 2011, and not many people would have argued. The former Purdue Boilermaker put up record-setting numbers by eclipsing former Miami Dolphin great Dan Marino for the most passing yards in a season with 5,476.
Brees has complete command of the offense and Pro Bowl talent at the wide receiver and tight end positions. When he's on his game, he's the best quarterback in the NFL.
So, a case could be made that Brees should be rated higher than Rodgers, Brady and Manning based off last season. However, the loss of head coach Sean Payton and his play-calling will have a negative effect on Brees this year, and he will not come close to matching his NFL record set in 2011.
A healthy Mark Ingram at running back, teamed with Pierre Thomas and Darren Sproles, will allow the Saints to run the ball more as well. Brees will keep his team in every game, but the only way he wins the NFL MVP is if the Saints win the Super Bowl.
Brees' odds of winning 2012 NFL MVP: 4:1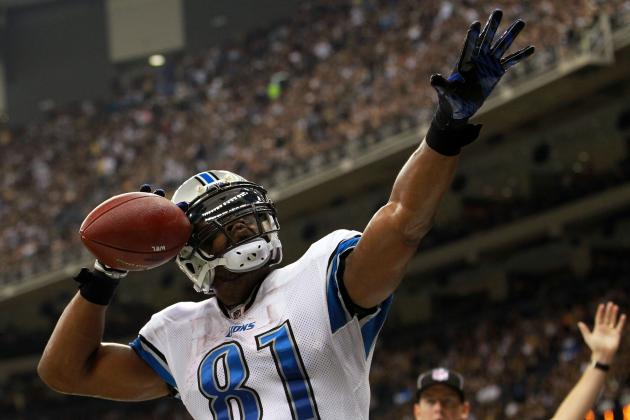 Ronald Martinez/Getty Images

No wide receiver has ever won the Most Valuable Player award in the NFL, but if any player has a chance to achieve this feat, it's Calvin Johnson.
The former Georgia Tech star receiver is coming off a career year in which he caught 96 passes for a league-leading 105.1 yards a game. Johnson is such an explosive athlete that he led the NFL in 2011 with 10 catches over 40 yards or more.
Johnson is teamed with another MVP candidate—quarterback Matthew Stafford. If the duo can come close to topping last year's record-breaking numbers, look for Johnson's name to be bantered around in the MVP discussion. He's the best wide receiver in the game, and Detroit's offense plays to his skill set.
Johnson's odds of winning 2012 NFL MVP: 6:1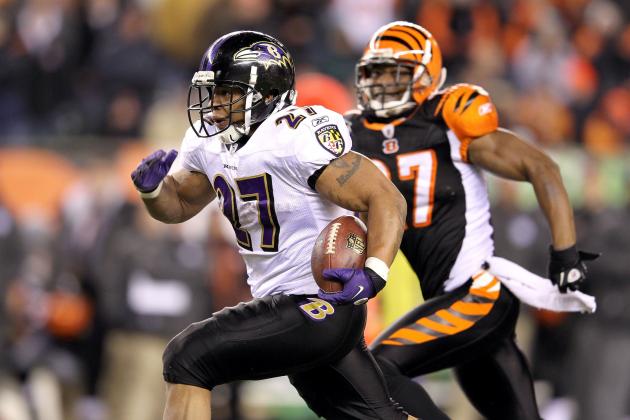 Andy Lyons/Getty Images

Rice is the best all-around football player in the NFL, and if he can improve on last year's statistics, he will win the NFL MVP.
The former Rutgers talent led NFL starting running backs in receptions with 76 in 2011 (New Orleans' Darren Sproles led all running backs). Rice was second in the NFL behind Jacksonville Jaguars running back Maurice Jones-Drew for rushing yards with 1,364. Rice averaged 4.7 yards a rush and scored a total of 15 touchdowns.
Rice received a significant contract boost right before training camp and looks poised to have his best season yet.
Offensive coordinator Cam Cameron is learning how to properly use Rice in his system, and this should cause the running back's numbers to increase. There's a very real chance Rice will rush for over 1,500 yards and catch over 100 passes. If the bowling ball back can achieve those numbers, he's very much in the MVP discussion.
Rice's odds of winning 2012 NFL MVP: 8:1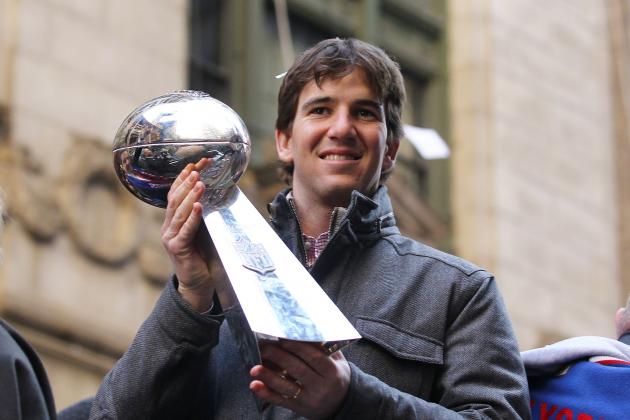 Al Bello/Getty Images

Eli Manning will always be Peyton's little brother, literally and figuratively, but the two-time Super Bowl champion is a winner and one of the best quarterbacks in NFL history.
The next trophy he would like to add to his two Super Bowl MVPs is a league MVP. Manning threw for the quietest 4,933 yards in NFL history, and in most years, he would have been the league leader.
Manning only got better as the postseason went along, and if he can keep the momentum going from the end of 2011, the youngest Manning may be walking away with the NFL MVP.
The most impressive aspect of Manning's game is how he makes everyone around him better. He made a former college free agent, Victor Cruz, a household name, and his tight ends—last season, at least—would not start for a majority of NFL teams.
Aside from wide receiver Hakeem Nicks, Manning is the only first-round pick starting for the Giants. Manning rarely gets the appreciation he deserves, but if he plays as well as he played last year, he deserves the NFL MVP.
Eli Manning's odds of winning 2012 NFL MVP: 10:1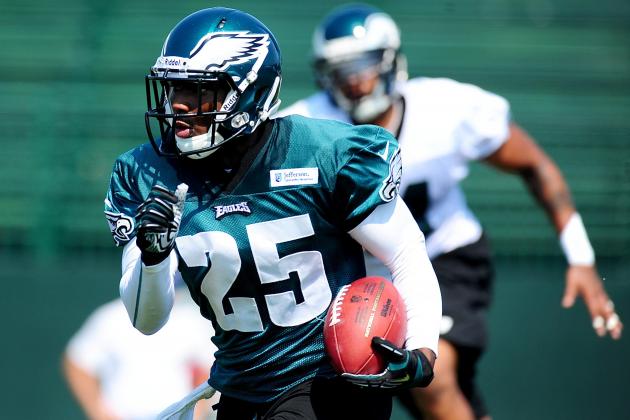 Evan Habeeb-US PRESSWIRE

McCoy is a sneaky-good player who loses out on a lot of the Philadelphia limelight to quarterback Michael Vick. However, McCoy is the best Eagles player and the team's true, legitimate MVP candidate.
He was fourth in the NFL in rushing yards in 2011 with 1,309. McCoy had the highest average per carry for any player with over 250 carries with an average of 4.8 yards per rush. McCoy had 20 total touchdowns and is a factor in both the running and passing games.
One of McCoy's most improved aspects of his game is pass-blocking. With Vick a threat to scramble at any time, McCoy is asked to pick up blitzing linebackers much bigger than him.
He has gained a reputation around the NFL as one of the tougher players at the running back position, and this only increases his chances to win the MVP. The Eagles' success or failure this season will not be due to the play of Vick or receiver DeSean Jackson. The onus will fall squarely on the shoulders of their MVP-caliber runner Shady McCoy.
McCoy's odds of winning 2012 NFL MVP: 12:1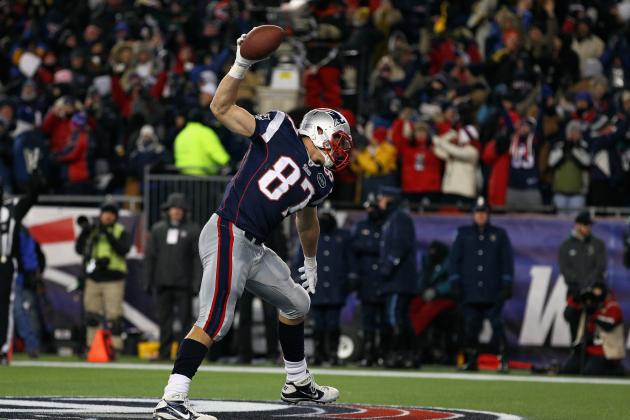 Al Bello/Getty Images

The NFL version of a Kardashian, Gronkowski goes all out, on and off the field.
In a manner that would make Broadway Joe Namath proud, the athletic tight end takes care of his business when he's called upon. In one of the greatest seasons ever for a tight end, Gronkowski led the NFL in receiving touchdowns with 17.
Couple those scores with 90 catches and 1,327 receiving yards, and even the greats—like Mike Ditka, Kellen Winslow and Tony Gonzalez—take notice.
Gronkowski benefits from playing with one of the greatest quarterbacks of all time in Tom Brady, but he still has to get open and produce.
Wide receiver Wes Welker is Brady's top target, but when the quarterback needs a big play, more times than not, he looks to Gronkowski. Brady will probably steal a majority of votes for the ultimate individual award in the NFL from the tight end, but if a player at that position ever had a chance to win the MVP, Gronkowski is the best bet.
Gronkowski's odds of winning 2012 NFL MVP: 14:1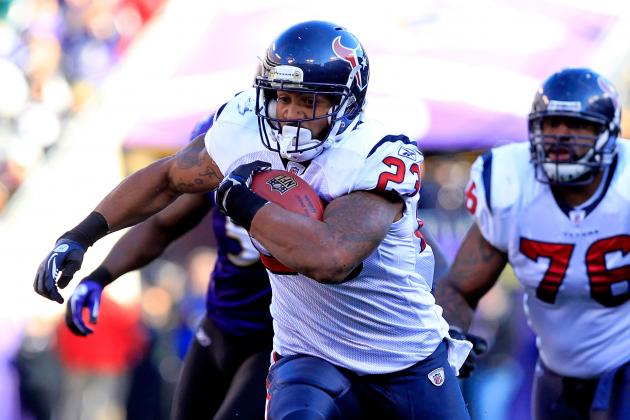 Chris Trotman/Getty Images

Foster plays in the same offensive scheme that produced the 1998 NFL MVP running back Terrell Davis. Therefore, the precedent has been laid that Foster could achieve the type of season to win the award. The former undrafted free agent is one of the best stories in football and deserves all the praise awarded him.
Foster is a dual threat out of the backfield. He rushed for 1,224 yards in 2011 to go along with 617 yards receiving. The former Tennessee Volunteer was second in the NFL behind Jacksonville Jaguars Maurice Jones-Drew in rushing average per game at 94.2 yards.
Foster plays with one of the best receivers in the NFL in Andre Johnson, but Foster is the engine that makes the Texans offense churn. He will need to cut down on his fumbles (four; second most of all runners with over 230 carries) if he wants a legitimate shot at the MVP.
Foster's odds of winning 2012 NFL MVP: 15:1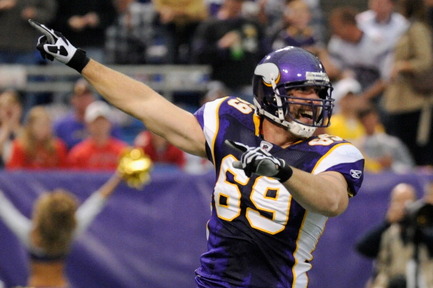 Hannah Foslien/Getty Images

Jared Allen has the best chance of all the players on the defensive side of the ball to take home the hardware.
The former Idaho State Bengal is coming off a 22-sack season, which led the NFL and is also a Vikings single-season record. His 2011 season also included four forced fumbles and four fumble recoveries. Allen has 47.5 sacks and 17 passes defended in his last three seasons.
On top of that, Allen plays the run just as well as he rushes the passer. His skill set is respected around the NFL, and he has enough of a personality to warrant the votes needed to pick up an MVP trophy.
Allen has history against him though. Only two other defensive players have ever won the MVP, and the last was Lawrence Taylor in 1986. Allen also plays on a team that's not very good and does not get the national exposure needed to get all the votes he should.
While Allen is a game changer, his chances of being named the NFL MVP are not great.
Allen's odds of winning 2012 NFL MVP: 20:1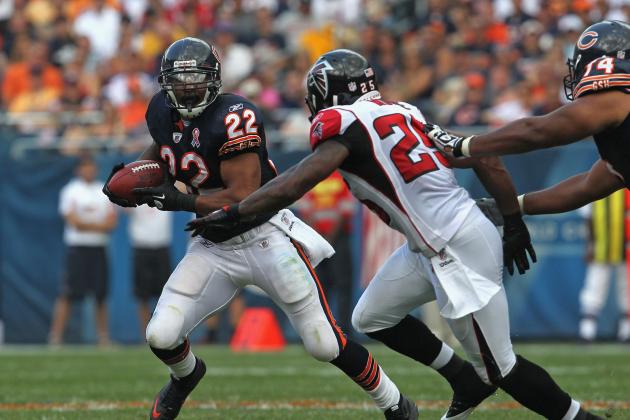 Jonathan Daniel/Getty Images

Fans of Matt Forte could make a solid case that he's the best running back in the NFL. Before he was injured last season, he was on pace for a career year. In only 12 games played, he gained 997 yards on the ground and 490 receiving yards.
Had he simply played to the averages per game, Forte was projected to rush for 1,429 yards and 653 yards receiving. That would have put him over 2,000 combined yards from the line of scrimmage.
Forte is a strong runner inside and out. Deceptively fast, Forte had 12 runs of over 20 yards last season. He's known around the NFL for his toughness and pass-blocking acumen. He's quarterback Jay Cutler's escape valve when pressure comes, and he can make something out of nothing.
Forte plays behind one of the more suspect offensive lines in football, and yet, all he does is produce. The former Tulane standout may not win league MVP, but he is the Bears' best player.
Forte's odds of winning 2012 NFL MVP: 25:1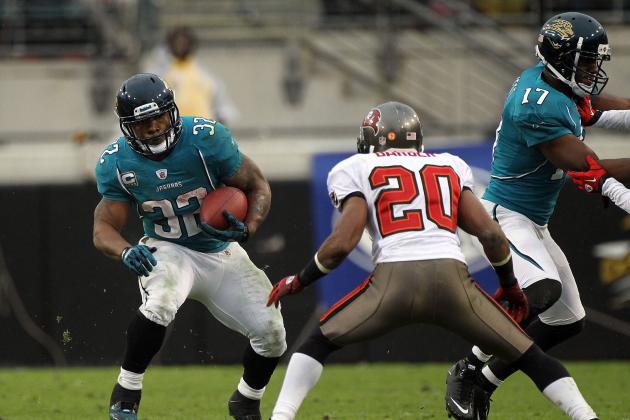 Sam Greenwood/Getty Images

Jones-Drew's odds to win the Most Valuable Player in the NFL take a major blow due to the fact he's holding out in a contract dispute.
By far a top-three running back in the NFL, Jones-Drew is a longer shot to win due to the fact he hasn't even met his new head coach, Mike Mularkey, nor does he know the new offense. The fact he's ahead of some other talented players speaks to the talent of the former UCLA Bruin.
The bowling ball of a runner led the NFL in rushing in 2011 with 1,606 yards and an average of 100.4 per game. Jones-Drew also added 374 yards receiving. The sixth-year veteran did put the ball on the ground a career-high six times last year while carrying the ball a league-high 343 times.
Jones-Drew would be the one constant for the Jaguars offense if he was in camp, but due to his holdout, the team has to prepare as if he will not play this season. But given that Jones-Drew is so talented, he could probably show up the first week of practice and lead the league in rushing again.
However, simply gaining yards does not win MVPs, so he would have to help the Jaguars win more games as well. By holding out, those odds decrease by the day.
Jones-Drew's odds of winning 2012 NFL MVP: 30:1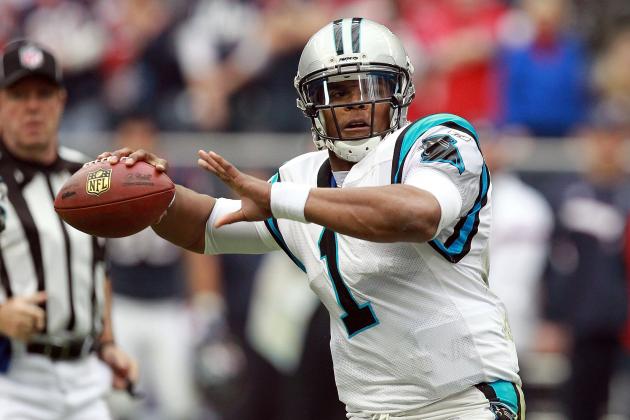 Ronald Martinez/Getty Images

Newton was a rookie phenomenon last season and will have to duplicate those statistics in 2012 to have a shot of winning the NFL MVP. The dual-threat QB threw for 4,051 yards in his rookie campaign and rushed for an impressive 706 yards. Newton accumulated 35 total touchdowns.
Newton is still young and learning the game, but he must cut down on his interceptions (17) and fumbles (five). Newton has an improving offensive line and a running game that features two solid runners in DeAngelo Williams and Jonathan Stewart.
Newton helped to revitalize wide receiver Steve Smith's career and will need added production from tight Greg Olsen if the second-year player would like to add his name to the trophy that bares the names of his quarterback brethren.
Newton's odds of winning 2012 NFL MVP: 40:1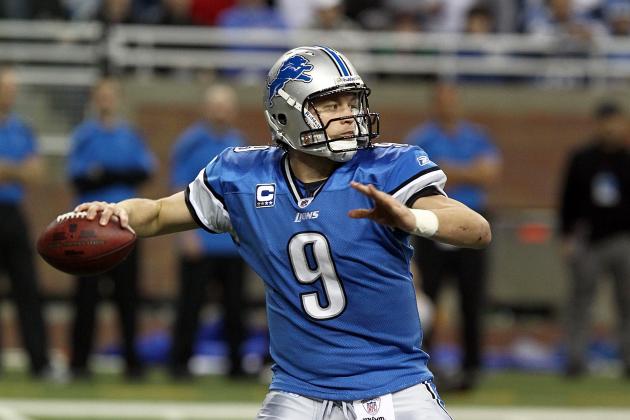 Dave Reginek/Getty Images

Stafford proved last year that if can stay upright for an entire season, he can put up MVP-type numbers. Stafford's 5,038 yards placed him third in the NFL, and he averaged 314.9 yards passing a game. The former Georgia Bulldog was fifth in the NFL with a 97.2 quarterback rating as well.
Stafford threw a majority of his 41 touchdowns to a fellow MVP candidate, receiver Calvin Johnson, but he also learned to use the whole field. Stafford has always shown the arm strength to get the ball deep, but in 2011, the former first-rounder showed good field vision and patience. He also learned to throw the ball away instead of forcing it or taking an unnecessary hit.
With a suspect running game, the Lions offense relies on Stafford to power the ship. Stafford has shown the ability to be a leader and the toughness required of a MVP. The fourth-year pro will need to lead his team into the playoffs and put up the same monster statistics as 2011 if he wants to get his hands on the NFL MVP trophy.
Stafford's odds of winning 2012 NFL MVP: 50:1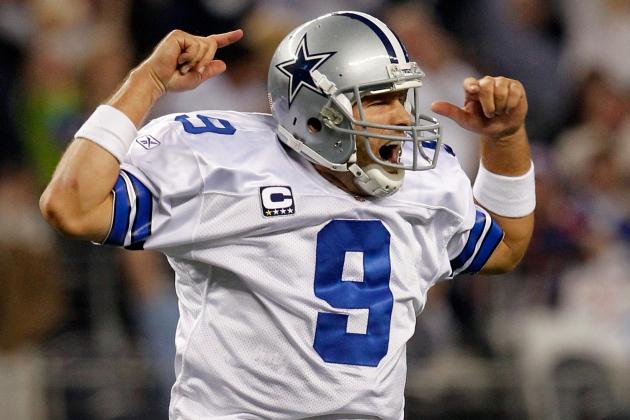 Tom Pennington/Getty Images

Romo is a player fans either love or hate. As a football player, Romo produces on the field. The Cowboy signal-caller is coming off a season that saw him finish fourth in the NFL in quarterback rating with a 102.5. Romo completed 66.3 percent of his passes which accounted for 4,184 yards and 31 touchdowns.
While Romo gets much of the blame for lack of playoff success in Dallas, truth be told, without the former college free agent, the Cowboys would be worse.
Romo produced the above statistics behind a work-in-progress offensive line and without Pro Bowl receiver Miles Austin for much of the season. With a healthy Austin, receiver Dez Bryant and All-Pro tight end Jason Witten, look for Romo to put up even better numbers this season.
Cowboy fans are some of the most passionate in the NFL, and with that comes much praise. But with failure comes much blame as well. Romo has the fortitude, toughness and skill to make "America's Team" a Super Bowl winner.
If Romo plays at a level that brings Dallas a Super Bowl championship, he will be doing something that Pro Football Hall of Fame quarterbacks Roger Staubach and Troy Aikman could not. And in doing so, Tony Romo will be named the NFL MVP.
Romo's odds of winning 2012 NFL MVP: 60:1