Jon Jones Sentenced on DWI Charge from May Accident
Use your ← → (arrow) keys to browse more stories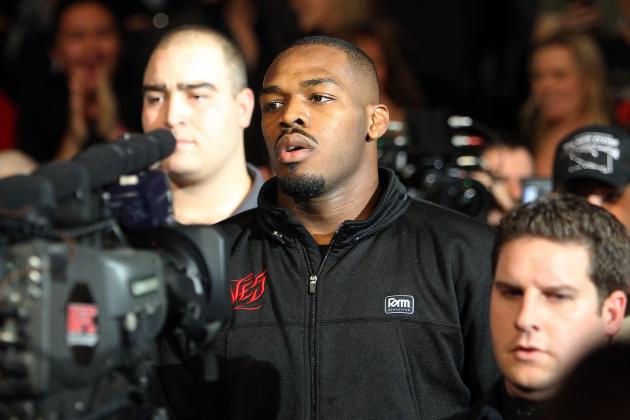 Tom Szczerbowski-US PRESSWIRE

UFC light heavyweight champion Jon Jones has been sentenced for his May 19 DWI arrest, according to Yahoo! Sports. On Tuesday, he was fined $1,000, had his driver's license suspended for six months. Jones will also need to have ignition interlocks installed on all his vehicles.
According to PressConnects, Jones will also need to complete a victim impact panel in the next 90 days. Mothers Against Drunk Driving's website has more details on the victim impact panels:
The panels consist of a non-confrontational presentation consisting of crime victims telling their own personal stories of how impaired drivers forever changed their lives.

The program was created with one purpose in mind: to show offenders first-hand about the trauma, physical pain, emotional suffering and devastation, financial loss, anger and frustration that is commonly experienced by innocent victims and their family members resulting from a DUI-related crash.
The charges against Jones originated after the fighter crashed his 2012 Bentley into a utility pole on the morning of May 19 in Binghamton, N.Y. Jones was uninjured in the accident and taken into custody by the Broome County Sheriff's Department before being bailed out by his mother.
The 24-year-old fighter had pleaded guilty to the charges on May 29.
The sentencing will allow Jones to put his legal problems behind him and concentrate on his upcoming fight against former Strikeforce and Pride champion Dan Henderson.
Jones (16-1) and Henderson (29-8) are set to meet on September 1 in the main event of UFC 151, which will take place at the Mandalay Bay Events Center in Las Vegas, Nev.